Socket to 'em: the plug-in hybrids that charge ahead of fuming rivals
Socket to 'em: plug-in hybrids charge ahead of fuming rivals
---
Published 18 January 2016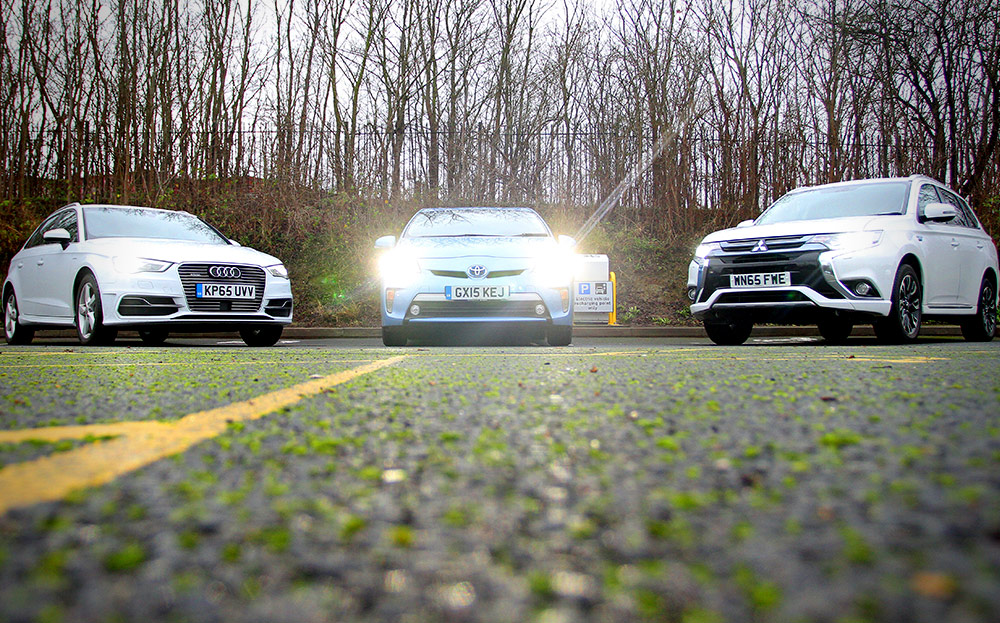 WITH AIR pollution, the Volkswagen emissions scandal, congestion charging, tax incentives and the evolution of the electric car from crummy milk float to a self-driving vision of the future, is it any wonder that motorists are increasingly turning to plug-in hybrid electric vehicles (PHEVs)?
Last year nearly 30,000 were sold in Britain, almost twice the number in 2014. Widening choice, improved technology and a growing charging infrastructure are helping to catch the attention of drivers looking to do their bit for the environment and possibly save money in the process.
And, let's face it, as roads become increasingly congested and cars do more of the driving for us, there's satisfaction in watching a vehicle travel as far as possible using as little energy as it can, even if it doesn't always match the thrill of driving as if your trousers were on fire.
Which PHEVs are the best, though? Driving put three of the most popular plug-in hybrids to the test. Their technology is similar but they are very different to look at and use. And once the £5,000 government plug-in car grant is taken into account, they all cost about £30,000.
Leading the charge is the Mitsubishi Outlander PHEV. Britain's bestselling plug-in car, it demonstrates that many drivers value a vehicle that's as practical as it is green. Its load-lugging capacity and four-wheel-drive capability seem to have struck a chord with families.
The Toyota Prius is one of the original hybrids, but it took a long time for the plug-in version to go on sale here. Of this trio, it's the one most likely to mark out its owner as an Uber driver.
---
Browse NEW or USED cars for sale on driving.co.uk
---
And last but not least comes the Audi A3 Sportback e-tron, a sleek, stylish hatchback that doesn't appear to be anything out of the ordinary — until you get behind the wheel.
With our batteries charged and our petrol tanks brimmed, we drove our PHEVs to Cyclopark in Gravesend, Kent, to see which would cope best with a typical family day out.
Mitsubishi Outlander PHEV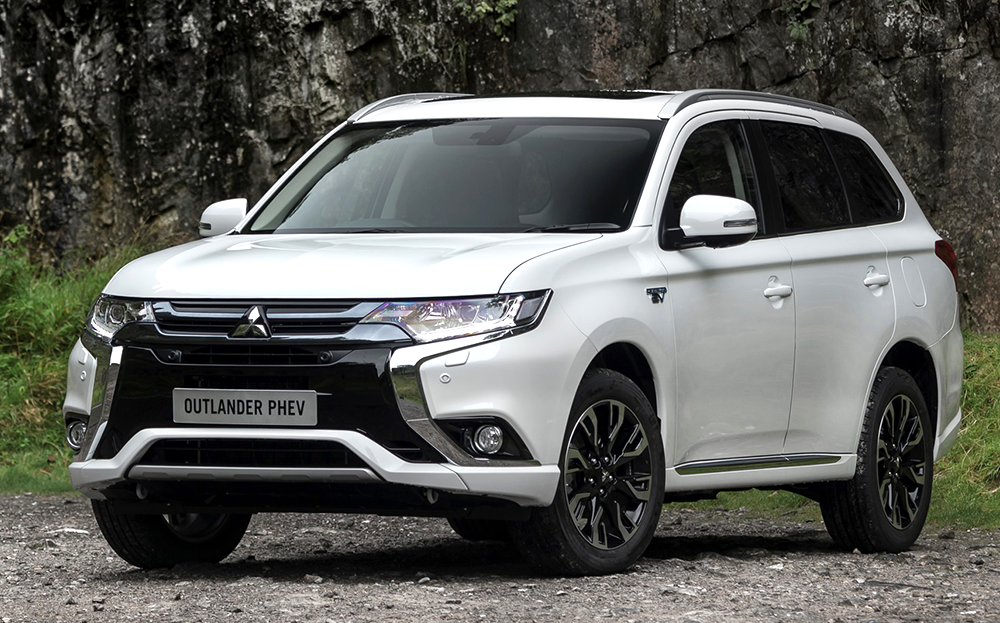 Words Nick Rufford
Rating

★★★★☆
The Mitsubishi Outlander PHEV was the surprise hit of 2015. Nearly 12,000 were sold last year in the UK. That's an impressively high number for a niche car — as many as the Jaguar F-type sold worldwide in 2015 — and its success has had other manufacturers scurrying to speed up development of their own plug-in SUVs. Mitsubishi caught the zeitgeist and its surprised executives are patting themselves on the back.
On closer inspection, it's no mystery. The tax incentives in favour of green cars have reached a tipping point, catching some car makers napping. After applying the £5,000 plug-in grant, the Outlander PHEV costs exactly the same as its diesel equivalent — £29,249 — but start factoring in running costs and the former quickly pulls ahead.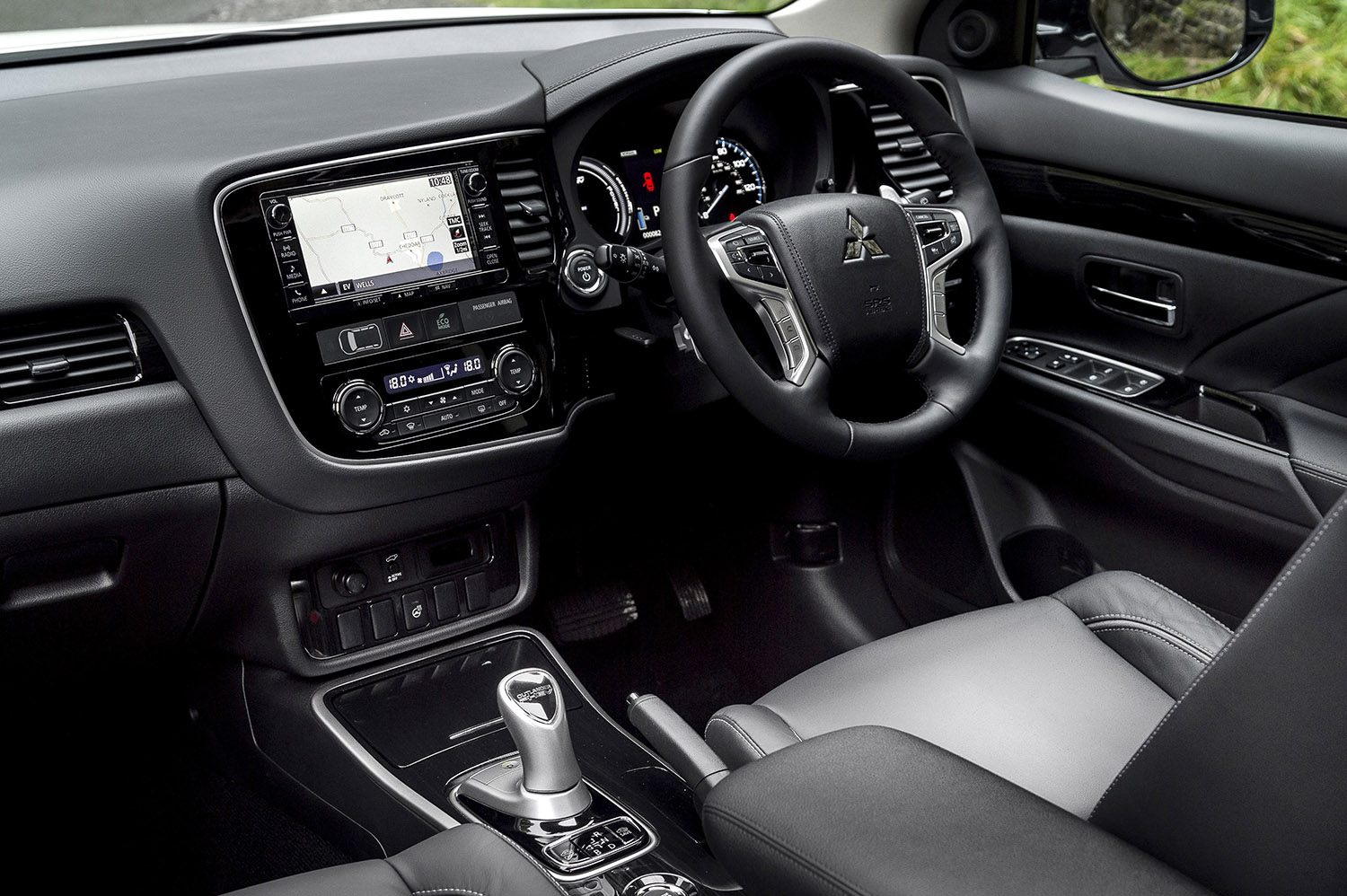 It costs nothing in vehicle tax or to enter London's congestion charge zone; £233 a year in fuel — based on an average number of journeys (7,900 miles a year); and £57 a month in tax if you run it as a company car. The diesel version will set you back £180 a year in vehicle tax; £11.50 per trip into central London; £759 a year in fuel; and a sobering £273 a month in tax if it's a company car.
You might be willing to stomach the extra costs of the diesel if it boasted superior performance, but the Outlander PHEV is actually the more exciting drive. At 11 seconds, its 0-62mph time is only a shade faster than that of the diesel automatic, at 11.6 seconds. It comes into its own when its electric motors kick it away from the lights. From standstill to 25mph takes just two seconds in the PHEV, according to Mitsubishi — that's Porsche Cayman territory. So much for the hair shirt.
Its SUV proportions are arguably the winning feature… By comparison, the Prius looks like a minicab and the A3 e-tron is simply too much of a squeeze
On the back of its sales success, the plug-in was given a makeover last October, with a smarter interior and better infotainment system. Mitsubishi says it will return an average of 156.9mpg. When we tested it, after an overnight charge, it easily handled a there-and-back commute of about 16 miles without resorting to the petrol engine. On longer journeys, with the petrol engine doing all the work, that figure fell to about 50mpg.
Its SUV proportions are arguably the winning feature for buyers of family cars. By comparison, the Prius looks like a minicab, and the A3 e-tron is simply too much of a squeeze for the practical requirements of many families. The Mitsubishi's rubber-floored boot holds 463 litres of luggage — 21 litres more than the Prius and a whopping 183 more than the A3 e-tron.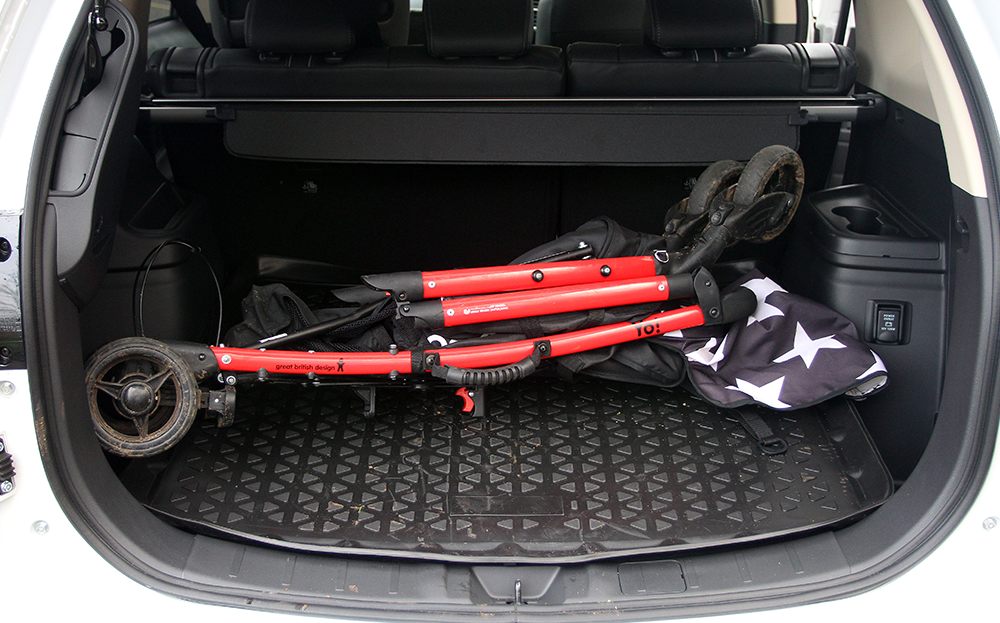 It's the only model here available with four-wheel drive too — there's no option for quattro on the A3 e-tron — so if you need to tow a dinghy, or simply have a steep driveway, this is the PHEV for you.
There are a couple of drawbacks, though. First, it's heavy: the kerb weight is 1,845kg, compared with 1,610kg for the diesel version. The plug-in Prius weighs 1,425kg and the A3 e-tron 1,540kg. Second, in upgrading the PHEV, Mitsubishi made the classic error of consulting focus groups. The result is that, as well as cosmetic changes such as wider LED rear lights, the suspension has been tightened to the point of discomfort. It jars on speed bumps, and over potholes you risk losing fillings. A mistake, but — if you're listening, Mitsubishi — it's not too late to put it right.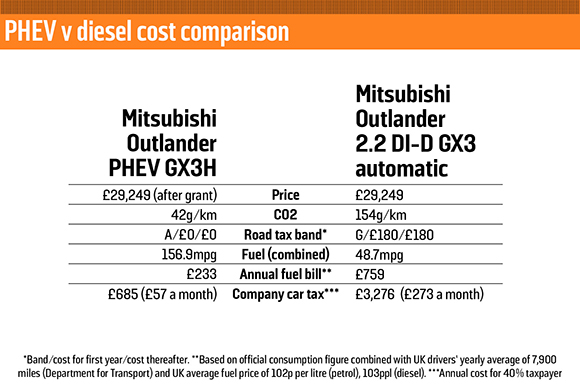 Toyota Prius plug-in hybrid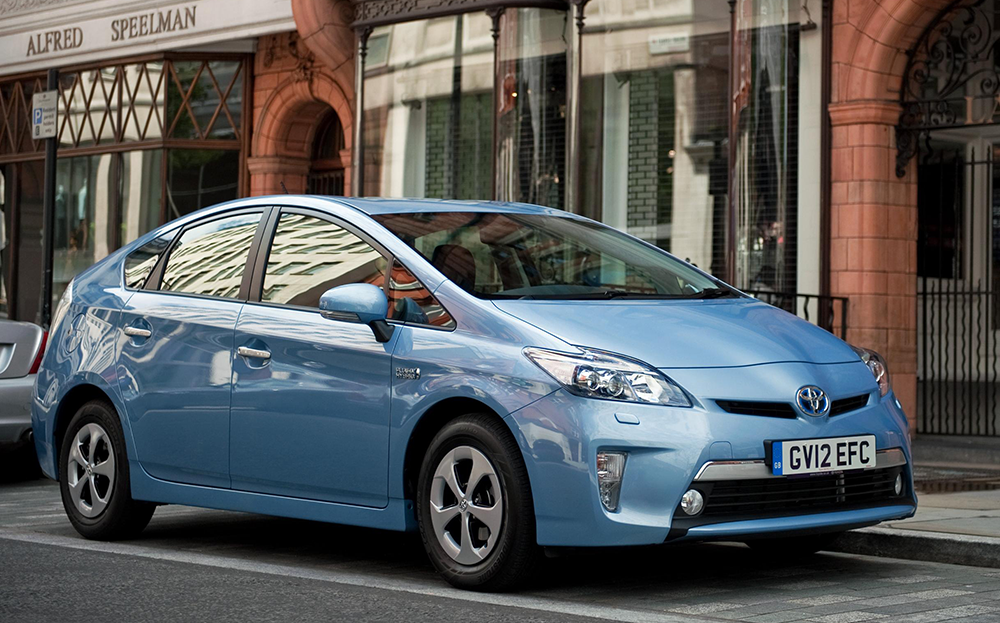 Words Will Dron
Rating ★★★☆☆
If you're going hybrid, why not do it with the car that defines the class? Toyota has been making the Prius since 1997 and has rolled out its hybrid technology to other models of Toyota and Lexus, the manufacturer's posh brand, so it knows a thing or two about mixing internal combustion engines with electric power.
However, its claimed electric-only range of up to 15½ miles is roughly half that of the Mitsubishi Outlander PHEV and Audi A3 e-tron, and puts it bottom of the class here. With prices for the Prius starting at £28,395, after the £5,000 government grant has been applied, you're not saving much compared with the Outlander PHEV and the A3 e-tron for the shortfall in range.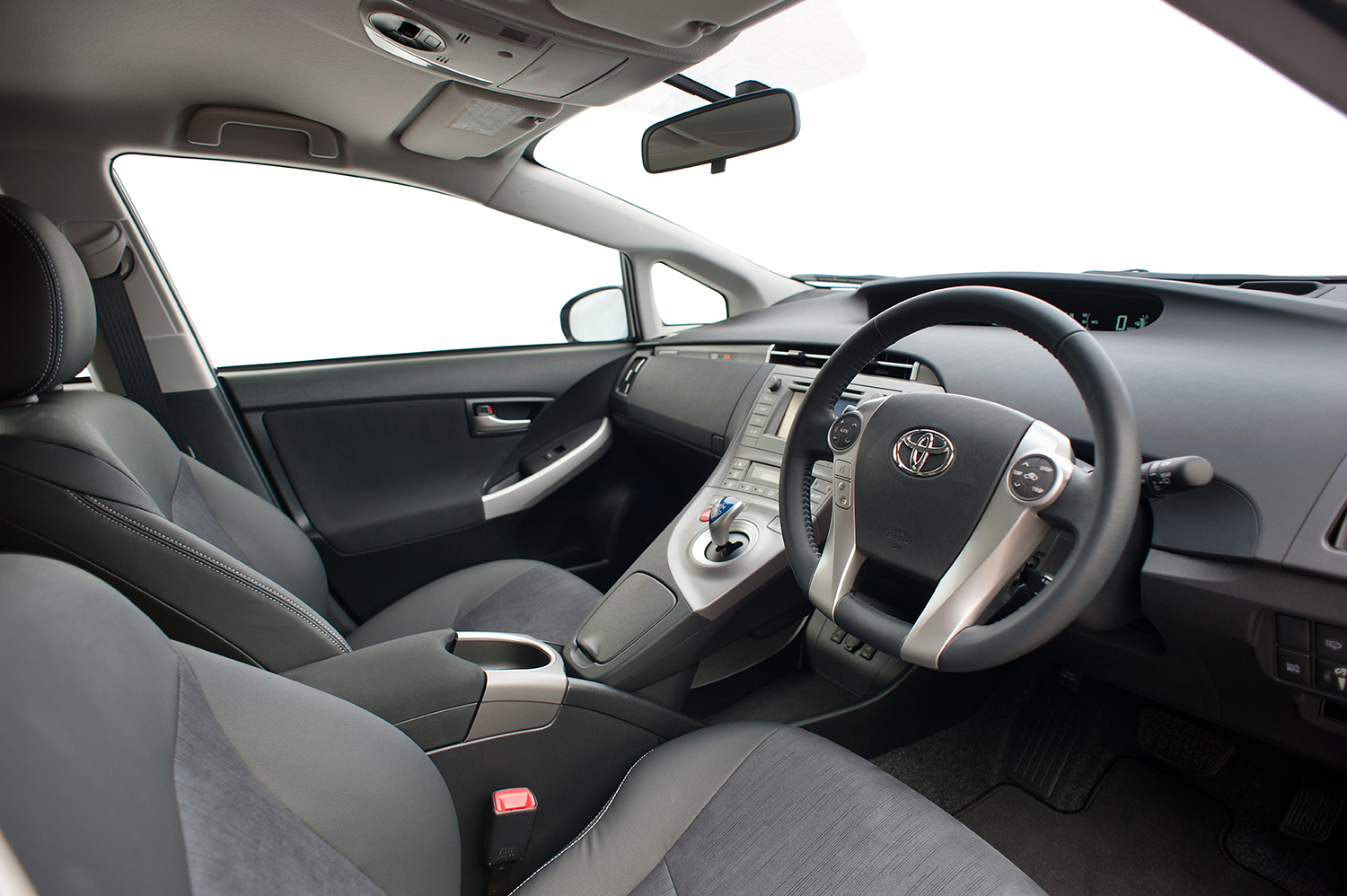 The official combined fuel economy figure of 134.5mpg is still attention-grabbing, though, as is the future-proof (for the foreseeable, anyway) tax-busting CO2 rating of 49g/km.
What's more, driving in standard hybrid-vehicle — or HV — mode, without charging up (HV mode, a combination of engine and electric power, also kicks in at 51mph whether you have charged up or not), yielded 58mpg on a 48-mile run, using predominantly motorways. That's pretty good when compared with a diesel, particularly when you consider we weren't being especially light-footed and had the climate control blasting away.
The dashboard's green-on-black display seems to be a homage to the Amstrad word processors of the mid-1980s
Other good things about the plug-in Prius? It offers a relatively soft ride, which can make it a little wallowy over road humps but a comfortable drive — music to the ears of taxi drivers, no doubt. Also of note to our private-hire friends: the rear is a sensible size for adult occupants and seats three; while the boot, though not expansive, owing to the positioning of the battery pack, is more generous than that of the Audi. The Toyota also has a neat underfloor storage compartment for the charging cables.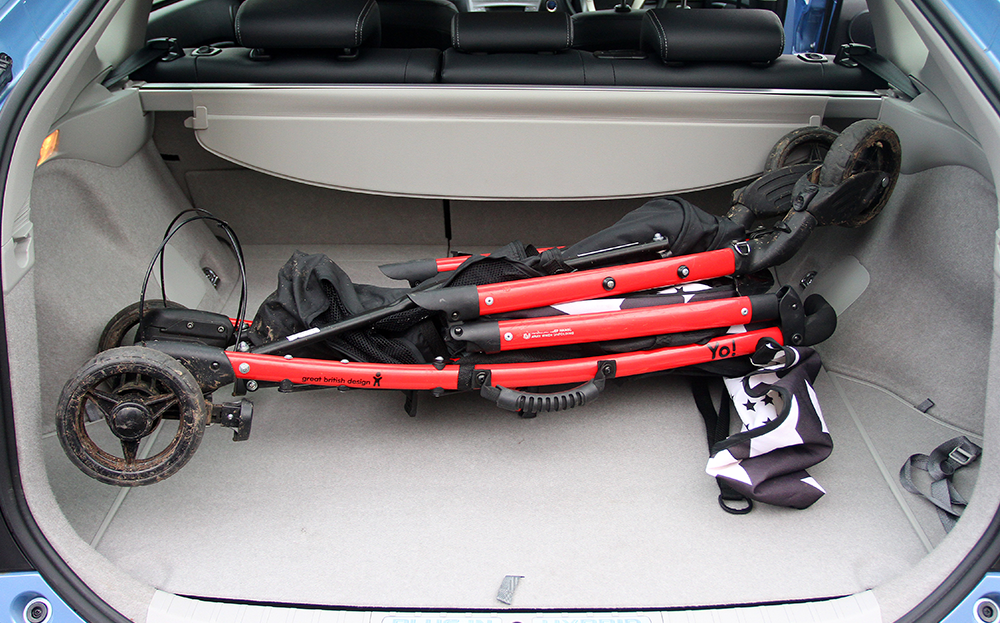 Yet the plug-in Prius is a little dated by contemporary standards. The interior was the height of hi-tech on its launch in 2012 but now seems overly plasticky, and the dashboard's green-on-black display seems to be a homage to the Amstrad word processors of the mid-1980s. It's also woefully underpowered compared with its rivals here.
Is it worth investing in one, though? If you're not a badge snob and don't require lots of space, maybe. But a new Prius hybrid is due in March and insiders suggest a plug-in version will arrive by the end of the year, so expect the new machine's electric range to rise to match that of the competition. Smart business buyers will wait for the new model, while savvy private buyers might want to purchase this one as a used bargain in a couple of years' time.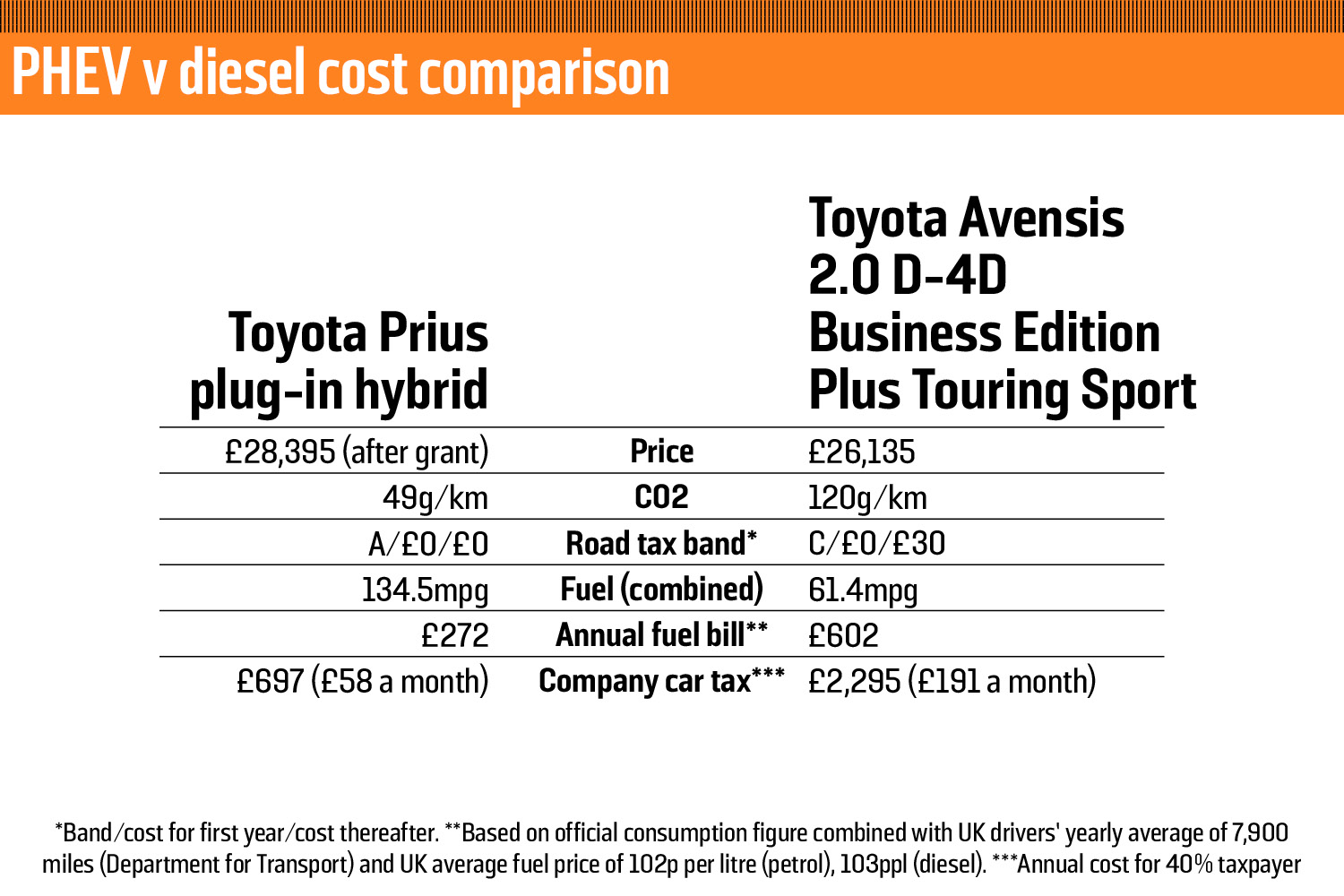 Audi A3 sportback e-tron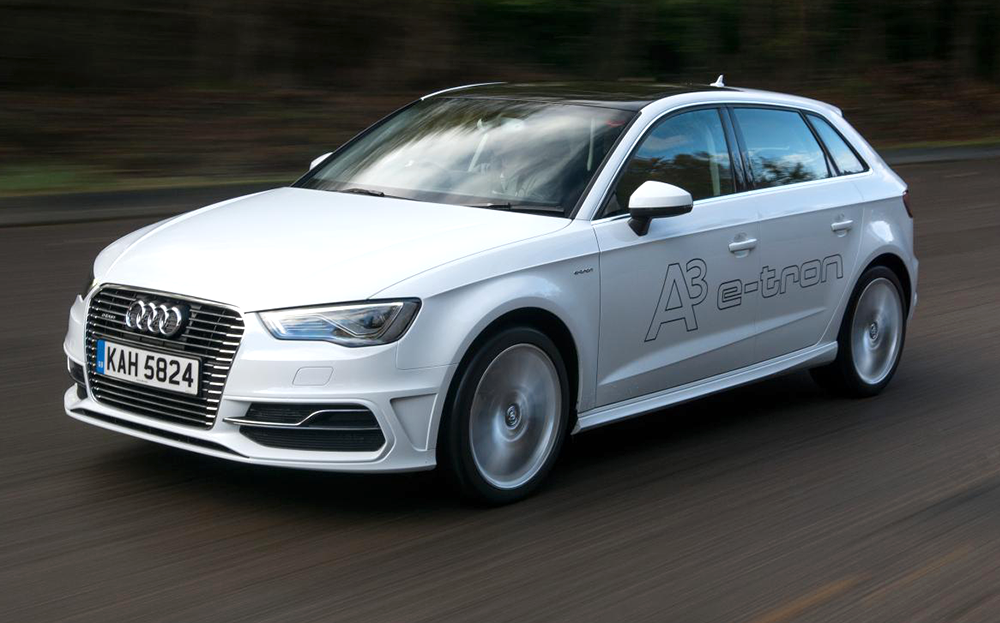 Words James Mills
Rating ★★★☆☆
Public charging points? Ultra-low emissions zones? Don't make me laugh. In the countryside the school run is a walk on a public footpath and the last time anyone in our village was heard muttering about congestion was when some chickens wandered into the road outside the solitary shop.
So will Audi's A3 Sportback e-tron be out of its depth away from the city limits? Is it a car, and type of technology, that gets lost in translation when taken out of its comfort zone?
The first hurdle to overcome with any plug-in hybrid vehicle is charging it. Yes, there's a petrol engine under the bonnet and the reassuring neon glow of countless petrol stations around most corners, but relying solely on those would defeat the object. Anyone who can't charge the A3 e-tron's lithium-ion battery ahead of every journey is simply lugging around 125kg of dead weight and making the little 1.4-litre turbocharged engine struggle like a stick man trying to bench-press twice his own bodyweight.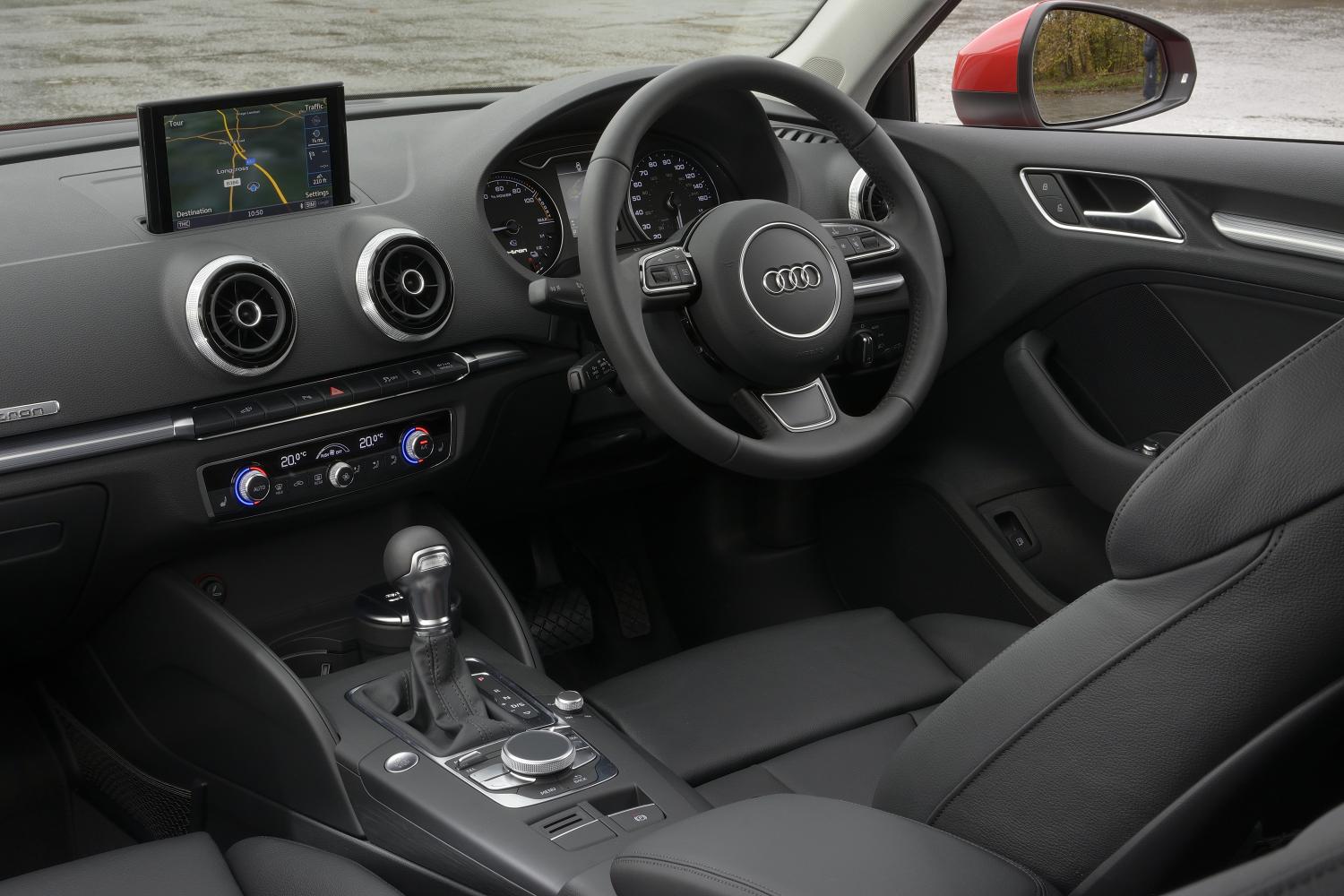 Believe it or not, there are no public electric charging points in our Kent village — and the nearest town has just two, with a total of five plugs between them, for nearly 60,000 residents — so a home-charging station is an essential investment.
I don't have one, and the Audi's 13-amp cable isn't long enough to reach our outdoor power socket. So I did what any bloke would do: ignored every dire prediction of disaster and doom by the makers of plug-in hybrid electric vehicles and used an extension lead. Happily, nothing burnt to the ground.
Perhaps the most likeable thing about the A3 e-tron is that, on the surface, it's an everyday Audi rather than an eco-mongering statement
Once fully charged — a four-hour process using a home socket, or just over two hours at a dedicated charging station — the battery gives a range of up to 31 miles. Combined with a full tank of petrol, this means the A3 e-tron is theoretically good for up to 580 miles, according to Audi.
For round trips of less than 20 miles, or longer runs with a charge point at your destination, the electric top-up is ample. The car's performance is perky enough without using the engine; it'll zip from 0-62mph in 7.6 seconds and is the most composed and satisfying of these three rivals when hustling along. Overcooking it into a wet roundabout at night, however, the weight of the battery (at the back of the car) did try to make the vehicle pirouette at one point.
Perhaps the most likeable thing about the A3 e-tron is that, on the surface, it's an everyday Audi rather than an eco-mongering statement. It doesn't shout biomass boilers or ground-source heat pumps.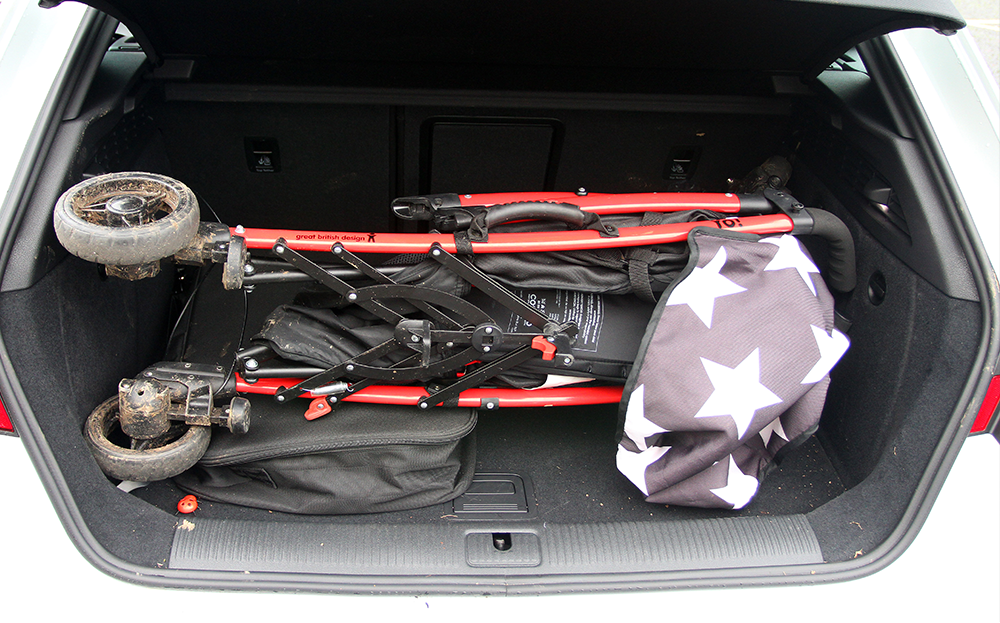 Where Audi trips up is that the car is something of a bodge job. There is no underfloor area in which to store the big, bulky charging leads, for example; they must be packed into a bespoke case in the compact boot, robbing it of a lot of room. Load in a pushchair and there's no space for anything else.
So it's the best to drive, and the nicest to sit in, but what a shame it isn't that bit more practical; if it were, I'd trade in our family diesel tomorrow. Because, when it came to the crunch, over 100 miles of motoring it managed to spend 51% of the time "emission-free" (according to the car's computer) and returned an average of 60mpg. Yes, that's a far cry from Audi's claimed 176.6mpg, but with more local trips, this figure could easily be improved.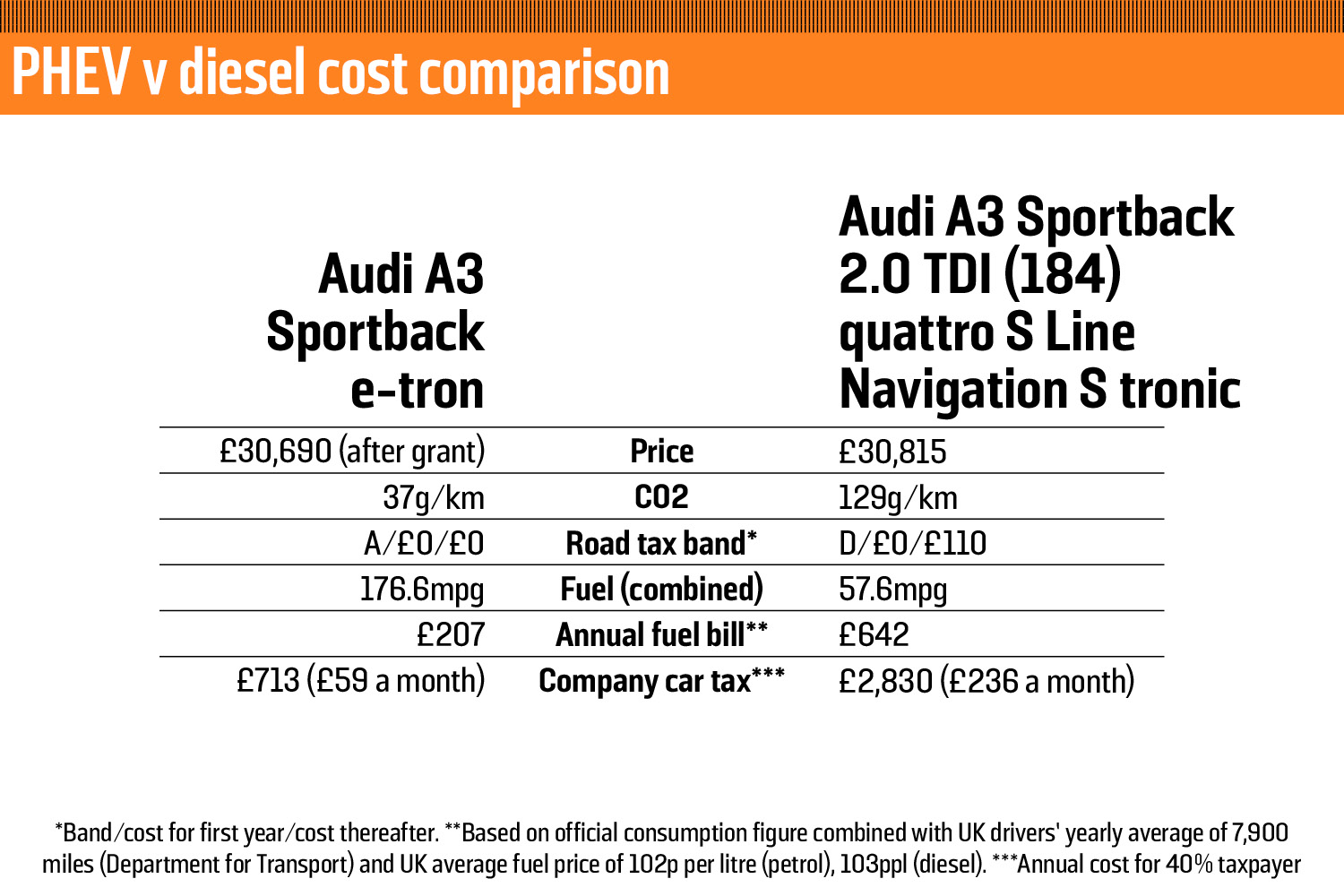 The new plug-in car grant rules
From March 2016 the government is adjusting the plug-in car grant, the amount of money it contributes to the sale of every new electric vehicle (EV) and plug-in hybrid electric vehicle (PHEV), as it attempts to encourage more people to switch to low-emission vehicles. In place of the present £5,000 contribution for an ultra-low-emission EV or PHEV that emits less than 75g/km of CO2 there will be three bands.
Category 1 vehicles, which benefit from a £4,500 grant, are those that travel over 70 miles on a single battery charge and emit less than 50g/km of CO2. Category 2 vehicles (£2,500) — those tested here — are those that travel between 10 and 69 miles on a single charge and emit less than 50g/km. And category 3 (£2,500) vehicles travel at least 20 miles on a charge and emit between 50g/km and 75g/km of CO2.
However, a price cap means buyers of luxury models that cost more than £60,000 and fall into category 2 or 3 will not be eligible for the grant.
All three models here are exempt from vehicle tax. And the benefit-in-kind tax for drivers of company cars or capital allowances for small-business owners bring more advantages over similarly priced petrol or diesel-powered cars.
The Audi A3 Sportback e-tron, for example, costs £30,690 after the plug-in car grant is applied. A comparable diesel A3 is the A3 Sportback 2.0 TDI (184) quattro S Line Navigation S tronic, which costs £30,815. The diesel version would cost a higher-rate taxpayer £2,830 a year (£236 a month) in tax, while the plug-in model would cost just £713 a year (£59 a month).
---
Browse NEW or USED cars for sale on driving.co.uk
---