Products: best car wash and shampoo reviewed
From grime to shine
WHETHER YOU clean your car once a year or once a week, it's important to use dedicated car wash or shampoo products. That's because household detergents, such as washing-up liquid, attack the wax and special clear coats that sit over paintwork and protect it from damage.
However, as anyone who has wandered along the car-cleaning aisle at a Halfords superstore will know, the choice of products can be bewildering.
We've tested five car wash and shampoo solutions, with some of the biggest names in the industry squaring up to smaller, 'boutique' car cleaning specialists.
The gloves are off, the mittens are on: let's wash…
---
Browse NEW or USED cars for sale
---
Armor All Heavy Duty Car Wash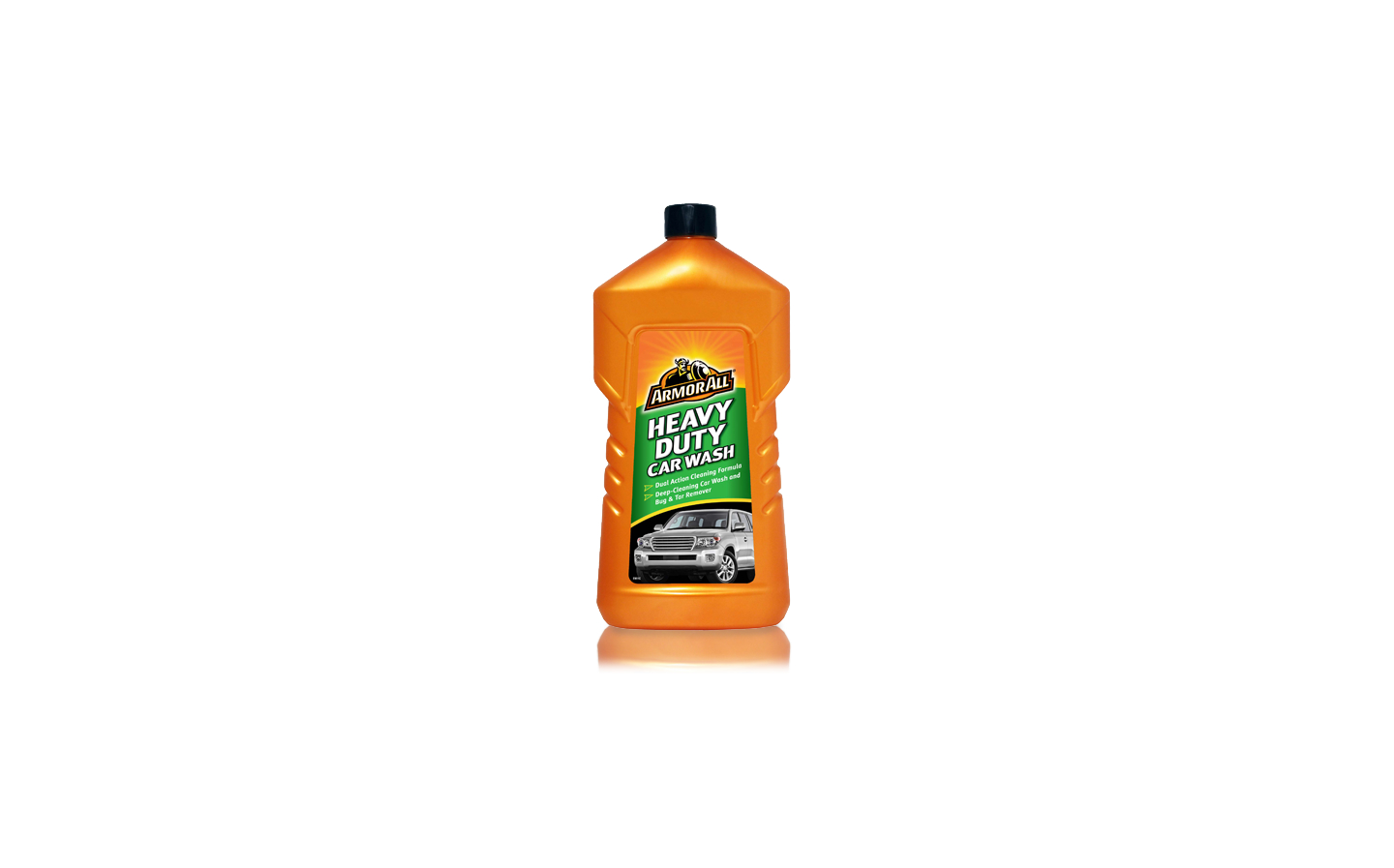 The American company Armor All was founded in 1962, after Joe Palcher, a chemist, invented a solution that could clean and protect rubber, plastic and vinyl from UV radiation.
It's still going strong, and the Heavy Duty Car Wash is said to provide superior cleaning action without stripping back wax from paint. It comes in a one litre bottle, and costs just £6.16, which seems like good value.
Armor All advises that dilution could be either three capfuls or six, depending on whether the car is moderately dirty or filthy. (There's also the option to use it neat on stubborn stains, before washing the car.) We mixed six capfuls (60ml) to a bucket of water – which works out at around 37 pence per wash.
It foams up nicely in the bucket, but when applying using a mitten the foam seemingly vanishes. There's also precious little lubrication, and despite it claiming to contain ingredients specifically for shifting bug stains and tar, we had to work very hard to get the bodywork blemish-free.
All in all, this is one car wash product that didn't live up to its name. The only thing that felt heavy duty was how hard we had to graft to cut through grime.
Auto Glym Bodywork Shampoo Conditioner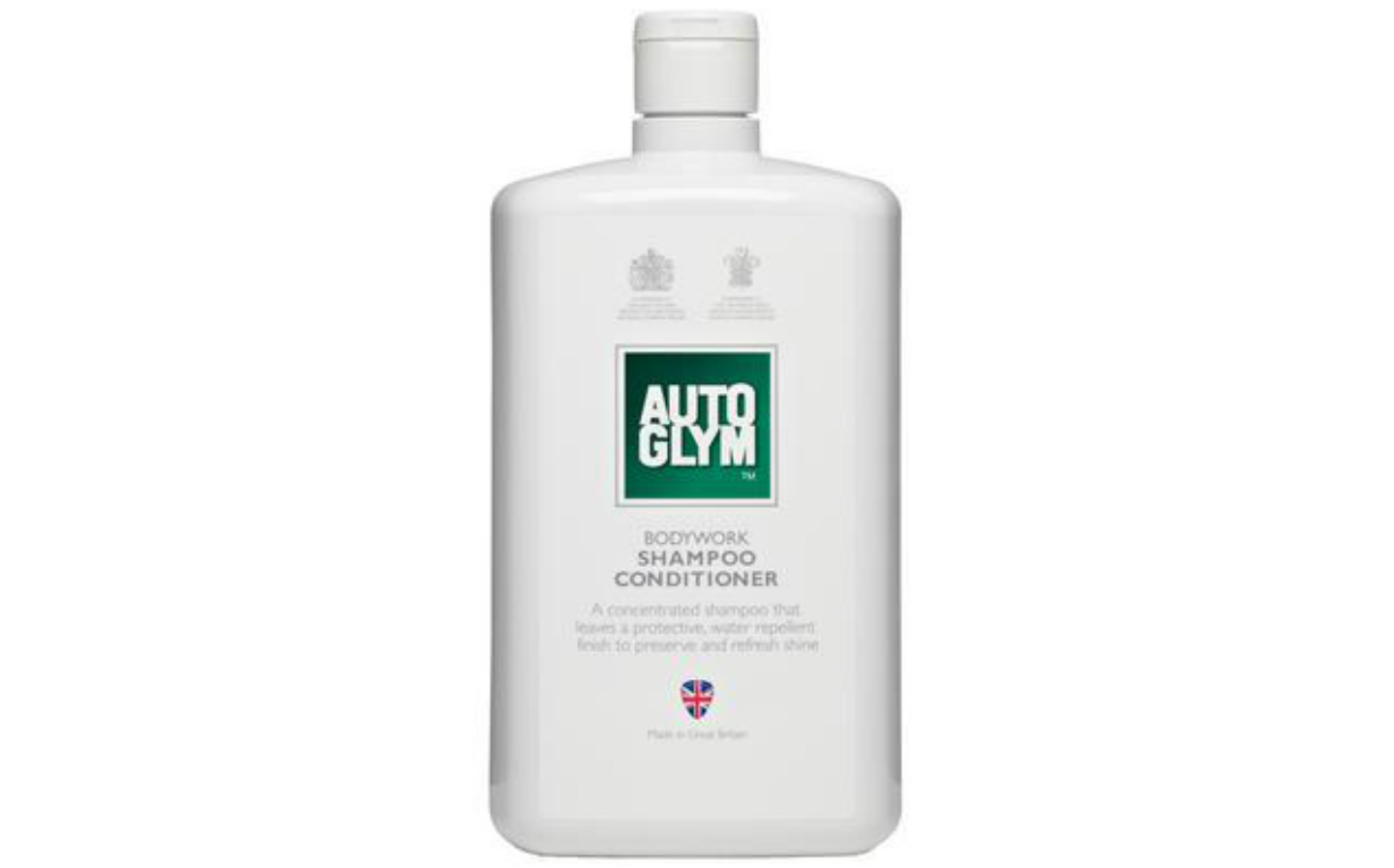 Auto Glym Bodywork Shampoo Conditioner has been going since the mid' '90s and in that time it has earned itself a Royal Warrant. We like the idea of Princes William and Harry using it to wash their wheels at the weekend – just like us.
It's said to be PH-neutral and a low-foaming solution. Like others, it features surfacants, only in this case these are present to create a water repellent film that helps disperse water when rinsing, drying and when it rains. Auto Glym claims that it won't strip away wax that has previously been applied.
You can buy a 500ml bottle for £7.45, and it requires two capfuls (20ml) to be diluted with 10 litres or warm or cold water. That makes it quite pricey, at roughly 30 pence per wash.
Sure enough, when applying with a wash mitt, there isn't much in the way of foam. That can create the impression that it isn't cleaning terribly well. But once the job's complete and you hose away the shampoo, it disperses water quickly and leaves an impressive shine to paintwork.
That shine is long-lasting, evident weeks later, and when it rains the beading effect continues to impress. This is something of a classic that continues to impress against new shampoos.
Bilt Hamber Auto Wash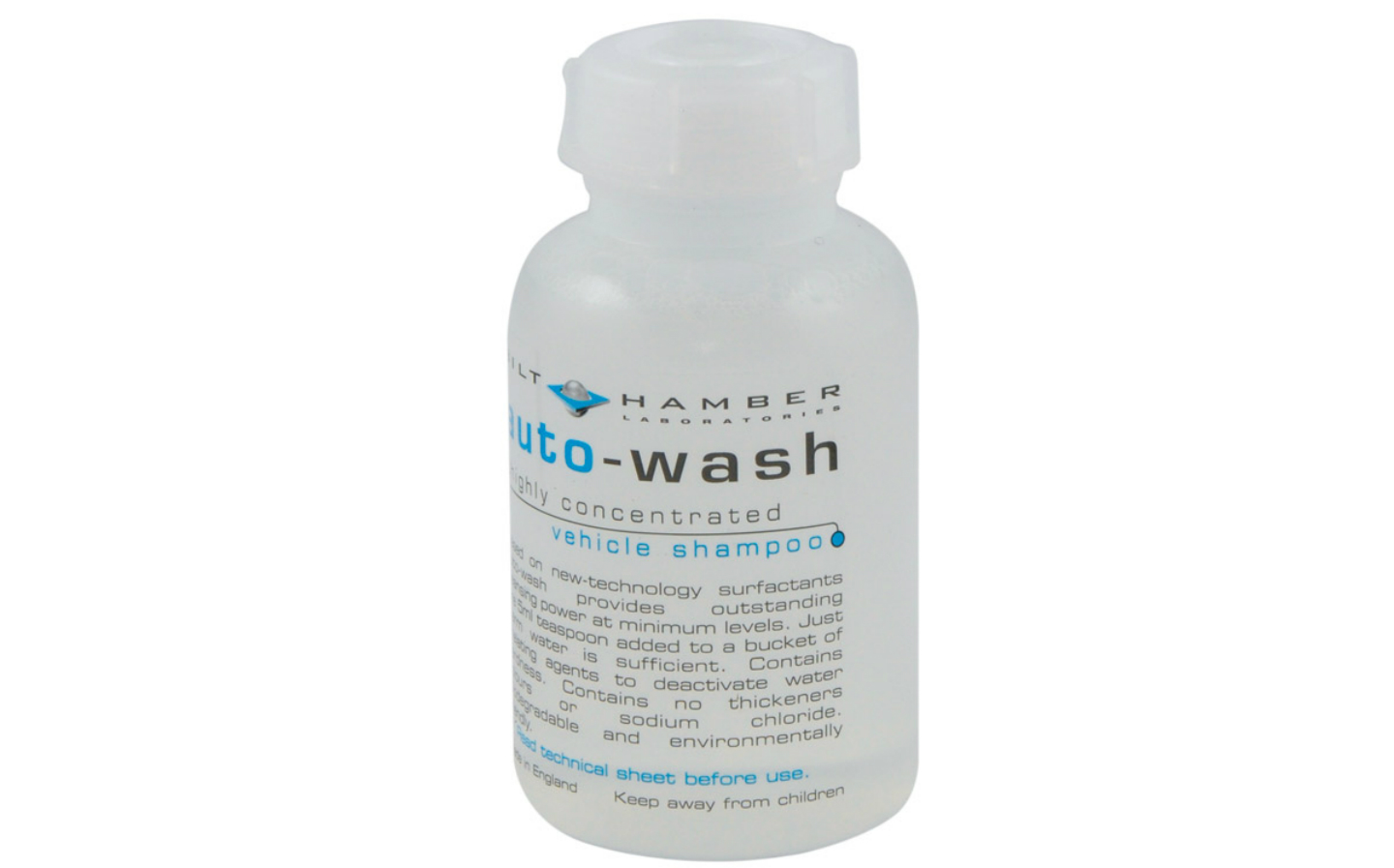 With a name like Bilt Hamber, it's tempting to imagine this is a German car care company. But in fact it's based in Billericay, Essex. Its products continually win comparison tests and awards in the motoring media, not to mention praise from professionals in the world of car detailing.
The Auto Wash is claimed to deliver outstanding cleansing power while being kind to paintwork, as it's free from thickeners, colouring and salt. The company refers to surfacants – surface active agents – which help the shampoo create plenty of foam to lift dirt away from the paint surface when washing.
It comes in 300ml or one litre bottles. The 300ml, tested here, is £9.95 from the manufacturer, and as only a teaspoon full (5ml) is needed for a 10 litre bucket of water, it goes a long way and works out at around 16 pence per wash.
We didn't find the foaming action especially impressive, and the shine wasn't quite as good as Auto Glym's Bodywork Shampoo (above). However, it cleaned well and the beading action after use was good. And given how long the bottle will last, it has to be on your shortlist.
Dodo Juice Born to be Mild maintenance shampoo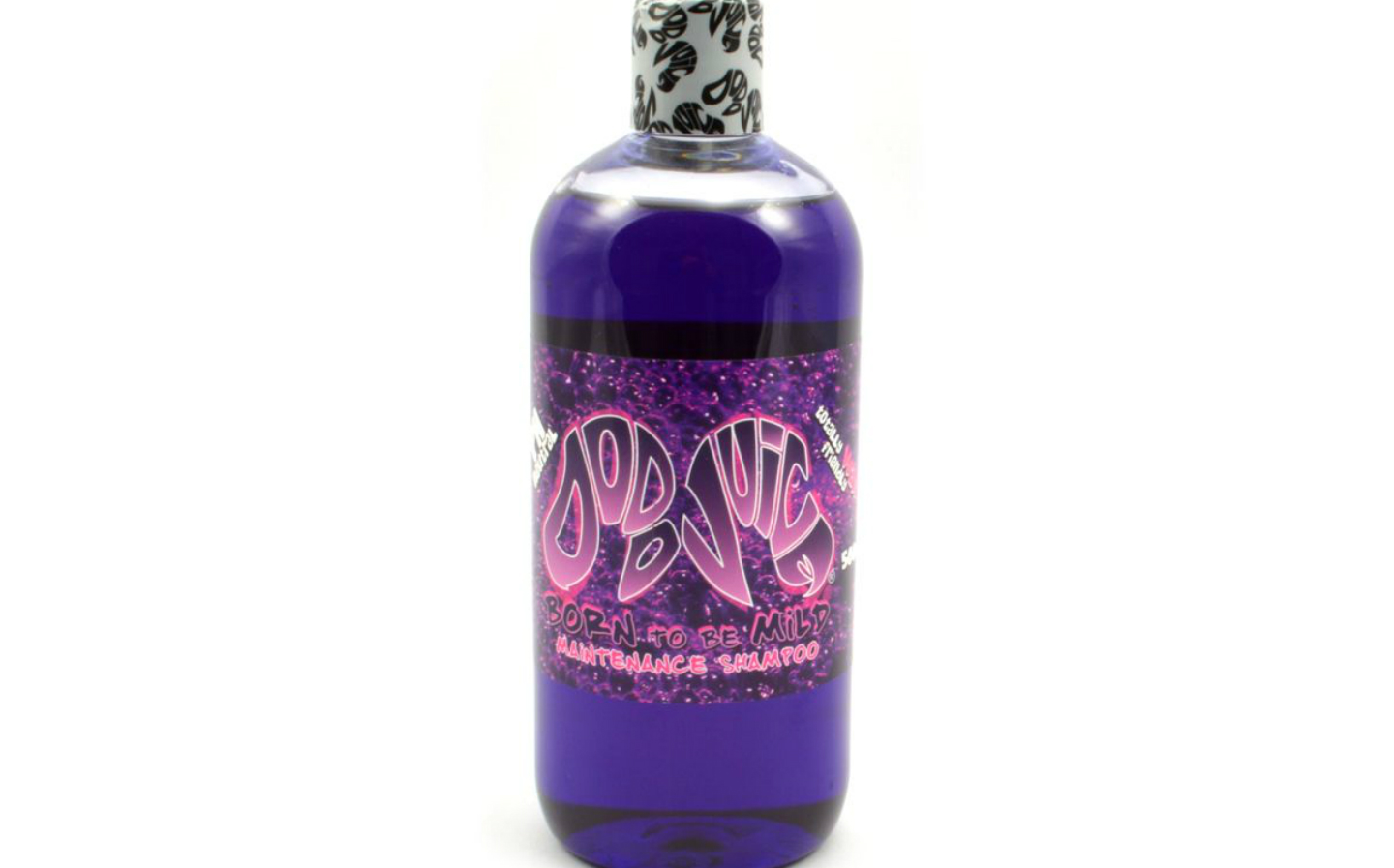 Browsing the range of products from British car detailing company Dodo Juice is good fun. They like nothing more than a pun – as their Born to be Mild maintenance shampoo shows.
The founders set out on the road to crafting better car cleaning products in 2007. They're proud that Dodo Juice products aren't the cheapest, as say they want to make the best, rather than the most affordable.
Born to be Mild is said to be a wax-friendly, biodegradable PH neutral shampoo. It smells faintly of peach, and is reckoned to dilute 1:800 with water, or two capfuls to a bucket, which is what we tried.
It costs £8.95 for 250ml. A capful is 7ml, so if you added two to a bucket of water, it would last for around 17 washes and work out at 50 pence per wash, which is expensive.
However, we found that this is a seriously effective shampoo – so much so that you could probably try using just one capful to a bucket. The foaming action is impressive, and the way that the shampoo lubricates the wash mitt and sends it gliding across the paintwork tells you that someone has perfected their secret ingredients.
It lifts dirt and grime effortlessly and doesn't dry too quickly, giving you time to get on with the job of washing, rather than having to rinse as you go. Little wonder it has won multiple awards with Detailing World.
All in all, using Dodo Juice Born to be Mild is one of our favourite ways to pamper the car.
Turtle Wax Ceramic Wash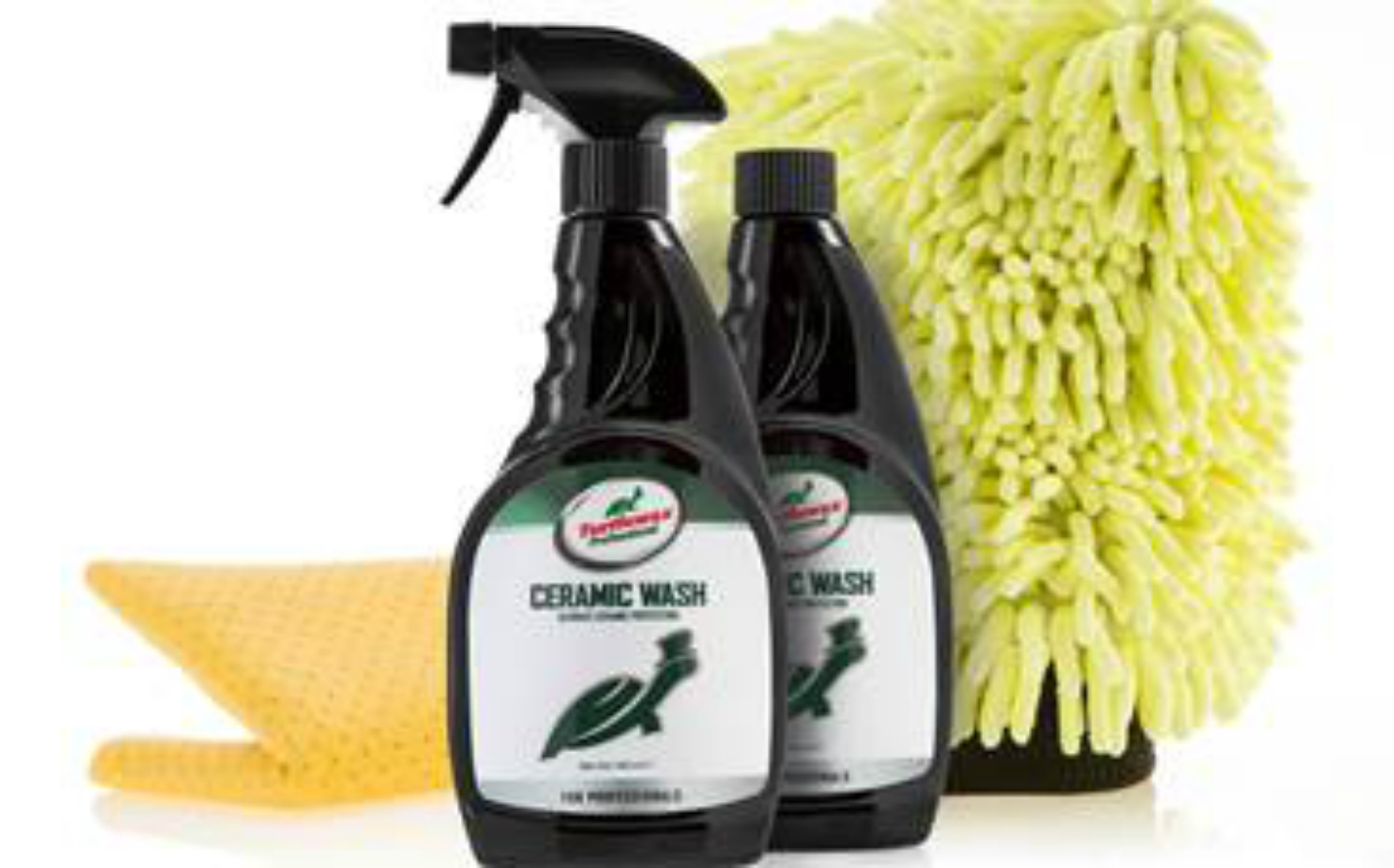 Turtle Wax is an American company that's been in the business of pampering cars for nearly 80 years. The Ceramic Wash is its latest, high-tech car shampoo.
Any car cleaning product that claims to give bodywork a "glistening shine" that lasts for up to six weeks has to be worth putting on the cleaning mitt for. We grabbed our bucket and hose and applied some elbow grease.
The pack is supplied by Ideal World, for £53.96, plus postage, which is expensive. And we had our doubts that a bottle of ceramic wash would last as long as was claimed.
We were wrong. Washing a four-year-old large family car, we hosed off the exterior and then filled a bucket with water to rinse the mitt. A large panel, such as the roof, needed only three or four squirts, as did the bonnet and then the sides of the car. So the initial scepticism was ill-founded: each bottle should last a year if you wash your car every other weekend.
The ceramic wash is claimed both to clean paint and bond with its pores to form a clear coating that protects against ultraviolet light, rain, bird droppings, tar and salt. It's said to have a hydrophobic effect, so water runs off.
It cleaned well – as well as the Autoglym Bodywork Shampoo. The hydrophobic effect helped dry body panels quickly, leaving fewer streaks, and there's a smooth finish. Judging whether it does last six weeks – and therefore worth the premium price – is difficult. At the end of the period, when there was plenty of accumulated dirt and rain, its beading effect was still showing in rain or when hosed. But the price and limited availability holds back this technically advanced cleaner.
Products: Pressure washer buying guide with the most popular models reviewed