LCCS 2015: How to cut a classic car's running costs and even make money
Fire up the quattro, then make it earn its keep
---
Published 15 December 2014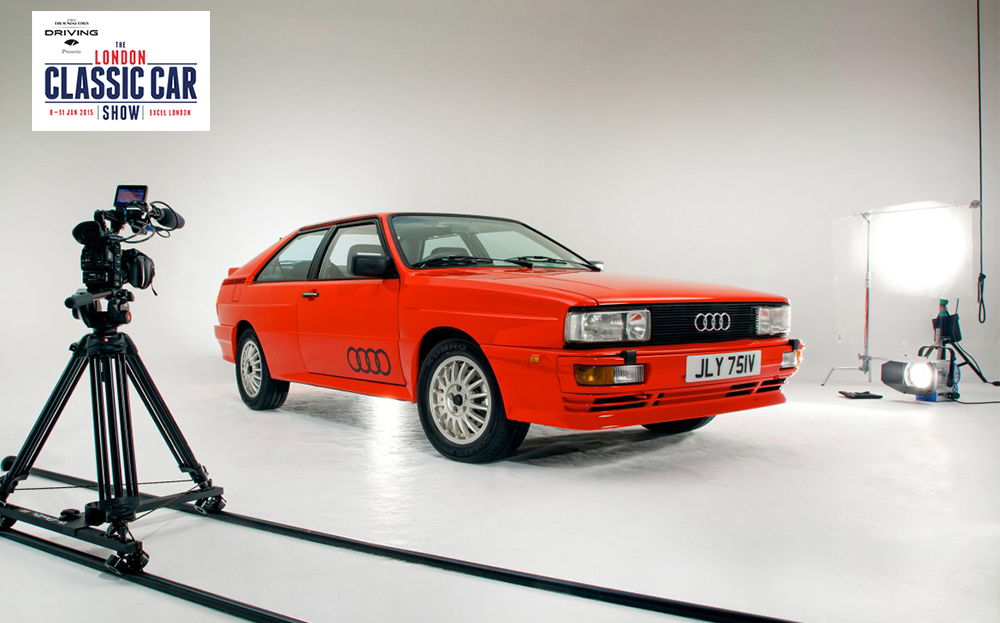 IT'S EASY to paint an alarming picture of the perils of living in a city with a classic car. After all, what proud owner of a perfectly polished Jaguar E-type wants to park it on the street when each day there are almost 210 motor vehicle crimes recorded by the Metropolitan police — more than 76,500 in the 12 months to October 2014?
Then there are the inflated insurance premiums. The specialist insurer Adrian Flux estimates that premiums are 109% higher for cars registered in London. Even drivers who have a conveniently located commercial car park with bright lights, security and CCTV still need to dig deep to pay for the privilege.
Research last year suggests London is the most expensive city in the world to park any car, be it a valuable classic or worn-out family estate, with drivers entering central London paying an average price of £42 a day to park. That's more than £1,200 a month before you've even begun to deal with the nuances and caprices of an old car.
But just as few of us marry a partner because they're easy to wipe down, drivers rarely choose to own a classic car because it's a practical transportation solution. However, life for the enthusiast can be made a lot more palatable — and cheaper — with a few useful tips for getting by in the big city.
---
Search for and buy your next car on driving.co.uk
---
GET FREE PARKING AND BASIC MAINTENANCE
Provided your classic was built by a manufacturer that still exists (sorry, most of you British car enthusiasts) you may find a local dealership will welcome your vehicle as a display piece. This has obvious disadvantages, as you won't be able to drive it on a whim. Free, dry storage, however, as well as the garage owner's incentive to keep your vehicle looking pristine, is an enticing prospect.
Mercedes dealers often come to such an arrangement. A spokesman explained the reasoning behind it: "We do this quite a bit because it's impractical for us to keep a fleet of classics. While it's not a formal programme and no money changes hands, it is something that happens at dealerships and at Mercedes-Benz World, our museum in Brooklands [in Surrey].
"The company curator works with the Mercedes-Benz owners' club to find cars that suit an exhibition or [relate to] a new car launch, which means we look for a wide variety of vehicles, not just exotic models." The cars are cleaned, regularly started, maintained and moved to make sure their bearings don't seize. Dealers also tend to keep the car locked and may even put a cordon round it, at the owner's discretion. "We agree everything beforehand under the strict supervision of owners."
Porsche takes a similar approach. Owners of classic Porsches are often welcomed by dealers who appreciate the value of displaying a car that brings to life the car maker's history. It's up to classic-car owners to contact a Porsche centre, says a spokesman. "It helps to have an existing relationship with the dealership, but we definitely see private cars displayed. It's most common in larger showrooms with plenty of space."
SERVICE IT YOURSELF
With labour rates at garages at their highest in inner-city areas, and many specialist mechanics charging £100 an hour or more, it does no harm to learn how to carry out basic servicing tasks yourself. But in a city as crowded as London, where off-street parking comes with an eye-watering price tag, working on a classic car can be a practical headache.
The good news is that drivers don't need a garage or even their own tools — classic-car collectives are ready and waiting to welcome you with open arms and loaned socket sets.
Pit Start garage in Park Royal, northwest London, is Europe's largest fully equipped self-service garage, and it's open seven days a week. Prices start at £10 an hour for a bay with tools and rise to £20 an hour for use of a ramp. Professional mechanics are on hand for a fee, should an owner get halfway through a job and find it's beyond their mechanical know-how. Rent a Ramp, in Darlington, Co Durham, charges just £6 a day for tool hire and £10 an hour for a car bay.
In Bristol, Area 52 goes one step further with a garage community. Its founder, Bruce Holder, describes it as "a fully equipped workshop where people can visit, help work on other cars and work on their own cars. Ultimately it's a place to meet fellow enthusiasts, learn new skills and mess around with cars."
Area 52 doesn't charge a fee, instead asking members of the community to pitch in with a contribution to help keep the bills paid and equipment serviced. "You get out what you put in. If a stranger turned up and asked just to have some work done on their car, we would encourage them to help with other people's cars first and become part of the community," says Holder.
"If they're interested in maintaining and improving older vehicles, not just their own, they would be very welcome. We also have a lot going on for people who want to learn how to restore a car. We're currently rebuilding a very rusty Renault 4 as a way to help people learn skills like welding and automotive electrics."

EARN MONEY FROM YOUR CLASSIC CAR
There's a way to make money from your car and add a touch of big-screen glamour to its provenance: hire it to film companies as set dressing. Firms such as Star Car Hire and Filmcars specialise in casting classic cars for the film, television and advertising industries. Register with them and they will approach you if a production company is looking for a vehicle such as yours. You generally don't have to pay registration fees, and you can expect to earn between £150 and £600 a day, depending on the scale of the production and rarity of your vehicle.
Paul Wakely, from London, hired out his 1970 Dodge Dart Swinger after being approached by a vehicle casting agency through his car club, the Mopar Muscle Association. The American classic car was hired for a Tim Burton film — though he's legally obliged not to mention the title — at Pinewood Studios in Buckinghamshire for £400 a day plus £50 fuel expenses for three days, enough to pay for insurance and servicing for a couple of years.
Wakely says that it's not quite as glamorous as people imagine. "You should consider reliability. I was asked to wait with the engine idling for 20 minutes, ready to go at a moment's notice. That's a big risk for classics that aren't used regularly. The days are long too — up to 12 hours — but it's genuinely fascinating and a talking point for your car's history. Just remember that there's no guarantee it will appear in the finished film and prepare to be flexible. The casting company may ask you back for the following day with minimal notice."
STOP RUST CHEAPLY
If you're planning to drive your classic in the city you will need to protect it against rust, which creeps in with tenacity if you use your car on British roads over winter because of the corrosive salt used to prevent ice build-ups.
Professional outfits such as Rustmaster charge between £360 and £600 for fitting a protective film on the car's underside, but if you're after a cheaper fix, look to the companies that serve high-mileage vans and taxis. Purfleet Truck Wash, in Essex, for example, will steam-clean the underneath of your car and its engine bay for £45, allowing you to add a sealant coating of your choice afterwards — or you could just have the job done three times a year to ensure the worst is kept at bay.
KEEP YOUR CLASSIC CITY-SAFE
The simplicity of most lock mechanisms and ignition wiring on classic cars makes them particularly vulnerable to theft. However, there is a wide range of aftermarket security devices available, from £120 steering wheel locks to £600 alarm and immobiliser systems.
Buyers should look for a stamp of approval from Thatcham, the insurers' vehicle security testing body, as well as the SS Pact mark. Endorsement from the former can reduce your annual insurance premium. The latter stands for Sold Secure Partnership Against Car Theft and means the product has been tested by the police and will withstand a five-minute attack (police estimate that thieves spend only 2½ minutes trying to break into a vehicle before giving up). Make sure you fit the stickers that come with alarm systems to your car window too. They're a visual deterrent.
Another worthwhile investment is a tracking device. Classic cars are often worth more in parts than they are as a whole so prompt recovery is essential. Tracker offers the only system used by every police force in the UK; hidden transmitters enable police to locate a vehicle even if it's stored out of sight in a garage or a shipping container. The devices draw on their own power supply so won't run your battery flat.
They're not cheap, though: you have to buy the high-spec £312 Locate model (not including a £174 annual subscription) for Europe-wide location functionality and motion sensors that alert the vehicle owner if there's any unauthorised movement.
Otherwise, security is a matter of common sense. Avoid vandalism by parking away from hotspots such as pubs and nightclubs; if you have a driveway and a second car you should park it in front of your classic; fit a locked cover on classics left parked on the road; move the car regularly so it doesn't look neglected; and always leave it on the best-lit street in your area.
Another simple security hack is removing the rotor arm inside the distributor cap and taking it home with you. It makes the car impossible to start and takes only a few moments. If you don't know how to do that, take it as an opportunity to join a local car club and ask a mechanically minded member.
Matt Jones is digital features editor for GQ and drives a classic car in London
---
Search for and buy your next car on driving.co.uk
---
London Classic Car Show 2015 preview