How to generate and store power for electric cars and home use
Generate, store and sell your own power using a home battery
---
Published 18 September 2017
VA-VA-vroom — almost literally. There are a number of companies on a mission to turn every home into a mini power station that charges its own battery: Tesla, Mercedes-Benz, Nissan and even Ikea. By storing rays from the "fusion reactor in the sky", as Tesla's Elon Musk calls the sun, we could end our reliance on fossil fuels.
New government rules will make it easier to generate, store and sell your own power to the National Grid — saving consumers between £17bn and £40bn by 2050, the energy regulator, Ofgem, estimates. Should you buy a home battery and join in?
---
Browse NEW or USED cars for sale
---
How much can I save?
Six months ago, Nathan and Tracey Rous, both company directors, spent £7,000 on fitting a 2.4kWh PowerCore battery and 12 solar panels, generating 3kW, at the four-bedroom house in Eaton Constantine, Shropshire, where they live with their two children. "We only use the grid for 20% of our energy needs," says Nathan, 43. "It's cut our monthly electricity bill by about £75, and we'll save hundreds of pounds a month on fuel when we switch to a hybrid car — I've got one on order." Leaving aside the car, their savings will outstrip their costs in less than eight years.
Before the installation, the family's energy costs had "sky-rocketed", Nathan adds. "We live in a leaky Victorian villa with ill-fitting sash windows and oil for the heating. At some periods, there were four people working in my home office, so we consumed a lot of energy. The panels and battery mean we run an office with zero energy costs."
Ikea claims that fitting a battery and 12 solar panels, which it offers in partnership with Solarcentury, could save a London family who are at home on weekday afternoons up to £560 a year.
How much does a battery cost?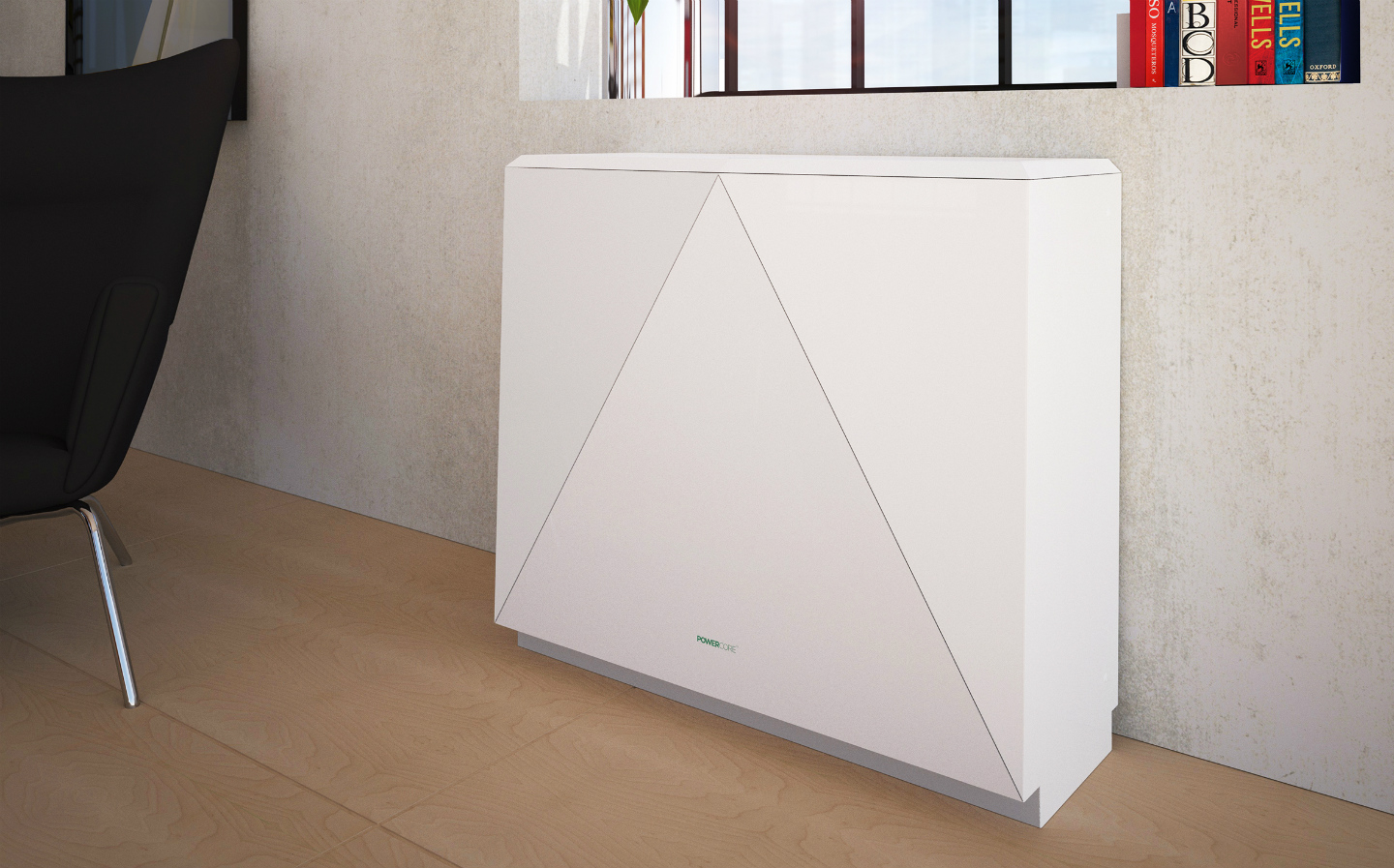 PowerCore Built near Reading to suit British homes, the battery unit (pictured above) has attractive casing designed by John Tomalin-Reeves, creator of the first-class lounge at Heathrow Terminal 5 and a barbecue that stays cool to the touch. The smallest one (2.4kWh) starts at £2,885, or £5,999 with 10 solar panels — the latter price includes the 5% VAT due on new solar installations. Fitting will cost about £500 (srsworks.co.uk).
Ikea Batteries by Sonnen and LG Chem — fitted by Solarcentury — start at £3,000, or £6,925 with 12 solar panels (includes 5% VAT; ikea.co.uk/solar). Allow at least £5,000 to add a battery if you already have solar panels (includes the 20% VAT due on retrofits).
Tesla The launch of the US tech giant's Powerwall battery in 2015 was greeted with as much fervour as that of the iPhone. The 14kWh second model costs £5,900 (includes VAT and £500 in supporting hardware). Installation costs range from £800 to £2,000 (tesla.com).
Nissan The carmaker has teamed up with Eaton, a power-management firm, to recycle used electric vehicle batteries — built in Sunderland — in the xStorage home battery, which starts at£4,250 for 4.2kWh (excluding VAT and installation). The first batteries will be fitted in autumn; place an order at eaton.com/xstorage.
Mercedes-Benz Batteries branded with the famous three-pointed star start at £4,000 for 5kW, including installation, but not VAT (mercedes-benz-energy.com). UK distributors include Alternergy, Innasol and Wind & Sun.
How does it work?
You'll save more by storing solar energy in a battery for your own use at night — when an energy supplier would charge you 15p a unit — than by selling it back to the grid at the current unit rate of 9p during the day. If you joined the government's feed-in tariff scheme now, you would earn only 4p a unit for generating electricity, then a further 5p for exporting it.
Payouts from the scheme have plummeted from 44p since its launch in 2010. Yet early adopters still get the rate that applied when they joined — guaranteed for 20 years — so are better off.
Batteries also make it easier to buy grid energy when it is at its cheapest in new "time of day" deals. These off-peak packages are expected to be the norm by 2020, when every home should have a smart meter.
Will my battery earn me money?
The industry thinks so, although rules are yet to be announced. The second generation of PowerCore batteries, out early next year, will allow you to sell your surplus energy back to the grid at higher rates during peak hours.
Battery-makers such as the German firm Sonnen are setting up user communities so you can sell excess power to peers and top up from them at low rates.
Will batteries get cheaper?
Lithium-ion battery prices have fallen by more than 50% since 2012, according to Ofgem, and the Renewable Energy Association reckons costs will come down by a further 30% by 2020.
Can I use a battery as backup?
Most can act as a backup in case of power cuts — useful in rural areas, as the Rouses have found. "We got four or five power cuts a month," Nathan says. "Now we always have a protected supply."
Elon Musk aims to put the sparkle into Tesla's new glass division
Martina Lees
This article first appeared in The Times