5 Best car trackers to buy in 2022
No longer just for James Bond
---
Published 22 December 2021
IF YOU think vehicle trackers are only for supercars and luxury limos, think again: these days there are very few arguments against getting one for even everyday runarounds.
Vehicle tracking devices are easy to fit, can be bought inexpensively, provide added reassurance and can help in the quick recovery of your car following a theft (with the potential to save on insurance as a result).
But of course, there are more sophisticated trackers available, too, which might be essential if you own high value cars.
How vehicle trackers work
Most rely on either Global Positioning Satellite (GPS) or Very High Frequency (VHF) radio signals to locate your car.
GPS is particularly useful as it can not only be used to pinpoint a car anywhere in the world, but it can also provide additional functionality to the owner through an app or website, allowing them to calculate their business mileage, for instance, or find out where they've parked the car.
The main disadvantage of GPS is that the signal isn't especially strong, meaning that if a car is driven underground or into a shipping container, it can be hard to locate.
That's where VHF comes into its own. The appropriately-named "Tracker" is the best-known company in the field, and it uses a hybrid set-up of GPS and VHF.
VHF means that if a car is driven into an underground car park, for example, it can still be easily found. All 52 police forces in the UK are equipped to find stolen cars fitted with Tracker devices that broadcast a VHF signal.
While it might be expensive and require professional installation, many insurers will insist on a Tracker, especially on higher-end cars.
Tracking services will often build up a picture of the driver's normal behaviour, thus being able to alert the driver if it detects the car being driven outside the usual time or location parameters.
Systems may feature engine cut-off capability meaning that if a car being driven by a thief stops at traffic lights or slows below a certain speed, power can be cut so that the car can't be driven any further.
Low cost vehicle trackers
There are tracking devices and systems out there designed to fit most drivers' requirements with prices starting from less than £50. Most are either plugged into the car's 12V socket, the On-board Diagnostics (OBD) port or wired to the battery terminals.
The majority require a SIM card to operate with the owner footing the monthly bill to their mobile data provider, while others require a monthly subscription fee to the tracking company instead.
In 2020, car thefts in the London area had risen by some 256% compared to 2016 while increases of 100% were recorded in Birmingham and Greater Manchester.
With much of this being attributed to keyless entry theft, other security measures such as steering locks and tracking devices can be useful weapons in an owner's anti-theft arsenal.
Any up-front or monthly costs should be offset against the added peace of mind from knowing that your car and possessions may not be totally lost in the event of a theft, as well as against potential insurance savings.
What are the best car trackers?
There are a number of factors to consider when choosing a tracking device, including initial price, monthly costs, ease of use, ease of installation and reliability. Here are some of the best.
1. Tracker S5 Plus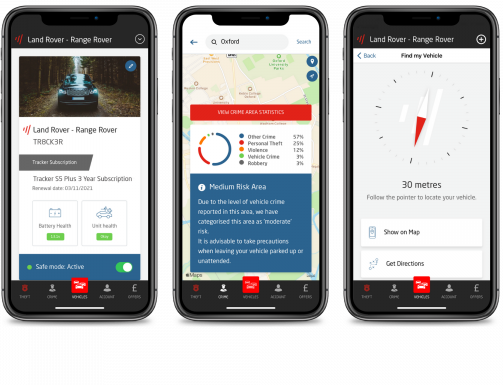 Best for: Reliability
Cost: £708 up front and a £219/year subscription fee
At more than £700 and with an annual subscription fee, the Tracker S5 Plus is pricey, but this is one of the best tracking devices out there. It uses VHF technology making it difficult for thieves to jam the signal, identity tags to verify whether someone is authorised to drive the car and, if it detects an unauthorised person behind the wheel, it'll alert the owner.
Tracker's system provides Europe-wide coverage and is often the only tracking device approved by insurers.
Click to buy at Tracker's website
2. Amatrac AM-T22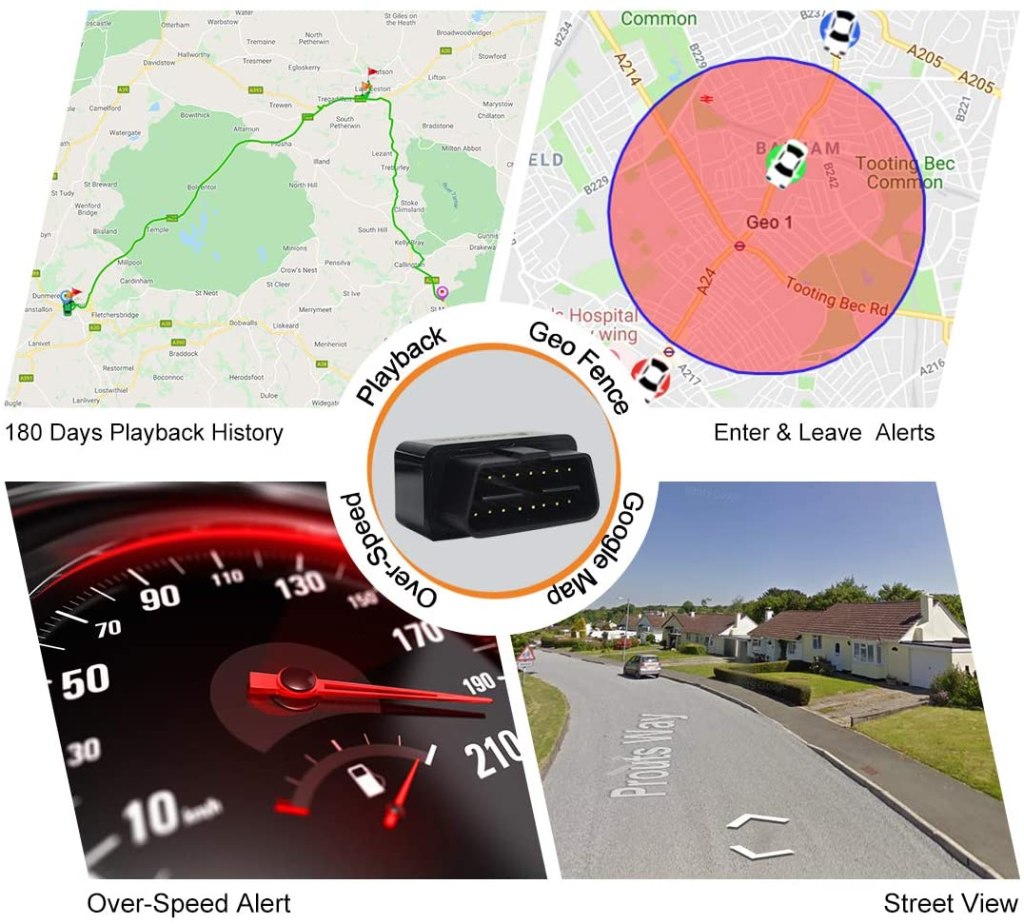 Best for: Value
Cost: £49.99 plus SIM contract
At the opposite end of the price scale is the Amatrac AM-T22. Offering buyers a lot for their money, it plugs into the car's OBD II port (all cars since 2001 have one) and has a number of features including GPS tracking, alerts when the cars leaves a certain areas and when it's driven above a designated speed.
It also features a microphone allowing you to remotely listen in on what's happening inside the car. Buyers can choose their own SIM option, which means an additional monthly cost.
Click to buy at Amazon.co.uk
3. Streetwize GPS tracker
Best for: Ease of use
Price: £55.50 plus SIM contract
With the Streetwize GPS tracker, the user simply sends a text message to the device's SIM card for a report on the car's location.
It can either be powered by the car's 12v battery or its own batteries, which have a life of around 200 hours before recharging is required.
It can potentially be used for tracking anything, including luggage, as it's so portable.
As with the Amatrac, buyers need to provide their own SIM so that's an additional monthly cost to consider.
Click to buy from Halfords
4. iTrack GPS108 Long Life GPS Tracker
Best for: Use where hard-wiring isn't an option
Price: £150 plus £20/year subscription
Though it doesn't connect to the car's battery, the iTrack's battery reportedly lasts up to three years between charges, which is longer than a jail sentence for any potential car thief, though if constantly tracking the battery life comes down to 40 days.
Like the Streetwize, location data is accessed by texting the device's SIM card, though it's also possible to set up live tracking through a free app.
The SIM comes with the device and tracking is free during a 14-day trial subscription, after which it's just £20 per year.
Click to buy from Halfords
5. Rewire Security DB2
Best for: Ease of installation
Price: £34.99 with £4.99/month subscription fee
Although this requires hard-wiring, it's easy enough for most users to do themselves. The connectors can simply be affixed under the battery terminal bolts while the device can be secured using either cable ties or sticky pads.
In theory, as it goes under the bonnet, it's more discreet than products that plug into the car's OBD port or interior sockets, and at less than £35, the Rewire is cheap as chips, though as with the others, there's a subscription fee to be aware of.
Click to buy from Amazon.co.uk
Tweet to @ST_Driving Follow @ST_Driving
Related articles
Latest articles