Time to ditch diesel? Comparing the costs of driving a hybrid, plug-in hybrid or electric car
Will they save you money?
---
Published 29 January 2018
IN LITTLE more than 20 years, the government hopes the rattle of diesel and roar of petrol-powered cars will fall silent. It wants drivers to kick a lifetime's habit of guzzling gas and plug in to the electric car.
Should all go according to plan, the internal combustion engine will become, if not quite a museum piece, at best a plaything for enthusiasts. Just as the horse and cart made way for the motor car a century ago, so driving an oil-fuelled vehicle is likely to become a hobbyists' weekend pursuit.
Traditional combustion-powered motors will be banned from the UK's new-car showrooms by 2040. Drivers will be able to buy a new model only if it has some form of electric propulsion.
---
Browse NEW or USED cars for sale
---
You do not need to wait until 2040, though: there is already a wide choice of "eco cars" in showrooms to suit most practical requirements and budgets.
They divide into three types: pure electrics, which run off rechargeable batteries; hybrids, powered by both petrol and batteries that recharge as you drive; and plug-in hybrids, which you charge up via a lead and drive on electricity or run with petrol, or a mix of both.
But which should you go for? To help you choose, Money has tested three of the most popular new types of eco car — against each other and against conventionally powered rivals — and examined their running costs over the typical three-year, 30,000-mile ownership period.
The pure electric: Renault Zoe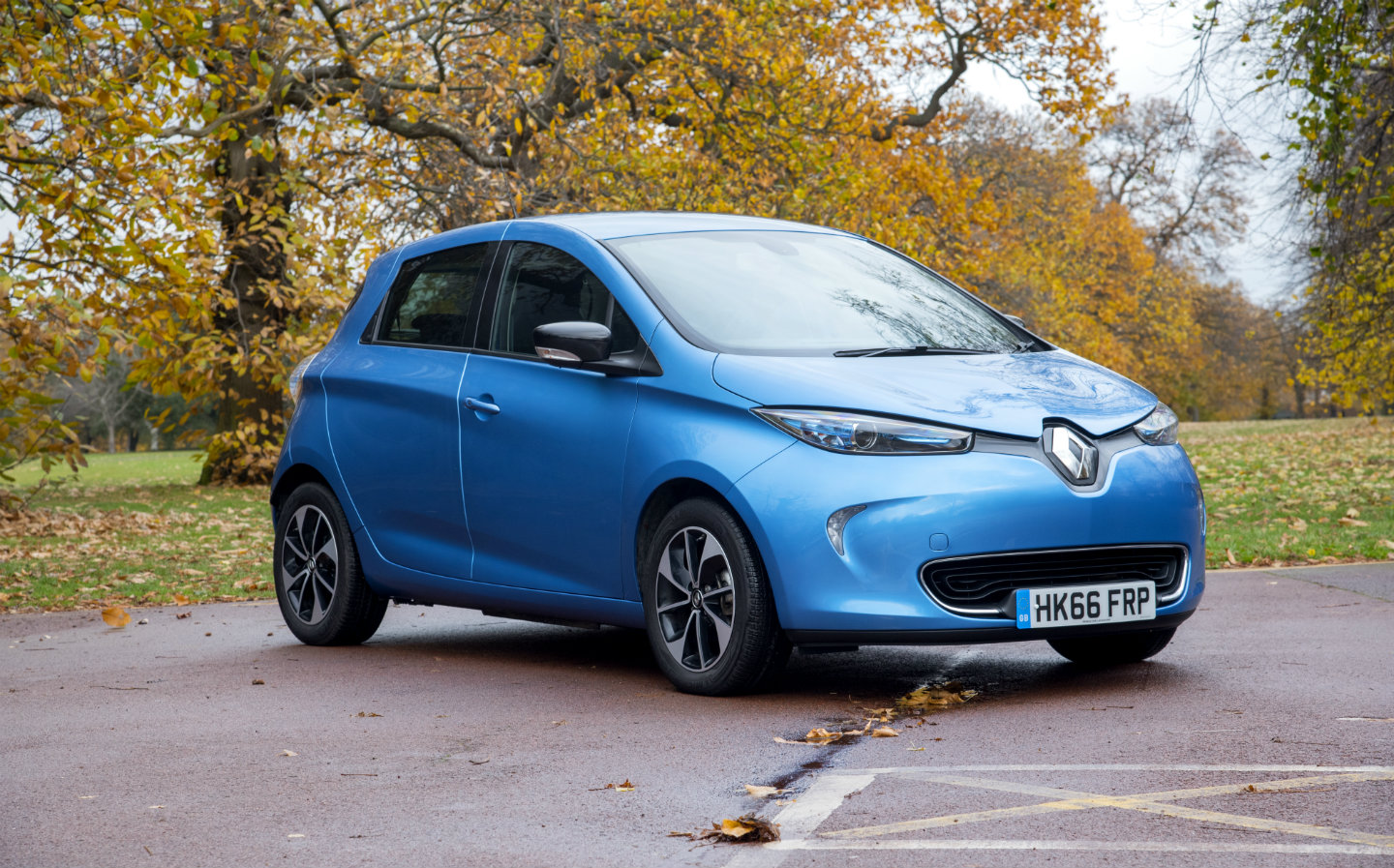 There is not a car maker with an eye on survival that is not rushing new, electrically powered models into showrooms. One of the most affordable, and bestselling, is the Renault Zoe.
About the size of a Ford Fiesta, it can drive up to 250 miles on a single charge — although owners report achieving considerably less at main road speeds when using everyday creature comforts such as heater and stereo, plus lights and windscreen wipers.
The Dynamique Nav R90 ZE 40 version tested here costs £28,270. This includes the battery, though if you are worried about battery life you can choose to buy the car without one for £21,970 and lease the battery at £99 a month instead. This will also be cheaper: over the three years, assuming 10,000 miles a year, this will make a total of £25,534.
That seems pricy compared with the traditional equivalent, a Clio diesel Dynamique S Nav dCi 110, which will set you back £18,925. But the government is here to help. To encourage drivers to buy electric and plug-in hybrids, it offers grants of £2,500-£4,500; the amount you can claim depends on your vehicle's CO2 emissions and driving range on battery power alone.
Because the Zoe emits less than 50g/km of CO2 and has a battery-powered driving range of at least 70 miles, it qualifies for the full £4,500, making it one of 20 or so models to do so. It is also exempt from road tax. By contrast, a diesel Clio would cost its owner £340 in road tax for the first three years. Insurance for a 40-year-old driver with a 10-year no-claims bonus would cost £1,540, according to GoCompare, which calculated average prices for all three cars in our comparison.
The Zoe should also be cheap to run: Next Green Car estimates the annual electricity bill for driving 10,000 miles a year in the Zoe to be £370, based on real-world operating conditions and an electricity cost of 14p per kilowatt hour.
Fewer moving parts, no need for oil changes and less wear and tear on expensive items such as brakes means servicing should be cheap. Renault says it should typically cost £193 for the first three years, against £399 for a diesel Clio.
With pure electrics, the main concern is range. Renault estimates you can do 186 miles between charges in temperate weather or 124 miles in winter, but on motorways the range drops significantly.
A rapid charge Q90 version of the ZE 40 is available with a 230-mile range, but the battery still takes an hour to reach 80% full. That's a lot of waiting around, suggesting it's still a car for evangelists — and their patient families — or, for those who can afford it, a second car.
Still keen? Before rushing to order one, there is something else to consider: depreciation. If you try to sell your Zoe at the end of the three years, it is likely to fetch just £5,225, a fall of £18,545 (78%) from its cost price after the grant was applied, a reflection of the lack of demand for second-hand small pure electric cars. An equivalent Clio dCi 110 would lose a slightly more modest 65% of its original cost.
Andrew Mee, a forecasting editor with CAP HPI, the used car market analyst that provided the predictions, puts the Renault Zoe's comparatively poor performance down to the relatively high new price, even after the government grant.
"This is a common pattern reflected across most battery electric vehicles and is not unique to Zoe," said Mee. "However, we expect that over the next few years, as more new-generation electric vehicles with improved battery technology come onto the market, their levels of depreciation will improve."
Total cost
Three years at 10,000 miles a year will cost you £21,388, including depreciation, compared with £17,535 for a comparable Renault Clio dCi 110.
What's it like to drive and is it practical?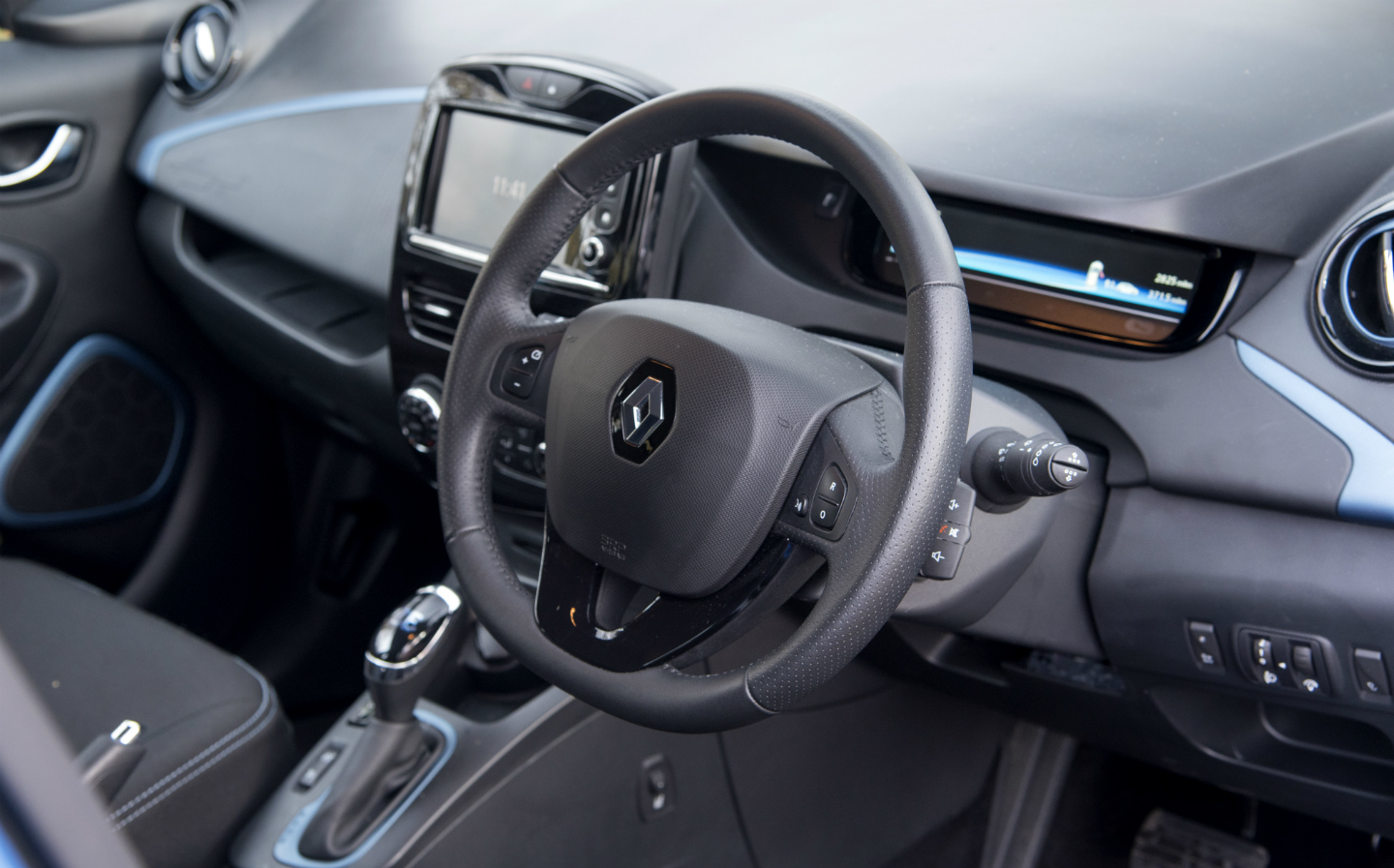 The Zoe is just about practical enough for a young family with two children in car seats, as I found out. But you'll have to pack lightly, given the snug boot, writes Will Dron.
Switch off the Eco mode (which mutes acceleration and reduces air conditioning) and the nippy acceleration means you're beating sports cars away from the lights.
You can expect to travel 186 miles between charges in temperate weather or 124 miles in the winter, says Renault, and that was consistent with my findings.
However, long-distance journeys are still much less convenient than they would be for a petrol, diesel or hybrid car. At motorway speeds the range drops significantly. After a full battery charge, a motorway journey would see the Zoe driver having to stop at a charging point every 100 miles or so (the car's navigation directs you to the closest) and top up at a 43kW motorway rapid charger to 80% capacity in 1hr 40 minutes.
A rapid charge Q90 version of the Z.E.40 is also available, with a 230-mile range, but it still takes an hour to reach 80% full. That's a lot of coffee drinking and waiting around, suggesting families that prefer to holiday by car will either need to be evangelists — and extremely patient ones at that — or own a second, conventionally-powered vehicle for the long runs to the holiday house.
The hybrid: Toyota Auris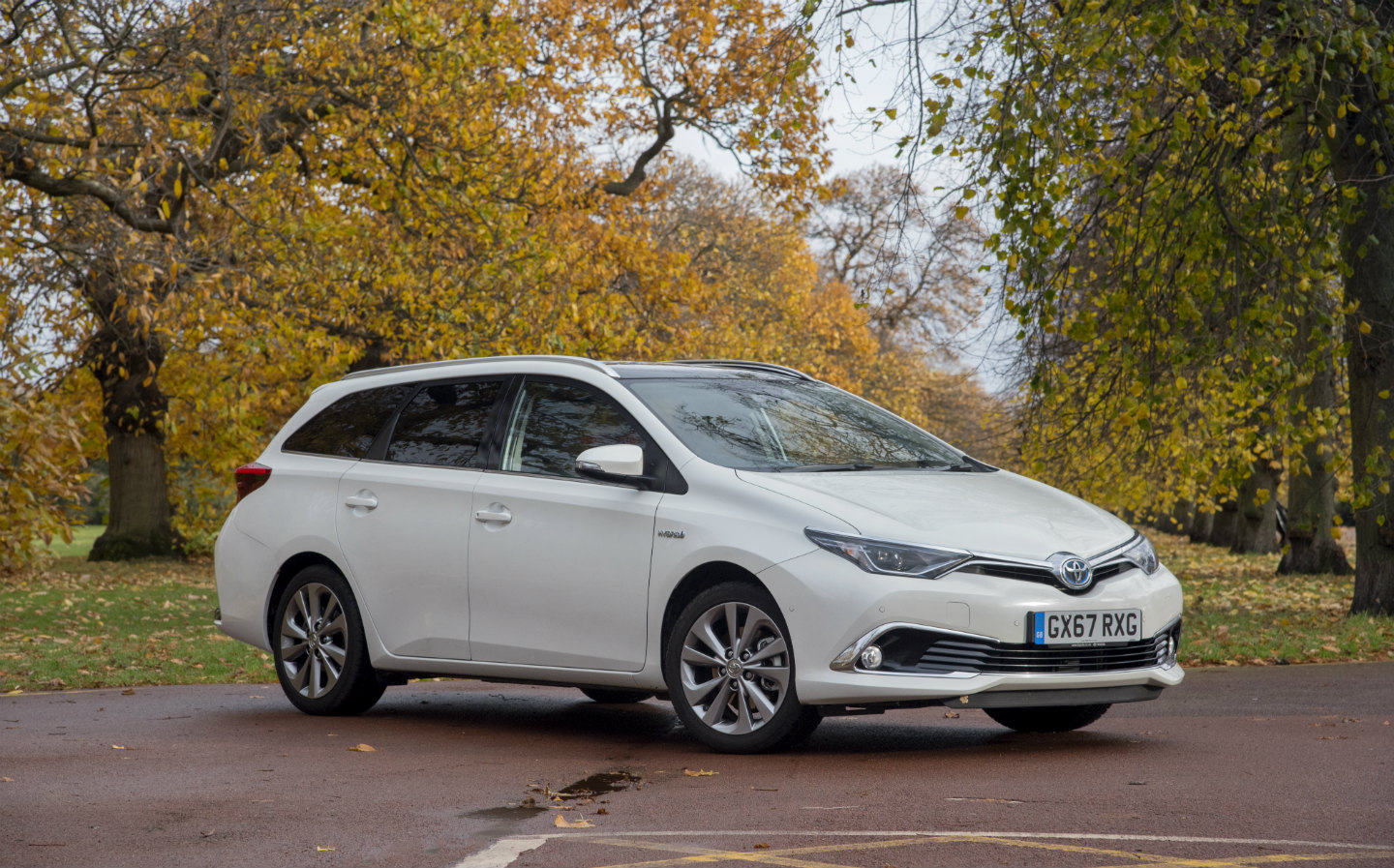 Most drivers will know someone who owns a hybrid car or have paid for a ride in one used as a taxi. And most of those cars will be a Toyota. The Japanese car maker launched its first hybrid, the Prius, 20 years ago, stealing a march on rivals.
The original idea behind a "green" hybrid system still stands today: driving one should be no different from driving a conventional car with an automatic gearbox, so no messing around with cables. Instead, the car's petrol engine and electric motor work in harmony, and onboard technologies, such as regenerative braking, help keep the battery charged. All you have to do is add petrol.
The list price of the Auris Hybrid Excel Touring Sports is £26,905, compared with £25,626 for the petrol equivalent (there is no diesel model).
By definition, it doesn't qualify for a plug-in car grant, and you must pay road tax: £110 in the first year and £130 a year thereafter. Insurance would be £1,342.
Fuel consumption is good. Toyota claims it can achieve 70.6mpg, though Emissions Analytics, which tests most new cars for fuel consumption and emissions, says a more realistic figure in real world conditions is 58mpg — meaning your 30,000 miles will cost an estimated £2,838 in petrol.
Servicing costs are relatively high at £705 for the first three years, the same as a 1.2T petrol version.
The car performs far better than the Zoe on depreciation. After three years and 30,000 miles it should fetch £10,425, having lost £16,480 (61%) of its value. A comparable 1.2T Excel petrol automatic would lose 69% of its value, or £17,625.
Total cost
The Auris shows that a hybrid can be a wise buy in terms of running costs. Three years at 10,000 miles a year will cost about £21,735, less than the £23,708 of the 1.2T petrol equivalent.
What's it like to drive and is it practical?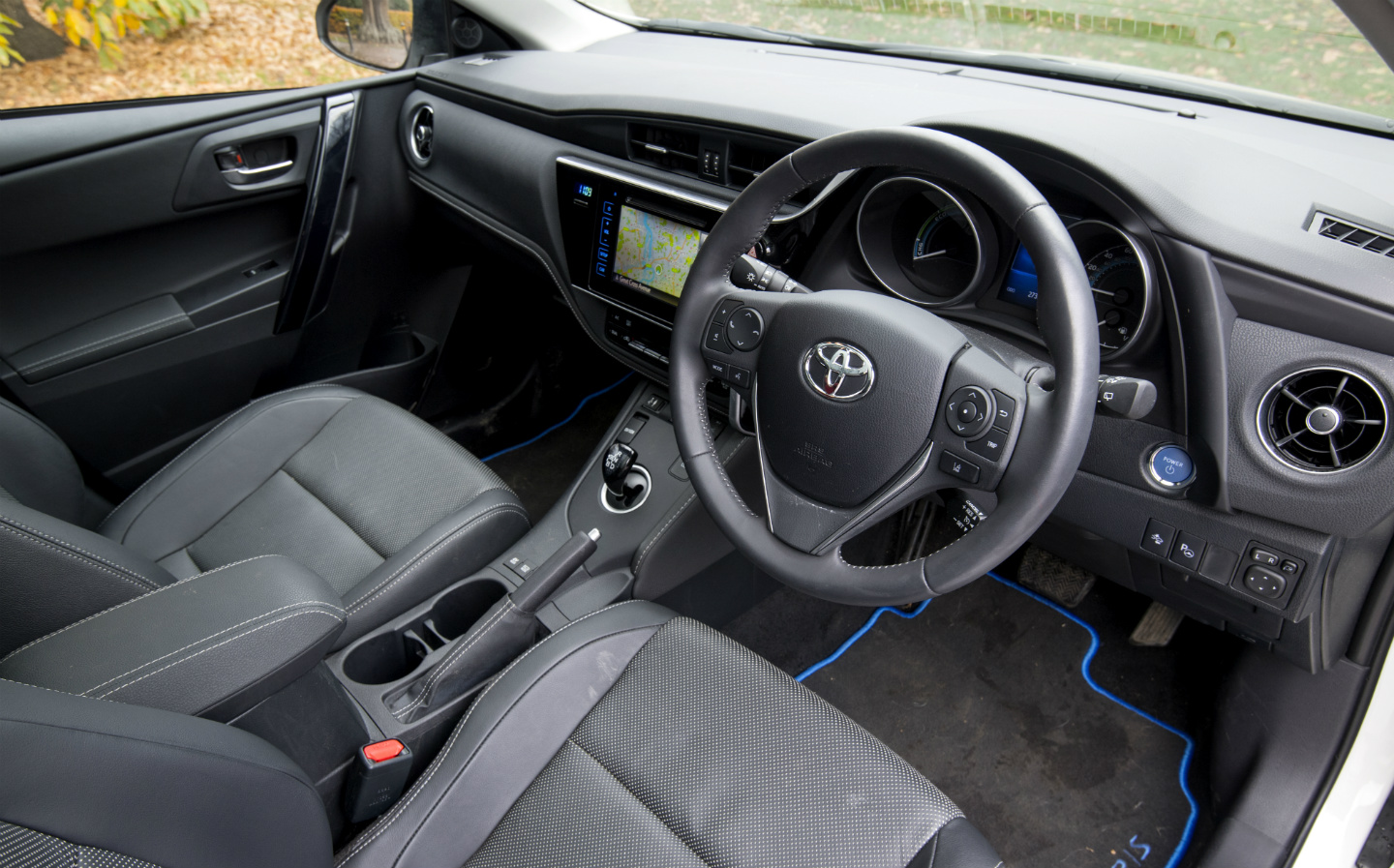 Toyota has succeeded in making the Auris Hybrid relaxing to drive, writes James Mills. Which means it is quiet and comfortable but never, ever, fun.
The hybrid powertrain lacks the torque – or grunt – of a diesel engine, which makes it feel feeble when accelerating to join, say, a main road. But I like the fact there is no need to get your hands dirty with power leads, as the full hybrid system is charged by either the petrol engine or regenerative braking.
You can drive it like any conventional car and Toyota's time-proven hybrid technology, developed and refined over millions of miles in cars like the Prius, means it won't let you down. It'll also hold its value better than a normal petrol equivalent.
This isn't the largest car in its class – but it has a decent amount of space and a handy 507-litre boot. It'd suit a family with two children, but if you have three (as I do) then it's a squash and a squeeze in the back. I just wish it would raise my pulse rate a little more.
---
Browse NEW or USED cars for sale
---
The plug in hybrid: VW Golf GTE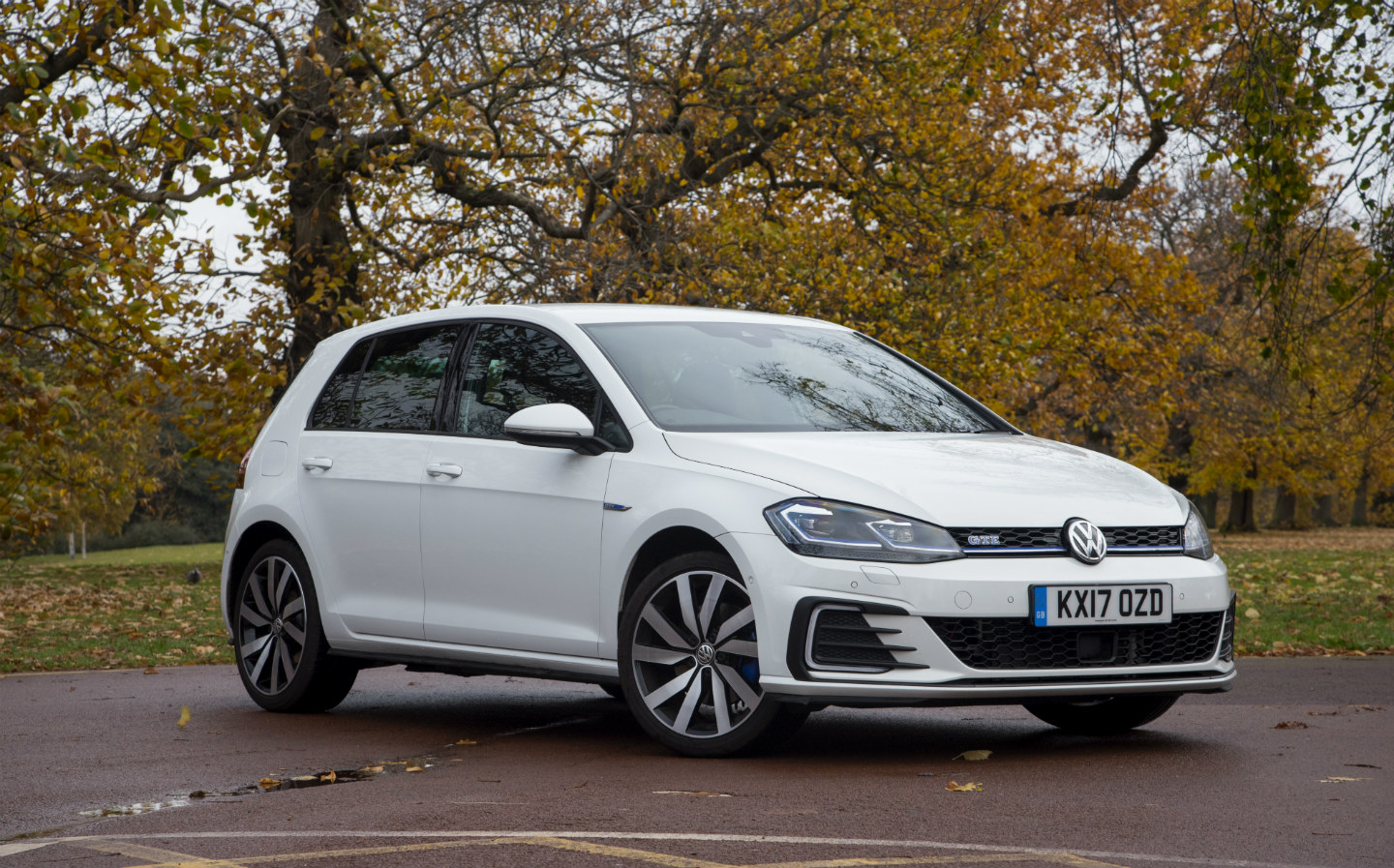 The Volkswagen Golf GTE manages up to 31 miles in electric mode — more than enough for the school run — and can be recharged in less than four hours, using a three-pin household socket.
On a longer journey, you can opt to mix battery and petrol engine together for perky performance, or save the battery's charge and run on petrol power alone. As a last resort, it is possible to recharge the battery using the engine.
This type of car has boomed in popularity in the past few years: Audi, BMW, Mini and Mercedes all offer one.
Government subsidies and freedom from "range anxiety" have led to lengthy waiting lists — so long that Volkswagen has temporarily stopped taking orders.
The GTE costs £32,600 for the Advance model; an equally powerful diesel, the 2.0 Golf GTD Blueline 5-door with an automatic gearbox starts at £29,435.
The good news is that the GTE qualifies for a plug-in car grant — albeit just £2,500 —one of 18 plug-ins that do so at present. There is also no road tax to pay for the first year; after that it's £130 a year. The bill for insurance would be £1,396.
VW claims the car will achieve 156.9mpg, but you will only get close to that figure if you're able to charge the battery before every drive. Emissions Analytics says 58mpg seems more realistic — putting it on a par with the Auris hybrid, which means the same fuel bill of £2,838.
Servicing is cheap, nearly half the price of the Toyota: Volkswagen estimates it would cost £367 over three years (compared with £309 for a Golf GTD).
The car really wins out when it comes to depreciation: after three years, the GTE would fetch £15,050, meaning a loss of £15,050, or 50%, on the £30,100 you bought it for thanks to the plug-in grant. CAP HPI estimates the diesel alternative would drop by £17,460 (59%).
Total cost
Three years at 10,000 miles a year will cost you an estimated £19,911 — considerably less than the diesel equivalent, which will set you back £23,037.
What's it like to drive and is it practical?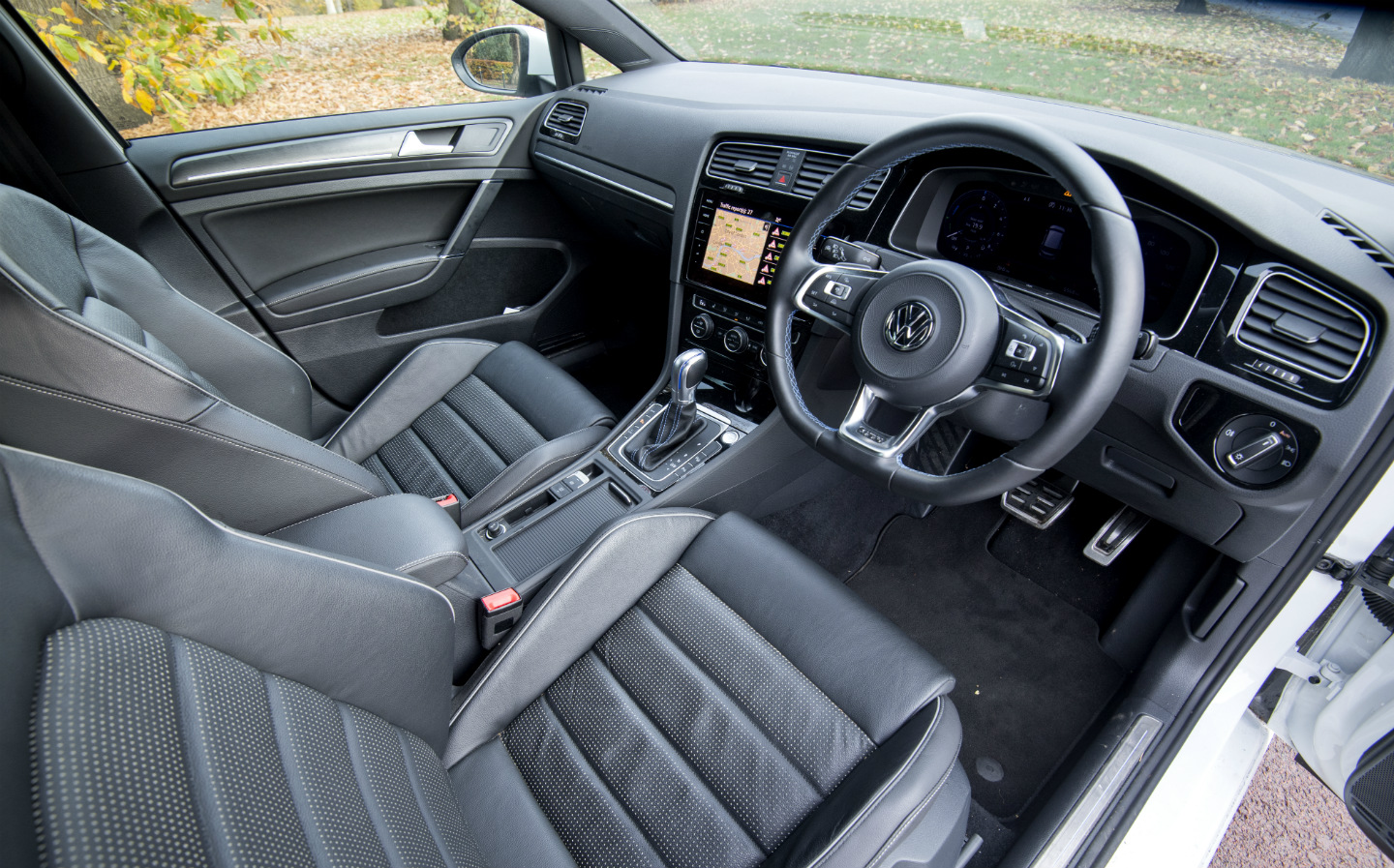 If you want a practical way to go green, this could be the answer: Golf reliability with an eco-friendly engine, writes Nick Rufford.
It has a satisfying turn of speed, thanks to the electric motors which deliver all the available power as soon as you put your foot down (and assist the petrol engine). The batteries add the weight of two burley passenger, so it doesn't handle as well as, say a Golf GTI and the suspension is lumpier.
On the other hand, you get all the financial benefits that go with an electric car without the range anxiety. I'm surprised that Volkswagen hasn't done more to trumpet its benefits. If I were VW's boss I'd be offering it as an olive branch to disgruntled customers – with a generous trade-in discount – as a way of atoning for Dieselgate and the subsequent engine 'fix' that provoked so many customer complaints.
Instead the company has temporarily suspended sales of the GTE because of "production bottlenecks". Vorsprung Durch Cock Up, as they say in Germany.
Benefit in kind tax for company car drivers
Increasingly, company car drivers are ditching diesel in favour of hybrid or electric models, to take advantage of lower benefit in kind (BIK) tax rates. It's easy to see why. By choosing the plug-in hybrid or electric models, company car drivers can dramatically cut their tax bill – by up to a third compared with diesel.
For example, a diesel powered Golf 2.0 TDI GT would attract BIK of 25% for 2017/2018. Whereas the Auris Hybrid is 17%, and both the Golf GTE and Renault Zoe are charged at 9%.
The verdict
Drivers must approach the new wave of electrically powered cars with their eyes wide open and calculators at the ready.
Affordable pure electric cars such as the Zoe may be the most appealing environmentally, but they cost considerably more to run than a comparable petrol or diesel supermini once depreciation is taken into account.
Hybrids such as the Auris, by contrast, retain their value much better, more than compensating for their higher running costs.
On the evidence of our test, the plug-in hybrid is the most affordable car to run — and, in the guise of the popular VW Golf, at least, also happens to be the most satisfying to live with and drive.