Five fantastic used convertibles from £4,000-£35,000
Everything from city cars to sports cars - and even an SUV
RECENT SHOWERS excepted, summer 2018 has been a bit of a scorcher for us Brits and experts predict we could be in for even more sun in coming years. Why not enjoy it with a shiny drop-top in which to drive around.
If you want on in a hurry, most new cars are out of the picture, considering putting an order in now your dream convertible may result in picking up the keys in the middle of autumn. Used cars are a more immediate prospect, and will save you money, too.
Despite demand for used convertible cars being at their peak right now, it's still possible to find some good value examples out there. After browsing through the classifieds, here are the five used convertibles — from sports cars to SUVs — that particularly caught our eye.
Sports car: Audi TT Roadster Mk 1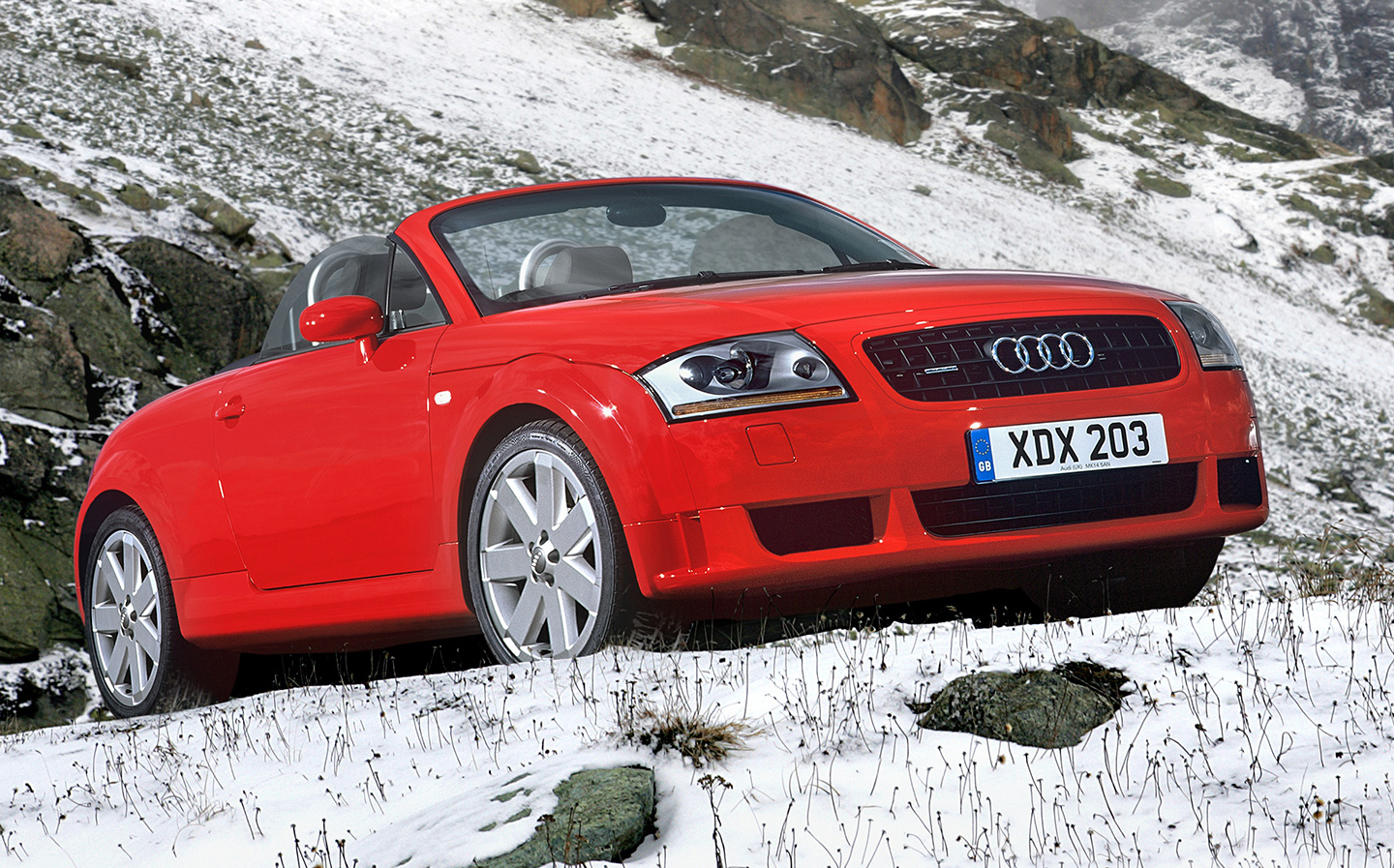 A Mazda MX-5 would be an obvious choice here, but why not go a little leftfield with the original Audi TT Roadster?
Despite the youngest examples now being 12 years old, it's still possible to find good condition, lower mileage versions that aren't outrageously expensive.
Plus, the Audi TT Roadster could be a good place to put your money if you plan on selling the car at some point: the first-generation Audi TT is widely billed as a future classic, so now may be the prime time to buy one before values start to rise quickly.
Here's one we found: 2003 Audi TT 1.8 T Quattro Roadster; 60,000 miles, £4,195
City car: Fiat 500C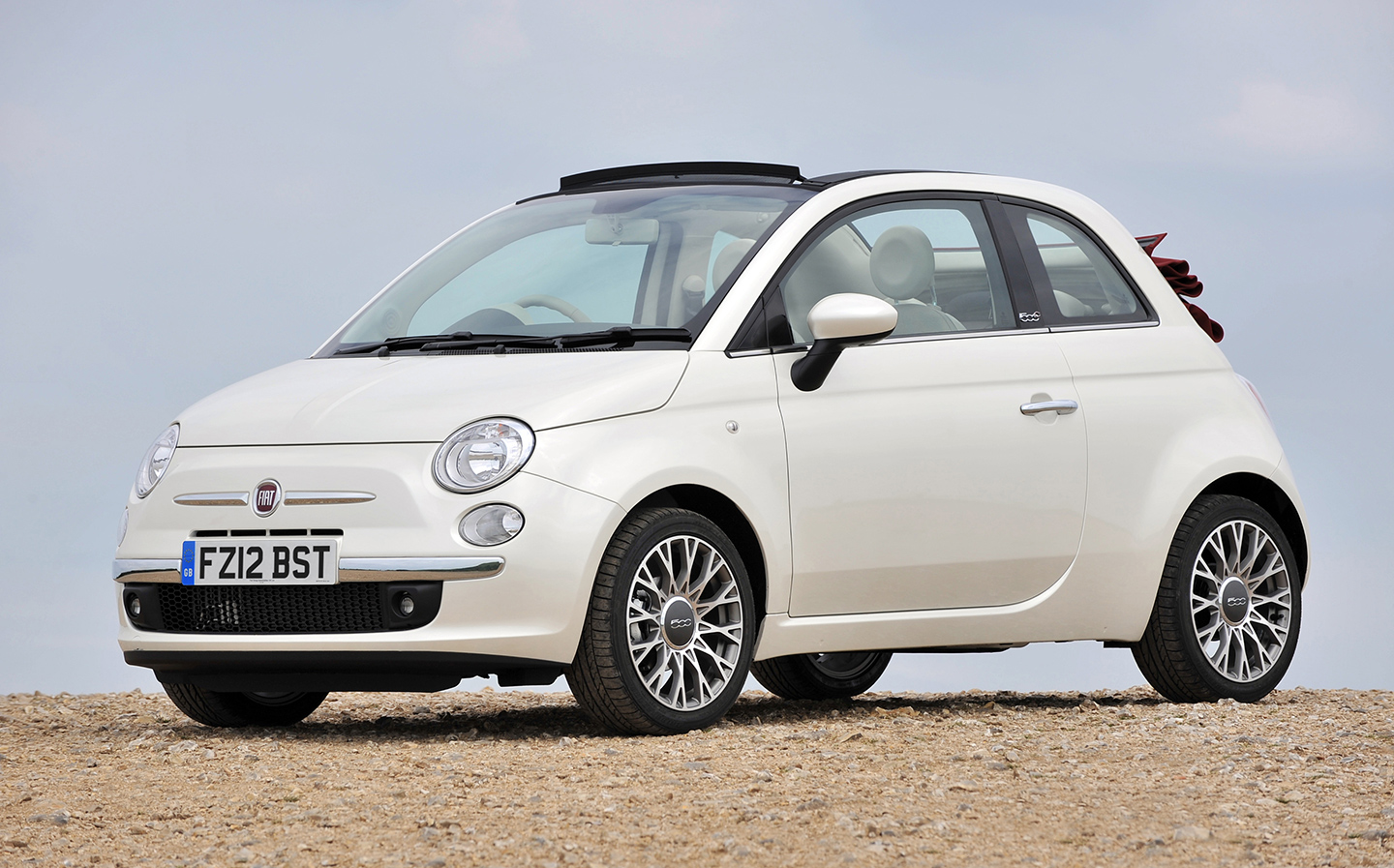 Convertible superminis were all the rage not so long ago, so there's a good few city cars with folding roofs to choose from in the used market.
Of all of them, though, the one we like is also one of the youngest additions to this sector: the Fiat 500C. Though the debate rages on over whether it's less a convertible and more an urban runabout with a large sunroof, the Fiat 500C remains a characterful little car that's as suited to stop/start traffic as it is bumbling along a British country lane on a beautiful summer's day.
Being a newer car on this list, there shouldn't be any worries about finding affordable parts or servicing for the Fiat 500C, too.
Here's one we found: 2010 Fiat 500C 1.4 Lounge; 65,000 miles; £4,950
Small car: Citroën/ DS DS3 Cabrio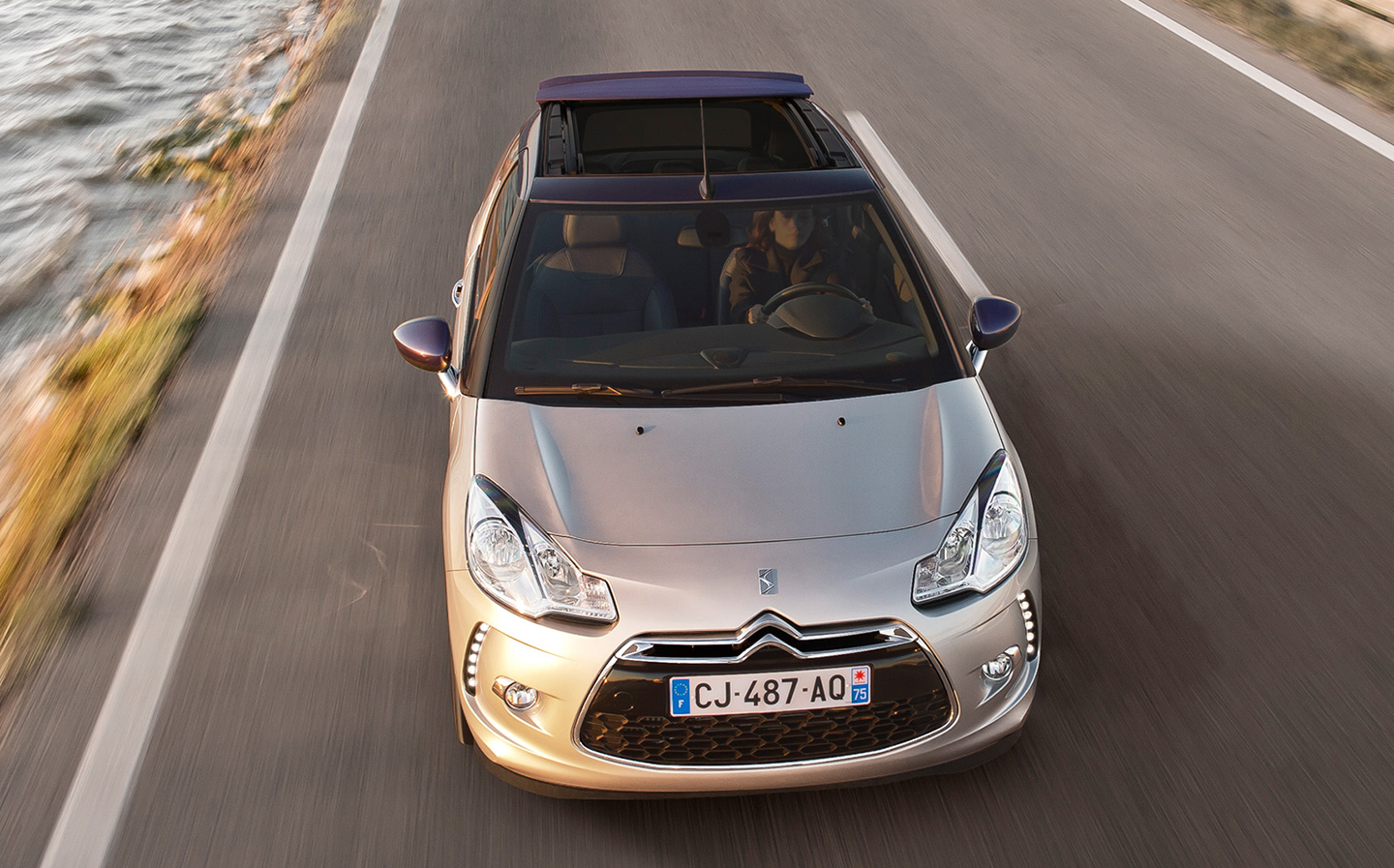 If you want a convertible that's like the above Fiat 500C but a bit bigger, then your best bet will be a DS3 Cabrio.
You're more likely to come across an example when the car was originally sold as a Citroën, rather than a later DS-branded car, but you're guaranteed a stylish small soft top regardless of what the badge on the boot lid is.
Loads of engines are available, too, ranging from incredibly frugal diesels right up to a turbocharged petrol engine that produces 207bhp, with the car's popularity meaning there should be a good few examples to choose from that suit your needs and budget.
Here's one we found: 2013 Citroen DS3 Cabrio 1.6 THP DSport; 33,500 miles; £5,995
SUV: Range Rover Evoque Convertible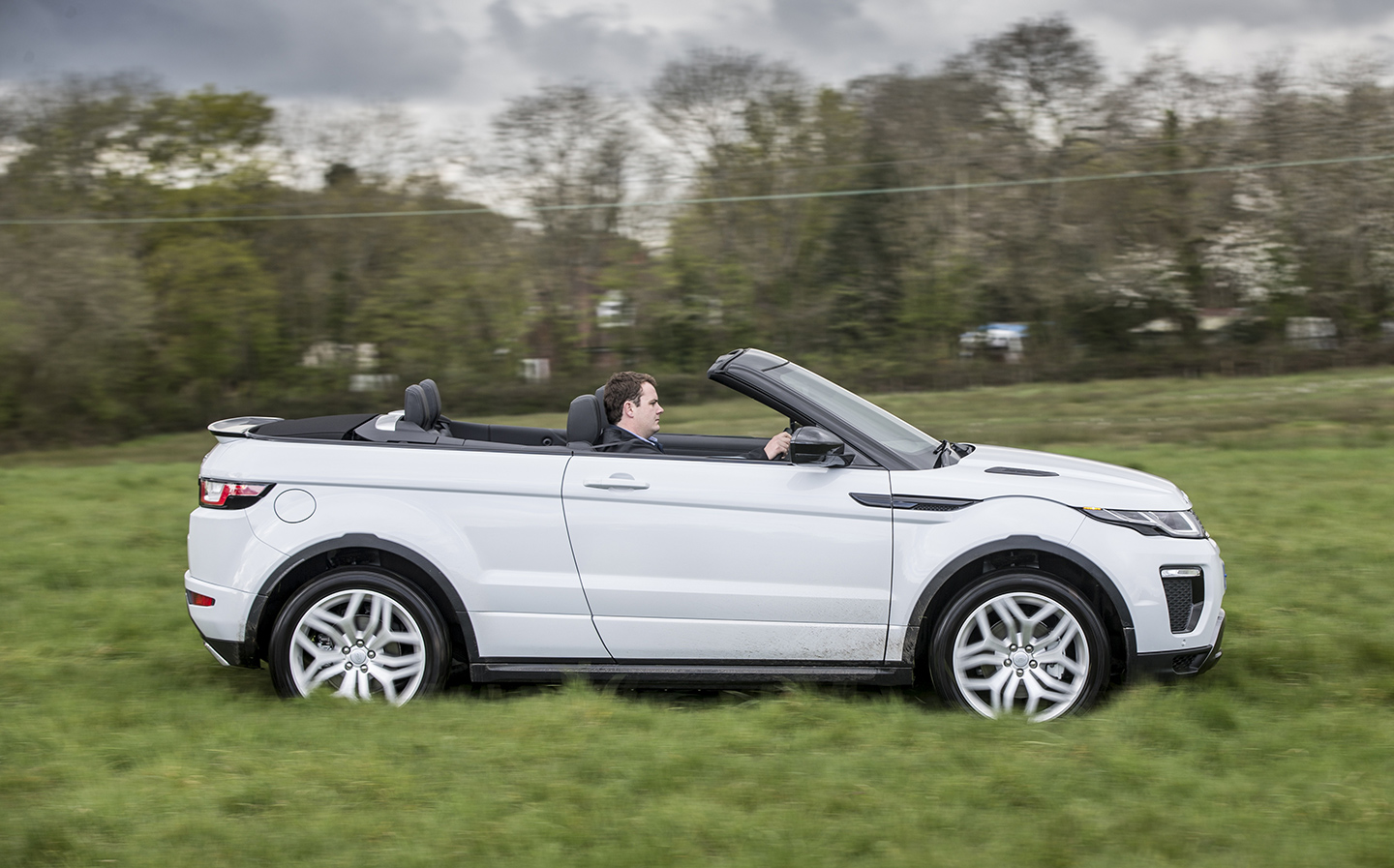 Contrary to popular opinion, you can buy a soft top 4×4, but they tend to be more utilitarian cars such as the Jeep Wrangler. If it's premium prestige you're after, the only real option is the Range Rover Evoque Convertible.
Being a Range Rover, it has all the off-roading ability you'd need to do some summertime greenlaning, and it also has the upmarket image to not look out of place when cruising about near Green Park.
Do prepare to pay a hefty sum if the Evoque Convertible is your cup of tea, though — the most affordable example we could find was listed for just under £35,000.
Here's one we found: 2016 Land Rover Range Rover Evoque Convertible 2.0 TD4 HSE; 10,000 miles; £34,844
Four-seater convertible saloon: Volkswagen Eos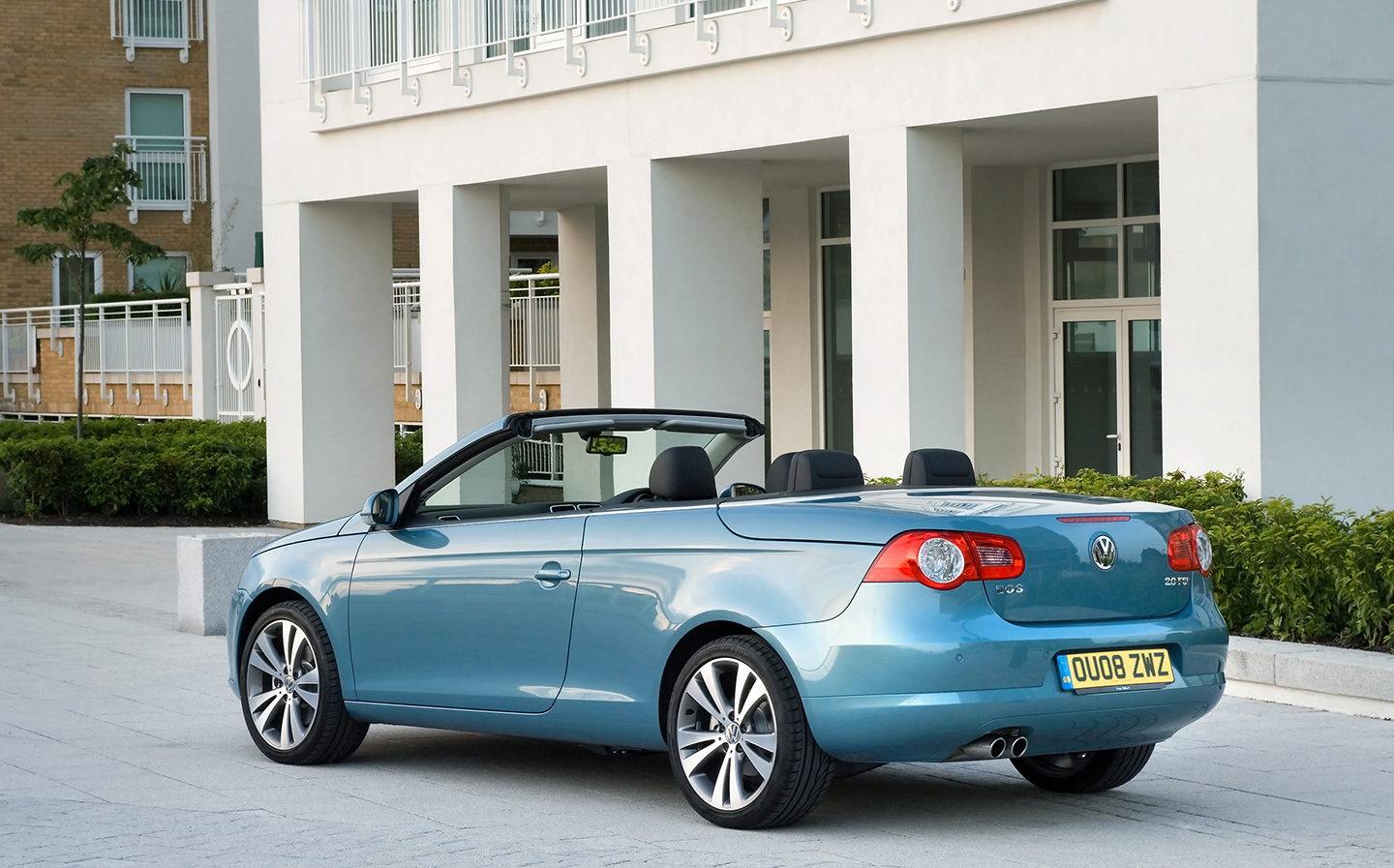 The economy may have somewhat recovered from the financial crisis from a decade ago, but it's still a luxury for many to have more than one car. As a result, if you want an affordable drop-top in which you can also do the weekly shop and the school run, a genuine four-seater saloon may be the best bet.
There are plenty to choose from, but an underrated offering we're tempted by is the Volkswagen Eos; a well-engineered, Golf-derived car with a folding hard top roof and a good bang for your buck at time of writing.
In a post-emissions scandal world, though, we would hesitate on immediately recommending a diesel version, as owners complain of problems following official "fixes".
Here's one we found: 2007 Volkswagen Eos 2.0 FSI; 44,000 miles; £4,695
Sub-£1k special: Ford StreetKa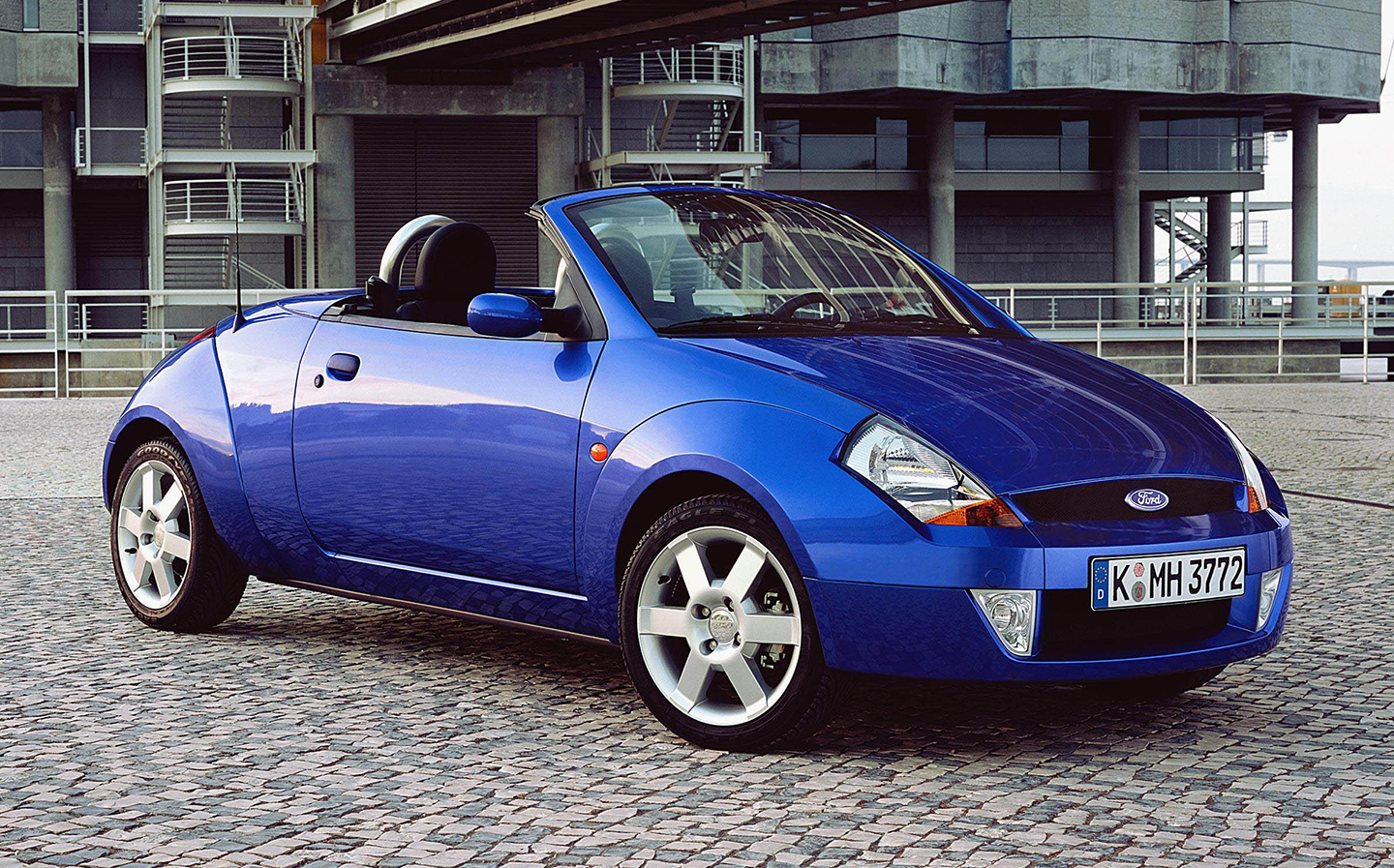 Yes, you read that correctly — we're highlighting a rag top Ford Ka in a top used convertibles list. Admittedly, it's a less obvious choice, but there's plenty to like about the dinky little Ford StreetKa.
Being based on a city car, it's lightweight and extremely manoeuvrable, and the low seating position makes the Ford feel quite nippy in spite of the 94bhp output.
If you can live without the limited practicality and the incredibly 1990s dashboard design, there's a funky little two-seater convertible to be found in the Ford StreetKa.
Just be sure to check for rust, which some owners have complained about.
Here's one we found: 2004 Ford StreetKa 1.6 Luxury; 64,000 miles; £790