The best seven-seat SUVs for £15,000
Load 'em up!
---
Published 14 February 2015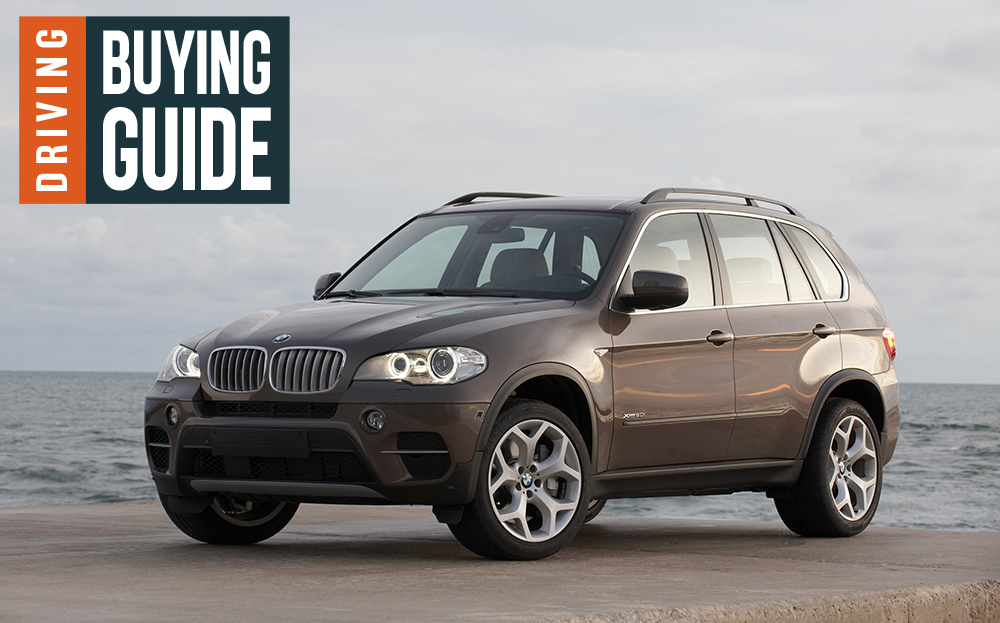 FOR A growing family, a large SUV could be just the answer to all the practical problems that come with mummy and daddy's little soldiers. A big, tough car that gives the driver a feeling of security, a clear view of the road ahead, four-wheel drive to cope with supersize potholes and often seven seats for added practicality is just the ticket for stress-free driving.
Little wonder that sales of new models are powering ahead with the determination of a steam engine with a furnace full of coal. In 2010 about 270,000 premium compact SUVs were sold in Europe; this year the industry is forecasting sales of just over 500,000. Large premium SUVs put on about 20% in sales last year too.
However, there's a snag. When new, these are expensive cars. Seriously expensive. Especially if they're only going to be used for bringing mud-caked children home from their football, hockey or pony club.
To help take the sting out of seven-seat SUVs, we have come up with five great used models that cost £15,000. Could this be seventh heaven for parents?
Audi Q7 3.0 TDI SE quattro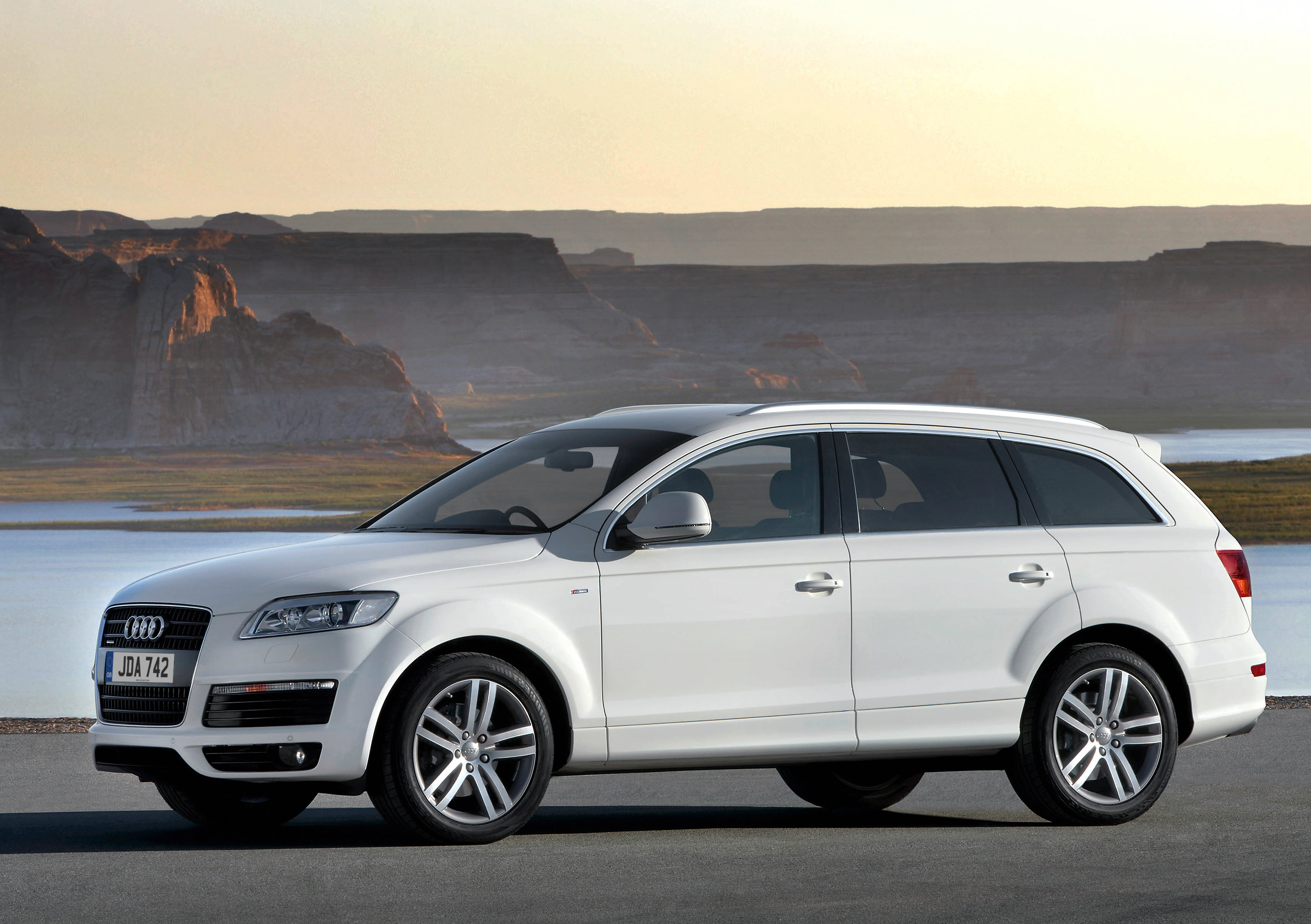 The Audi Q7 is battleship big. Its sister models, the Q3 and Q5, are, by comparison, veritable pipsqueaks that are lost in the Q7's shadow. It's more than five metres long, which means every parking space is a tight squeeze, but the upside is that the interior is cavernous and more than up to the task of seating seven people in relative comfort for this class of car.
It's more than five metres long, which means every parking space is a tight squeeze, but the upside is that the interior is cavernous
The model of choice for those who care about fuel consumption – and, let's face it, that's a pretty big concern for buyers of large SUVs – is the 3-litre TDI diesel, but be warned: the pre-2009 version that a budget of £15,000 buys is still far from frugal, consuming 26.9mpg on the combined cycle. Still, with nearly 230bhp, its engine is a strong performer, more than capable of hauling a fully laden Q7 without huffing and puffing. Air suspension makes for a supple ride, and the car handles safely.
Inside, the cabin is typical Audi: robust black and grey plastics are broken up by splashes of aluminium trim. Although the car is built to last, it's important to check that all electrics work and that the seat-folding mechanisms aren't broken (you have to fold either outer seat in the middle row to climb through to the cosy back seats). The boot offers 330 litres of luggage capacity when all seats are up; with just five seats in use, this grows to a generous 775 litres.
Browse the used Audi Q7s for sale on driving.co.uk
BMW X5 xDrive30d SE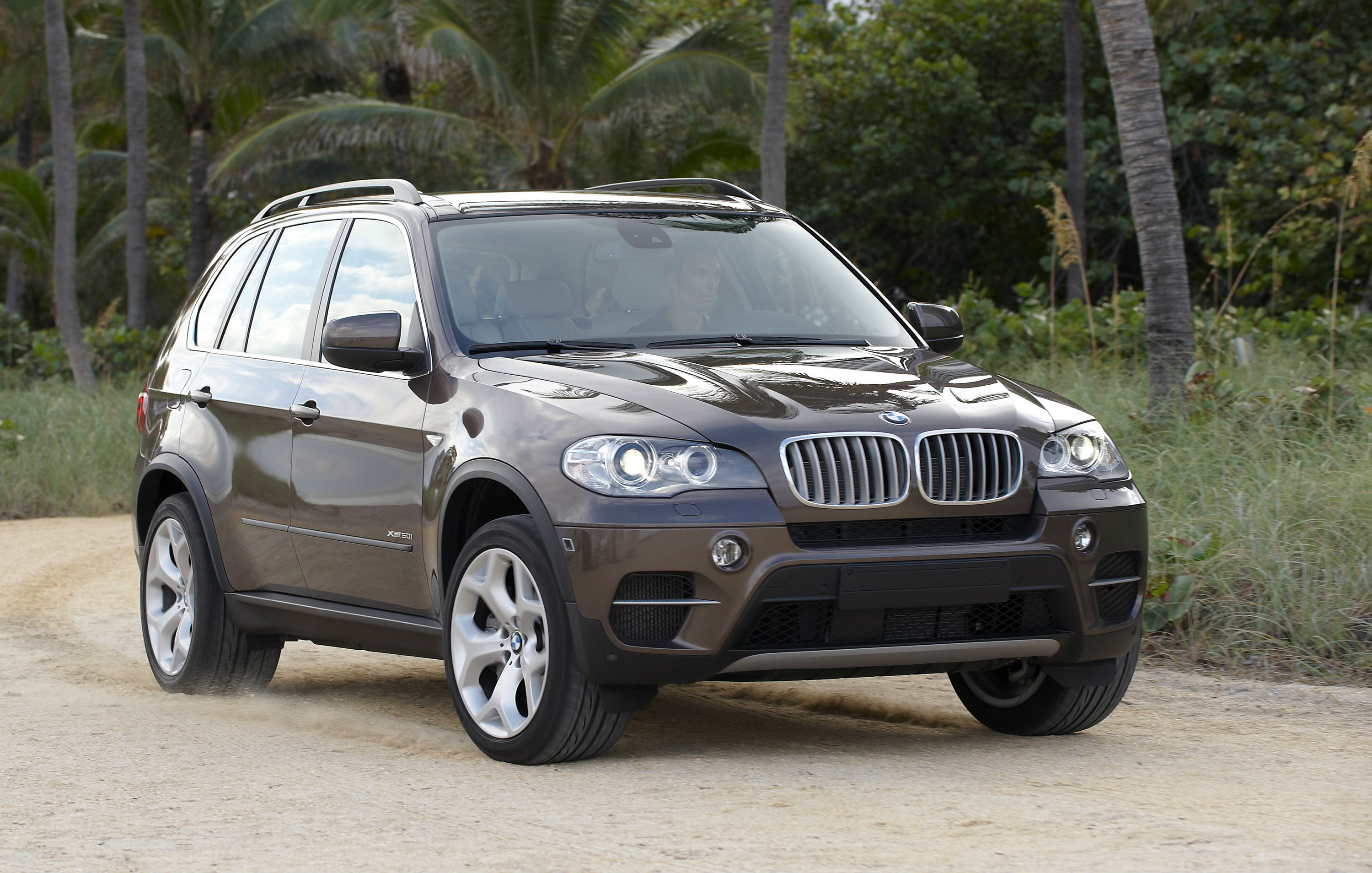 For £15,000 you can buy the second-generation X5. A good thing too, because that was the first X5 to be offered with the option of seven seats. But a word of caution: the rearmost seats are best suited to children, as they're on the cramped side of cosy.
Still, the rest of the interior has a stylish design and feels almost too swish to be subjected to children clambering all over it. Some cars may have been fitted with BMW's optional head-up display, which projects useful information such as speed and instructions from the satellite navigation onto the windscreen. In five-seat setup, the boot offers 620 litres of stowage space.
The X5 feels agile, responsive and, whisper it, good fun to hustle along a winding road
What makes this such a popular large SUV is that it doesn't drive like one. BMW has cracked making a large car feel as though it shrinks around the driver, and at all times an X5 feels agile, responsive and, whisper it, good fun to hustle along a winding road. This impression is reinforced by the entry-level engine, the 3.0d, which is a smooth-sounding straight-six that pulls enthusiastically from 1750rpm (when it develops its peak torque of 398 Ib ft), and by the eight-speed automatic gearbox, which adapts to the driving conditions (although the selector lever takes some getting used to). Officially, it will also manage more than 38mpg.
Browse the used BMW X5 models for sale on driving.co.uk
Kia Sorento 2.2 CRDI
If you have an eye for a bargain, you've come to the right place: the Kia Sorento is a large seven-seat SUV that does without the posh badge on its bonnet and a fancy interior but is just as practical as the other cars here and so, you might argue, better value for money.
With a seven-year or 100,000-mile warranty, a 2012 Sorento could be covered until 2019
The budget of £15,000 buys a 2012 model with a 2.2-litre turbodiesel engine that can return over 42mpg and a long warranty: it lasts for seven years or 100,000 miles, so unless you're a high-mileage driver you'll enjoy peace of mind until 2019.
OK, so it's not all that special to drive and the badge may not carry much cachet in the Waitrose car park, but if such things don't bother you then you'll find a reasonably refined, comfortable car with lots of equipment that's up to hauling heavy loads and can make long-distance trips comfortable enough. There's a little less boot space than in our other seven-seaters – just 116 litres with all seven seats in use – but with five seats in use that increases to 531 litres.
Browse the used Kia Sorento models for sale on driving.co.uk
Land Rover Discovery 3 2.7 TDV6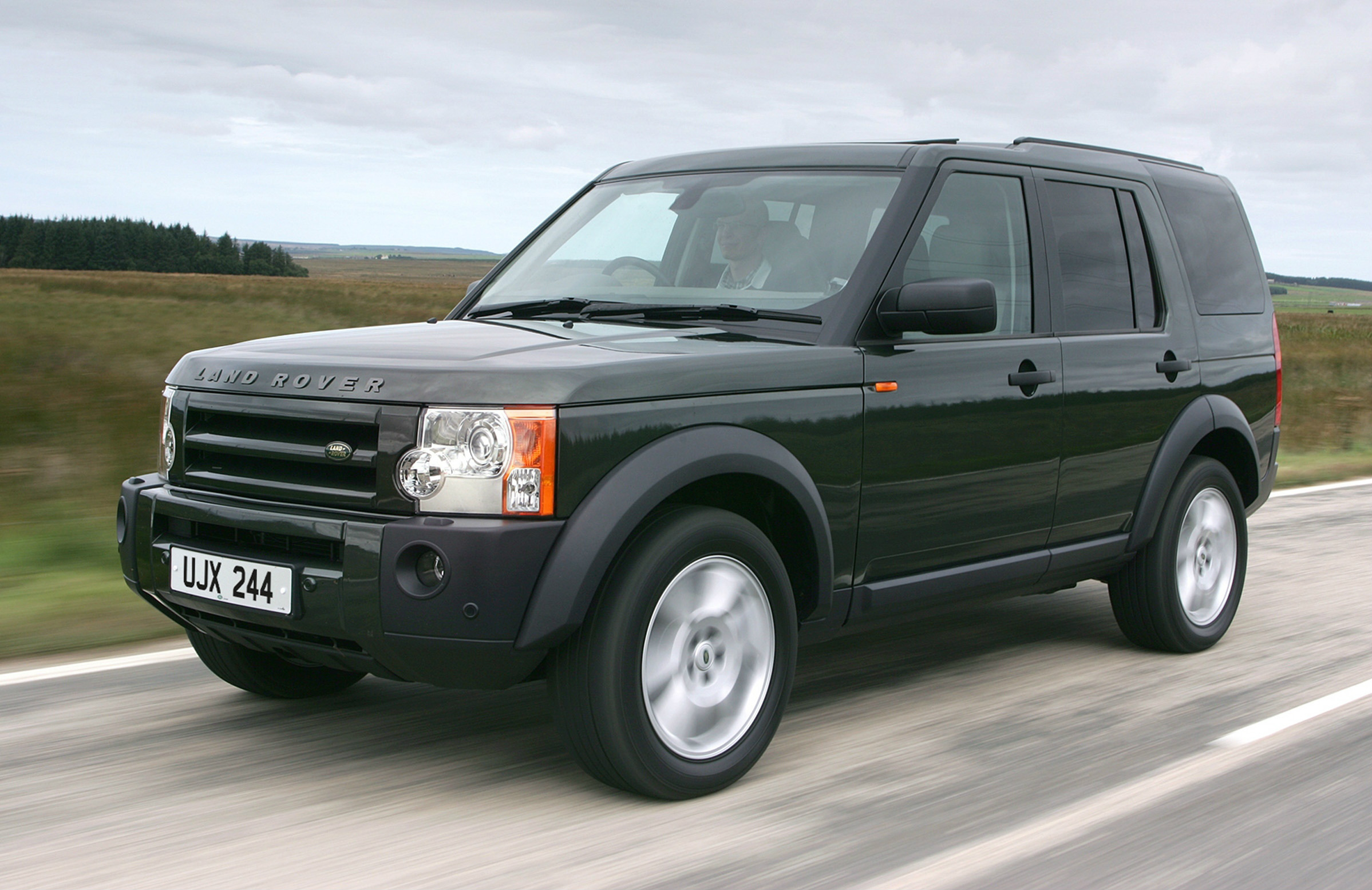 Welcome to labrador country. The Discovery speaks of shooting parties just as much as it does the school run, and despite weighing the best part of three tons and having an unhealthy thirst for fuel, it is extremely popular with families regardless of whether they live in the sticks or in the big smoke.
This is probably the most accommodating seven-seat SUV available
If you have any flexibility in your budget, it's worth noting that the Discovery 4, which was a substantial improvement on the 3 featured here, is available for around £20,000.
The one thing both generations of Discovery deliver is space – masses of it. This is probably the most accommodating seven-seat SUV available, with a respectable amount of room for occupants of all seats and a huge, 1,124-litre boot when only five seats are up. It also has a split tailgate, so you can picnic on the lower section or open the glass part and throw in wellington boots.
It's no great shakes to drive, however. The 2.7-litre V6 diesel is underpowered for a car of this weight (something Land Rover addressed with the 3-litre version fitted to the Discovery 4) and fuel economy struggles to pass 27mpg. What's more, the Discovery has a poor reputation for reliability.
Browse the used Land Rover Discovery models for sale on driving.co.uk
Volvo XC90 D5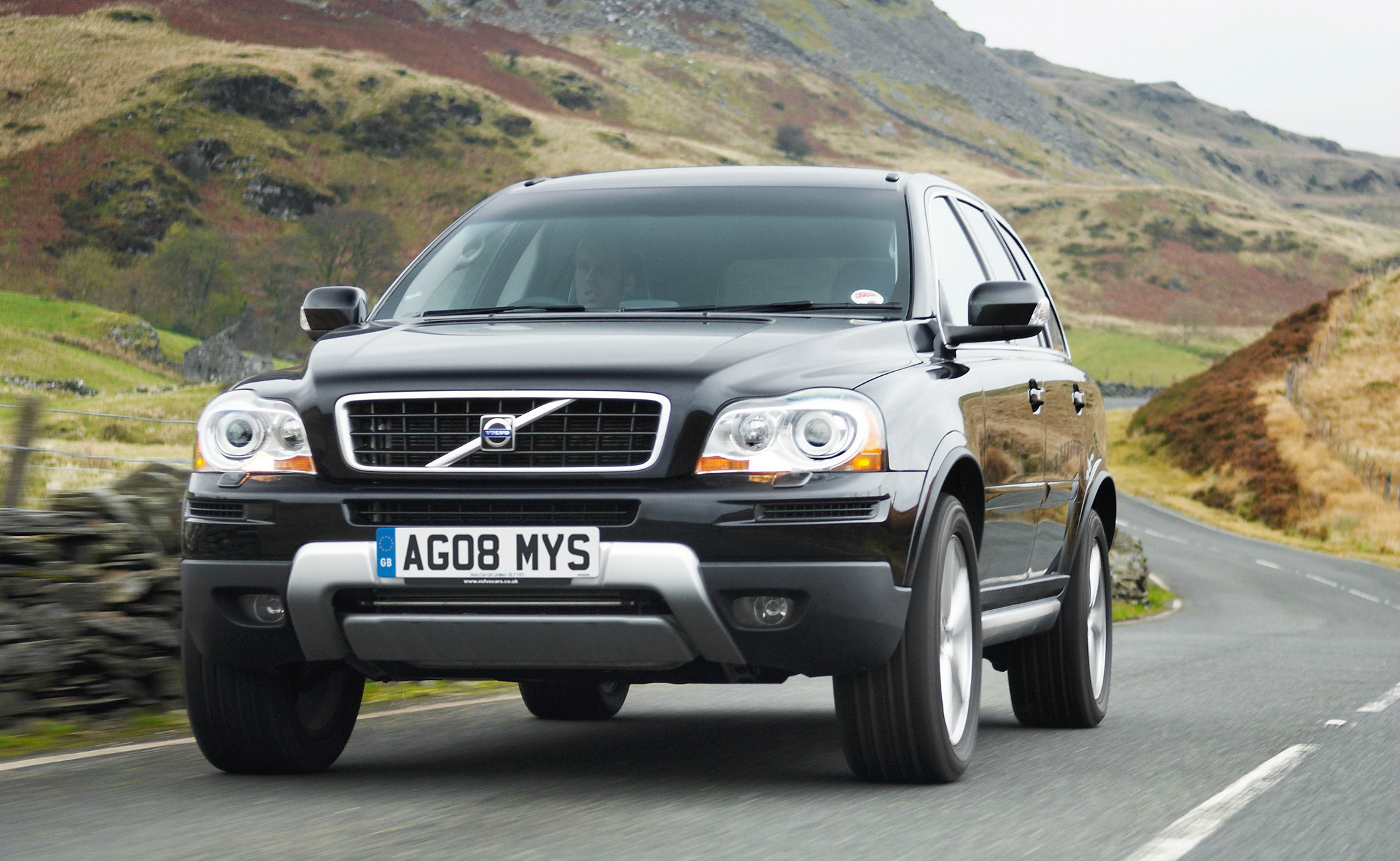 Was it really as long ago as 2002 that Volvo launched the XC90 and the middle classes fell over themselves to get their hands on the socially acceptable SUV? It certainly was. The XC90 has enjoyed the longest innings of any posh SUV we can recall. What's kept it so popular?
Well, it's practical, for starters. The cabin has seven individual seats, the rearmost ones are large enough to accommodate teenage children, and the boot offers 249 litres of luggage capacity with all seats in use – or 615 litres with the two back chairs folded flush into the floor. Throughout the cabin are cupholders and cubby holes to deal with the takeaway cappuccinos and Fruit Shoot bottles.
The engine isn't the last word in refinement but delivers sufficient performance with all the family aboard
The D5 version features a characterful five-cylinder turbodiesel engine that isn't the last word in refinement but does deliver sufficient performance with all the family aboard. Manual versions manage 34mpg, but in this sort of car it's best to pick the slightly less efficient automatic, known as Geartronic in Volvo-speak.