Buying guide: Land Rover Defender (1990-2016)
Looking to buy a Defender? Don't miss our beginner's guide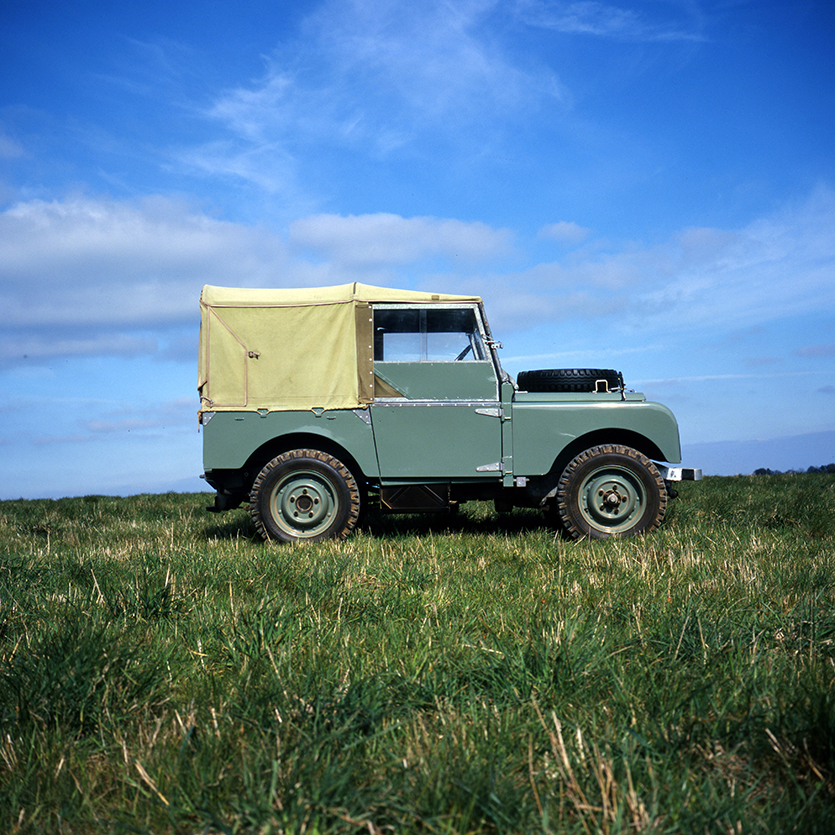 "MUD, MUD, glorious mud": the song could almost have been written for Land Rover's Defender. It would be equally appropriate if it went "Rust, rust, diabolical rust", however, because the Defender's backbone, a tough steel ladder frame, is susceptible to the dreaded r-word.
The Defender's roots can be traced back to 1948 and the original Land Rover, the Series I (although the Defender name was introduced only in 1989). That makes it the grand daddy of the car world; a veteran that has survived against the odds – until now. At the end of next year, production will end and the shutters will be drawn for the final time at the factory in Solihull.
It will be the end of an era. Legislation (a mountain of the stuff) and ever-increasing improvements in infrastructure mean that the original go-anywhere vehicle won't be, well, going anywhere.
Loved by drivers of all backgrounds – from surf bum students to Her Majesty the Queen – the Defender stands out as single-minded workhorse among a sea of cars designed by committee. Lots of drivers buy it for that reason – to put it to work – with the result that many used examples have led a seriously tough life.
---
Search for used Land Rover Defender here
---
That's OK (it's built to do it, after all) so long as the car has been cared for. To avoid buying a bad 'un, you need to know what to look for, which models are the best to drive and what areas of the car require close scrutiny.
Whether you want to buy a workhorse or invest in a potential future classic, here's Driving's buying guide to the Land Rover Defender. Intended as a shortcut for buyers who don't know where to start, as opposed to enthusiasts who may prefer a more exhaustive approach, let's off-road…
WHAT ARE THE DIFFERENT LAND ROVER DEFENDER BODY STYLES?
There have been more weird and wonderful Defenders over the years than there have been changes of the guard at Buckingham Palace. The SAS painted one pink and called it the Pink Panther (pink blended in best to desert regions); utility companies put a cherry picker on the back of theirs; the fire service have specially converted fire tender Defenders – the list goes on.
For private buyers, however, there are two sizes that used Defenders most commonly come in – the 90 and 110. What's the difference? Simple: the numbers are a reference to the length (in inches) of the wheelbase. So the three-door 90 is the short, squat version that looks terrific but isn't terribly practical if you have a family in tow, whereas the five-door 110 is the long, industrial-looking thing that can seat as many as nine people, depending on its configuration.
There have been multiple versions of each. The most popular among private buyers is the Station Wagon, which has a solid roof and windows in the rear of the cabin. If that doesn't sound very luxurious, it's time you got acquainted with living with a Defender – by Land Rover standards the Station Wagon is positively Rolls-Royce.
There is also the Hard Top, a posh way of saying van, and the Pick Up, which has an open load bed behind the cab (either single or double depending on whether it has one or two rows of seats). There are other versions, but they are typically niche models that are the preserve of farmers or men brandishing chainsaws.
WHAT IS THE MOST AFFORDABLE LAND ROVER DEFENDER?
The cheapest Defender is more likely than not the earliest model: the 200 Tdi. Prices begin at around £3,500 for a genuine example. Take care, as many earlier Land Rover 90 or 110 models have had this engine fitted restrospectively.
Launched in 1990, it was powered by a 2.5-litre four-cylinder turbodiesel, which it shared with the recently launched Discovery. It had 105bhp, which may not sound like much power today for a heavy 4×4 but back then it was more than respectable, and features such as direct fuel injection, which was considered advanced. This last gave the Defender a welcome kick up the backside, elevating performance from painful and plodding to something approaching respectable. Fuel economy was improved in the process. The added oomph made it better suited to towing, too.
---
Search for used Land Rover Defender here
---
WHICH LAND ROVER DEFENDER IS BEST SUITED TO A FAMILY?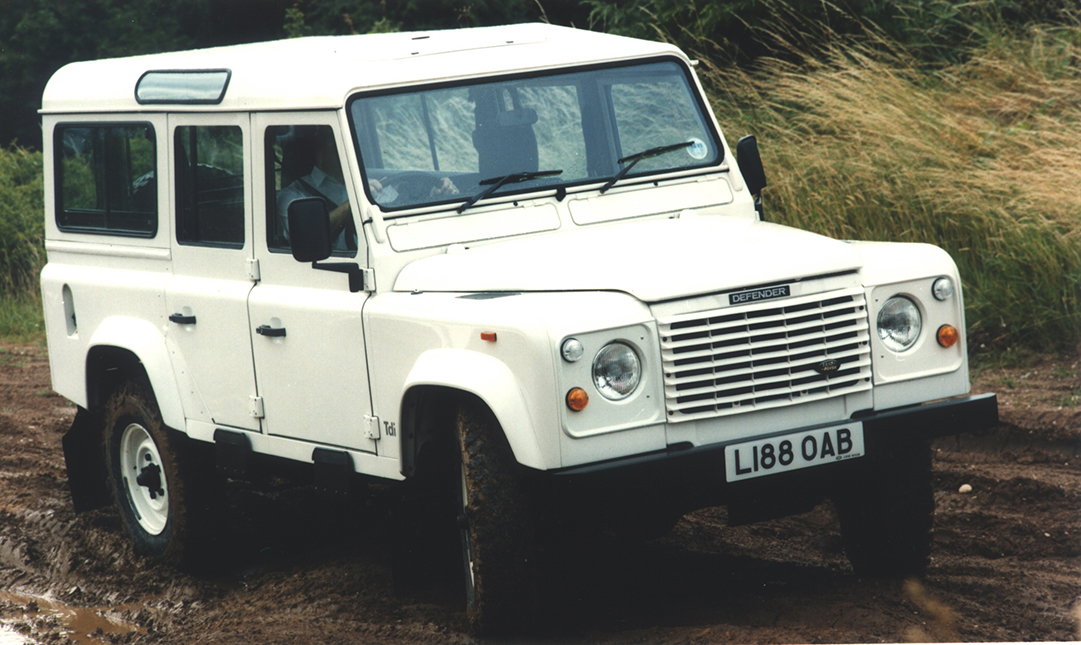 The five-door 110 Station Wagon is the best for drivers with a family. Its rear doors mean children or adults can climb in relatively easily, whereas in the 90 three-door models they'll need to open the tailgate and hop in using a fold-out step. The most popular is the five-seat Station Wagon, which offers a large boot. For the ultimate in carrying capacity, some versions offer three rows of forward facing seats, giving seating space for seven passengers. (Inward-facing bench seats were dropped due to EU safety legislation.)
If you can afford it, aim for the post-2006 model with the 2.4-litre Ford TDCI engine (see below). Land Rover dramatically improved the interior of these cars, with a new dashboard arrangement which took the Defender out of the Dark Ages and introduced mod cons such as ‒ ahem ‒ a heating and ventilation system that actually worked. A 2.4 TDCI Station Wagon will cost from £12,000.
WHAT'S A LAND ROVER DEFENDER LIKE TO DRIVE?
It's an experience you'll never forget. Some drivers will love it, others will be so shocked they'll bail out and run a mile. Each new engine brought improvements in performance and refinement, but even the current Defenders can be considered noisy, uncomfortable and unresponsive by the standards of a modern SUV.
That would be missing the point, though. These are serious off-road machines, built to tackle any terrain using a manually operated four-wheel drive system with high and low ratios for when the going gets really tough. Nothing can beat it in the rough stuff.
The short wheelbase 90 model has a choppy ride; the long-wheelbase 110 feels like a bus. Steering response, braking performance and vehicle stability all require a certain adjustment in driving style. But you learn to live with its quirks and many owners say there's nothing they'd rather drive.
WHAT'S THE BEST ENGINE FOR TOWING?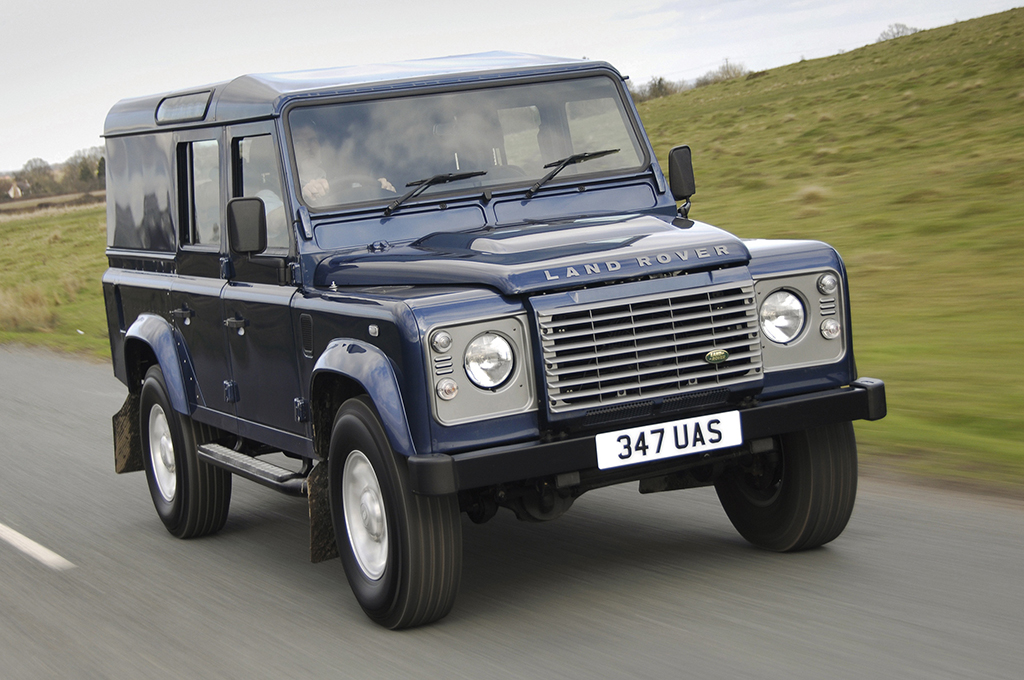 If your budget will stretch far enough, aim for the post-2006 Defender. It used a 2.4-litre Ford TDCi turbodiesel engine which featured common-rail fuel injection, a high-pressure system that helps improve refinement, performance and fuel economy. There was a welcome increase in torque ( a measure of the flexibility of an engine), with the peak 265Ib ft delivered at just 2,000rpm.
What's more, it brought with it a six-speed manual gearbox boasting a wider spread of gear ratios (20% higher in top gear), making the car better at pulling heavy loads, and improving refinement and economy on motorway runs.
You'll find 2.4-litre Defenders priced from £8,000, but those will be Hard Top models used as commercial vehicles. For the Station Wagon model, budget upwards of £12,000.
MONEY NO OBJECT, WHICH IS THE BEST LAND ROVER DEFENDER?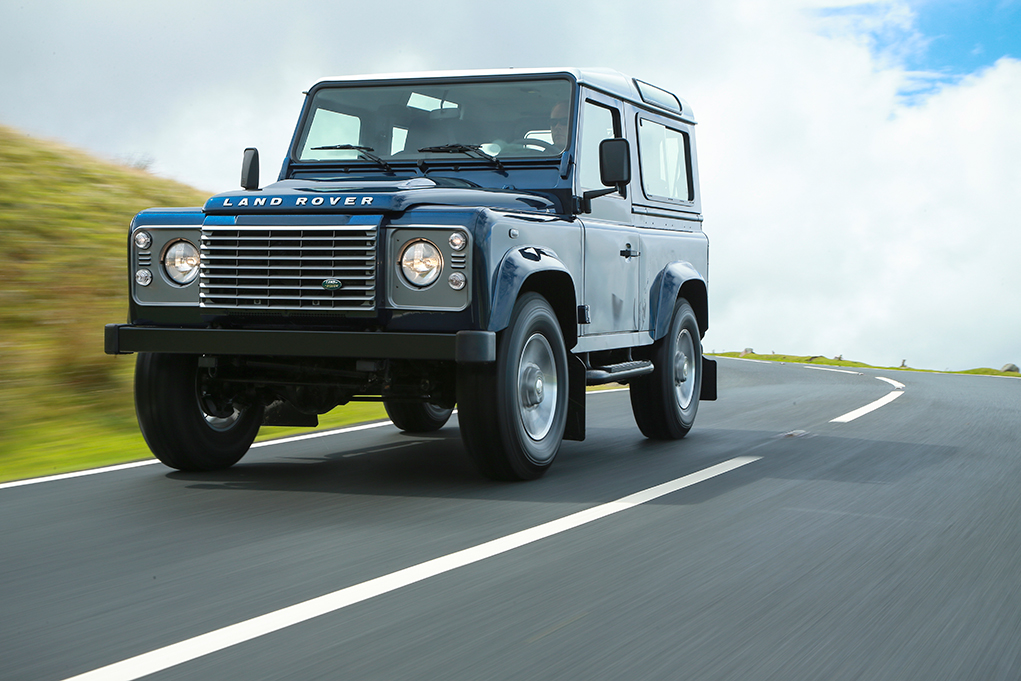 They're all good in their own way, but the most accomplished of the lot is the post-2012 Defender. It uses a 2.2-litre Ford TDCI engine, and offers the best performance of the lot, together with the most mod cons. You'll need to spend at least £18,000, but these will be low-mileage approved-used examples backed up by a Land Rover warranty.
---
Search for used Land Rover Defender here
---
WHAT TO LOOK FOR WHEN BUYING A USED LAND ROVER DEFENDER
If it's an older Defender and you don't feel confident checking it over, our advice is pay for an independent inspection, either by the AA or RAC, or by having the Defender checked by a Land Rover specialist. Sellers will often agree to drop a car's price by the equivalent inspection cost if you end up buying the car.
You need to check the car's paperwork carefully. Do the registration, engine and chassis numbers agree with the vehicle's registration certificate (called the V5C)?
The car should have been serviced every year, and diligent owners will have retained all associated invoices to accompany the vehicle's service record book. Also, ask for MOT certificates, both past and present.
Regardless of the vehicle's age, it's a good idea to get under the car and inspect the chassis. Reputable dealers will raise the car on a workshop ramp to allow you to do this safely; private sellers may be willing for you to poke around but take care and ensure you can do so without endangering yourself. Rust is one issue that needs checking for; chassis or suspension damage is another.
Older engines should have had their cambelts and head gaskets replaced, and turbochargers can wear out, as can the fuel injection pumps on the oldest 200 Tdi and 300 Tdi engines. The synchromesh on gearboxes can wear, too. Don't worry unduly about dented body panels. They all add to the car's character but while the body is aluminium, things like the door frames are steel and can rust.
Be sure to try the transfer box for the four-wheel drive system, and engage the differential lock to ensure it works. Check it disengages correctly, too. Also listen for knocks from the suspension.
The Defender has been recalled by its manufacturer for problems with the braking system, the handbrake, the engine's flywheel, the front seats failing to latch securely and potentially weak front seat belt mounts.