Buying guide: BMW 3-series saloon (1975 to present day)
Everything you need to know about every generation of BMW 3-series saloon
THE BMW 3-series is one of Driving's favourite saloons ‒ and yours, too. Among the 10 most popular used cars that are searched for by our readers, the 3-series is admired for its impressive mix of performance, fuel economy, comfort, practicality and safety.
However, there is a bewildering choice of models. To date there have been six generations of the saloon, spanning nearly 40 years, and countless variants. So many, in fact, that perhaps the only person who'd be able to say for certain is the archivist in the dusty basement office beneath the BMW Tower in Munich.
The 3-series has come in all manner of shapes and sizes. It began life as a three-door saloon (what BMW would call a coupé today), before taking on its most recognisable four-door saloon profile. Since then we've seen convertibles, hatchbacks, estates, coupés, coupé-cabriolets, odd fastback GT versions and even a 4×4. And there have been petrol, diesel and hybrid engines in many configurations.
---
Search for and buy a used BMW 3-series on driving.co.uk
---
The question is, if you're considering buying a BMW 3-series, which is the best version and generation for you? Driving's buying guide concentrates on the saloons, the most popular body style of all. It has been researched and written to help steer you in the right direction, but there's still no substitute for doing your own homework and driving as many versions of the same model 3-series as possible, to ensure you buy the best one for sale.
Quick links
BMW 3-series E21 (1975-1983) | BMW 3-series E30 (1983-1991) | BMW 3-series E36 (1991-2000) | BMW 3-series E46 (1999-2006) | BMW 3-series E90 (2005-2011) | BMW 3-series F30 (2012-on)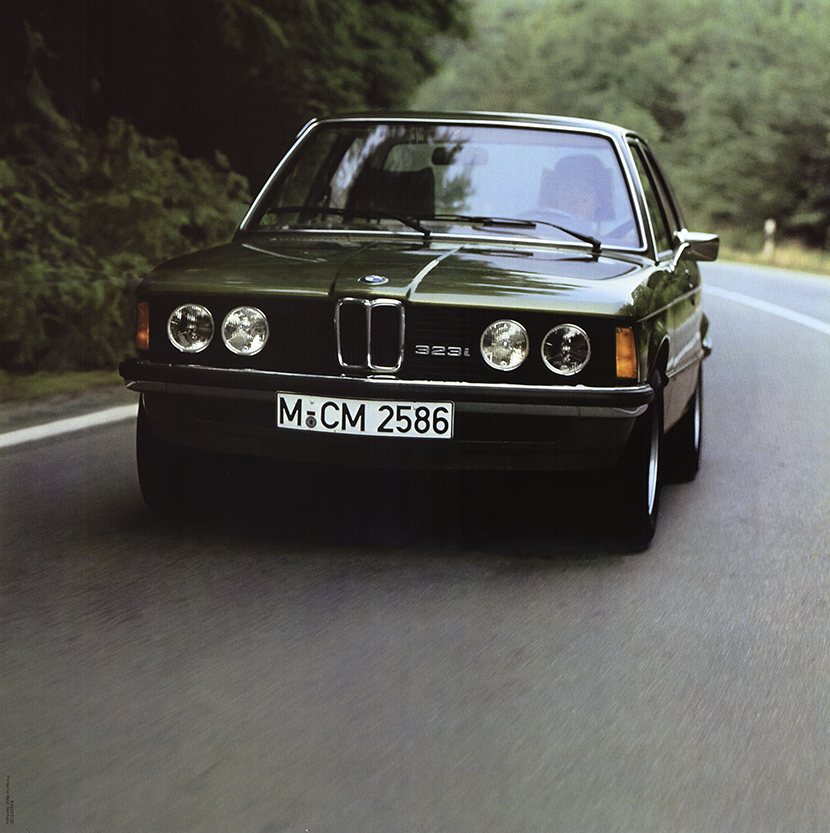 The E21 (the codename BMW uses to identify the car) was the first 3-series, and buying one today is rather like scouring antiques fairs and furniture shops for 1970s home furnishings. This is a classic car, the earliest versions being almost 40 years old, and comfortably qualifies for a classic car insurance policy. In another year's time, the first cars registered in the UK will even become exempt from road tax, having passed their 40th birthday.
The 3-series was the successor to the 2002, and was something of a giant leap where the engineering, technology and driving experience were concerned. It proved a hit with drivers; after six years of production, BMW had sold one million cars.
Today the one to buy is the straight-six 323i. It sounds terrific and, given the rear tyres' paucity of grip, has more than enough pace to keep drivers on their toes. Those who are used to modern cars will turn grey during their first run in it. Allowances have to be made in every area.
The four-cylinder versions are comparatively hum drum, and this was the era before diesel powered BMWs – remember that? There was a convertible version, built under licence by Baur, a German bodyshop, and that model has something of a cult following today.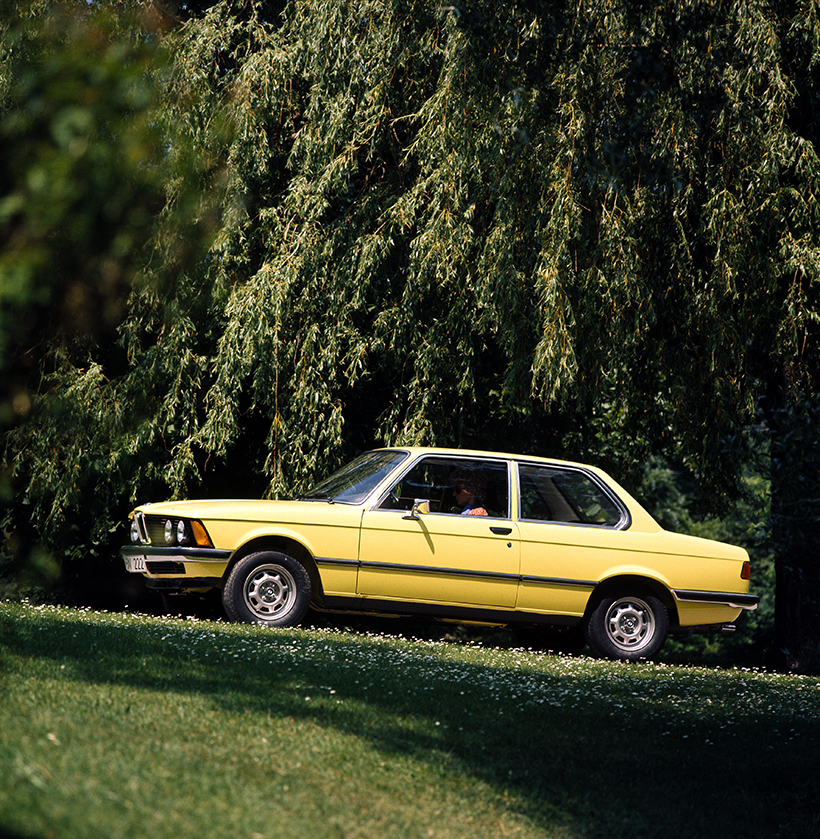 The one to buy BMW 323i
What will it cost?:Between £1,500 and £8,000
What to look out for
Asking what could go wrong with an old car like the E21 3-series is like asking what typically goes wrong with a 400-year-old house; anything could. So the best approach is to buy a car that's been lavished with a lifetime of care, or one which has recently been restored. Rust, major engine and transmission failure and collapsing suspension components will all be lurking in the shadows of tired cars.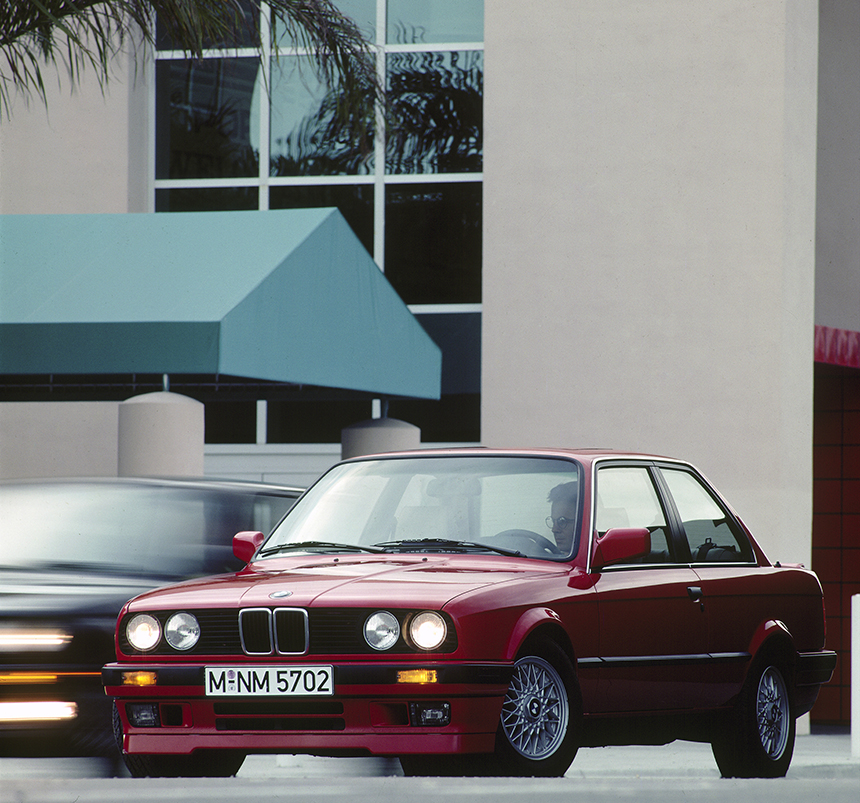 Picture the scene: a wine bar in the City of London in the mid '80s. The men with their cufflink shirts and braces, the women with fur coats and clutchbags. Everyone carries brick-size mobile phone and holds a glass of champagne. Outside waits a BMW 3-series, codenamed E30.
More than any other, this was the car that defined a generation and established BMW as the leading premium German car company. A Mercedes 190E was more stuffy, an Audi 80 drove like a tank. The 3-series, on the other hand, was polished to drive and gave rise to some seriously exciting derivatives. They included the M3, built to allow BMW to enter Touring Car Racing championships around the world.
Compared with a modern 3-series, the E30 feels small and intimate. It's best not to think about how well it would withstand a crash, and focus instead on how it feels light on its feet and fun to drive on a dry road. Throw in a bit of rain and you need to appreciate that the car only came with the simplest of traction control systems – the driver's right foot.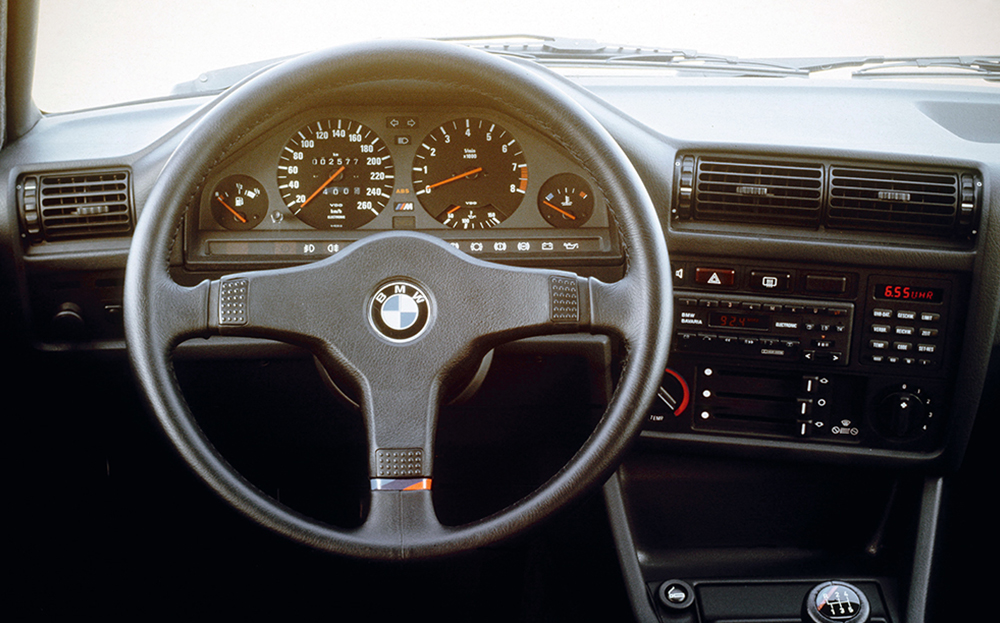 There were three and five-door versions for the first time, but the interior was not very spacious, especially for rear-seat passengers. In 1985, BMW introduced its first six-cylinder diesel motor to the 3-series. But it was the 325i Sport of 1986 that was the sought-after model. It used a belting 2.5-litre engine, had deep-sided sports seats and remains a good buy today, given how steeply prices of the M3 have risen (some of these are selling for £100,000).
In 1990, towards the end of the second 3-series' life, a 318iS was introduced. It was widely praised for its poised handling. The four-cylinder, 16-valve model was essentially BMW's answer to the Golf GTI and used the sports suspension, and the wheels and tyres of the 325i to good effect. This was also the first generation to feature a convertible that was built by BMW, from 1985 onwards.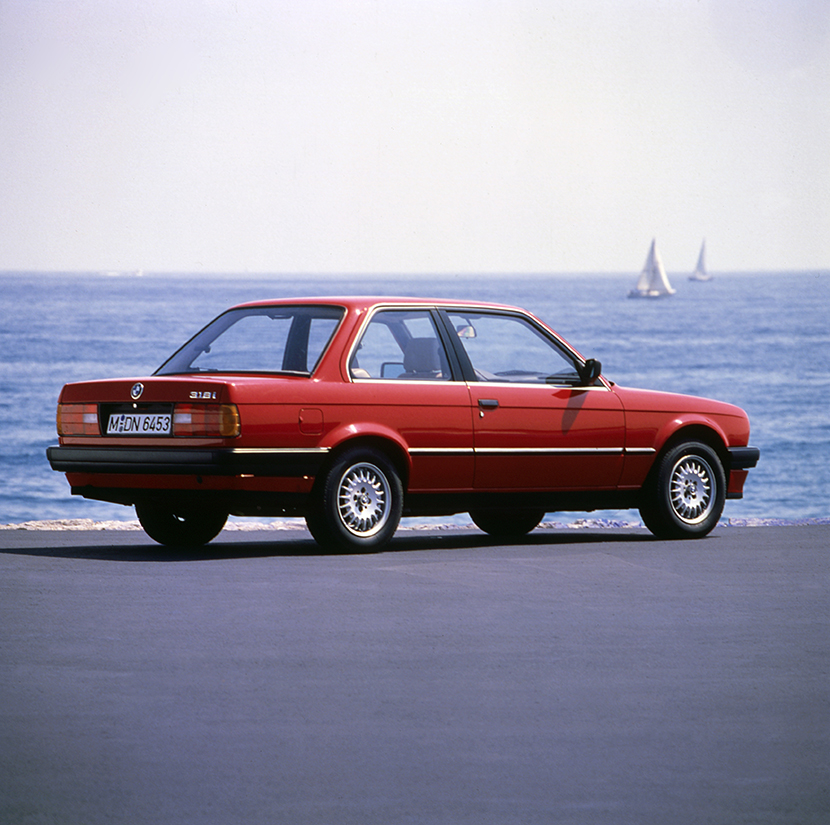 The one to buy BMW 325i Sport
What will it cost? Between £4,000 and £10,000, depending on condition
What to look out for
The 325i is our pick, so let's concentrate on that model. There should be evidence in the car's service history that the timing belt of the six-cylinder engine has been changed recently. Tired belts break and can destroy the engine. Next on your To Do list is the water pump which should also be, or have recently been, replaced. Like many cars of this era, rubber air pipes can perish. Once they do, the car won't idle or may stall once on the move. Oil leaks are common, clutches will be worn and odometers often fail, so ask whether the car is on a new one and verify its accumulated mileage through receipts and servicing records. Suspension bushes wear out, wheel bearings deteriorate and brakes need checking for remaining operating life. And did we mention the R word… rust?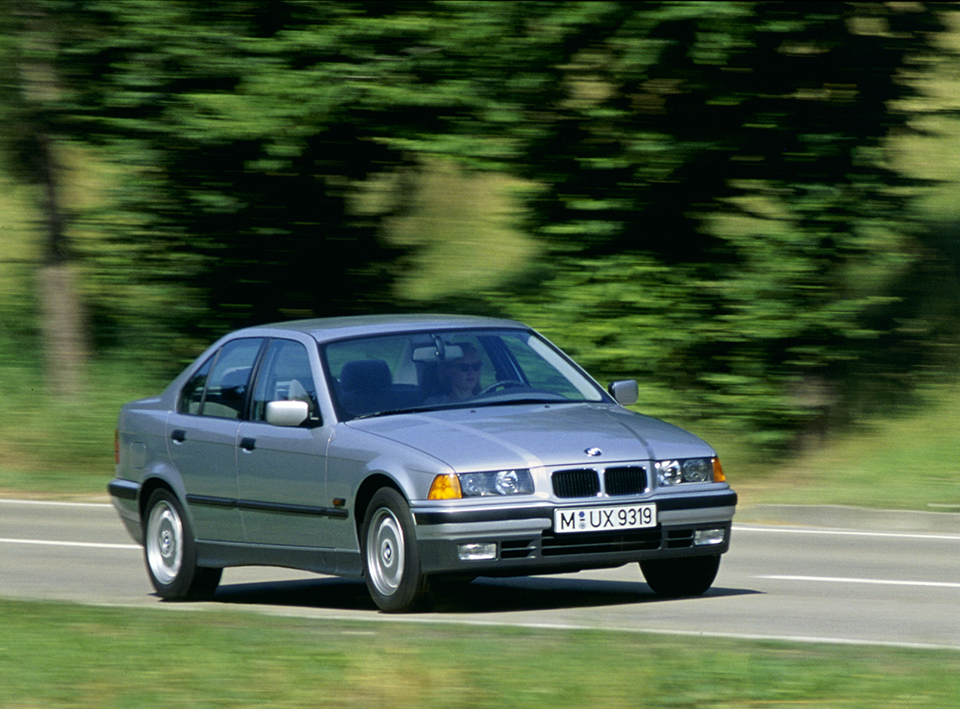 This generation of 3-series coincided with the boom of the compact disc and rise of the Internet. Cars were becoming similarly advanced and technology such as anti-lock brakes and electronic stability control was helping tame wayward handling and help drivers get home safely.
You'll recognise the E36 series of cars by their headlamps, which were shrouded in protective plastic cases, nowadays the norm but then a novelty. The other big change in appearance over its predecessor was inside: the design was a real departure for BMW. The dashboard binnacle was so angled towards the driver that it appeared to exclude the front seat passenger.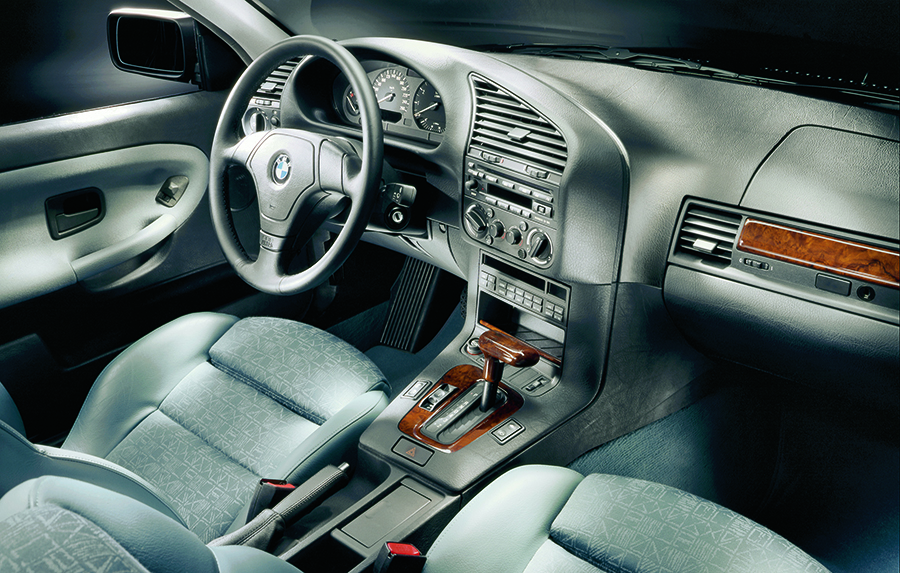 There still wasn't much space in the back seat (it wasn't until the E90 version, in 2005, that BMW finally made the 3-series comfortable for all the family) and the quality of fittings in the cabin could have been better. All of which means we'd suggest this isn't one for buyers after a spacious family saloon that can stand the test of time.
Under the skin there was a sophisticated (for its time) multi-link rear suspension arrangement which greatly helped make this a more secure handling car. The technology came from the rare BMW Z1, a two-seat roadster from 1989 that's become a collector's item today.
The range began with four-cylinder petrol engines, of which the 318i was the pick, as the smaller 316i was slothful. The 320i was the entry-level six-cylinder motor, but it felt underpowered compared with the 323i, 325i and 328i models. Of the lot, the 328i impressed the most, its silky smooth sound disguising serious performance above 4,000rpm. Find a tidy one today for no more than £1,250 and you'll be getting a lot of car for the money.
The diesel engines included a fairly weedy 318td, a 1.6-litre that struggled to pull the skin off a rice pudding, and a 325td. The most desirable of all was the 325tds. The latter is the diesel to seek out, as its 2.5-litre engine was more powerful (143bhp) and could return 38mpg.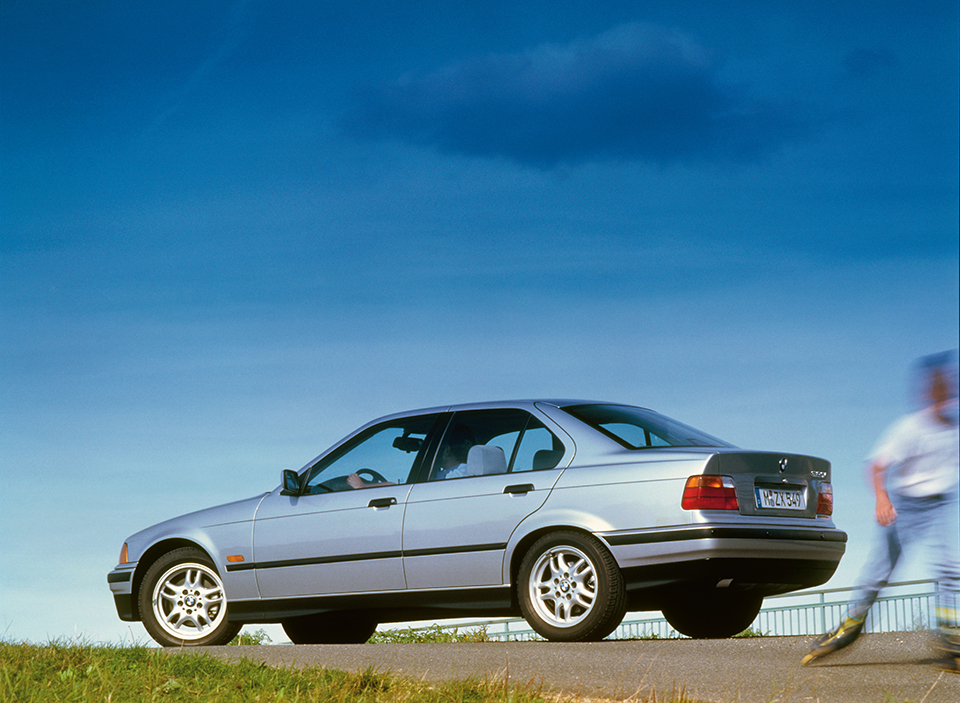 The one to buy BMW 328i Sport
What will it cost? Between £1,000 and £2000, depending on condition
What to look out for
Observant readers will have noticed a pattern: we keep plumping for the big capacity six-cylinder versions of the 3-series. It's the same story here, simply because they're so much better to drive than the four-cylinder and diesel models of the same era. From 1994, the company changed its engines to use timing chains, but even these need to be checked, as the tensioner can fail. The six-cylinder engines can suffer from bore wear. The service book should show evidence of annual oil changes and check that the digital odometer hasn't failed. Front and rear suspension parts wear, as do clutches, and the car was recalled for possible faulty lower steering shafts. And again, rust could be lurking.
---
Search for and buy a used BMW 3-series on driving.co.uk
---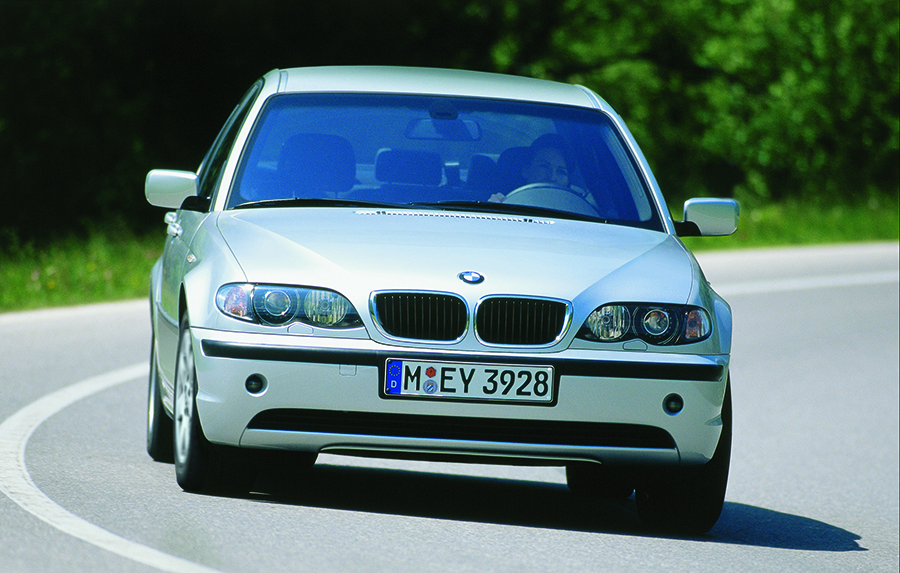 Drivers searching for a used BMW 3-series that feels relatively modern to drive and features plenty of mod-cons, all for an affordable price, should narrow their shortlist to this, the fourth-generation car, known internally as the E46.
Where the previous 3-series felt small and a little fragile in places, this model seemed more substantial, while the interior added an air of class and was more robust. The only annoyance was that the split-folding rear seats were optional, so check whether they were fitted, as the car is more versatile with them.
A budget of between £3,000 and £5,000 opens up a wide choice of variants. Buyers should decide whether they value good fuel economy and low running costs over sporty performance, then narrow down their search to either diesel or petrol-powered models respectively.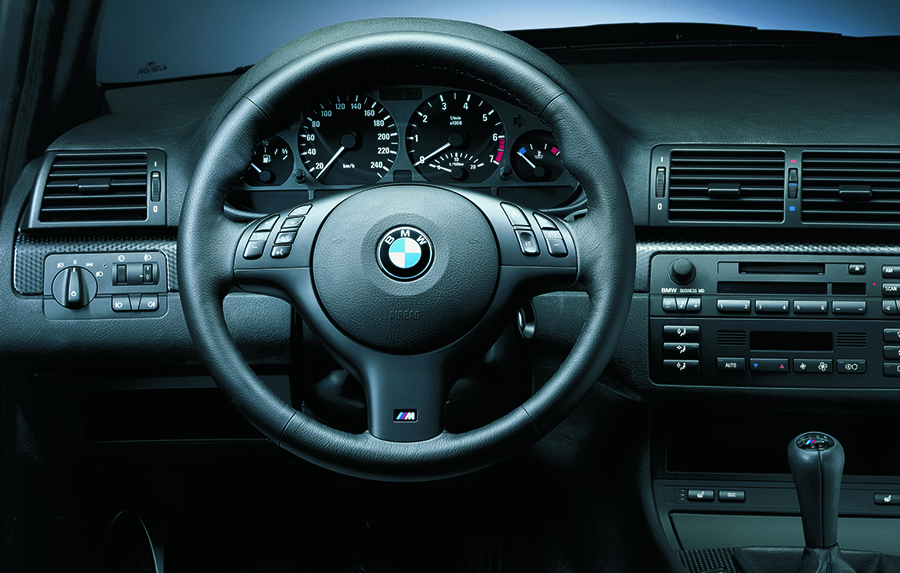 Our recommendation for this generation of car is the six-cylinder 330d. It gave impressive performance, thanks to having 184bhp and, more significantly, lots of torque, yet could return up to 42mpg if driven with care. It was smoother than the four-cylinder 320d, too. Many new cars were ordered with the automatic transmission, but if you're happy with a manual then the five-speed gearbox actually gives the car marginally better economy and performance, and should last longer.
From late 2001 all 3-series models received a facelift, and many of the engines were revised at the same time, including the 330d, which increased in power to 204bhp.
If a petrol model is more up your street, then the 318i of post-September 2001 was a big improvement over its less powerful predecessor. Alternatively, the potent 330i was fun to drive. With 231bhp it felt like a cut-price version of the M3 sports model.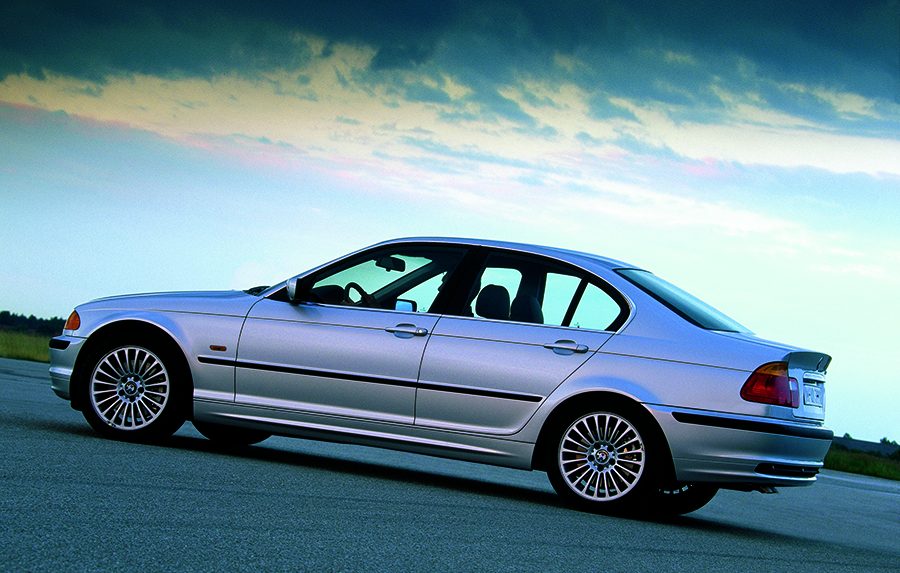 The one to buy BMW 330d
What will it cost? Between £4,000 and £6,000
What to look out for
There are common problems with the popular 330d and 320d diesel models. The turbochargers can fail, or suffer worn bearings, and the inlet manifolds of the 320d were frequently faulty. On petrol and diesel engines the thermostat can fail, which then means the climate control system will not operate, while the resistors for the heater's fan could pack in, leaving the fan running at full speed. Fuel injectors of the diesel models can fail, too, as can fuel pumps. The front wings are known to suffer from rust, so check them carefully.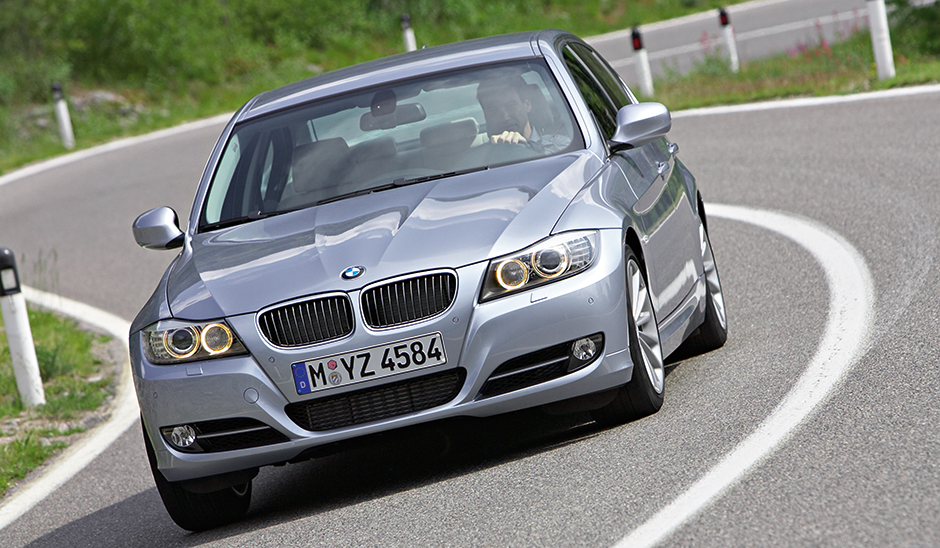 Consumer focus groups are often the source of ridicule: warm glasses of wine, peanuts and olives, and a melting pot of opinions that go round in circles. However, the fifth-generation 3-series felt like a product that had been greatly influenced for the better by such encounters with drivers.
It made some significant strides for BMW, and buyers of posh saloon cars. Previously, the cabin of past 3-series models felt uncomfortably snug. This one was noticeably more spacious, meaning adults could finally sit comfortably on the back seats without their knees pressed up against the back of the front seat. The boot also grew substantially, from the old car's 300 litres to 460. At last, you could fit the weekly shop in the boot without having to pile bags on top of one another.
All of this is good news for drivers who need a used 3-series that's practical for ferrying the family around. The growth spurt was achieved by engineering a new longer, wider platform. This had the added benefit of making the car more stable to drive but unfortunately, the use of run-flat tyres (which can be driven even when punctured) meant that the ride comfort was distinctly firm.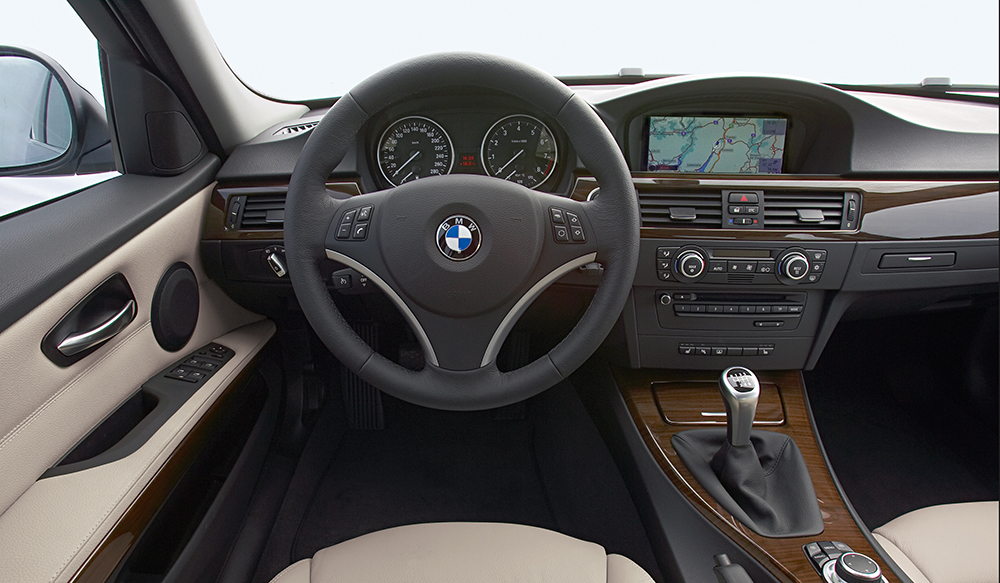 The other big improvement came with the latest generation 2-litre diesel engine; notably, the 320d EfficientDynamics. This is was the pick of the range when new and remains the best buy for used car buyers. It is powerful enough to accelerate from 0-62mph in eight seconds, but can return as much as 69mpg on the combined cycle and costs just £20 a year to tax. What's not to like?
Drivers who crave power could instead choose the 335i, which went on sale at the end of 2006. It used a twin-turbo 3-litre engine kicking out just over 300bhp. The engineering that went into this model was impressive, with precious little delay from the turbo when accelerating and the sort of mid-range acceleration that could outrun the V-8 powered BMW M3.
The one to buy BMW 320d EfficientDynamics
What will it cost? Between £7,500 and £15,000
What to look out for
This may be a younger car but that doesn't mean it's without a long list of buyer beware problems. BMW has issued recalls affecting the brake servo, the airbags and the power steering system. Other known problems reported by owners include external door handles that stick in the open position, failing exhaust particulate filters and power steering leaks. As with the previous generation car, problems with turbochargers are not uncommon, and the front and rear suspension components can wear or even fail.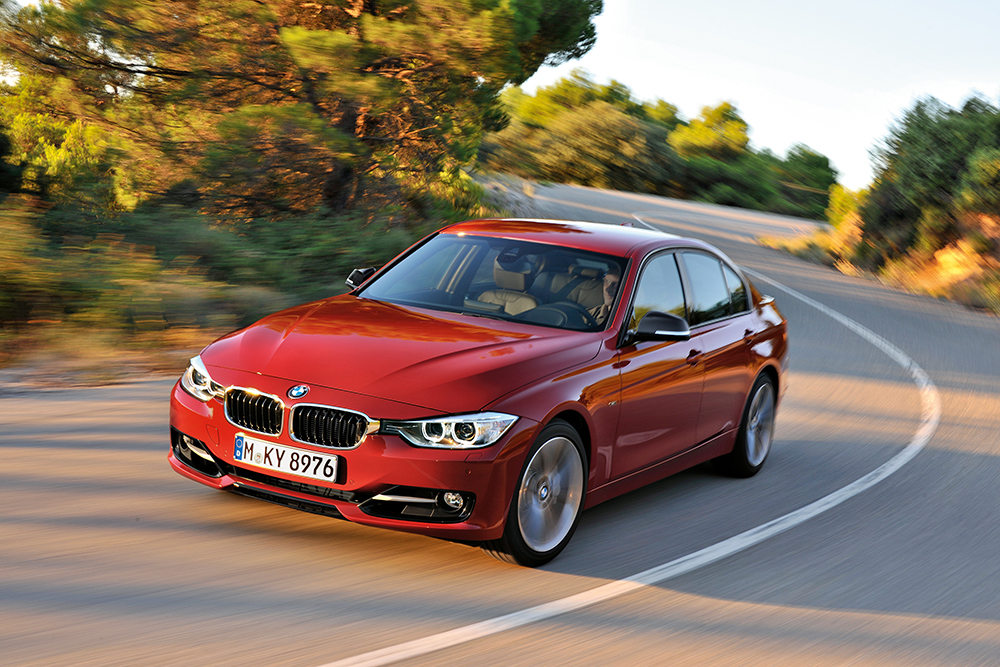 Just two years into its life, the latest 3-series is now becoming a tempting used car for drivers who want to avoid paying the list price for brand-new showroom cars. How much cheaper are they? Try over £10,000.
For example, a new 320d EfficientDynamics costs £28,775, whereas a two-year-old, 30,000-mile model from a BMW dealer is around £17,500. It's a sobering thought, especially for private drivers.
What's it like to drive, though? In EfficientDynamics specification, the 320d is capable of returning 68.9mpg on the combined cycle. It's smooth and refined on the move but a little rattly when started from cold. Automatic models benefit from an eight-speed gearbox, and there are clever electronic driver aids which help the rear-wheel-drive models generate maximum traction.
Drivers who don't travel many miles a year should consider a petrol-powered model. The pick of the bunch is the new 328i, which uses a turbocharged four-cylinder engine to muster a pretty impressive 242bhp. That's enough to accelerate from 0-62mph in 5.9sec, yet the car returns a surprisingly frugal 44.1mpg.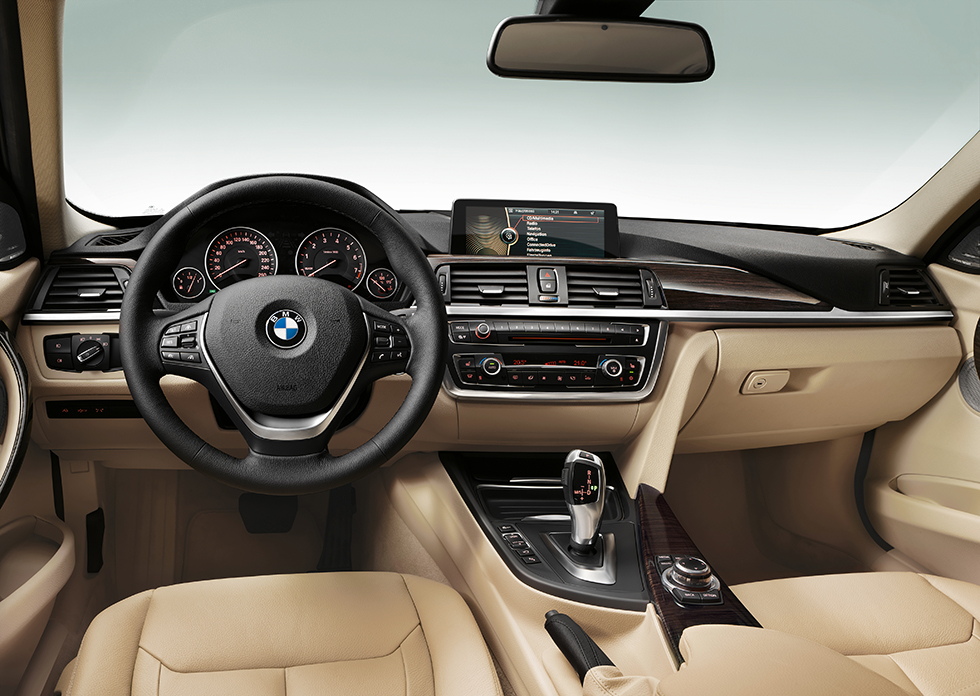 For the first time in the UK, this 3-series comes with the option of four-wheel drive. It's a good system, managing to give added traction on slippery surfaces without spoiling the sports saloon's trademark rear-wheel drive agility.
The cabin is larger than the last model, and the infotainment system is more advanced, with the EfficientDynamics model offering the driver a wide range of tips for achieving more efficient progress.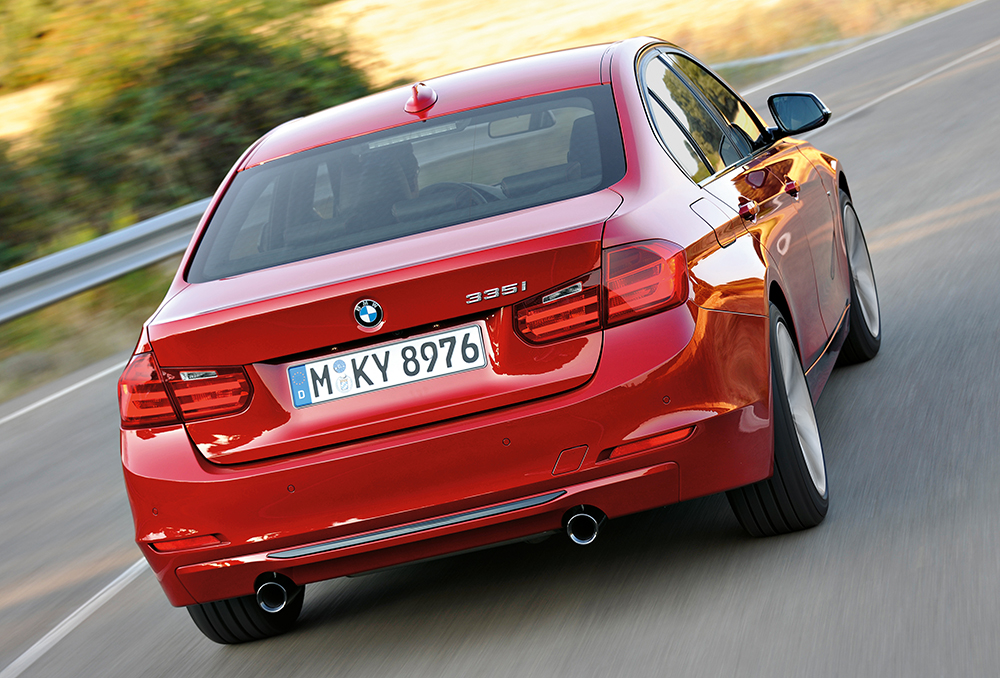 The one to buy BMW 328i
What will it cost? Between £20,000 and £30,000
What to look out for
The latest generation of 3-series is still young and problems are not yet widely reported. The Vehicle & Operator Services Agency (VOSA) reports that certain models may suffer from a faulty clutch, which should have been addressed by the manufacturer. A tiny number of models could suffer from faulty electrics, others faulty power steering systems.
---
Search for and buy a used BMW 3-series on driving.co.uk
---