England Women's cricket captain Heather Knight on what drives her
Inspiring the next generation of female cricket stars
AFTER decades of work by pioneering female players and campaigners, women's sport is undergoing a revolution. Sponsorship deals, media coverage and professional contracts – things their male counterparts have long enjoyed – are finally part of the offering for any talented women embarking on a career in sport.
Heather Knight, 28-year-old captain of the England women's cricket team, is one of those blazing a trail in this rapidly changing world. In 2017 she led her country to victory against India at the cricket World Cup, and was appointed an OBE in recognition of her contribution to that triumph. This summer she will spearhead England's fight against the Aussies for the Ashes.
But as a sporty young girl growing up in Plymouth, Knight had no inkling, until well into her teenage years, that playing cricket for her country was an option.
"I had no idea that there was a women's team until I was about 16 or 17," she says. "I thought it'd be quite cool to play for England."
"You stick out like a sore thumb, being the only girl in a team. I just got on with it, though"
Her brother Stephen was part of the local colts, and she duly signed up, not thinking there was anything unusual about being the only girl on the team. She went on to play Devon league cricket with the men for Plymstock.
"You do stick out like a sore thumb, obviously, being the only girl," she recalls. "I got changed in a lot of club toilets. I just got on with it, though, and I loved it.
"The club was really welcoming. You get the odd funny local comment, in the Devon league especially – a few old codgers who've never seen women play cricket before. But that was more funny than anything, and the lads made a joke out of it."
Knight believes playing in men's teams was a great education. "It's a good standard of cricket — a tough test, I guess, being quite young and playing men's cricket."
---
Journeys with the power to surprise: watch Unsaid, the stunning new short film from The Times in association with Kia.
---
By the time she was in her mid-teens, Knight was spending weekends travelling round the south of England playing cricket, with her parents ferrying her from Plymouth to Berkshire and back in time for school on Monday morning.
There was also the not insignificant matter of exams – Knight had applied to Cambridge to study natural sciences and, she says, "did a lot of revising during car journeys".
Unsurprisingly keen to get behind the wheel herself, Knight passed her test at 18 and got a black Honda Accord. "I loved my little car," she says. "You know what it's like when you get your first car – you're the bee's knees, you've got independence and you drive all over the place."
The hard work paid off, and Knight was offered a place at Homerton College, Cambridge, but something was not quite right. "I visited and it just didn't feel like me," she says. "I knew it was going to be hard work and it would have been full-on trying to balance Cambridge and cricket."
First-year students were not allowed cars because of a lack of parking places, which was "a nightmare" for a cricket player.
"I visited Cardiff and really liked the place. I just got a gut feeling, and that's quite often how I make my decisions. It wasn't just because I wanted to play cricket."
Knight was in only her second term of studying biomedical science at Cardiff University when the call came to join the England team. One of the squad, playing in India, was injured and a replacement was needed as soon as possible.
"It was a bit earlier than I expected," she remembers. "I'd only been in the England academy for about a year.
"When I got the call I was at Lord's, playing a university competition. There was an announcement over the Tannoy: 'Could Heather Knight please come to reception?' I thought, 'Oh, God, what have I done? Is it something to do with my car?'"
"I try to convey to the younger players the history of how we got where we are today. We weren't given this on a plate"
Instead of getting asked to shift the Honda, however, Knight was told to ring Clare Connor, director of England women's cricket. Within hours she had been home to Cardiff to pack, boomeranged back to London and boarded a plane to India to make her international debut in front of "one man and his dog".
Unable to contact her college, Knight left a message for her personal tutor saying she would not be in for a month. "They were really understanding."
It was having to find a balance between England duties and her studies that helped Knight develop the level head that would eventually earn her the captaincy. "I had to come back and throw myself into uni, catch up with everything. Life outside cricket helped me do better at cricket. Because if cricket's everything, that's a lot of pressure."
With her parents in Plymouth and her commitments for England, Berkshire – for whom she has played since 2010 – and the ECB's Kia Super League team Western Storm, Knight says driving is still a big part of life. "Every week I go up to Loughborough to train, so that's 100 miles there on Tuesday, and come back Thursday night."
Podcasts and tunes break up the journey – Florence and the Machine are a favourite, as is the indie station Radio X, cricket and sport podcasts, The News Quiz and Brian Cox and Robin Ince's science show The Infinite Monkey Cage. "It's a bit geeky of me, but I like it when I'm feeling smart."
Her ride these days is a white Kia Sportage – all the members of the England team have one. "When we're going all round the country as a team, you see a brigade of 19 white Kias in the car park – I have occasionally gone up to the wrong car and tried to open it. Whenever I see a white Kia, I look out to see if it's one of the girls."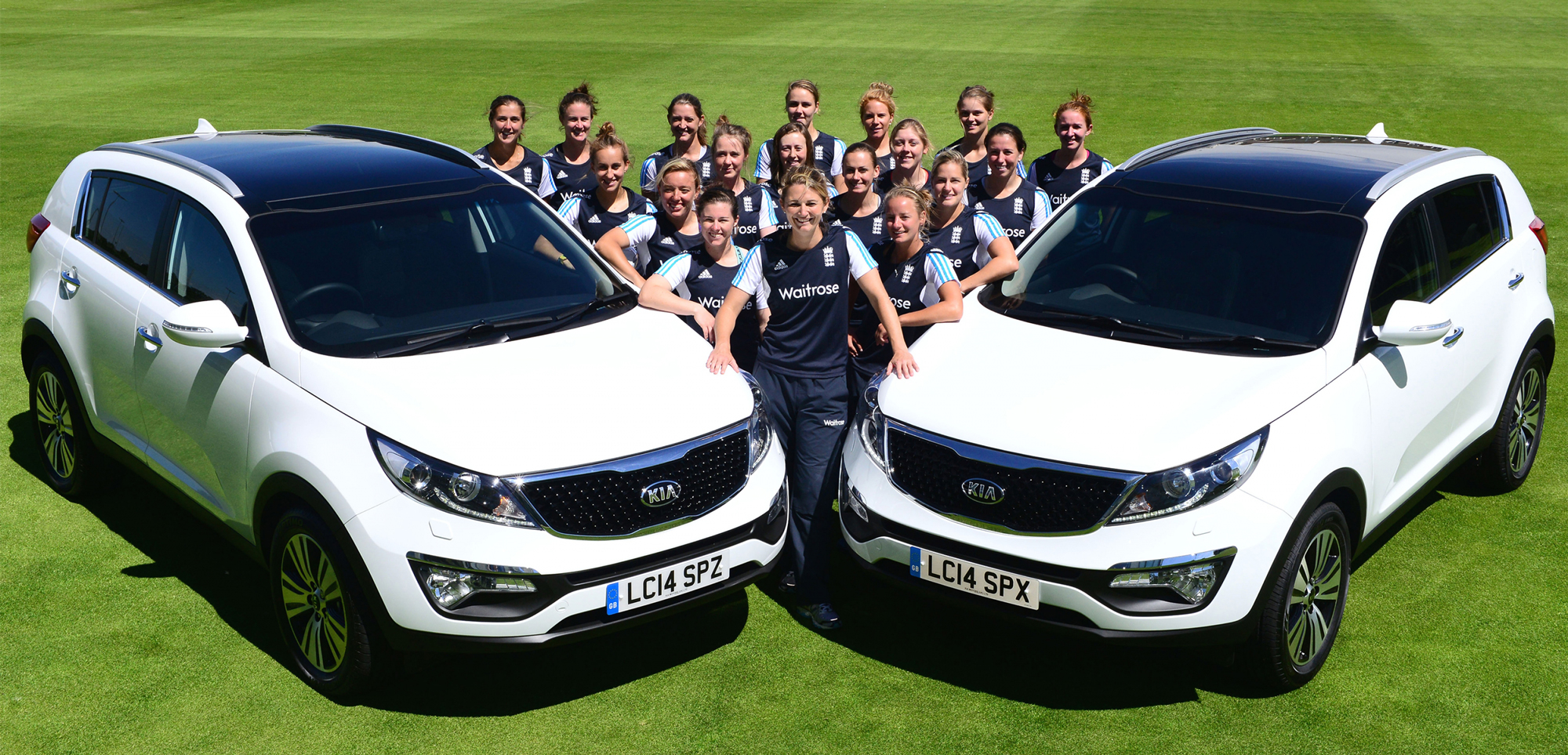 It is a full-on schedule, especially in summer. "I don't get much chance for holidays or a social life," she says, "but it's good, especially getting to play overseas. It's pretty amazing that cricket's my job."
Knight and her partner, Tim, have stumbled upon a life that suits them – he works for six months as an accountant in Britain and then travels the rest of the year, often joining her on tour or heading to Australia, where Knight plays for Hobart Hurricanes in the women's Big Bash League.
While Knight often talks of the "ruthless, clinical" ethos of the women's side, she believes nurturing and a sense of history are just as important as the grit.
"If you're having a bad day, you've still got to go out there and perform; put a face on. That's what you see on the pitch, but you don't see the stuff that goes on behind the scenes and the work that the girls do – the battles everyone has, the journeys, the bad form or whatever is going on in people's lives – trying to put that aside and go out and perform.
"I try to convey to the younger players the history of how we got where we are today. We weren't given this on a plate. I try to help them develop and deal with the different issues that being a professional brings – the extra scrutiny and demands when they're young. It's one of the more enjoyable parts of my job."
In 2017 Knight was certainly feeling the pressure of life as a high-profile professional cricketer as she led England's women out against India at a sold-out Lord's in the final of the ICC women's Word Cup. A worldwide television audience of 180m tuned in.
"I was glad I didn't know that before the final," she says. "It was remarkable enough just to sell out Lord's. When I walked out to the nets that morning, there was this background buzzing noise, crowds singing the anthems, and I realised just how many people were there."
The significance of the moment was not lost on Knight. Eileen Ash, now 107, the oldest living Test player (and Knight's sometime yoga buddy), rang the bell five minutes before play, and footage of the pioneering England women's captain Baroness Heyhoe Flint, who had died earlier that year, was shown on the big screens.
"She was the lady who fought for women to play at Lord's and go in the pavilion," says Knight. "I was thinking, 'Whatever happens, this is a big, big day for the game, and I've been lucky enough to be involved in it.'"
England's women beat India by nine runs in one of the closest finals in the tournament's history.
Later that year, while she was away in Australia, Clare Connor asked Knight whether somebody was checking her post for her. Once again Kight's first thought was, "Oh no, am I in trouble?" As it turned out, she and her coach Mark Robinson had been appointed OBEs in the new year honours, while her teammates Anya Shrubsole and Tammy Beaumont became MBEs and Connor, also a former player, was made a CBE. "I wish the whole team could have been honoured," Knight says.
Her future lies in cricket, says Knight, who is still under 30. After all, men play well into their thirties. If she was not a professional cricketer, she would "be wishing I was playing some sort of sport", and probably doing "something sciencey".
"I might have gone to Cambridge. Who knows?" she says. "Sliding doors, and a whole different life could have been led."
Heather Knight on the all-new Kia ProCeed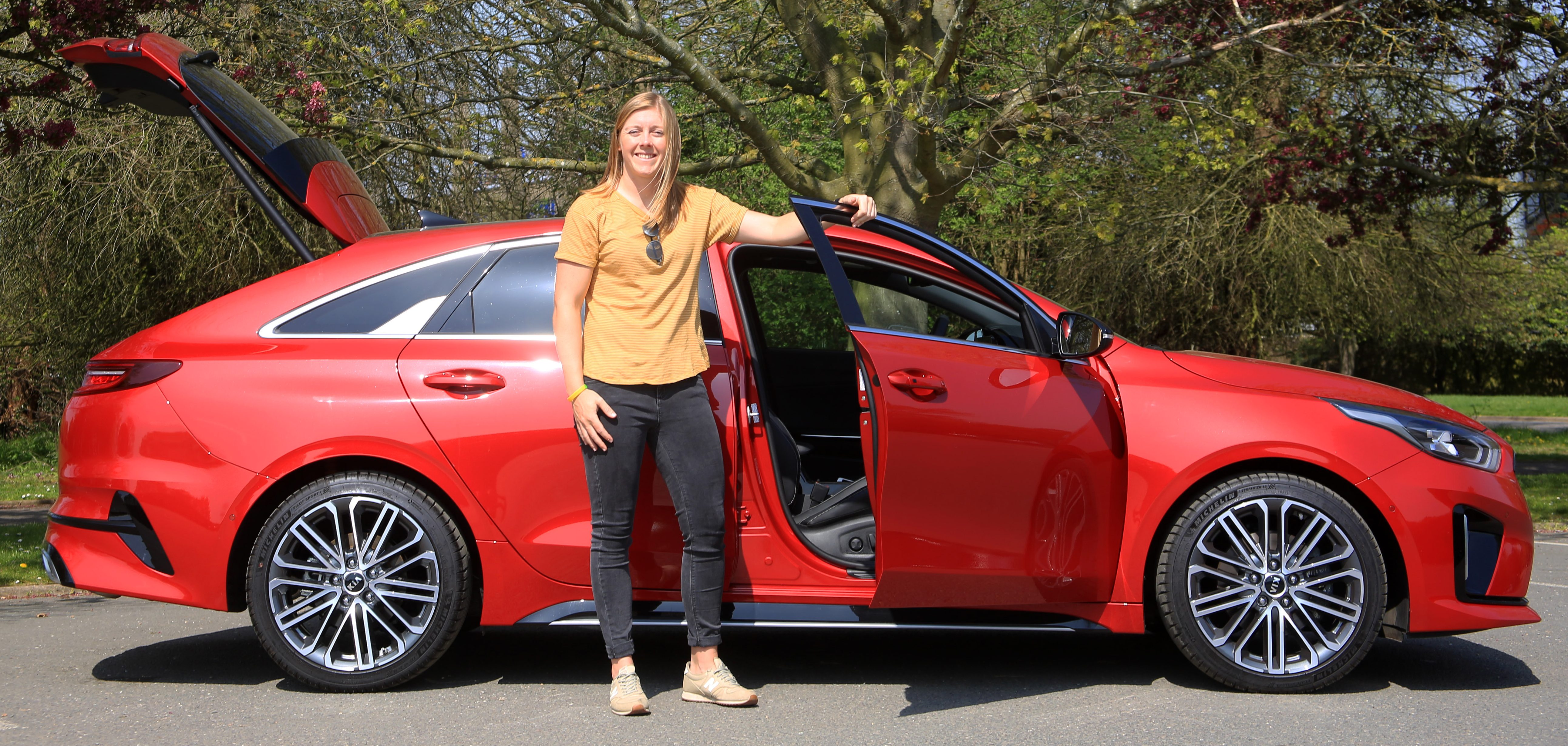 Trying out the new Kia ProCeed, Knight says, was an interesting change from driving her Sportage. Unlike the trusty crossover, the ProCeed mixes sporty design with space and versatility – a sleek, more dynamic alternative to the higher-riding Ceed SW estate.
"I did find myself stroking the steering wheel," she says, "because it's leather and a bit more fancy than the one I've got in my Sportage. The ProCeed was a bit slicker and speedier, a bit more nimble. And there's more power in the engine, too.
"In the Sportage you get used to being higher, of course, but this is nice and low: a bit closer to the road."
Knight treated Tim to a surprise ride home from Heathrow in the ProCeed after he returned from a trip. "I got a little bit of a drive on the motorway, and it was really comfy and enjoyable. I tried the intelligent cruise control and then the lane-keeping assist, which is a bit weird at first but probably quite useful. When you've got a long drive after the game and you feel a bit tired, it's no bad thing."
Tim, however, returning from Vietnam to an English summer, had a clear favourite feature. "He got the heated seats straight on and just enjoyed the ride."
For more information about the new Kia ProCeed, please visit kia.com/uk/new-cars/proceed/