Praise the Ford: an electric new era of cool (sponsored)
Sporty, spacious, and packed with innovative features, the Ford Mustang Mach-E is the torque of the town – and the open road. Lizzie Catt takes it for a spin
---
Published 04 January 2022
It's almost impossible to approach a Ford Mustang Mach-E without smiling – especially when you've just been handed the keys. Hunched, muscly and branded with the unmistakable running horse logo, the Mustang is synonymous with Steve McQueen, smokin' tyres and catching air on the streets of San Francisco. OK, so that sort of thing isn't going to fly on the A3 Esher bypass, but it's fun to imagine that it might.
While the Mustang brand still carries the cachet of cool thanks to petrol-powered car chases, the gleaming grey SUV hunkered on my driveway on a sunny autumn afternoon is a very different beast. The all-electric Mustang Mach-E thrusts the brand into a new era with a whole lot of torque – up to 860 Nm1 of it. Still sporty, still cool, but completely reimagined.
The first thing I noticed was the size. The Mustang Mach-E is generously proportioned inside, as the underfloor battery pack means there's no central transmission tunnel hump in the rear. So, there's plenty of room for children's car seats and swinging little legs, and even space for adult passengers.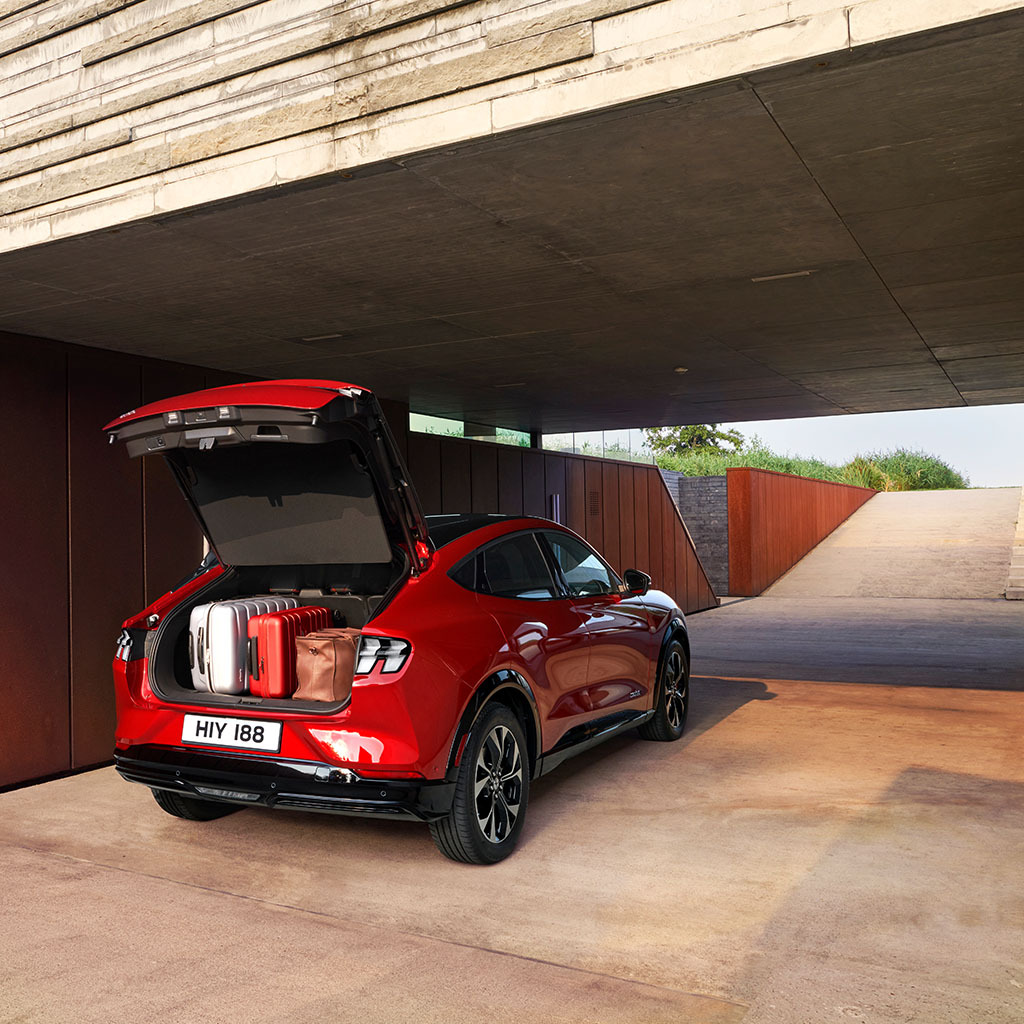 As well as room for the charging cable, the boot has heaps of space for shopping, pushchairs and other essentials. What's more, if extra depth is needed for suitcases or boxes, the floor can be lowered down. Oh, and if you need more room, just pop the front trunk. With no engine to house there, the Mustang Mach-E comes with extra storage space under the bonnet.
Even with all this space, the coupé roofline keeps the Mustang Mach-E looking sporty. And when you're seated in the spacious cabin, the view is even better. The full panorama roof2 arches gloriously overhead and the dashboard is all about futuristic minimalism.
The car can store up to five driver seat profiles,3 eliminating the third most common motoring annoyance in our house after "Stop kicking my seat" and "Mind your fingers" – when there's a one-foot height discrepancy between the family's two drivers, this function is a very welcome innovation.
A range of other features includes wireless charging for your mobiles, along with keyless entry and even a touch-sensitive keypad on the doorframe where drivers who have forgotten their key can open up by inputting a code.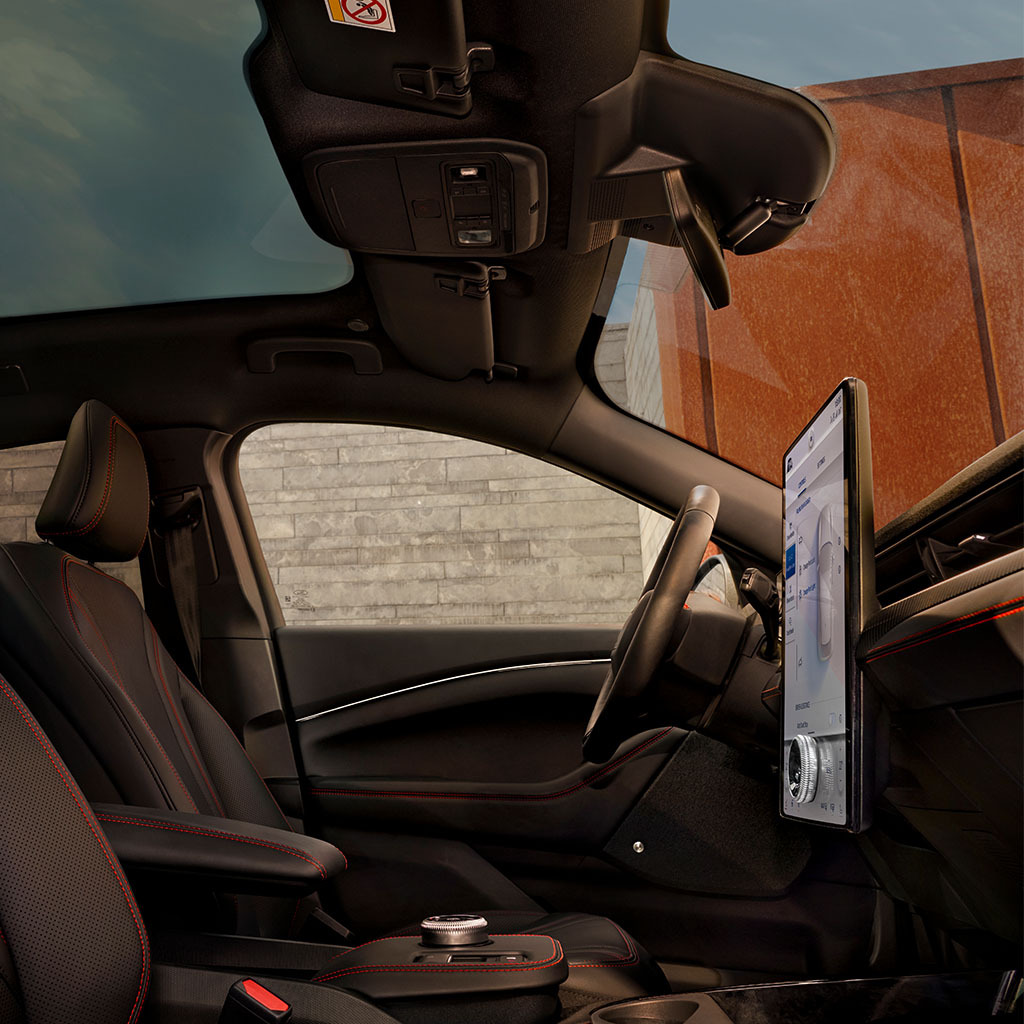 Most of what you'll need is on the large, 15.5in touchscreen, from the media controls for the B&O Premium Sound System,4 to the Advanced Active Park Assist4 and driving modes. I started on Active and gave Untamed a whirl before settling on the comfort of Whisper – Steve McQueen never had to worry about navigating multitudinous speed cushions in a 20mph limit.
Taking the Mustang Mach-E for a spin in the outer suburbs of London shows that while it may be powerful on the open road, it's also the perfect companion around the jolting queues and alternating speed limits of modern towns. Many of us have given up grinding our gears and knee joints in endless jams and switched to automatics – the Mustang Mach-E takes things to the next level. The Intelligent Adaptive Cruise Control let me set my speed and distance from the car in front, which is so helpful in the increasingly common average speed check zones.
But one-pedal driving was my absolute favourite. Regenerative braking in electric cars already salvages energy from pressing the stop pedal and channels it into the battery. Select the Mustang Mach-E's one-pedal mode and the rise and fall of your right foot on the accelerator is all it takes to power and slow the car. The brake is still there in the event that you need to slow the car more suddenly.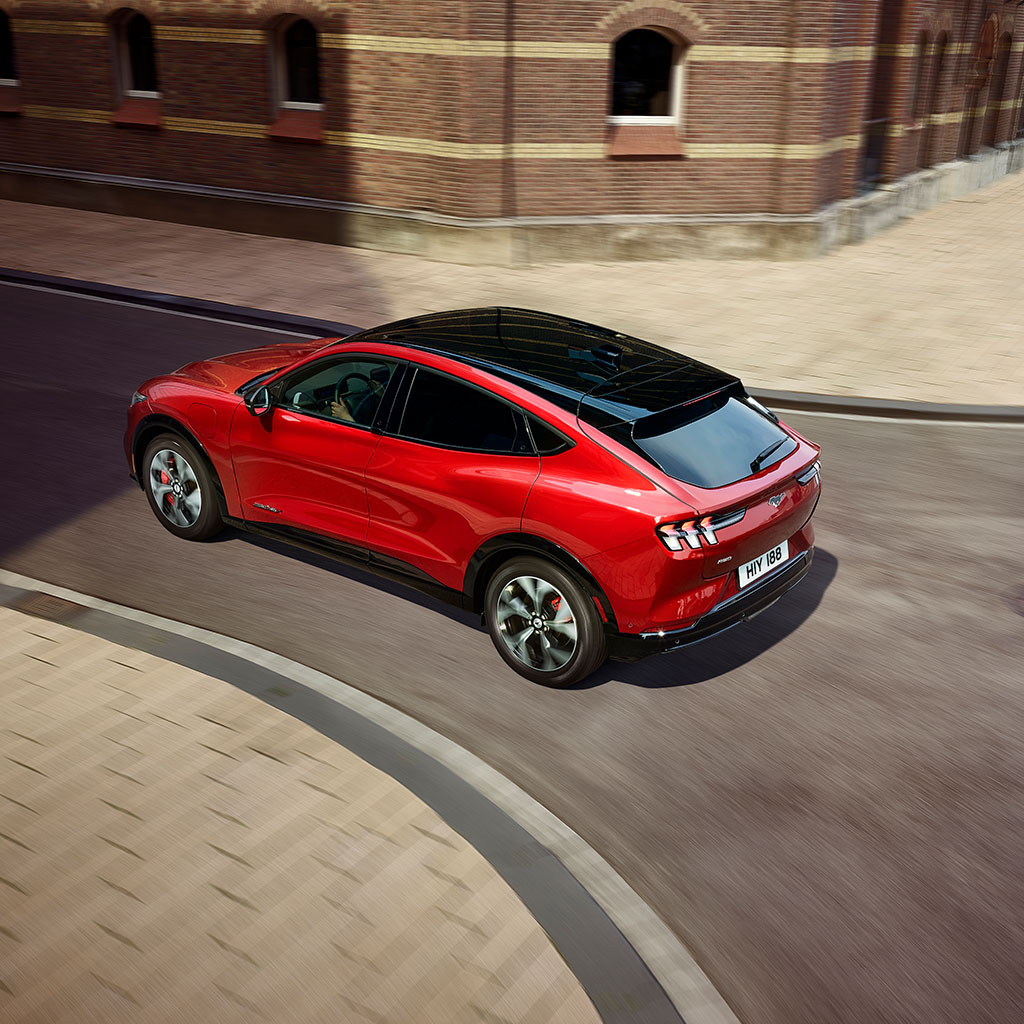 Venturing out onto the A3 for a moderate stretch of the legs, the Mustang Mach-E's Lane Keeping Aid kicked in too, detecting if I was unintentionally drifting out of lane, the impressive torque of electric just a touch of a pedal away.
It's always glorious cruising past crowded petrol station forecourts in a pure electric car with a couple of hundred miles of range still on the display. The Mustang Mach-E can travel up to 379 miles between charges5 and the epic range means the occasional budget-conscious overnight recharge or top up at home is enough to keep the show on the road.
On longer trips, the Mustang Mach-E's battery can be charged from 10 per cent to 80 per cent in 90 minutes with a 50kw DC charger – or around 70 miles in 10 minutes on the IONITY network.6 The FordPass app even messages when the car's ready to go.7 The future's looking good.
For more information or to book a test drive, visit Ford.co.uk
860 Nm on Mustang Mach-E GT only. Calculated via peak performance of the electric motor(s) at peak battery power. Your results may vary.
Standard on AWD models. Optional as part of the Tech Pack + on RWD models or standalone option on GT (22.25MY).
8-Way Power Driver and Passenger Seats standard on AWD models only (22.25MY).
Standard on AWD models. Optional as part of the Tech Pack + on RWD models (22.25MY).
Based on full charge. Estimated range using Worldwide Harmonised Light Vehicle Test Procedure (WLTP) applies to RWD model with extended range battery. Actual range varies with conditions such as external elements, driving behaviours, vehicle maintenance, and lithium-ion battery age.
Extended Range models only. Charge power can decrease with increasing state of charge. Actual charge times and charge speeds can vary based on different factors (weather, temperature, driving behaviour).
When the vehicle is equipped with FordPass Connect modem. FordPass Connect enables connected services and is available on selected vehicles or vehicles with navigation. FordPass Connect will be enabled at time of vehicle delivery. You may choose to opt in/out of certain data sharing. Data coverage and service is not available everywhere. Data rates may be incurred. FordPass and Connected Car Privacy Policies apply, available on the Ford website.