Yamauchi Kazunori, creator of Gran Turismo, on how Vision GT has ignited the concept car wars
PlayStation fires up the world of car design
---
Published 29 January 2015
THE WORLD of the racing game is fast-moving in every sense. Unless you've been living under a rock you'll know that the games industry has been outperforming the DVD and music industries combined since 2008, and revenues from video games now dwarf cinema box-office takings. Last year, for example, Transformers: Age of Extinction was the most successful film worldwide, grossing $1.09bn (£719m); in 2013 the Grand Theft Auto V game raked in $1bn of sales in three days.
---
Search for and buy your next car on driving.co.uk
---
In this surging market, racing games certainly hold their own. Mario Kart 8 for the Wii U console was the eighth-bestselling game in 2014 and the biggest racing title of the year, selling more than 4m copies. Driveclub for the PlayStation 4, which went on sale in Britain in October, had racked up 1.5m sales by the end of the year.
Arguably the biggest "simcade" racing titles (halfway between a driving simulator and an arcade game) are Forza Motorsport for the Xbox and Gran Turismo for the PlayStation. The first Forza title was launched in 2005 and the series has sold more than 20m copies in total, through five generations and three Horizon spin-off titles. Gran Turismo has sold more than 70m copies since the first edition's release in 1997. The latest in the Gran Turismo line-up is GT6, launched in 2013.
Gran Turismo has sold 70m copies since the original first edition's release in 1997
Console gamers are split into two camps – Xbox and PlayStation – and no love is lost between the two. That rivalry carries over into the two driving games: trawl internet forums and YouTube comments and you'll see just how heated the discussions between the two sets of fans can get as the two titles slug it out for credibility and acceptance. If you thought politics was polarised, think again. You can bet Jeremy Clarkson, a self-confessed PlayStation fan, is a Gran Turismo man through and through.
That said, even fundamentalist Forza-heads would agree that Kazunori Yamauchi, the man behind Gran Turismo, deserves respect. The inaugural Gran Turismo game for the PlayStation was groundbreaking for its smart menus, stirring soundtrack, bewildering vehicle complexity (even at the start there were 160 highly customisable cars to play with), tough challenges and engaging  gameplay. Watch this video for a taste.
In this highly lucrative, highly competitive industry, how do you maintain an edge over your competitors? Over the years, Gran Turismo has continued to evolve and innovate, but other games may have caught up (and, some would argue, surpassed it) in many areas. While others have striven to have the best graphics, Yamauchi has aimed to connect the gamers with car makers in other ways. Creating a Goodwood Festival of Speed area with personal invitations to drive the hillclimb from Lord March is one example in GT6. Another high-profile initiative by Yamauchi is Vision Gran Turismo, a project that challenged car makers to create concept cars for his game, celebrating 15 years of the series.
It's an indication of the power that Gran Turismo now possesses that companies such as BMW, Mercedes and Aston Martin threw huge amounts of resources into developing Gran Turismo concepts.
Yamauchi, speaking exclusively this week to driving.co.uk via a translator, confesses that the response has been quite a surprise.  "All the designers and manufacturers of the world put so much energy into creating these cars – much more than I had originally imagined," he says.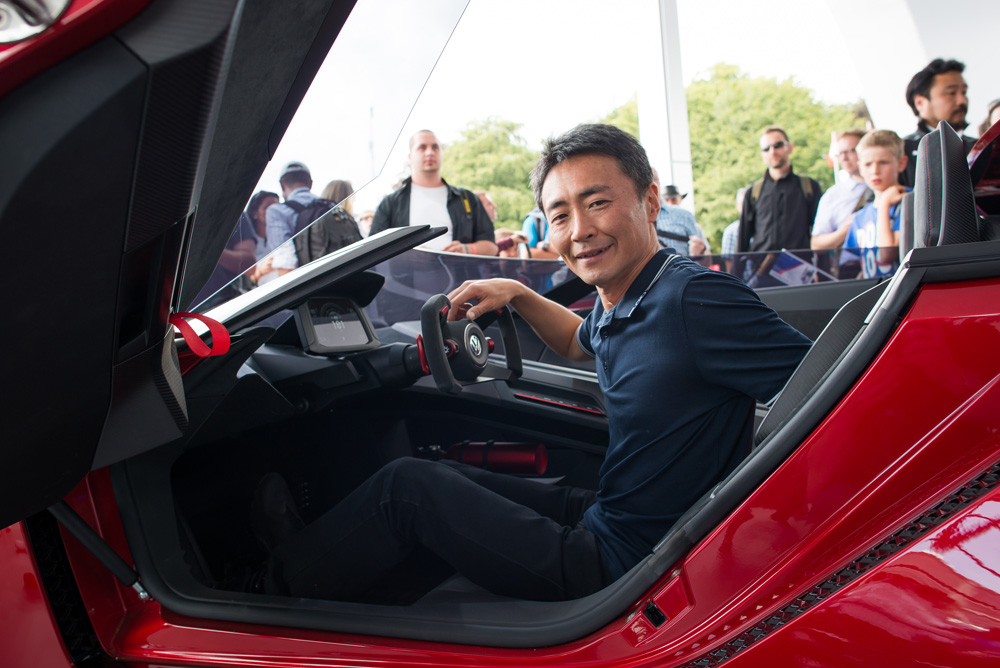 "The design teams put aside their regular daily work, sometimes for months at a time, and really poured their passion and love into these designs. That's why the designs are so fantastic."
The first manufacturer out of the blocks was Mercedes, which unveiled its car in November 2013 to coincide with the launch of GT6. The most recent is Alpine, French sports car maker and subsidiary of Renault that plans a real-world comeback with a new road car next year.
"I'm really excited that Alpine has decide to relaunch its brand in 2016," Yamauchi tells us, "and this Alpine Vision Gran Turismo model is an important milestone leading up to the production of their first model. When you look at this concept you can see the DNA of past Alpines, and that's something I find really exciting about it."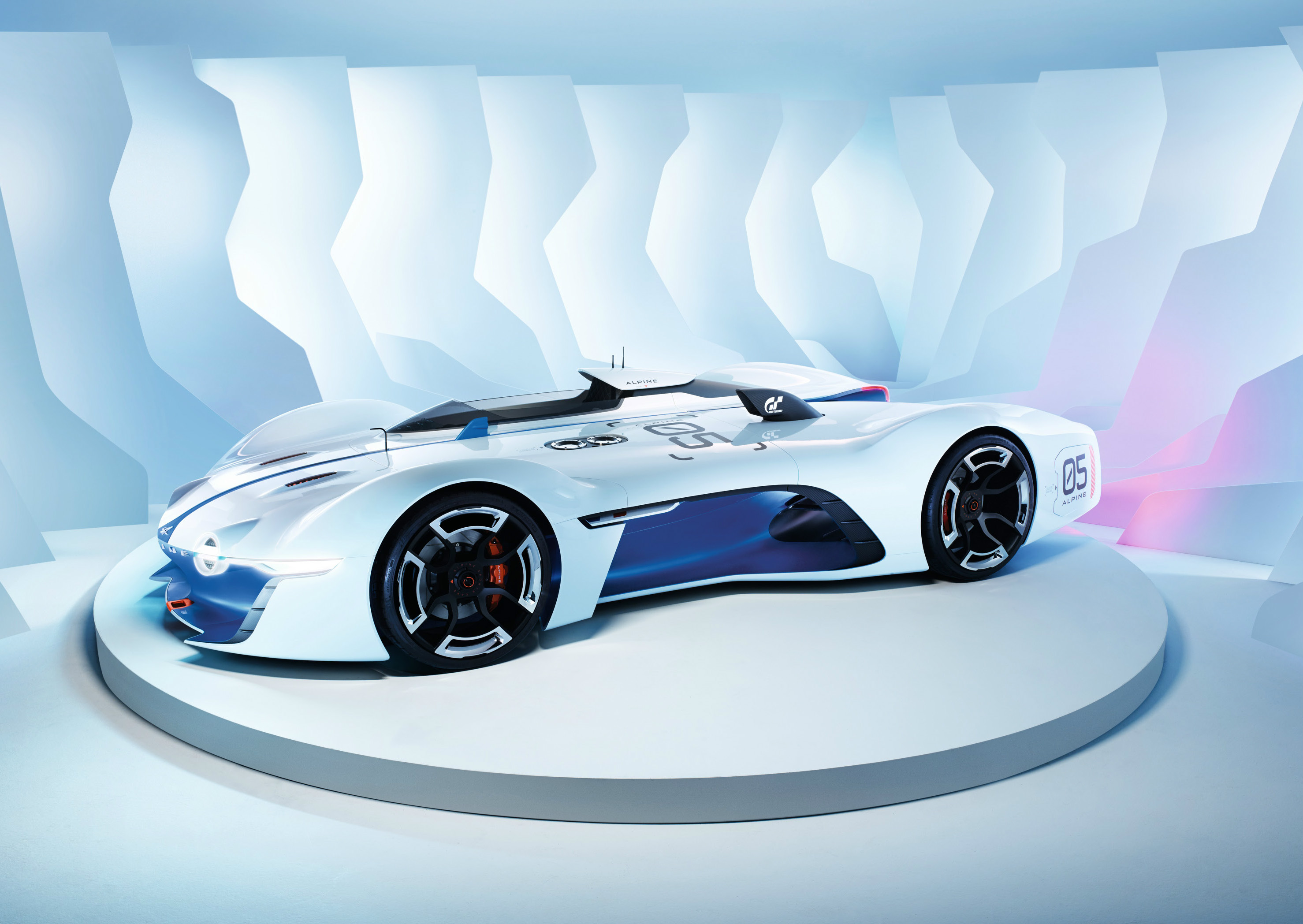 It's evident, even through a translator, that Yamauchi is genuinely excited about these Vision Gran Turismo launches. He's a well-known motoring enthusiast, not just a games designer and businessman, and has become a semi-professional racing driver to boot, competing in the Nürburgring 24-hour race since 2010.
So far 12 Vision Gran Turismo cars have been launched as free downloads for owners of the game, and at least 17 more are expected, not all from the companies you'd expect (see below). Vision Gran Turismo's objective, according to Yamauchi, is simple: "As long as you provide a reason for the manufacturers to design them, sports cars will be created."
The Vision GT project is producing more than just virtual cars, too. The Mercedes-Benz Vision Gran Turismo concept seems to have influenced the Mercedes-AMG GT, which replaced the SLS AMG last year; BMW's effort hinted at the M235i Racing; and Toyota's striking FT-1 concept shows how the next Supra could look.
Yamauchi hints that reactions to the concepts will influence more car designs. "I think the Vision Gran Turismo cars, because of the time and effort spent creating them by the design teams, are going to continue to shine even brighter as time goes by," he says.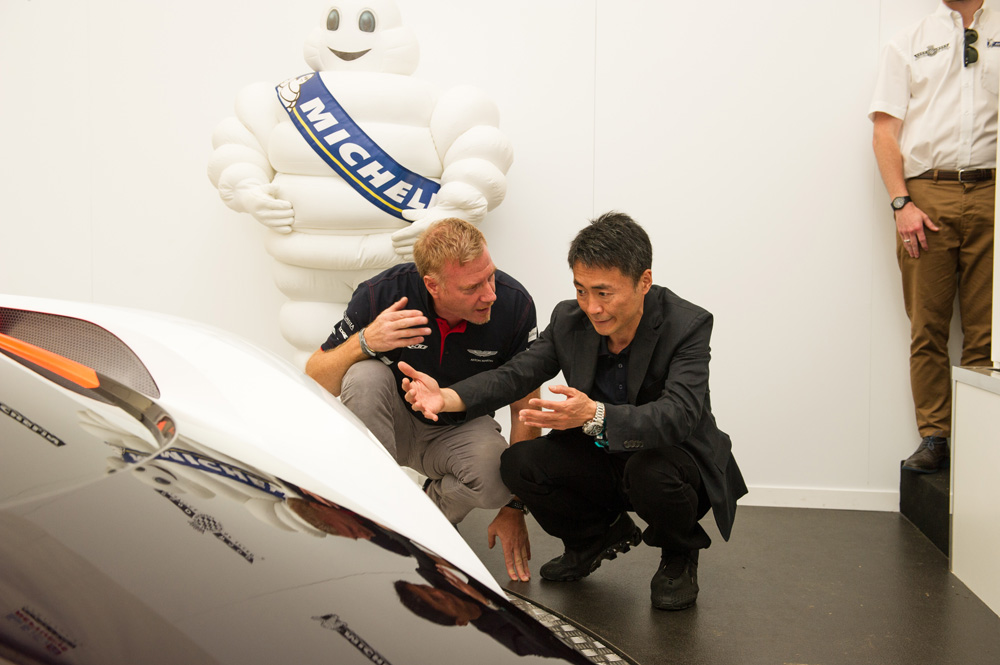 Does Yamauchi have a favourite? "So much passion went into each car," he says, "and I worked very closely with each one of the design teams to get the designs out into the world, so each of these cars is like my own child. I couldn't judge one to be better than another."
Add diplomat to his list of roles.
Vision Gran Turismo models unveiled so far
Mercedes-Benz Vision Gran Turismo – November 17, 2013
BMW Vision Gran Turismo – May 14, 2014
Mitsubishi Concept XR-PHEV Evolution Vision Gran Turismo – May 30, 2014
Nissan Concept 2020 Vision Gran Turismo – June 16, 2014
Volkswagen GTI Roadster Vision Gran Turismo – June 18, 2014
Aston Martin DP-100 Vision Gran Turismo –  June 26, 2014
Toyota FT-1 Vision Gran Turismo – August 14, 2014
Subaru Viziv GT Vision Gran Turismo – November 18, 2014
Chevrolet Chaparral 2X Vision Gran Turismo – November 20, 2014
Infiniti Concept Vision Gran Turismo – December 9, 2014
Mazda LM55 Vision Gran Turismo – December 25, 2014
Alpine Vision Gran Turismo – January 28, 2015
Still to come: Audi, Bertone, Daihatsu, Ford, GM Design, Honda, Hyundai, Italdesign Giugiaro, Jordan (the basketball player Michael Jordan's Nike subsidiary), Lamborghini, Lexus, Mini, Nike, Peugeot, SRT, Tesla, Zagato
---
Search for and buy your next car on driving.co.uk
---