World exclusive: hypercar 'holy trinity' set for Top Gear track battle
It's on: P1 vs 918 Spyder vs LaFerrari
---
Published 28 February 2015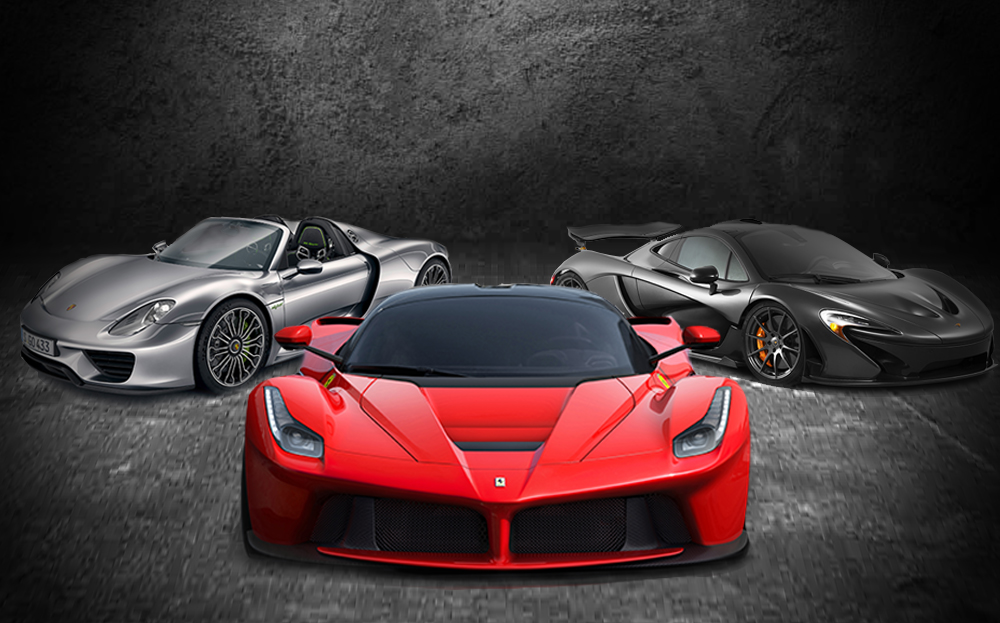 THE SCENE is set for what is being billed as the greatest showdown in supercar history. This spring, the three most advanced cars on the planet are due to go head-to-head on the track for the first time.
---
Search for and buy your next car on driving.co.uk
---
McLaren's 217mph P1 and the 211mph Porsche 918 Spyder will be brought together with the Ferrari LaFerrari (top speed unknown, but more than 217mph) in a contest organised by Top Gear.
Each will be in the hands of the Stig, Top Gear's mysterious, unnamed racing driver, who will take their combined 2728bhp, hi-tech hybrid systems and carbon-fibre chassis to the limit as he sets a lap time for all three.
After all the hype about these hypercars, this could prove the ultimate test of speed, grip and streamlining. The results matter far more to each firm than having the best top speed or fastest acceleration — whatever they might say.
"We're aiming for a big, iconic circuit where the Stig can get a decent speed up on the straights"
Andy Wilman, executive producer of Top Gear, said that Ferrari and McLaren were the most fiercely competitive, and were still discussing exactly where and how their cars would be tested. "That's your Foreman and Ali," he said. Porsche, whose 918 is the cheapest of the three at a mere £625,000, may assume that its car's four-wheel-drive system will give it an advantage on any track.
The three cars — dubbed the holy trinity — are likely to race at the site of previous closely fought motorsport battles in mainland Europe: Monza in Italy or Imola in the republic of San Marino. The Paul Ricard circuit in France is another possibility. Dry weather is crucial for the test.
"We're aiming for a big, iconic circuit where the Stig can get a decent speed up on the straights," said Wilman. The showdown will not be shown in the current Top Gear series, which is due to finish at the end of this month, so it is likely to be screened as a one-off episode later this year.
Until now, the hypercars had only been tested together on public highways as opposed to a racetrack, and at road-legal speeds. Top Gear highlighted the issue in last Sunday's episode after James May had reviewed the £1m LaFerrari. "Who here would like to see which of these cars is the fastest round our track?" Jeremy Clarkson asked the audience, to resounding cheers. "So would we."
He said that Porsche was happy to run the 918 against its rivals but that McLaren had objected to the test being held at Top Gear's Dunsfold test track.
Clarkson went on to say that Ferrari had banned its customers from allowing its cars to be tested, on pain of being blacklisted from buying any future limited-edition Ferrari.
After soaking in the groans of disappointment from the studio audience, McLaren told The Sunday Times last week that it would now be happy for the £866,000 P1 to be tested at Dunsfold or any other track.
Ferrari has also reached an agreement with the BBC. "I replied to Top Gear, 'We're not [normally] interested in this sort of thing [head-to head challenges] but if you tell me when, where, I'll give you a car — if I have a car,'" said Stefano Lai, communication director at Ferrari. "I don't think anybody will buy or not buy a car if you do a lap one-tenth of a second less or more [than a rival]. A car is more than that."
The contest is a matter of pride for the manufacturers, rather than sales. All three limited-edition cars are already sold out.