Video: Ken Block Gymkhana Seven hits the streets of LA with custom Ford Mustang
Hoonigan hits LA
---
Published 17 November 2014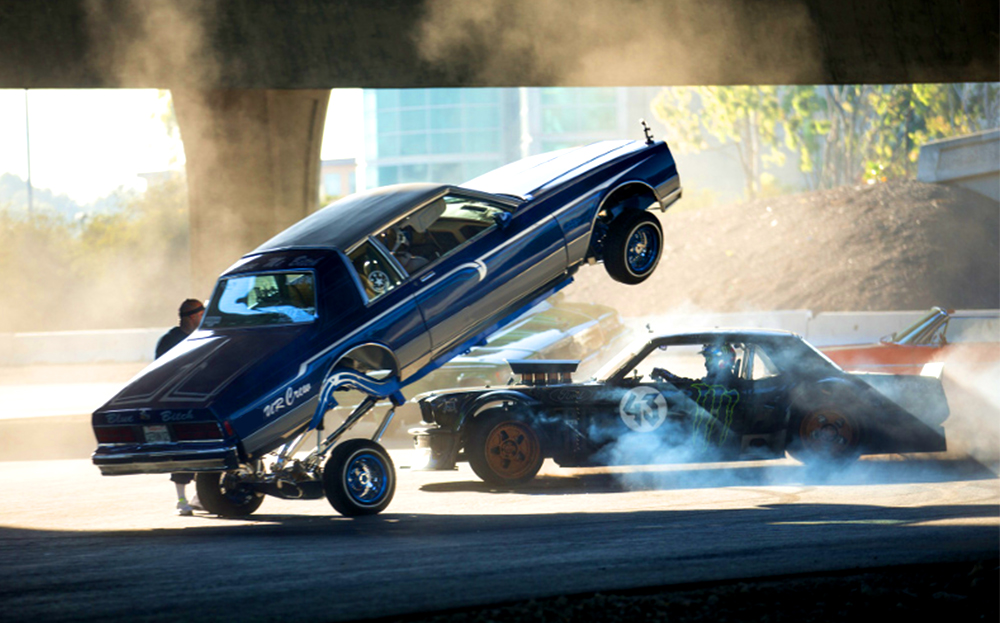 KEN BLOCK, the rally driver and self-styled "Hoonigan", has delivered the goods again in his latest Gymkhana video, which sees him ditch the bespoke rally-prepared Ford Fiesta ST for a customised 1965 Ford Mustang he has dubbed the "Hoonicorn RTR".
Block uses the Hoonicorn to tear around Los Angeles. There are numerous visual references to movies: LAPD police cars blocking off a street, a segment in Chinatown featuring the statue of Bruce Lee, a sequence in the storm drains that hosted car chases in Grease and Terminator 2: Judgment Day and the finale above the Hollywood sign. And, of course, the film wouldn't be complete without a bouncing low rider.
The Hoonicorn is the real star of Gymkhana Seven: Wild in the Streets of Los Angeles. Heavily modified by RTR and ASD Motorsports, it features a 6.7-litre Roush Yates V8 engine tuned to produce 845hp. Unlike the original Mustang, however, power is directed to all four wheels using a one-off Sadev transmission.
Block unveiled the car at the SEMA custom car show in Las Vegas before the release of the video, which hit the Hoonigan YouTube channel on Monday.
He said: "This is a project that I've been working on for two years, so to see it fully come to fruition and be able to drive it for Gymkhana Seven was absolutely amazing. I also knew that working with Vaughn [Gittin Jr] and his RTR team was the right choice for this project since Mustangs are their world, but they really went above and beyond on this car. The attention to detail with the fabrication and bodywork blows my mind. This is hands-down the best Gymkhana car I've had yet."
Without further ado, here's Ken Block's Gymkhana Seven:
---
We rate the Gymkhana series in order – click here
---