Used Ford Focus for sale, one previous owner — yours for £68,500
A car as great as its incredible price tag
IF YOU'RE in the market for a used Ford Focus, the price of this one might come as a shock — you'll get little change from £70,000.
To be fair, it's not any old Focus; it's a rare example of the Ford Focus RS500, and it must be one of the most pristine examples in the world.
Currently listed on Auto Trader by the Belfast-based seller The Car Company, the Focus RS500 you see here has been quite the pampered hot hatch.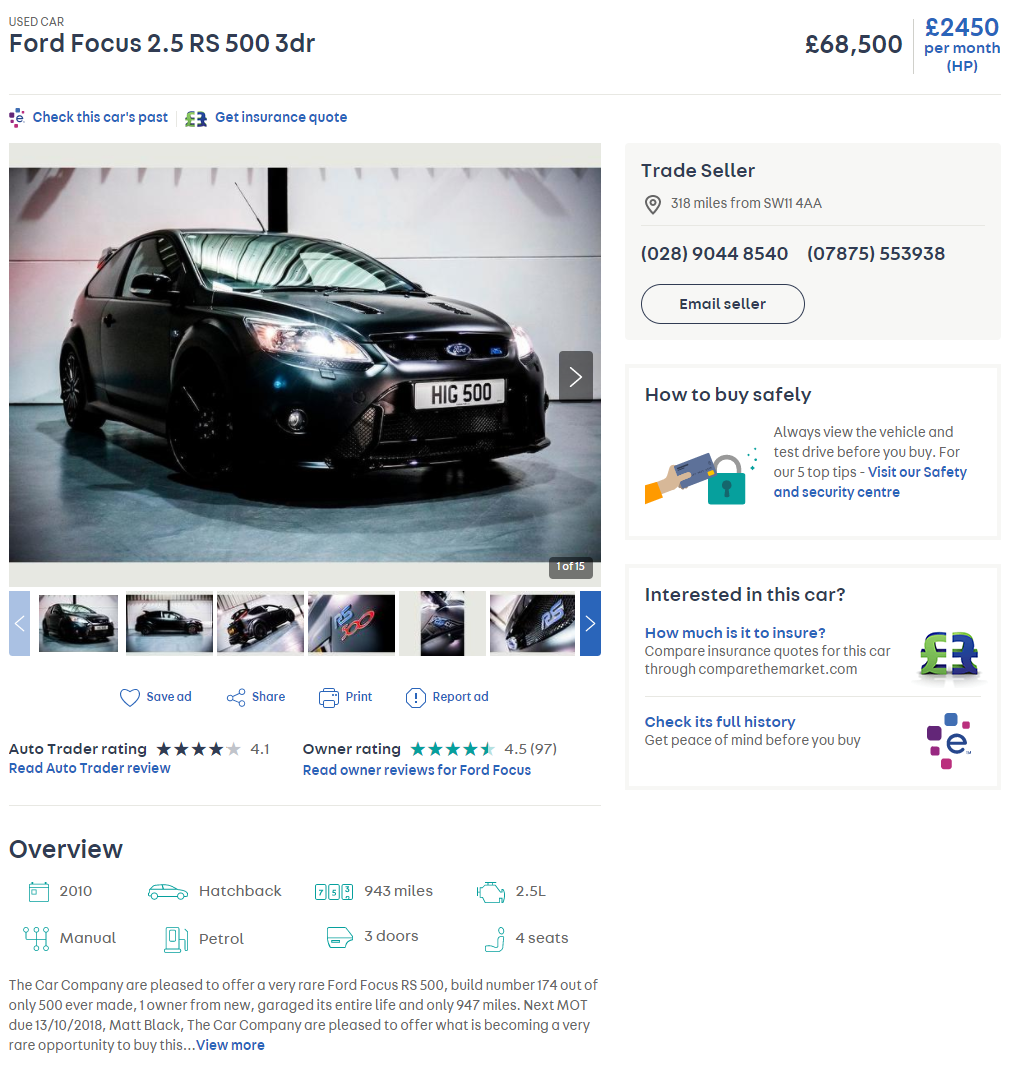 According to the seller, the vehicle has been garaged for almost its entire life, with the car only amassing 943.4 miles since its "enthusiastic owner" collected the Focus RS in August 2010.
The RS500 was endowed with 45bhp more than the standard Focus RS, with the car's 345bhp total output making it one of the most powerful front-wheel drive performance cars ever put into production.
Perhaps more importantly, the Ford Focus RS500 was built in very limited numbers, with production amounting to just 500 units (of which 101 were allocated to British buyers). This  example is said to be the 174th off the line, with howmanyleft.co.uk suggesting it's one of only 33 registered in the UK at time of writing.
When new, the car cost £35,750, which equates to £45,760 when adjusted for inflation, but with a price tag of £68,500 today, its value has increased by a third in eight years.
Whether or not it's good value for money remains to be seen, but Fast Fords are highly collectable these days. Last year a similar 2010 RS500 sold for £54,000 and a 1987 Ford Sierra RS500 Cosworth went for a whopping £115,000 at auction.
Tweet to @J_S_Allen Follow @J_S_Allen
Buying Guide: Ford Focus RS MkI (2002-2003) and MkII (2009-2011)