Times readers' comments on the story about a cow being transported in a car are hilarious
What's the beef?
A STORY about a calf being spotted in the boot of a car have got subscribers to The Times rather hot and bothered.
Which is fitting, not just given the current heatwave (although we're assuming that if the VW Passat wasn't too hot for the driver, it was also acceptable for the cow) but also considering that the RSPCA is incandescent after seeing the images of the, which were taken on the eastbound carriageway at junction 42 of the M4 motorway, near Briton Ferry.
A spokeswoman for the charity said: "This is a completely unacceptable way to transport a large, farm animal. It represents an animal welfare concern but also a risk to the safety of the driver and other road users.
"We would strongly urge people never to transport an animal like this."
Some people saw the took to the comments section to dismiss the concerns: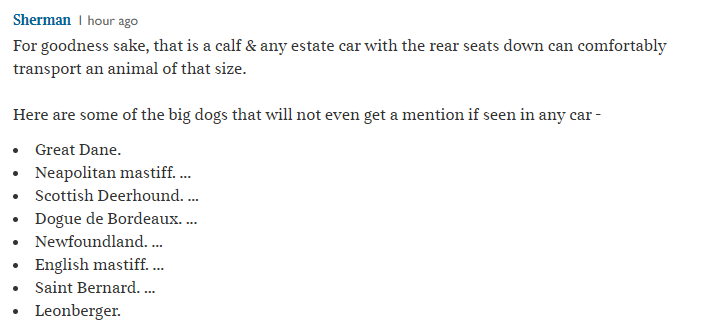 The headline — "Now, how did a brown cow come to be riding in the back of a car?" — was pretty good, but The Sun bests it with its "On the Moooove" teaser.
Times readers were funnier still, though: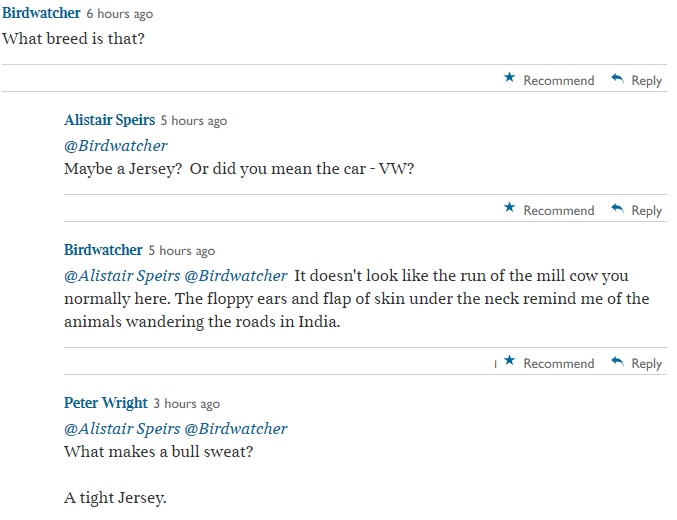 So can you transport a cow — or calf — in the back of a car? Rule 57 of the Highway Code says:
"When in a vehicle make sure dogs or other animals are suitably restrained so they cannot distract you while you are driving or injure you, or themselves, if you stop quickly. A seat belt harness, pet carrier, dog cage or dog guard are ways of restraining animals in cars."
Rule 98 adds:
"You MUST secure your load and it MUST NOT stick out dangerously. Make sure any heavy or sharp objects and any animals are secured safely. If there is a collision, they might hit someone inside the vehicle and cause serious injury"
In other words, there's nothing that specially says you can't transport a cow in the boot, unless it is not suitably restrained, which this cow appeared to be.
Of course, doing so must also not make the vehicle unroadworthy or dangerous, which means ensuring it is not overloaded.
Rule 98 also says:
"Carrying a load or pulling a trailer may require you to adjust the headlights."
So that's another thing to consider.
South Wales Police are investigating, according to The Times, but given the above it's just as likely they're trying to ascertain if the calf had been stolen as the vehicle was unroadworthy, or the animal was being treated cruelly.
Times readers were also quick to point this out: