Tesla Motors unveils Model 3 compact saloon with plans for mass production
The electric car that Tesla says will change the world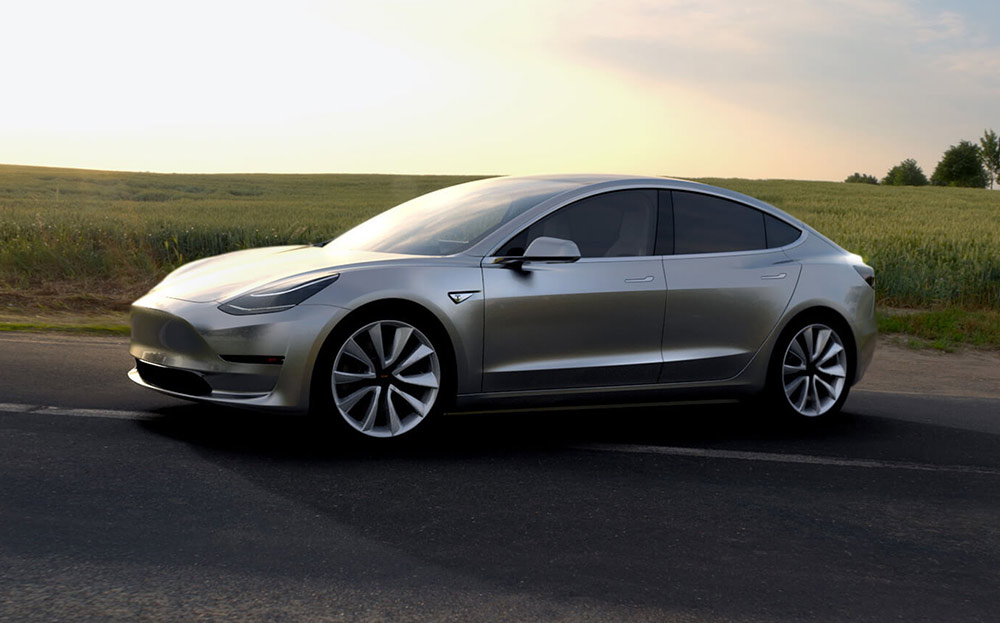 IN SCENES reminiscent of the launch of a new Apple product, thousands of Californians queued last night to each give one of the world's richest entrepreneurs, Elon Musk, $1,000 to secure a place in his dream of a utopian, all-electric, emissions-free future.
The Tesla Model 3 is not the first electric car but it is the first affordable EV for the masses and has been described as the Ford Model T of the digital age.
Meet Model 3 – Make your reservation at https://t.co/8uVlhvzpu5 #Model3https://t.co/NdyGLgoW0D

— Tesla Motors (@TeslaMotors) April 1, 2016
Musk, 44, has promised to revolutionise the way that we drive and has taken on big oil as well as the established automotive giants with a family of sleek electric cars that have the appeal and tactility of Apple products as well as performance and range superior to those of most other electric cars. The line-up includes the Model S luxury saloon and the Model X SUV.
Tesla said it had more than 115,000 reservations for its lower-priced Model 3 as it unveiled the vehicle on Thursday night at its Los Angeles design studio. Across America customers queued outside Tesla shops — the company's outlets more closely resemble upmarket electronic goods stores than traditional car showrooms — to place their deposits.
---
Browse NEW or USED cars for sale on driving.co.uk
---
The car is expected to go into production next year and will arrive in the UK priced at about £35,000. It will accelerate from 0 to 60mph in less than six seconds and will have a range of at least 215 miles.
The car has the same Autopilot self-driving technology as the Model S and Model X. Autopilot automatically keeps a car within the confines of a motorway lane, and can make a lane change with a flick of the indicator switch. Drivers can summon the car to the front door from their garage. Autopilot is also capable of reverse-parking.
In a recent interview with The Sunday Times, Musk predicted that the Model 3 would mark the take-off point for widespread uptake of electric vehicles.
"It will be produced in much higher volumes, in the order of a couple of hundred thousand cars a year," he said. "Economies of scale, and the fact that it's 20% smaller, and the fact that it will be the third major design iteration, will get us to a 50% cost reduction."
At the packed launch event in Hawthorne, Los Angeles, Musk said the car was scheduled to go on sale at the end of 2017. There were cheers from the crowd of about 800 as several Model 3 prototypes drove onto a stage in a display of showmanship that would have impressed Steve Jobs, the late head of Apple.
Although the prototypes had the body shapes of the new Model 3, the running gear is thought to be adapted from Tesla's existing vehicles. Musk has admitted there is a lot of work still to do. The company has a history of missing deadlines for its vehicles to hit the market.
"I do feel fairly confident it will be next year," Musk said.
He added that the car should feel more spacious to passengers than similar-sized petrol-based cars because of design decisions Tesla could make by not using a combustion engine.
"You are sitting a little further forward," he explained. "That's what gives you the legroom to have five adults. And the rear roof area is actually one continuous pane of glass.
"The reason that that's great is that it gives you an amazing feeling of openness. So, it has by far the best roominess of any car of this size."
---
Everything you need to know about the Tesla Model 3
---
The Model 3 is the most serious test yet of Tesla's ability to go, 13 years after its launch, from a niche player to a fully fledged car maker. It could be the vehicle that finally makes electrics mainstream – or consumers could continue to be sceptical that electrics will work for everyday use. In the US they still make up less than 1% of annual sales. 
"We needed to figure out how we, as a tiny company with very few resources, could make a difference," Musk said.
The Model 3 puts Tesla within reach of millions more customers. In 2015 only 2.1% of new cars purchased in the US cost $75,000 or more. More than a third – about 5.5m – cost $35,000 or more, according to TrueCar.
The Model 3 is a critical part of Tesla's plan to increase sales from about 85,000 this year to 500,000 by 2020 and go into profit for the first time. Last year the firm posted a net loss of $889m (£620m), partly because of a big investment — $718m — in research and development over the period.
Also read:
News: Tesla supercharger highway powers up electric cars in the UK