Shanghai show: Peugeot 308 R HYbrid concept has nearly 500bhp
Hyper hatch takes leaf out of McLaren's book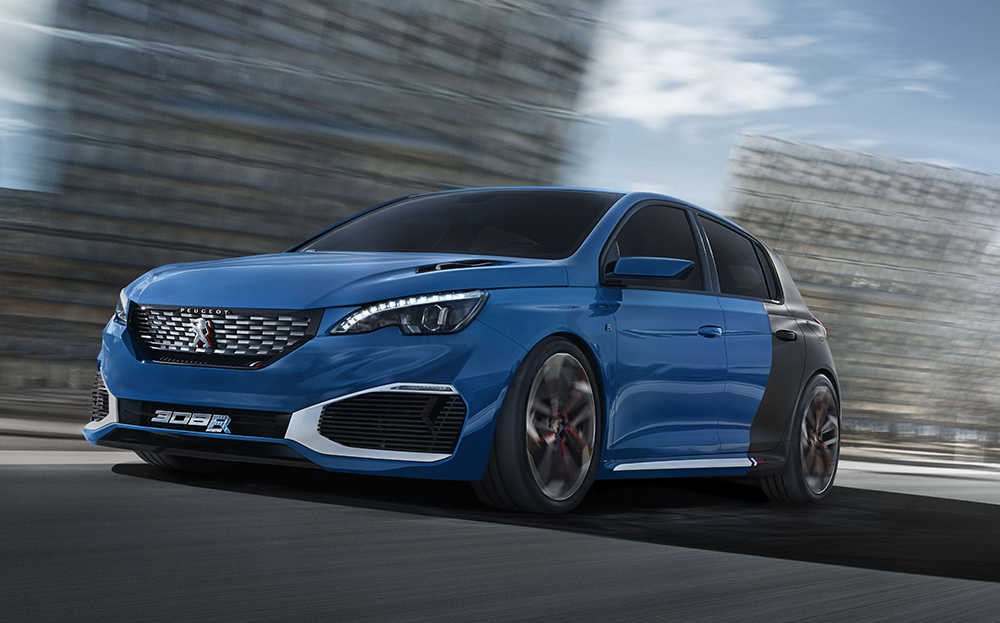 IF YOU still think of hybrids as cars for weirdy-beardy tree huggers, prepare to have your preconceptions smashed: Peugeot has revealed a new 308-based hyper hatch concept with nearly 500bhp and supercar-level performance.
---
Search for and buy your next car on driving.co.uk
---
The Peugeot 308 R HYbrid, which will debut at the Shanghai motor show next week, combines a four-cylinder, 1.6-litre 267bhp petrol engine with two electric motors, mounted on the front and rear axles, each offering 113bhp.
The combined power output is claimed to be 493bhp and 538lb ft, which puts the Peugeot 308 R HYbrid in a league of its own in the sports hatchback world: other four-wheel drive hot hatches that are currently on sale, including the VW Golf R (300bhp), Mercedes A45 AMG (360bhp) and Audi RS3 (367bhp) don't come close.
The 308 R HYbrid concept is equipped with four driving modes:
Hot Lap mode: harnesses the full potential from the three power sources.
Track mode: delivers 395bhp, mainly from the petrol engine and the rear electric motor. The front electric motor serves as an additional booster when accelerating.
Road mode: 296bhp is made available, with the petrol engine delivering full power while the the rear electric motor only helping under acceleration
ZEV mode: A zero emission setting in which the petrol engine sits idle while the rear electric motor moves the car. The front electric motor helps out under heavy acceleration
Peugeot says the car is capable of hitting 62mph in 4sec in Hot Lap mode, with a top speed electronically limited to 155mph, yet the car would have a tax-busting CO2 emissions figure of just 70g/km.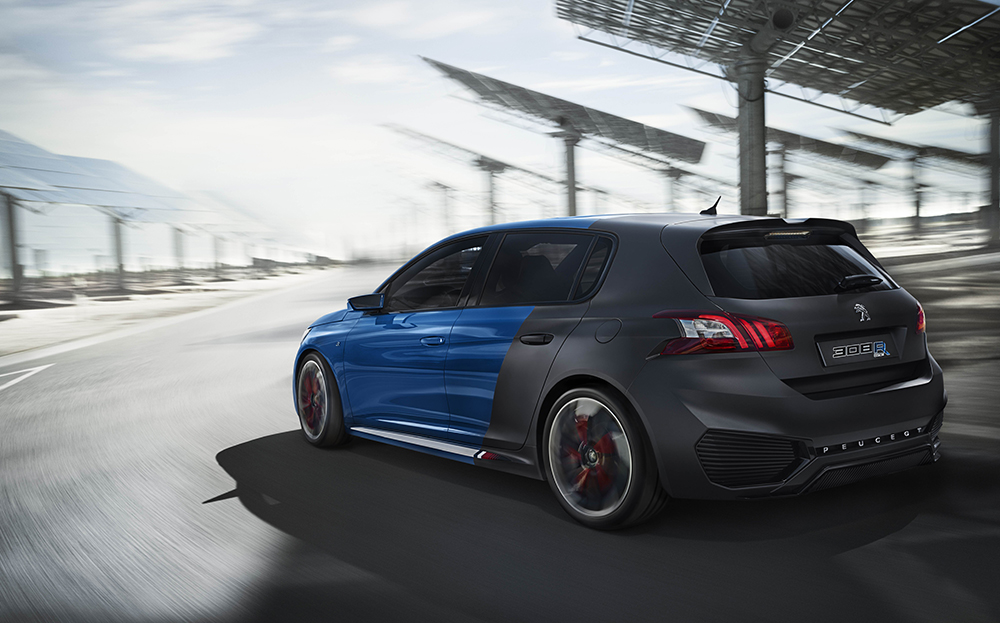 However, the stats are somewhat undermined by the cautionary language used by Jean-Philippe Delaire, Peugeot Sport's head of development and the man behind the 308 R HYbrid powertrain:
"If we were able to reach this kind of performance on a [family hatchback], it is all down to our passion for a challenge and our desire for excellence. Peugeot 308 R HYbrid is part of a very select club of cars reaching 0-62mph in four seconds."
The hypothetical stance underlines the fact that this is just a concept at the moment, and there are no plans for production.