Rotary engine comes round again with Mazda RX-Vision concept at Tokyo show
What goes around comes around: the wonder-Wankel is back
---
Published 28 October 2015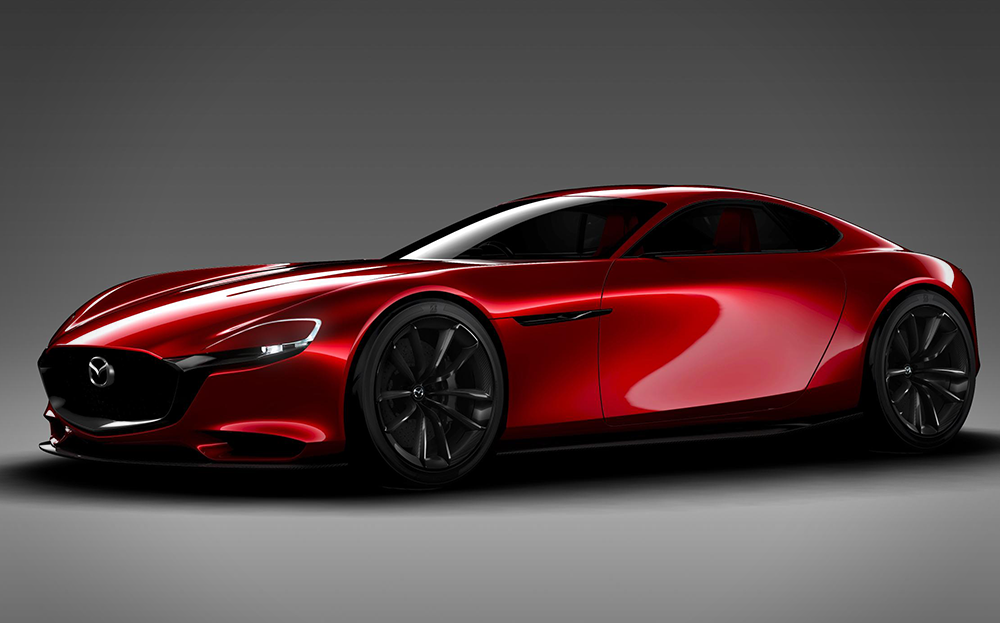 MAZDA SHOULD have been on to a winner with the RX-8 sports car. On its launch in 2003 it won rave reviews for the way it looked and drove. But the car had the mixed blessing of a rotary engine, a design that Mazda championed for decades.
Lightweight, compact and high-revving, rotary engines made cars great fun to drive — unless you were paying the fuel bills. Notoriously thirsty, this type of engine couldn't survive a recession — or ever-stricter emissions limits — and it was killed, along with the RX series, in 2012.
---
View Mazdas for sale on driving.co.uk
---
And that was that. Until this week's Tokyo motor show, when Mazda unveiled a new RX, reviving the rotary engine and picking up right where the RX-8 left off. The name RX-Vision reveals that it's a concept — the cartoon wheels and blade-shaped wing mirrors are a clue too — and there are still some hurdles to get over before it can go into production.
The RX-Vision is a glorious thing to look at. The modern sports-car trend for slashes and scoops to manage airflow is eschewed in favour of carbon-fibre bodywork that flows smoothly from the low nose, through the long, arcing bonnet, over the roof and then down to merge with the muscular wheelarches.
"It's difficult to design a successor to the RX-8," said Norihito Iwao, the Mazda designer behind the RX-Vision. "It might be a concept car but it's got to be a vision that we can make real.
"Things will have to change if it goes into production and it will be difficult for it to meet regulations, but we want this design."
The ingredients are all there for success: a price likely to be around £40,000, lightweight chassis and bodywork, simple but stylish interior and a new rotary engine that can meet modern pollution standards and match rivals for performance. Almost.
That engine, called Skyactiv-R, is not ready for production, and Mazda officials admit that it may be a while until it is. One insider said it would be impossible to sell before 2020.
Officially, the company made no comment, but Masayuki Motohashi, manager of Mazda's technology planning department, admitted that the small team of engineers working on the rotary engine is faced with moving goalposts.
"There are a lot of hurdles or issues that have to be overcome," he said. "Emissions requirements are getting more and more stringent, and reduction of CO2 is more globally important. But rotary engines are our heritage. We will not forget about them."
The obvious question is: why bother? A rotary engine has triangular rotors mounted in an ovoid chamber. Fuel and air are drawn into the three gaps between those rotors and the fuel ignites in each gap sequence, making the rotors spin at high speed. That force is harnessed to drive the wheels. The system is generally not as efficient as a conventional engine. But it does have its advantages.
"The rotary engine is small and compact," said Motohashi. "It has enabled us to have the low bonnet that you see on the RX-Vision, which you couldn't have with a bigger engine."
So without the engine there's no car. Mazda fans are pinning their hopes on a small band of engineers desperately trying to keep one step ahead of legislators.
---
Click to read car REVIEWS or search NEW or USED cars for sale on driving.co.uk
---