Richard Branson: I tell you, in 20 years all cars will be electric
Virgin boss predicts electric power, sooner rather than later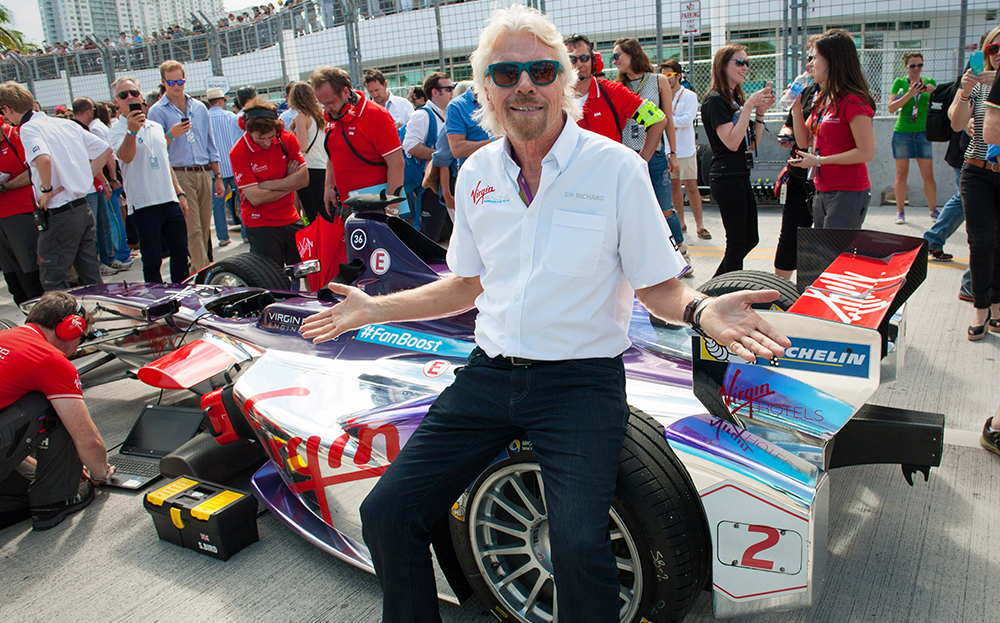 SIR RICHARD BRANSON has made a fortune from betting big and reaping the rewards. But Britain's best-known entrepreneur may have overreached this time. He wants to wager that electric cars are the future, and not only that: he wants to put a date on the demise of the internal combustion engine.
---
Browse the electric cars for sale on driving.co.uk
---
"In 20 years there will be no cars being built with diesel or petrol internal combustion engines anywhere in the world," he says, and then asks me to write the words in my notebook before leaning over to sign the page and promising to pay up if he is proved wrong. I am so excited at the prospect of getting one over on one of Britain's biggest risk takers that I forget to pin him down on the price of the wager. D'oh! Maybe that's how he made his fortune.
His prediction is all the more surprising because this is a man who has been deeply involved in — and has in some cases made a mint from — businesses based on fossil fuels: his airline Virgin Atlantic, Virgin Trains and Virgin Cars, his short-lived foray into online car sales, for example, plus a record-breaking crossing of the English Channel in an amphibious vehicle, not to mention the most energy-intensive venture of them all, Virgin Galactic, his plan to introduce paying passengers to space travel.
He asks me to write the words in my notebook before leaning over to sign the page and promising to pay up if he is proved wrong
Perhaps his Damascene conversion has something to do with his latest venture. We are talking in London at the final round of the Formula E world championship, which took place last weekend. One of the cars from Branson's Virgin Racing team won the closing race. "Formula E will overtake Formula One, in terms of the number of people coming to see it, in a handful of years," insists Branson, running his hands emphatically through those lustrous, golden-white locks.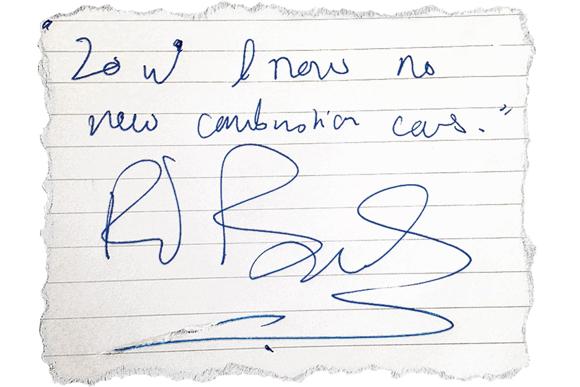 He didn't always think this. It's only six years since he dipped a toe in F1 after Honda pulled out before the 2009 season and the team became Brawn GP. Branson stumped up £1m in sponsorship on the Monday, he says, arrived at the racetrack in Australia on Saturday morning, stuck Virgin stickers all over the cars and then watched as they came in first and second. "And I did a deal that, if they did well, the stickers had to stay on the cars for the whole season," Branson says, laughing gleefully. "I won the 'jammy bastard' award that year."
In fact Branson says that in some ways he owes his whole career to cars. In 1973, while attempting to launch a record label, he owned an ageing Bentley Continental — until he gave it away to Mike Oldfield, composer of Tubular Bells, the first album released by Virgin Records, which became a multimillion-selling hit around the world.
Branson says that in some ways he owes his whole career to cars
"Mike had just made the album, he was terrified, he didn't want to do any interviews but I had persuaded him to do one concert at the Queen Elizabeth Hall," recalls Branson. "On the way there he said, 'I can't do it. I'm going to crack. You are going to cause me to have a mental breakdown!' So I pulled over to the side of the road and I took out the keys and I said, 'If I give you this car, do you think you could get over the breakdown and will you do the concert?' There was a little pause and then he agreed. So I handed over the keys to my lovely car, he did the concert, it broke Tubular Bells, it made Virgin and, if it weren't for that, we wouldn't be sitting here today."
In 1994 Branson was driving his family along the M40 in Oxfordshire when he was involved in an accident. His Range Rover flipped over and skidded along on its roof. He credited the car with saving their lives and for a while Land Rover handed him the keys to a new Range Rover every year. Perhaps not wanting to be reminded of the fact that he was once an ambassador for thirsty 4x4s, he insists the car that brings the biggest grin to his face was his first set of wheels: a 1960s Mini.
"It had blacked-out windows because I could never pass my driving test," says Branson with a schoolboy grin. "So if the police pulled me over, I'd quickly climb over into the passenger seat and my passenger would climb over into my seat and I somehow managed to get away with it for five years without passing my driving test. I never had time."
It may have even been a car that brought about the birth of his fierce independence and nurtured his entrepreneurial, go-it-alone spirit: his first memory, he has said, is of being a youngster and his mother (the formidable daughter of an army major still going strong now at 91) stopping the vehicle, letting him out and insisting he find his own way home. He did — and it taught him self-reliance.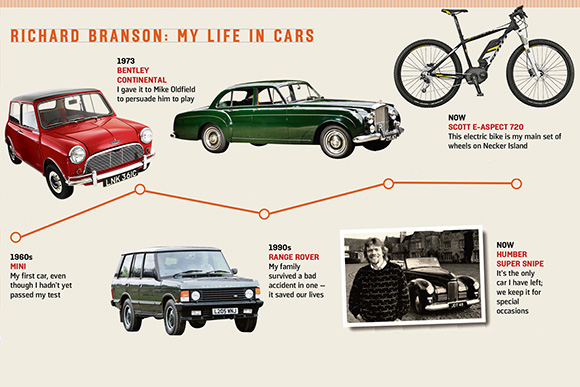 Branson had suggested his next business venture might be in electric car production, but having just announced a Formula E partnership between Virgin Racing and DS, Citroën's recently launched luxury offshoot — which will make the electric motors for his team's cars next season — he says the road vehicle innovations are more likely to come from the established car maker.
His current set of wheels is a classic two-door Humber Super Snipe convertible, which he claims is the only car he owns: "It's the only car I have left; we keep it for special occasions." But the vehicle he uses most to get around Necker Island, his one of the British Virgin Islands, is a humble electric bike.
He first rode it up a Swiss mountain with his son Sam. Branson hid the battery, and then powered on ahead of Sam and all the other twentysomethings who were competing in the Virgin Strive Challenge, a 620-mile feat of endurance, beginning in London and ending at the top of the Matterhorn, with sections of running, rowing, cycling and hiking.
---
Click to read car REVIEWS or search NEW or USED cars for sale on driving.co.uk
---
They were astounded to find the sexagenarian — he is 65 later this month — already sipping a pint of beer by the time they made it to the end of the cycling stage in Verbier, at which point Branson revealed his secret.
"I would love to see London closing whole streets to cars; just move the whole of London over to battery bikes because they're healthy and they're fun," he enthuses.
With stunts such as that and with Formula E, Branson is hoping for more than publicity and brand recognition. He seems to be looking for something enduring, his mind turning to Sam and his daughter Holly, his three young grandchildren and beyond.
"Batteries are going to develop so quickly, you are going to have 100-seat aeroplanes flown on batteries within 10 years — and, if you can do that, every single car," he says. "The economics of powering batteries from solar will start to make sense. The price of solar is collapsing; the energy costs for the world are going to come down and down as we push towards a safer world, a cleaner world for our children and grandchildren to live in."
Formula E cars are not quite as fast as F1 vehicles — their top speed is 140mph, against more than 200mph for F1 machines — and the glamour isn't quite what you would expect: we conduct the interview crammed into the back of the Virgin team's "garage" alongside the temporary circuit in Battersea Park, south London, and Branson's lunch is a cobbled-together mix of supermarket egg sandwiches and builder's tea (he politely offers me a cuppa). But he is determined to make this the future of motor sport.
"What we are trying to do is make driving clean cars exciting and fun, and to try to encourage manufacturers to come into this area because, if they don't, they are going to be left behind. Don't get me wrong: there is nothing wrong with fast cars, [but] let's move to a clean world," he concludes. "And sexy," he adds, firmly back on Virgin message.
Richard Branson: My stuff
ON MY PLAYLIST Mike Oldfield's Tubular Bells. Call me biased, but it's still one of the most influential records in modern music. My favourite lyrics of any song are in the first verse and chorus of Imagine by John Lennon.
ON MY TV I enjoy films with a purpose, such as Sharkwater, which explores the misunderstood world of sharks. Another film that made a difference for me is Home Front, about non-violent resistance in Jerusalem.
I COULD NEVER LOSE Necker Island. It has been the jewel my wife, Joan, and I found when I was 27. It's a great place to think. I will end my days on Necker.
---
Browse the electric cars for sale on driving.co.uk
---