Buying Guide: Top roof boxes for cars reviewed
Saving the British family road trip
SUMMER driving holidays with the family are times of joy, laughter, good food and good times but before the picture postcard scenes, there is the sticky issue of squeezing a brace of screaming children and their assortment of bulky accoutrements into a car.
Despite owning a large, family-friendly MPV, SUV or estate, prams, bikes, boogie boards and the dog's bed can quickly fill the cargo space, leaving little room for important things, such as clothes. A roof box can solve the problem.
Of course, sticking an enormous roof box on the car can affect fuel consumption figures —Thule told Driving that official mpg figures are likely to decrease by more than 5% but a study by WhatCar? suggested it can be reduced by over a third (the aerodynamics of the box and roof bars are key to reducing the negative impact) — but it's a price worth paying for comfort  and convenience on your long drive to Scotland, Cornwall or the South of France.
This page will be updated as we test new products.
---
Browse NEW or USED cars for sale
---
Thule Motion XT XL review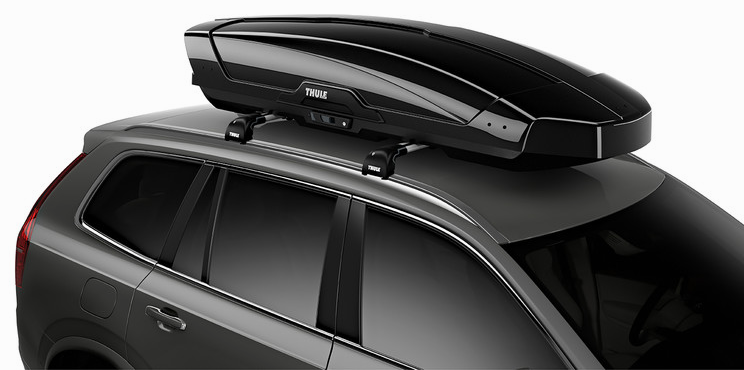 Rating ★★★★☆
Date of test June 2017
Price from £470 (at time of publishing)
Buy one at Halfords.com
The Motion XT roof box is sturdy, sleek and full of innovative features.
The way it connects to the roof bars, for example, is very neat. Four claws, which can slide along runners on the underside for perfect alignment, clamp around the bars by turning dials. You don't need to worry about under- or over-tightening, as when the correct torque is achieved there's an audible click.
There's also the dual-sided opening system, allowing you to install it easily without having to climb inside to reach the clamps on the far side (you simply walk around) and open whichever side is closest to the kerb, or affords best access to a particular item.
Then there's the locking system (two keys are provided), which means you can stow items safely inside and leave the car without worrying about a chancer having a quick peek at what's inside. If you have other Thule products with locks, such as a bike rack, the barrels can be switched to match so that one key works in all locks.
We borrowed the XL version, the second-largest in the Motion XT range. Above it is the XXL, while below are M and Sport sizes. The XXL must be suitable exclusively for limousines as the XL is huge: 215cm x 91.5cm x 44cm. Be sure to check which size is right for your car, allowing the boot to open fully and not protruding over the windscreen beyond legal limits.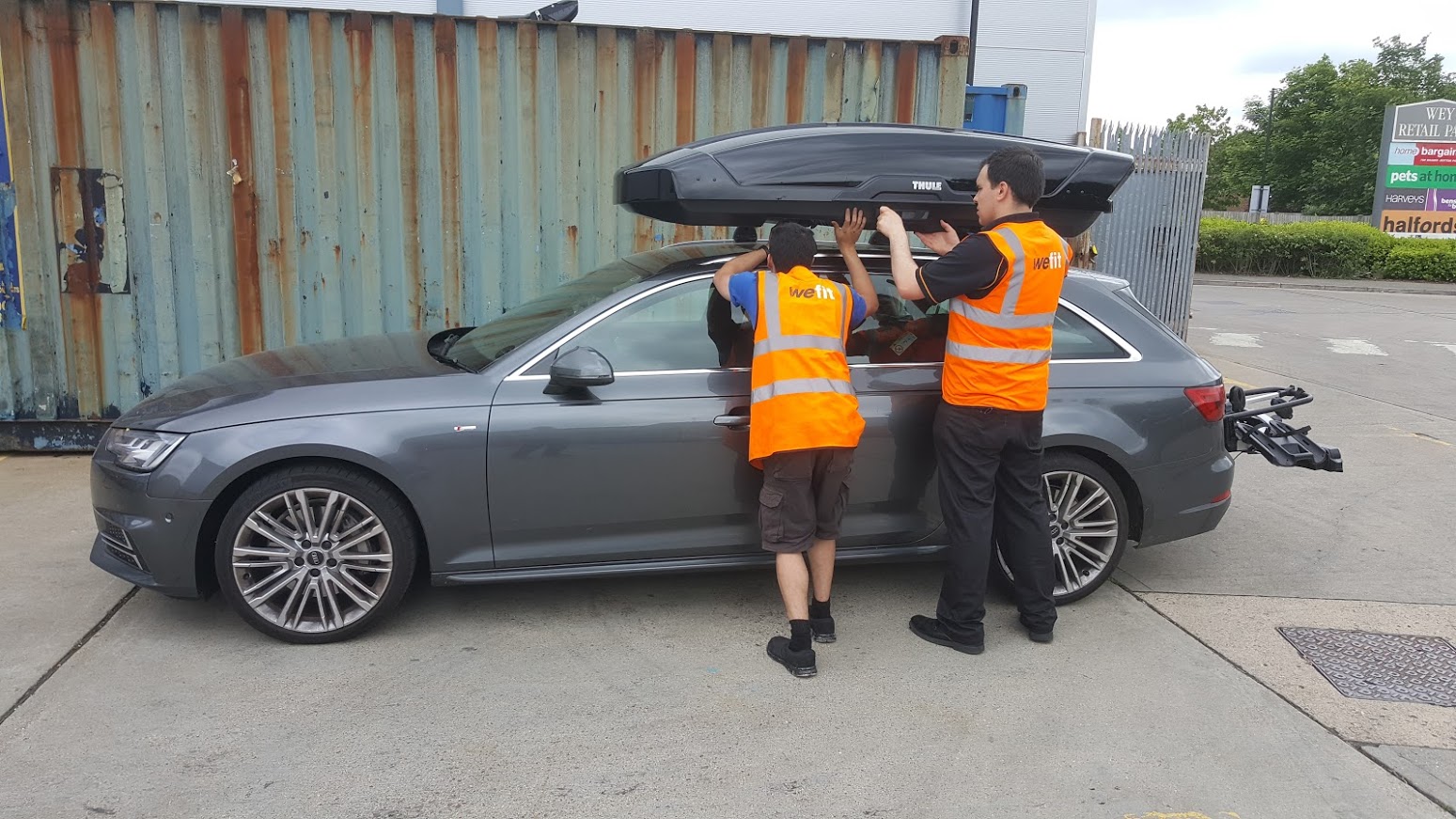 At 23.5kg, it's heavy, too. Halfords fitted it for us, along with the roof bars, but in the interests of giving it a proper test we removed and reinstalled it ourselves. It's possible for one large, strong adult to lift it onto their back and slide it onto the car, but it's not by any means easy and if you get it wrong it could damage the box or the vehicle; it's a two person job, really.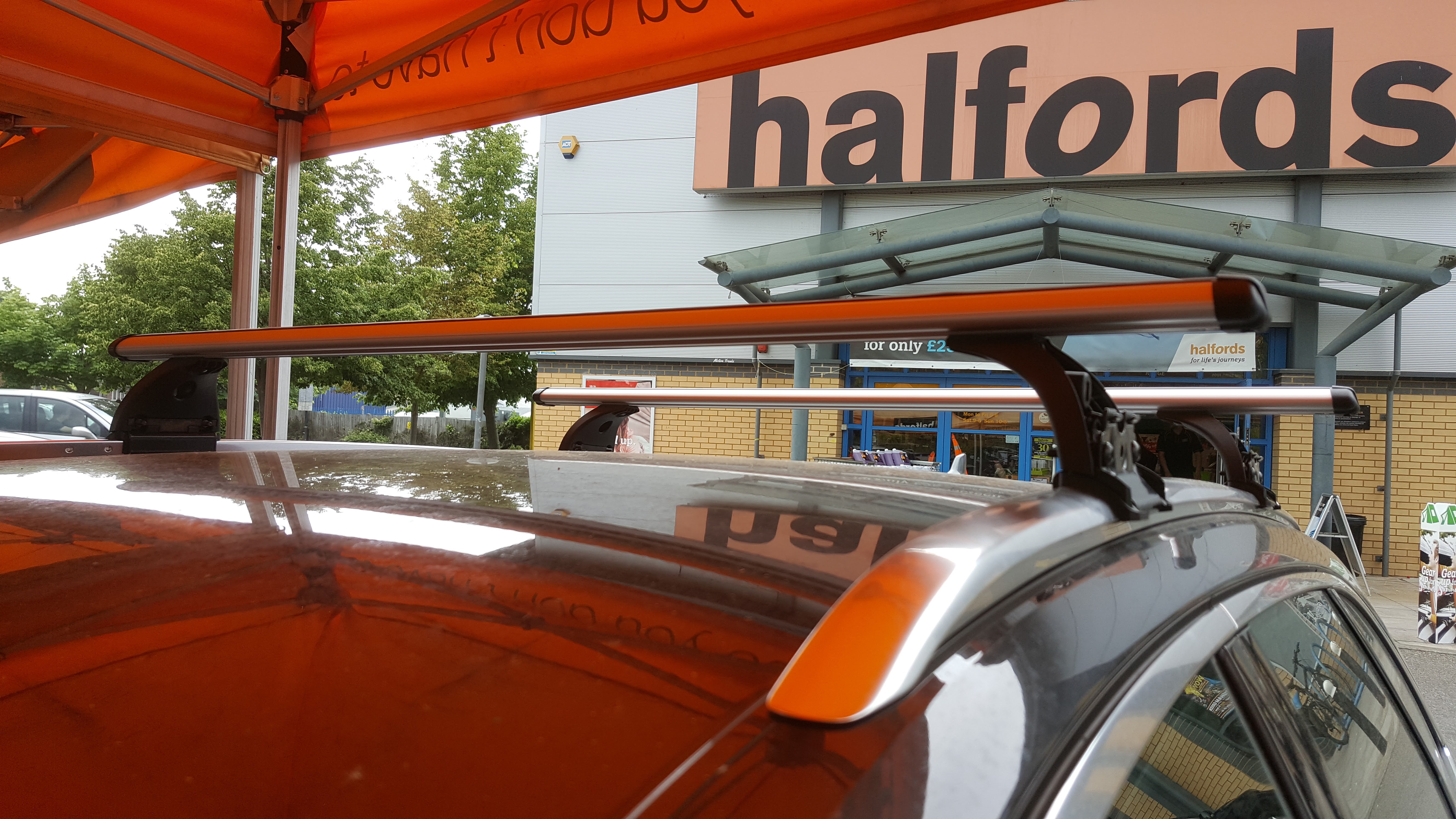 The bars aren't made by Thule — they're Exodus Aero Bars — proving the box will sit happily on products from other brands. Halfords will fit bars for £15, or both bars and roof box for £25, and we recommend it if you're at all inexperienced, to make sure you've got compatible kit and that it's all installed correctly (and safely).
The benefit of such a large roof box, of course, is capacity. The Motion XT XL will fit 500 litres of luggage weighing up to 75kg. We managed to fit in two large bags of clothes, along with two child seats for bicycles and our bike helmets, securing it all with the supplied tie straps. That freed up the boot of our Audi A4 estate for a double buggy, large suitcase, a child-seized mattress and other assorted bits and pieces.
The box didn't affect handling, even at 70mph, fuel economy didn't suffer hugely (we averaged 38.4mpg over 213 miles of mainly motorway, in a car that unladen and roof boxless would average close to 42mpg) and wind noise was noticeable but easily tolerable.
At £450, the Motion XT is not cheap but it's also not the dearest of Thule's roof box offerings; the sleeker Dynamic costs upwards of £625 and the range-topping Excellence XT starts from £1,150, which makes the Motion XT's £375-plus much more palatable. And it's cheaper and more convenient than using a trailer.
Will Dron
Buy one at Halfords.com
Thule Ocean 200 roof box review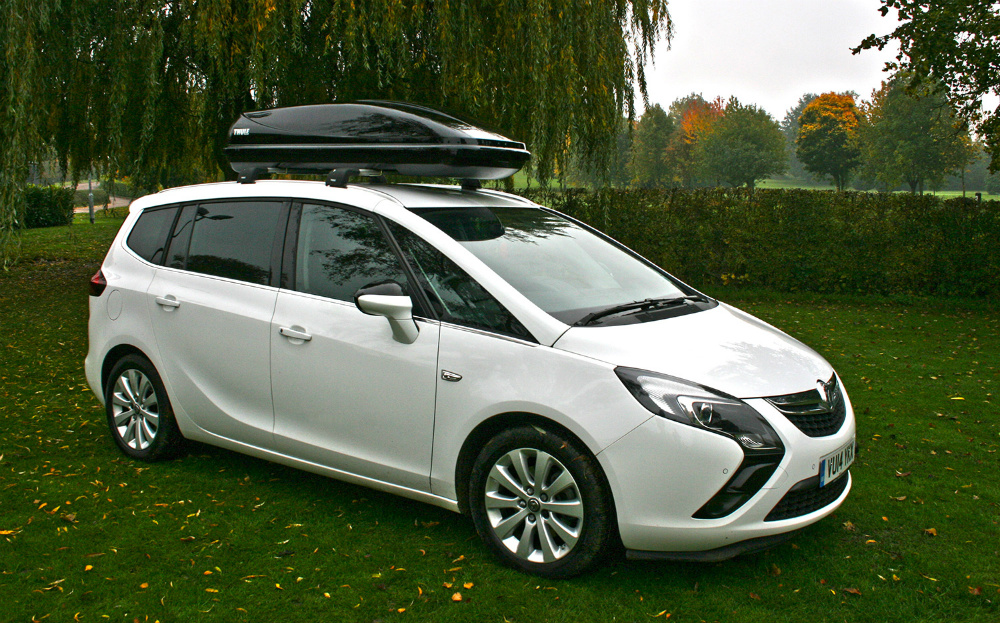 Rating ★★★★☆
Date of test March 2016
Price from £250 (at time of test)
Buy one at Amazon.co.uk
Compatible with an array of roof bar systems, the Ocean 200 (the largest in the Ocean series) offers 450-litres of extra load-lugging capability in a sturdy and aerodynamically designed plastic shell. It measures 175cm x 82cm x 45cm and is able to carry 50kg of luggage, and one way of viewing the £250 price is that it's probably a lot cheaper than buying a larger car.
The 'aeroskin' lid is designed to assist the rather cumbersome box in slicing through the air for a quieter and more economical drive, while its overall shape and blunt rear allows access to the boot without having to remove the box.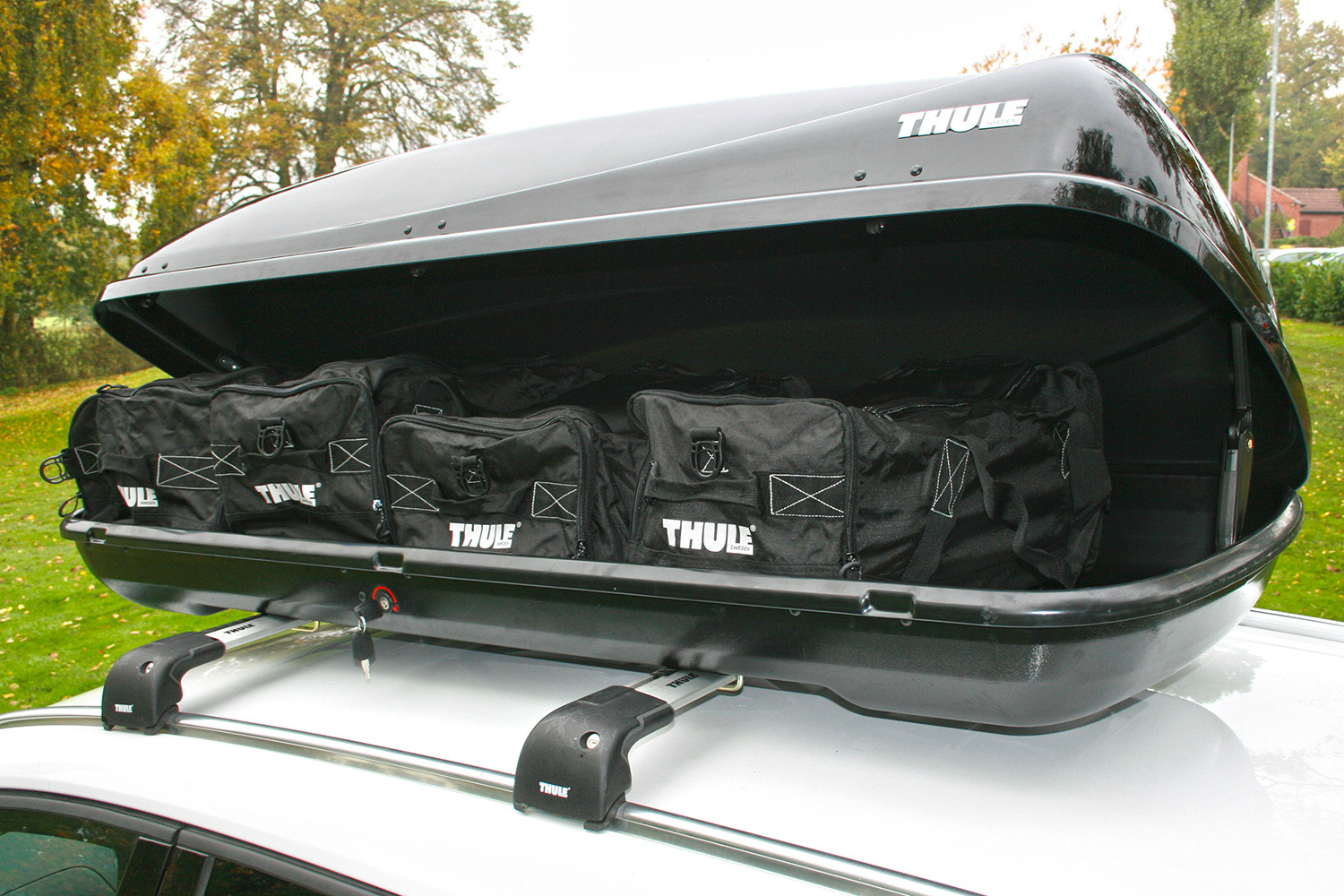 It weighs 14kg when empty, so it's worth roping in some extra muscle to get on top of the car during instillation, but when up there, it's surprisingly easy to fit.
Firstly, you'll need a set of roof bars. Predictably, the Ocean range is compatible with a whole host of Thule bars (Wingbar Edge 9582 tested here, also a doddle to fit) but the D-clamp fitting system is generic enough to work with a number of standard roof bar shapes.
However, Thule was unable to give an exhaustive list of compatible roof bar manufacturers, so it's worth checking with your local Thule dealer before committing.
Once the roof box is in position, it's a case of sliding the metal D-clamps underneath the roof bars and into the slots in the bottom of the roof box and manually screwing on the provided caps. The box is anchored in four places, while Thule provides a set of additional straps to keep items from sliding around inside.
All in all, it took a DIY dunce like myself around 20 minutes to fit the Thule roof bars and a further 10 minutes to get the box in place.
It's a well thought out piece of kit, as a neat central locking system keeps items safe from light fingers and the key can only be removed if all locking points are securely closed. Great for distracted parents.
Irritatingly, the box only opens a single side via the hinged system, which means drivers must be mindful of how they park if they wish to access items on the move. Dallying digits be warned, that hinged box top also has a nasty habit of slamming down on fingers if not closed with care.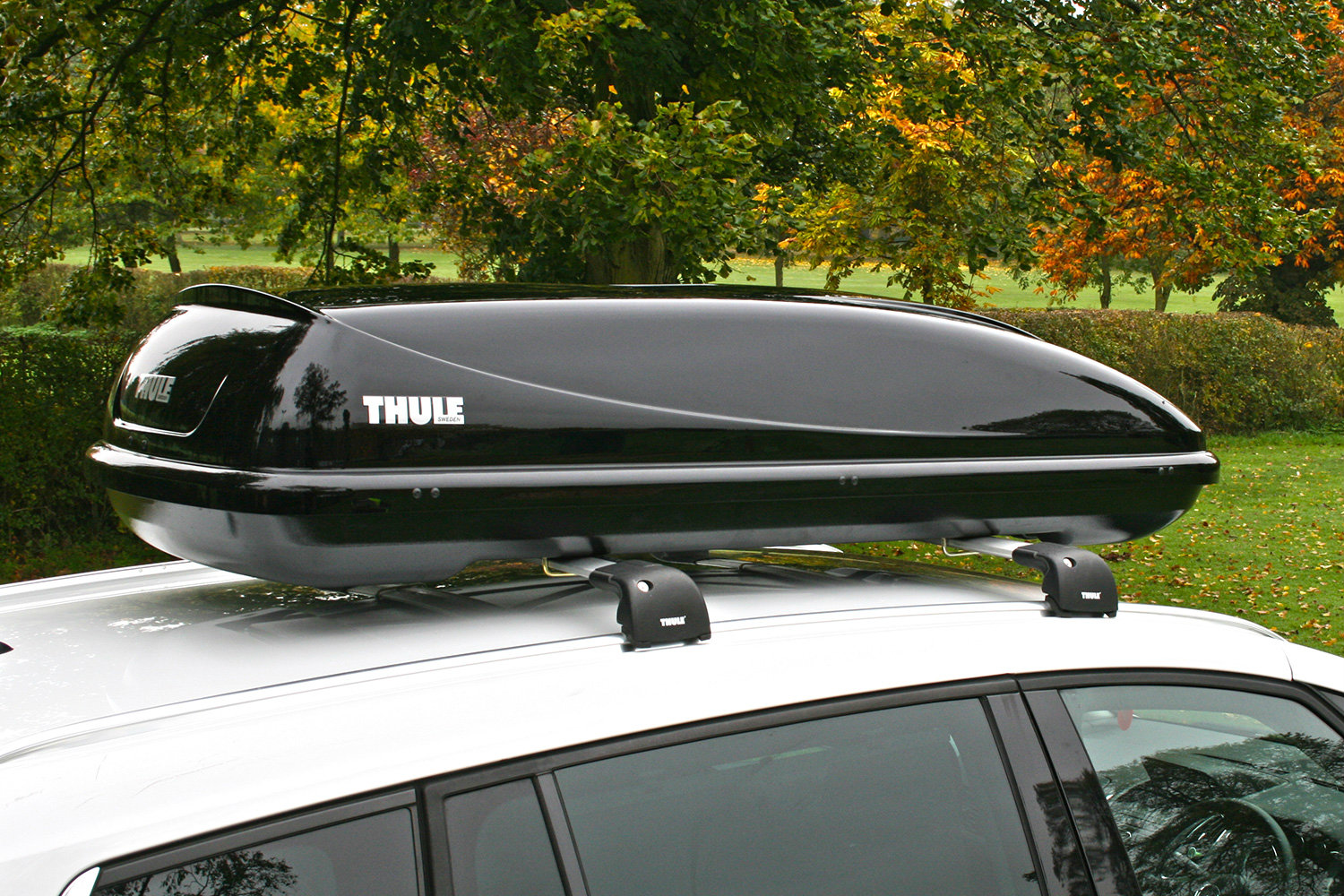 But how does it affect the driving experience? Naturally, there is a bit of extra wind noise from up top, especially at motorway speeds, but it doesn't grate and it's certainly not loud enough to drown out the din of young children.
Regardless, that shouldn't put you off purchasing one, as the Thule offering is extremely easy to remove when not in use. It also comes with a two year warranty. Just work out where you plan to store this mammoth load-expander when the holidays are over.
Leon Poultney
Buy one at Amazon.co.uk