Products: Dehumidifiers for garages and homes reviewed
Which is best at keeping the damp at bay?
---
Published 06 January 2017
WHETHER YOUR garage is filled with a cherished car, the overspill from family life or a lifetime's collection of gardening and DIY equipment, the last thing you want is for things to get damp.
However, unless your garage resembles something in which the McLaren Formula One team would park its racing cars, the chances are that it's cold, the walls and everything within are damp, the windows are running with condensation and the space is poorly ventilated. To help prevent such an environment proving a problem in the long term, it can pay to use a dehumidifier.
Prices range from under £100 to over £200 for typical household units. But the performance and features of dehumidifiers varies. We've put some of the best known brands to the test, and will continue to add to reviews over time.
---
Browse NEW or USED cars for sale on driving.co.uk
---
Meaco DD8L Zambezi review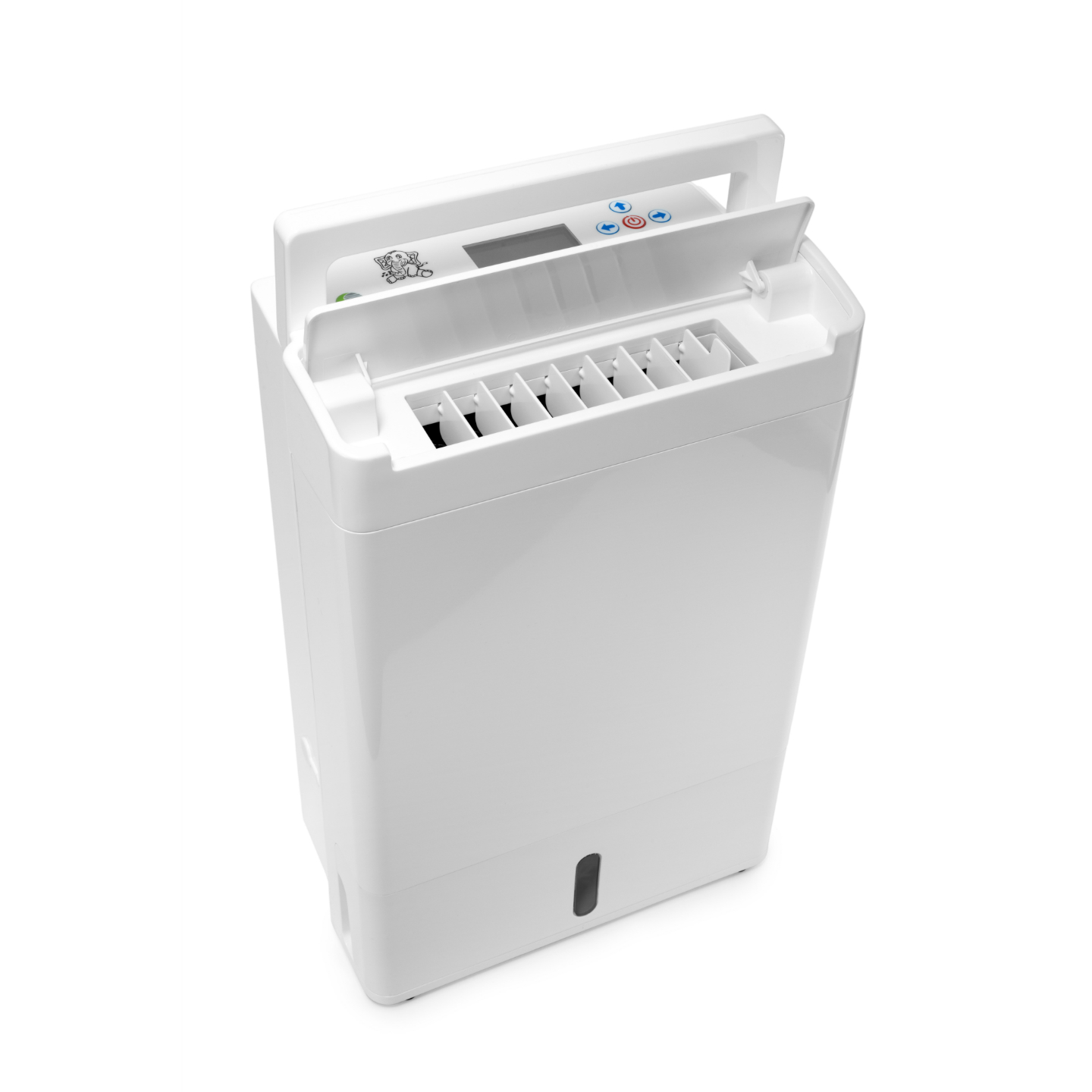 The Meaco Zambezi is unique in this company for being built around a desiccant operating system. This uses a combination of chemicals in a wheel to soak up moisture, and heater and fan to remove that trapped moisture from the chemical, storing it in the removable water compartment. They are said to be less affected by changing temperature and humidity levels, which makes them well suited to garages.
A glance at its specification suggests the Zambezi won't extract as much moisture from the environment. But in our garage-based tests, it proved capable of removing more than the other, compressor-based units, presumably because its desiccant system is better suited to cool conditions.
There are no wheels, but there is a carry handle, and it's one of the lighter units tested. The control panel is the most sophisticated of all the dehumidifiers reviewed by Driving, and shows considerable thought for how someone might want to programme operation times, such as switching off overnight and back on first thing in the morning. There's also a child-lock feature and anti-bacterial ioniser.
We found it relatively quiet and vibration-free, and the digital display gives an accurate measurement of current humidity levels in the room and the target the machine has been set to achieve. However, the 3-litre water tank will need emptying at least twice a day, if you can't take advantage of the continuous drainage feature.
It shuts itself down when the water tank needs emptying and the water tank is the only one here to feature a lid to prevent spills. There are three fan speeds, adjusted according to the unit or set manually if you"d prefer to save energy.
With a two year warranty to help offset its high price, the Zambezi stands as our best buy for keeping a garage free from damp.
Vax DCS3V1HP Power Extract review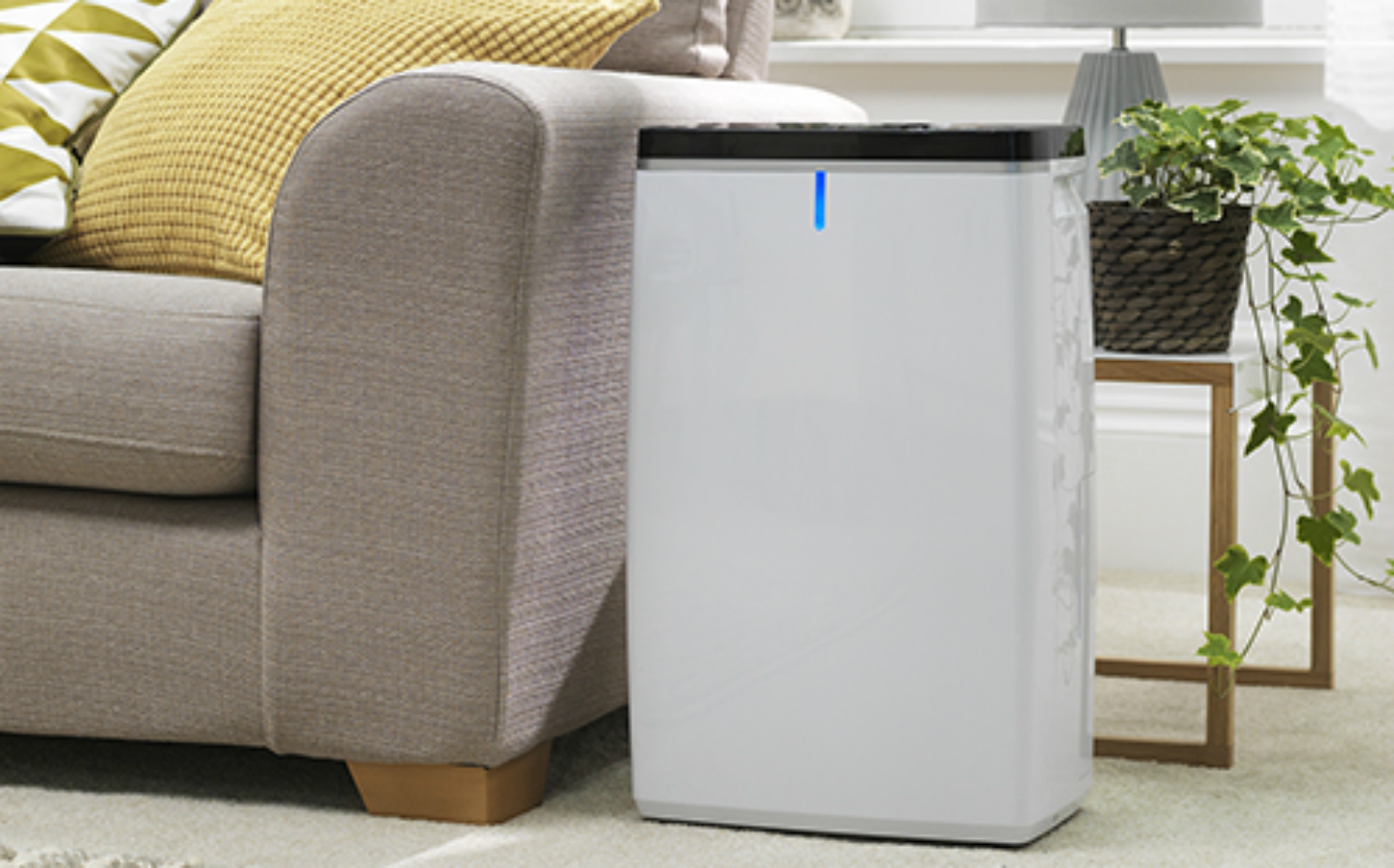 If a garage could ever be considered a catwalk and you care about the aesthetic presentation of a dehumidifier, the Vax Power Extract dehumidifiers breezes this contest. It's the most easy on the eye, with a sleek, modern finish and classy touch-sensitive control panel.
Once turned on, a digital display blinks to life. Uniquely of the three units tested, this shows users the current air humidity. The '+' and '-' buttons on either side then allow the desired humidity to be set, and the Vax will then whirr away until the room reaches this level or the impressively large, 5.5-litre water tank needs emptying.
Vax claims it can expel 20 litres of water every 24 hours (a less powerful, more affordable 16 litre version is available), and it came close to this during its time on test. There's also an automatic shut-off, if the water tank is full or the temperature falls too low.
There's a night mode, which switches off the various LED lights and reduces the fan speed, so it's marginally less noisy. Another handy feature includes a 24-hour timer, which means you can set it to turn off after a defined period of time.
And if you're using it in the house, the clothes drying and fan settings may be handy, especially with the adjustable air outlet cover, which lets you direct the airflow to some extent.
Dimplex FTE16 review
In this test, the Dimplex treads just the right line down the middle of the road. It's affordably priced, doesn't look as workmanlike as the ScrewFix offering (below) and comes with a relatively comprehensive specification.
Operation is simple. You plug it in and use a rotary dial to set the desired humidity level.
It is claimed to extract 16 litres per 24 hours, but you'll be kept busy as it does so; the water tank holds just 2.3 litres, which is notably small, but goes some way to explaining the Dimplex's petite stature. A good job, then, that it features automatic shut-off once the tank's full.
In a garage, it will operate down to 5C, before shutting off. It's not as sophisticated as the Vax. So while the maker says that it can be used to dry clothes, for example, you just crank the rotary dial to its minimum humidity level setting.
However, it's the most wieldy of this trio, mainly because its castor wheels are so free-moving. And the fan is just slightly quieter than the Vax.
ScrewFix WDH-122H-12R review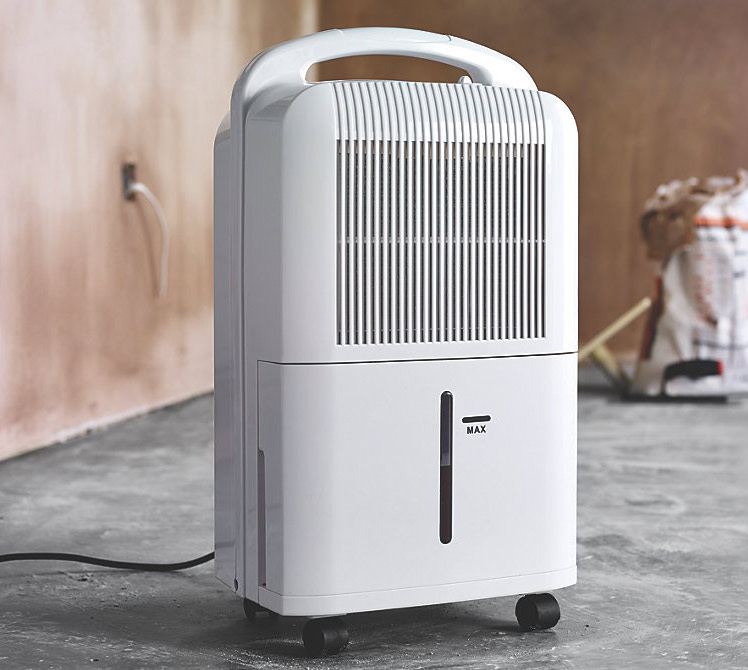 The ScrewFix unit doesn't look as though it's been designed with a great deal of enthusiasm. It's cheap and cheerful, but for many shoppers the price will go a long way to offsetting concerns about how it looks in the garage or corner of the conservatory.
The control panel is the most basic here. There's a rotary dial that has a marked position for normal humidity (between 50-60%, according to the maker), and then no further increments until the continuous setting, so there's an element of guess work involved.
However, it's easy to move about, such as from the garage to the house, as there's a carry handle across the top, in addition to castor wheels. And with a 4 litre water tank, it can be left to its own devices for a good while, depending on conditions.
It's comparatively quiet, there's an automatic shut-off and the ability to set it up with continuous drainage. So the ScrewFix unit ticks all the basics. However, if it were our money, we'd spend a little more on the Dimplex or Vax alternatives.