Products: Car tyre compressor / tyre inflator reviews
Banish that deflated feeling
UNLESS you're a scientist specialising in rubber compounds, tyres probably aren't that interesting to you. They should be; they're the only part of your car that touches the Tarmac (hopefully), so your tyres affect the handling characteristics, fuel economy, noise from the road and grip levels. Different brands and types of tyre will affect all of those things.
Regardless of the type of tyre fitted to your car, the tyre pressure is always critical. The Highway Code recommends you check the pressure weekly. That might seem too often, but there's good reason to follow the advice.
---
Browse NEW or USED cars for sale on driving.co.uk
---
Under-inflated tyres (there isn't enough air in them) are potentially dangerous to drive on as they don't provide the optimum grip and steering control. They also won't wear evenly, potentially leading to them bursting – and you will be punished financially as they will wear out faster and reduce fuel economy.
Over-inflated tyres (too much air) also won't grip the road as designed, negatively affecting performance and safety. Punctures are more likely, as they don't have so much "give" when rolling over stones and other objects in the road.
– Read on for more advice or jump to the reviews –
Tyre pressure and the law
Tyres must be correctly inflated to the vehicle manufacturer's specification for the load being carried, according to the Highway Code. That means it is the law and if spotted by the police, an under-inflated tyre can earn the driver three points on their licence and a £60 fine (per tyre).
Saving money through correct tyre pressures
Even small inaccuracies can increase wear and lead to wasting fuel, as the engine has to work harder to make the car roll along the road. According to Audrey Wixon, of Wycombe Driving School:
"If your £60 tyres should be at 30psi but are actually 3psi under, you will waste £20 worth of tread per tyre. That's £80 blown for the sake of a weekly check that only takes a few minutes. Not only that, but under-inflated tyres can cost you up to a mile per gallon in fuel economy because the rolling resistance will be greater."
How can I find my car's correct tyre pressures?
The correct tyre pressure for your car can be found in the owner's manual and on a sticker inside the driver's door, or inside the fuel tank flap. Don't automatically inflate to the maximum shown on the wall of the tyre itself.
It's important to note that you likely be shown a range of pressure based on the weight of the load in the car, so if you're filling the car with people and luggage, you'll need more air than if it's just you and an empty boot.

---
How we ran our tyre compressor tests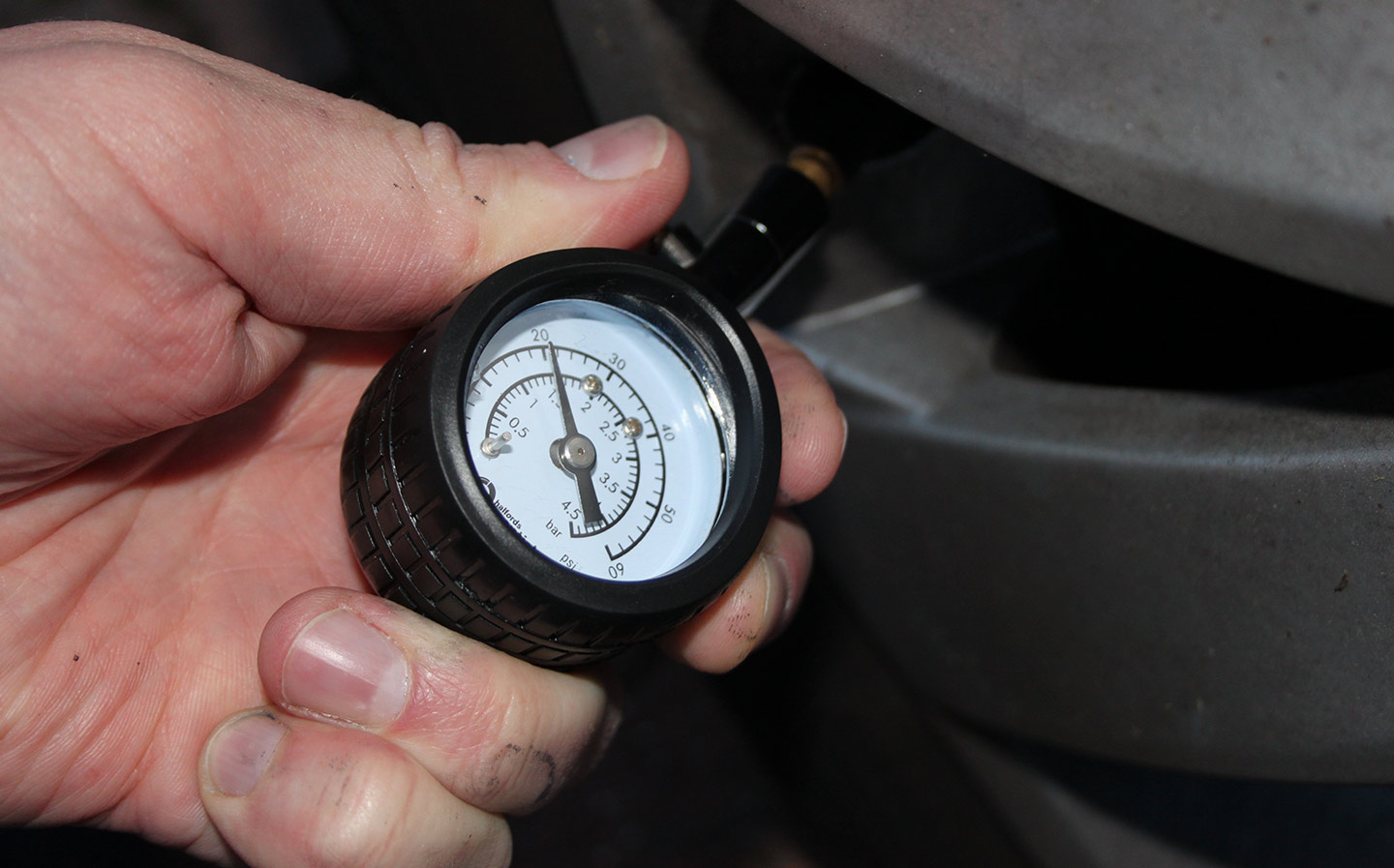 We worked on a single tyre on the same family car on the same day. We used a Halfords Essentials Dial Pressure Gauge to deflate the tyre to an indicated 20PSI, so that we had a benchmarked starting pressure before each test, and then timed how long it took for the compressors to inflate to 36PSI, as indicated by the unit itself. Reviews published in order of price.
---
Ring Analogue air compressor review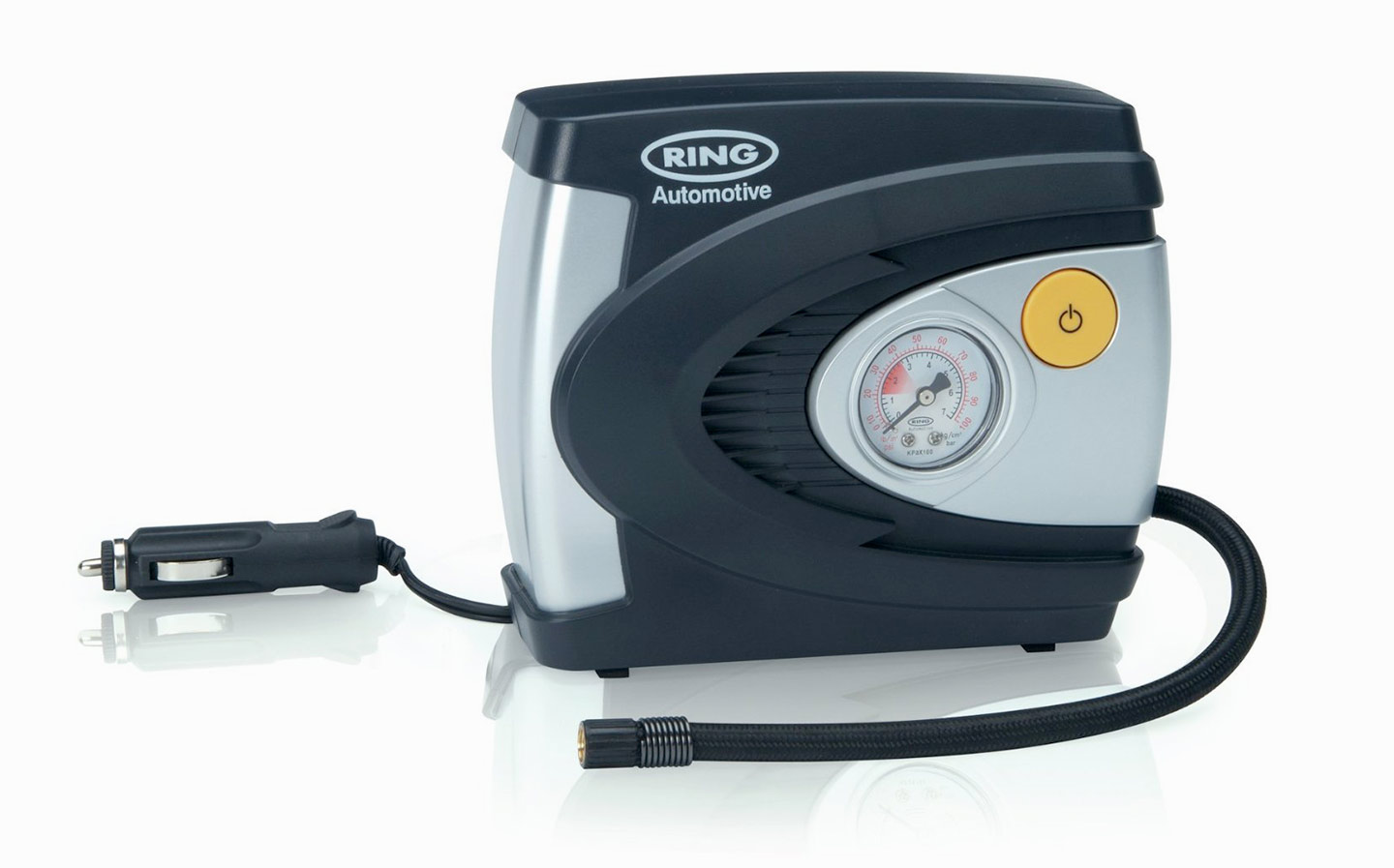 This is Ring Automotive's entry-level compressor, so it's devoid of a number of features available on other units tested here. There's no digital display or auto-stop feature, no torch (making it less easy to use in the dark) and no flashing hazard light to make you visible at the side of the road. It also doesn't show pressure in kPa, should you need that, it's very noisy and took longer than any other unit on test to inflate from 20PSI to 36PSI. It also dances around on the ground while inflating, as it's a light unit, though this doesn't affect functionality. On the plus side, it's simple to use, the analogue gauge is fine, there's a 3 piece adaptor kit for other inflatables and an extra long (2.9m) power cord, and it's cheap as chips.
Rating ★★☆☆☆  
Best for Your wallet
Speed (20-36PSI) 3m 27s
Auto stop? No
Inflates up to 80PSI
Price at time of test £11.15
Buy it at Amazon.co.uk
Manufacturer website ringautomotive.com
AA 12V Digital Air Compressor review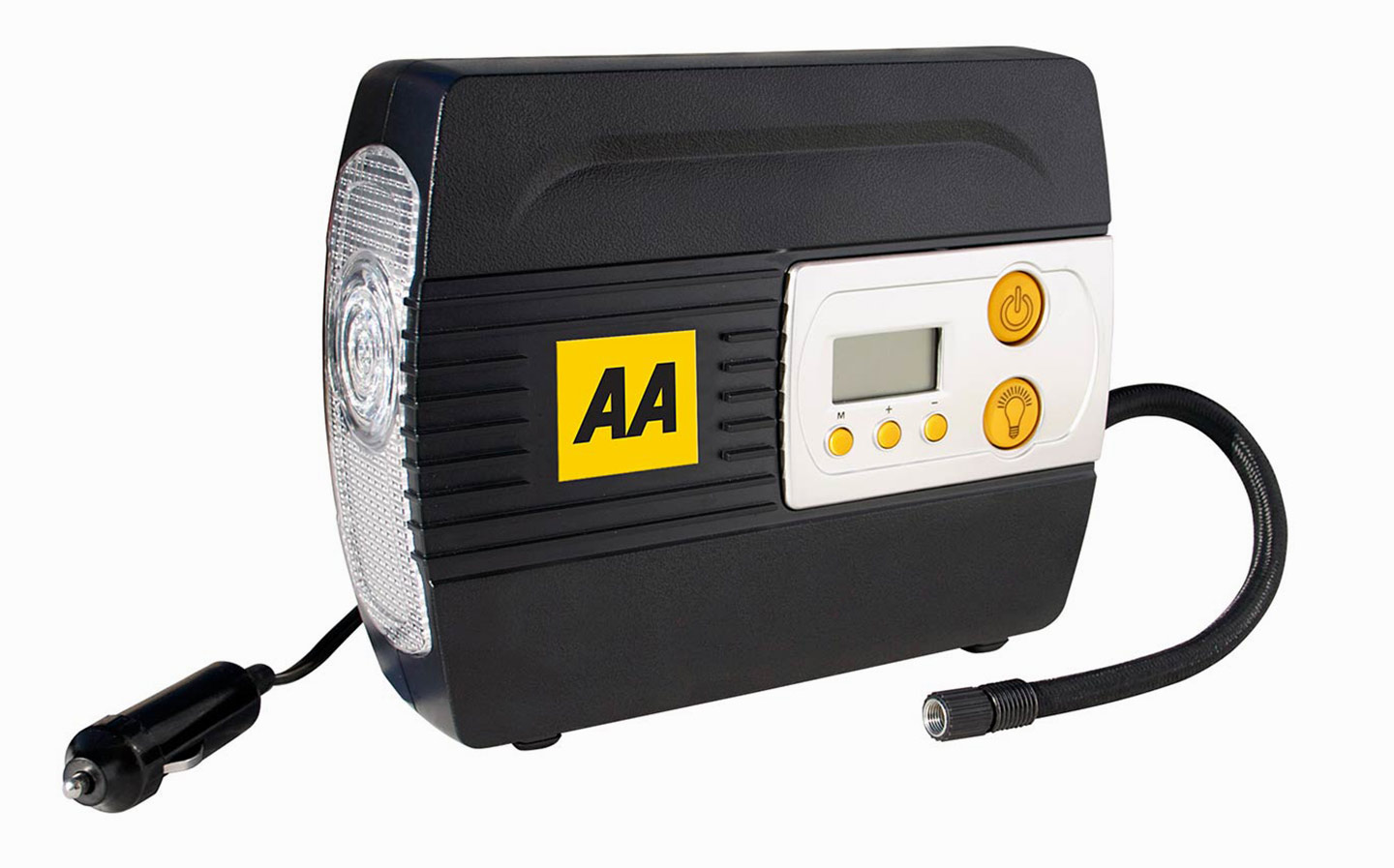 This is one of the more affordable compressors we tested and its price is reflected in the fact that it feels cheaper, inflates slower, doesn't include instructions on the unit itself, is one of the noisier compressors and isn't terribly attractive. However, it does have a decent number of features including a programmable auto stop setting, PSI, kPa and bar readings, ability to inflate up to 120PSi, two adaptors for inflating things other than tyres and a light that shines in solid white or flashing red in regular and SOS patterns.
Rating ★★★☆☆  
Best for Value
Speed (20-36PSI) 3m 8s
Auto stop? Yes
Inflates up to 120PSI
Price at time of test £22.99
Buy it at Amazon
Manufacturer website AA Amazon store front
Ring Digital with LED Light air compressor review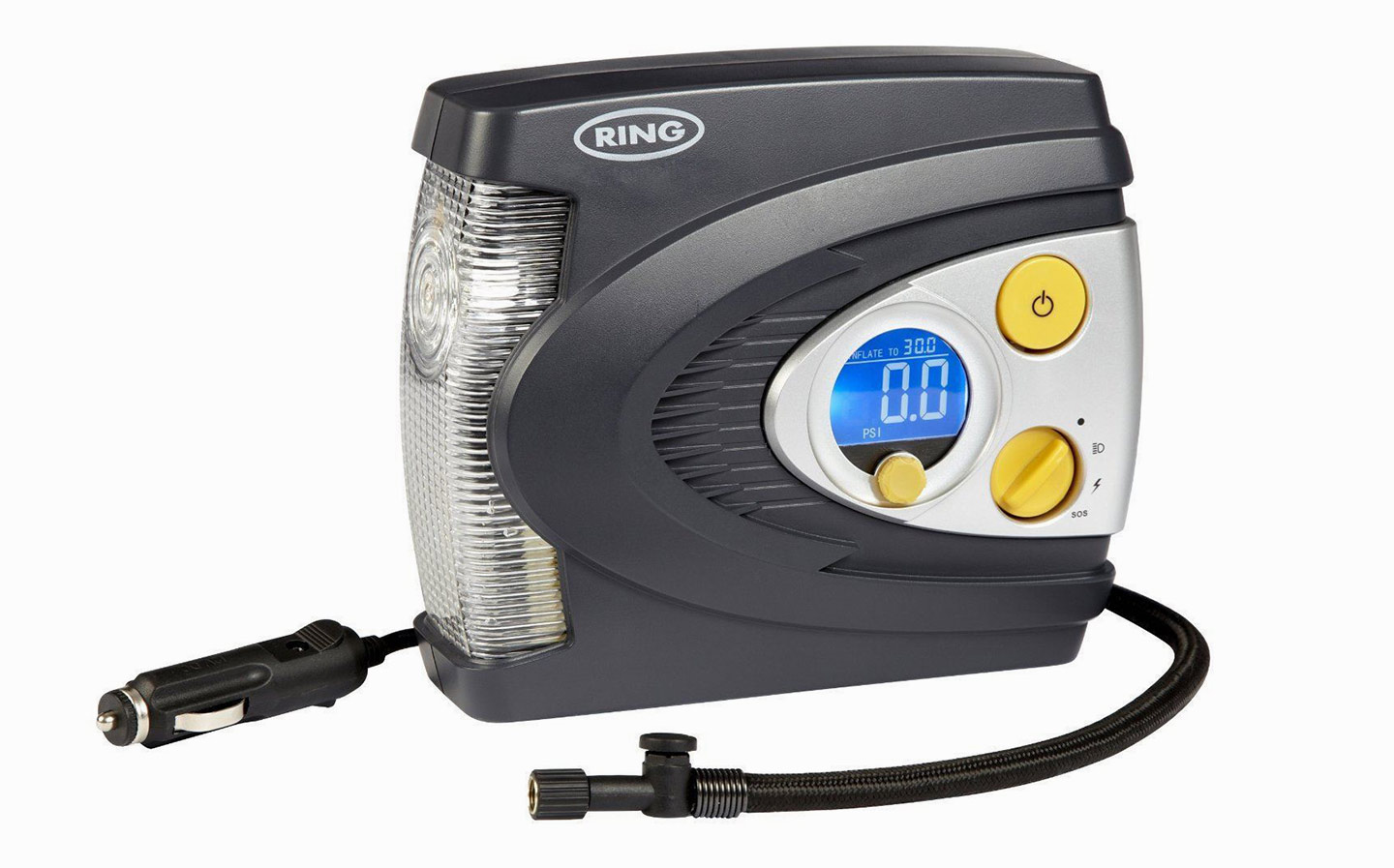 Its workaday design isn't terrifically inspiring and it was one of the noisier compressors but the digital display is clear, it has an auto cut-off feature with a dial that makes selecting the desired pressure easy, and it inflates relatively quickly. It has an extra long 12V cable and the LEDs shine in solid white, regular red flash or SOS red flash.  It also includes handy air release valve on the hose, in case of over-inflation. The cable tidying system on the back of the unit isn't the best-designed but the product does include a neat zip-up case.
Rating ★★★☆☆  
Best for Easy pressure setting
Speed (20-36PSI) 2m 28s
Auto stop? Yes
Inflates up to 120PSI
Price at time of test £27.96
Buy it at Amazon.co.uk
Manufacturer website ringautomotive.com
Halfords Rapid Digital Tyre Inflator review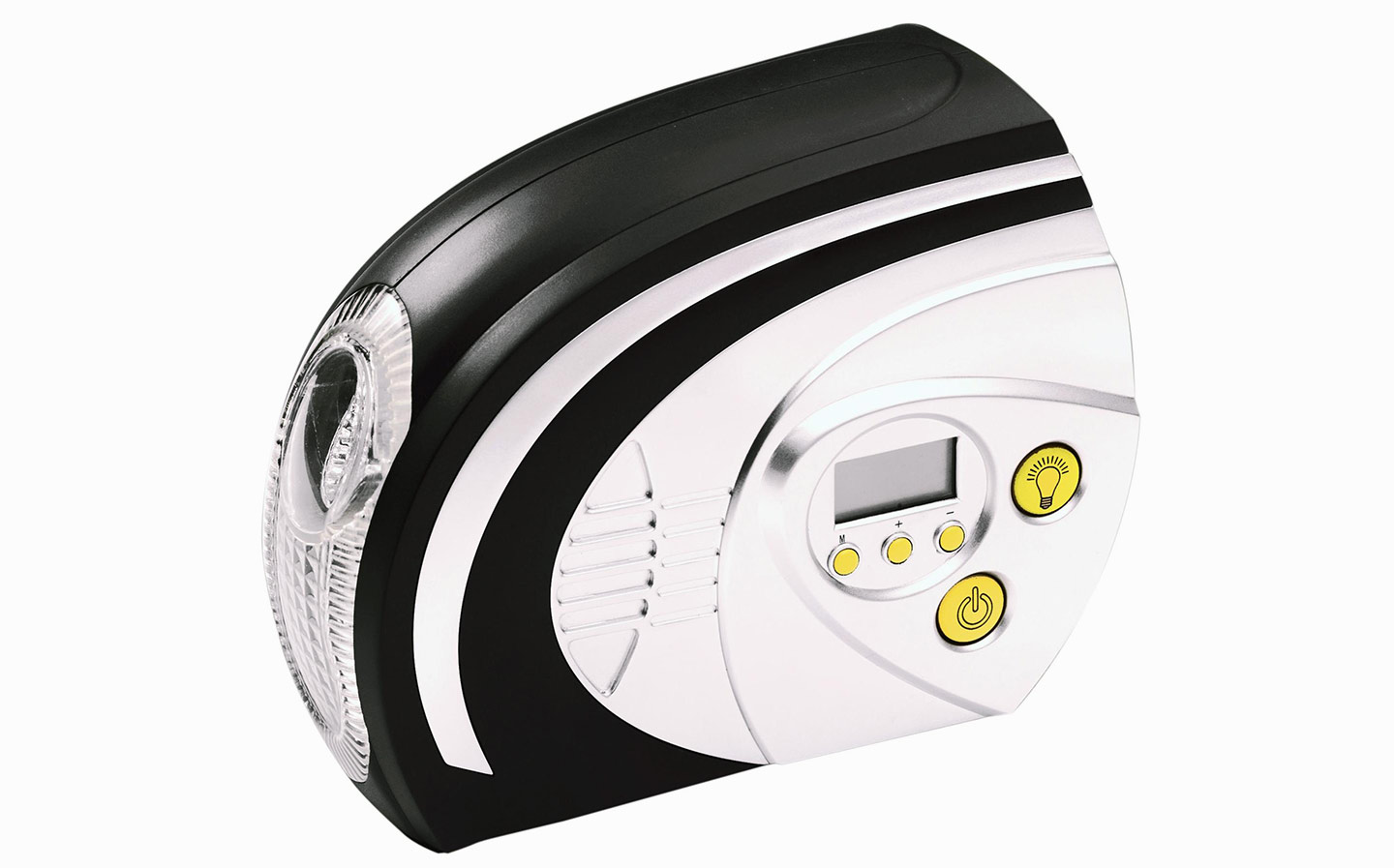 The buttons on this Halfords compressor look near identical to the ones on the AA unit but the fact that it was a full 38 seconds faster in our test suggest that technically, it is a cut above. It's a slightly more attractive package, features a neater hose tidying system and includes instructions on the rear of the unit. There's an auto stop function and digital readout in PSI, kPa and bar. However, it's just as noisy, the light only shines in solid white (there's no hazard/SOS option), and it's more expensive (although still very affordable). Also comes with two adaptors for other inflatable items.
Rating ★★★☆☆  
Best for Functions and cost
Speed (20-36PSI) 2m 30s
Auto stop? Yes
Inflates up to 120PSI
Price at time of test £31.90
Buy it at Halfords.com
Manufacturer website www.halfords.com
Michelin High Power Tyre Inflator review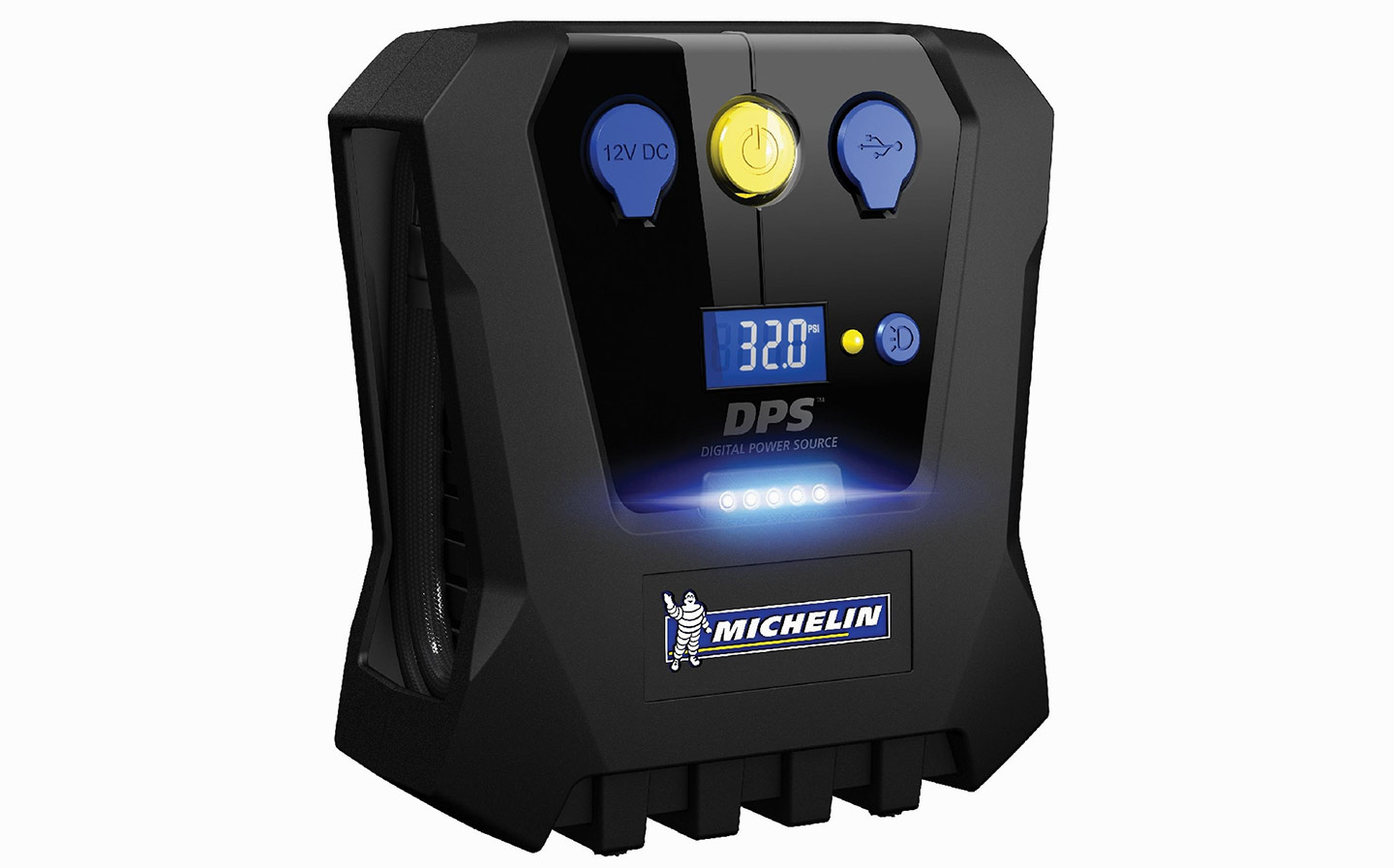 A slick design includes a 12V socket and a USB port for charging mobile devices, although given that most cars come with these sockets, their usefulness on the compressor is debatable. The LED lights are white and solid on/off (no flashing function), but usefully bright. Shows pressures in PSI, kPa and bar, and has a nice clear, digital display as well as instructions for use on the back, which is… useful. At 90dB, the Michelin High Power Tyre Inflator was one of the quieter units on test and it was average on speed. It doesn't include auto-stop to allow you to set the desired pressure, though.
---
Browse NEW or USED cars for sale on driving.co.uk
---
Michelin High Power Rapid Tyre Inflator review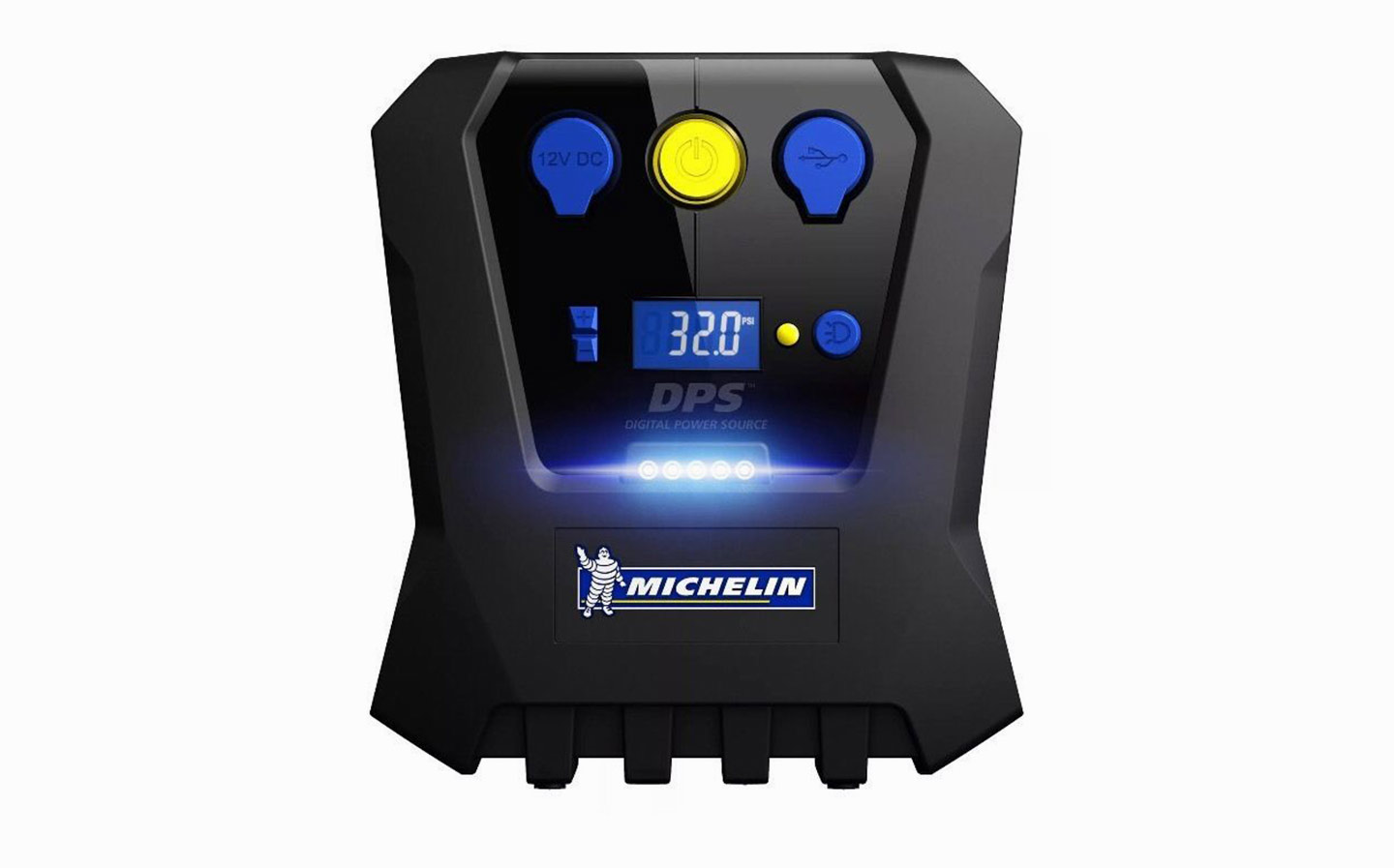 No, this isn't the same product as above. The two blue buttons to the left of the digital pressure gauge mark this product out, as they allow you to set the required pressure before inflation. When it is reached, the pump stops automatically ensuring exact and consistent pressures across your tyres. Other than that, the features are the same, and although this product includes "Rapid" in its name, this is misleading; our test from 20PSI to 30PSI showed only a marginally difference in speed. Still, it's only marginally more expensive on Amazon, at present.
Rating ★★★★☆  
Best for Smart packaging
Speed (20-36PSI) 2m 29s
Auto stop? Yes
Inflates up to 40PSI
Price at time of test £44.90
Buy it at Amazon.co.uk
Manufacturer website gb.michelin-lifestyle.com
Ring Rapid Digital tyre inflator review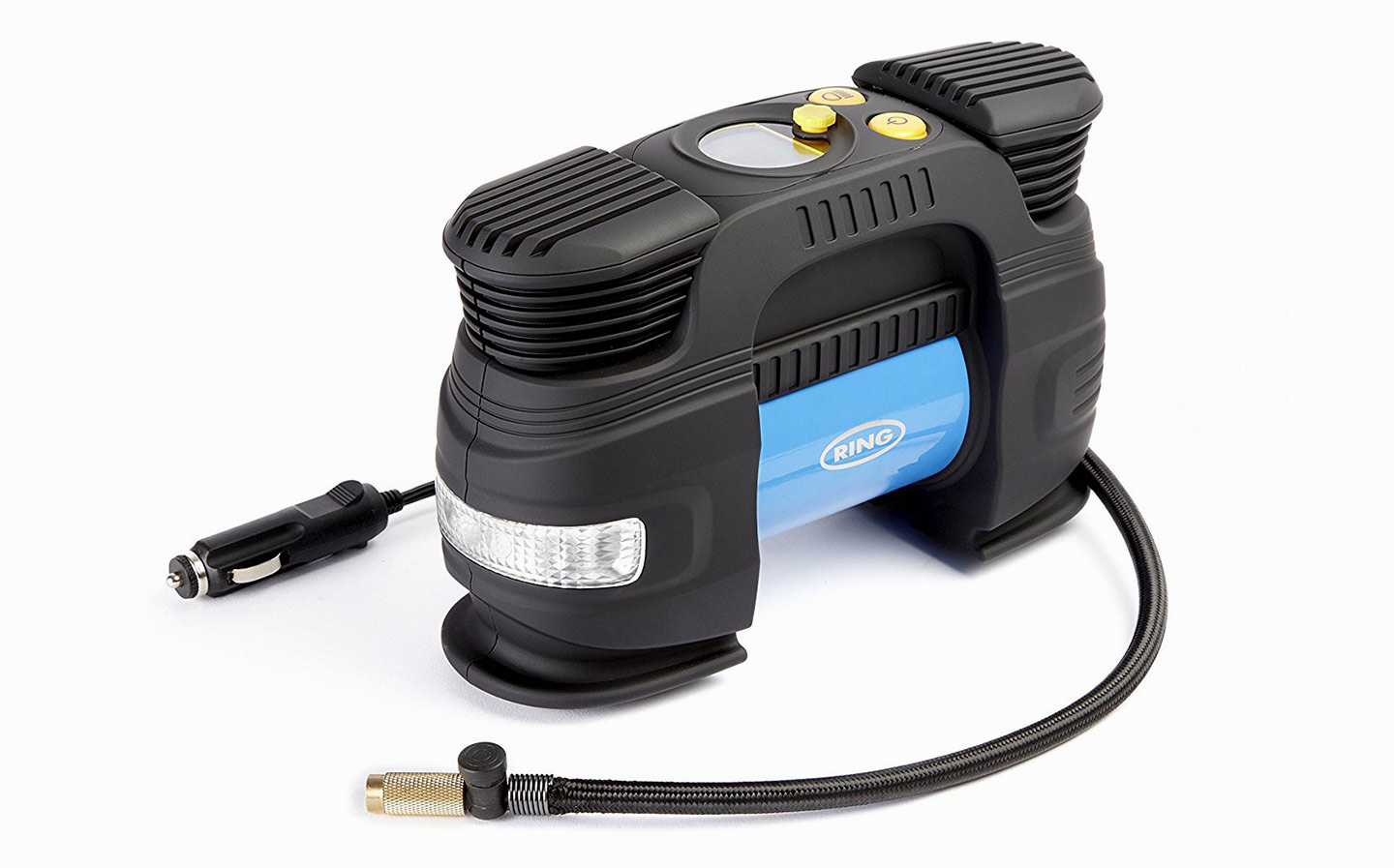 This is Ring's most powerful tyre compressor, designed for larger heavier vehicles such as 4x4s, SUVs and caravans. If bragging rights are important to you, it was easily the fastest we tested. We also liked the clear digital display located on the top of the unit, rather than the side, which meant we didn't have to lean it over to see the readout, and the design is the most robust of those we tested, with rubber feet to keep it steady. It is very heavy, at 2.8kg, and industrial-looking, although not unattractive.
The work light is solid white only (no hazard flash option) and the auto-stop gauge seemed a little less reliable — it inflated to an indicated 36PSI and stopped, but the gauge then dropped to an indicated 34.5PSI. Still, it was very quick, has a handy air release valve in case of over-inflation. The cable tidy system is basic (they simply wrap around the unit), but it comes with a neat bag to stop it all unravelling in your boot.
Rating ★★★★☆  
Best for Heavy vehicles and people in a hurry
Speed (20-36PSI) 1m 25s
Auto stop? Yes
Inflates up to 100PSI
Price at time of test £64.99
Buy it at Amazon.co.uk
Manufacturer website ringautomotive.com
Michelin Cordless Rechargable Tyre Inflator review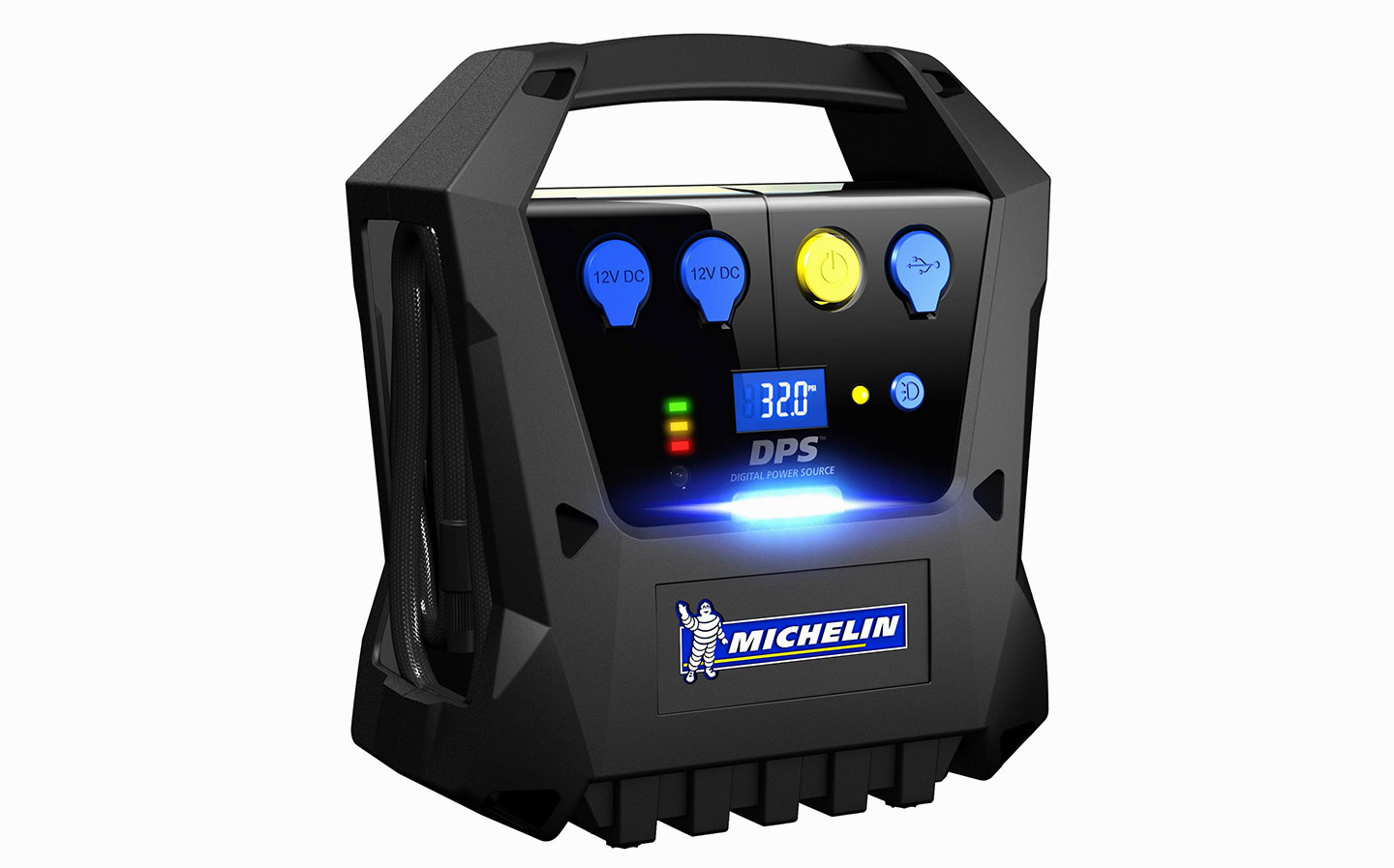 This compressor is unique among those tested here because it doesn't plug into a 12V (cigarette lighter) socket; instead you charge it up in a wall socket before your travels and it stores the energy in a built-in battery. You can even use its two 12V sockets and two USB ports to charge and power other devices. The benefits of this are not immediately obvious, though, given that your car's battery can do this job for you. However, if you were camping and needed to inflate beds, bike tyres and so on, as well as charge smartphones and portable music speakers, away from the car, it could prove handy. Having no power cable also means minimal faffing, and the bright LEDs lights (solid white only; no hazard flash option) would be useful at a campsite.
Of course, the large battery means that it's the heaviest unit here (4.1kg), which means lugging it around is a chore. It will also need to be recharged after the equivalent of inflating 10 bicycle tyres from 0 to 30PSI, and if you need to inflate multiple car tyres, particularly 4×4 vehicles, you may find you run out of juice before the job is done. Also note the 40PSI maximum inflation pressure, shared with the other Michelin units – lower than any other compressors tested, suggesting weedy pumps.
Rating ★★★☆☆  
Best for Camping
Speed (20-36PSI) 2m 35s
Auto stop? Yes
Inflates up to 40PSI
Price at time of test £80
Buy it at Halfords.com
Manufacturer website gb.michelin-lifestyle.com