Old vs new: Volkswagen T2 and California camper vans go head to head
Surf's up, dude, let's hit the Hi‑de‑Hi road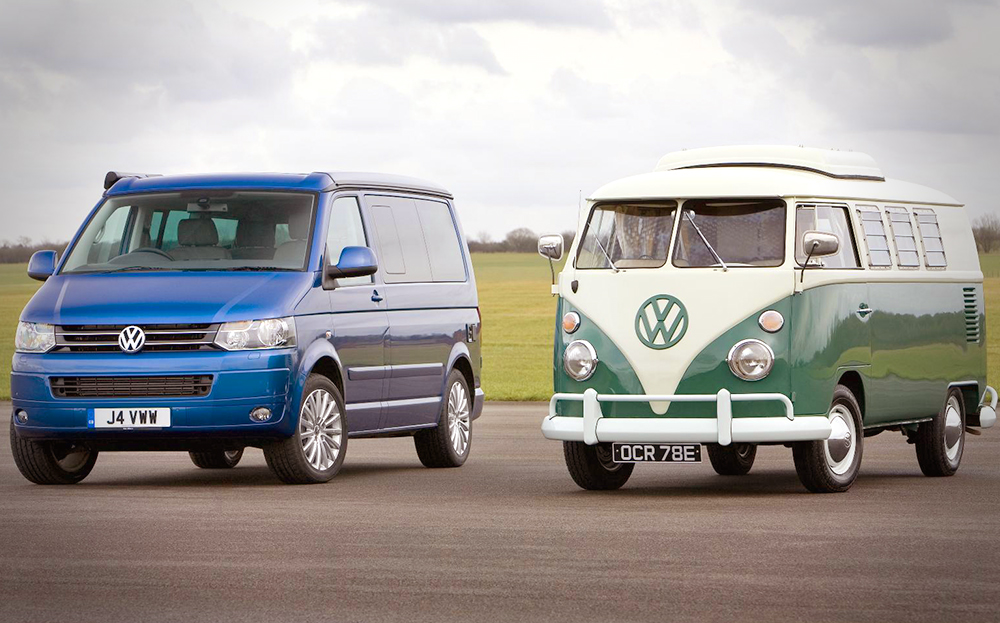 AT THE start of your summer holiday will you a) drive to the airport and frantically look for a parking space before rushing to the departure lounge — baggage and children in tow — to join an enormous queue of similarly stressed passengers, only to be fined because your bags are too heavy and then told that your flight has been delayed? And no, sorry, on this airline you have to pay extra if you want allocated seating so you will have to sit where you can and think yourself lucky.
Or b) open the front door, get behind the wheel of your camper van and head off to the great British coast with not a care in the world?
---
Search for and buy a Volkswagen California camper van on driving.co.uk
---
The balmy summer of 2014 has persuaded a record number of Brits to choose the second option. According to the Caravan Club more than 2m holidaymakers have decided to take a staycation with a caravan, motorhome or camper van this year — 55,000 more than in 2013. "There are around 130,000 campers and motorhomes on the road, which is the highest level ever," says Nikki Nichol of the Caravan Club.
"This year people are seeing the attraction of making the most of weather and exploring the country at their own pace. You don't need to book a flight or a hotel — you can just get up and go. It is tremendously liberating."
And surely there is no more liberating vehicle to do it in than a Volkswagen camper van, that symbol of carefree 1960s and 1970s hedonism when all you needed for your getaway was a surfboard and a tank of fuel. O'Connors Campers, which hires out refurbished VW campers, says a blend of nostalgia and a reaction against package holidays has led to a doubling of business this year compared with last.
Of course the original VW camper is no longer built, but its spiritual successor — the VW California — hopes to recapture some of the romance of its predecessor. But how do the two compare on the road?
The old-timer: 1970 Volkswagen T2 camper van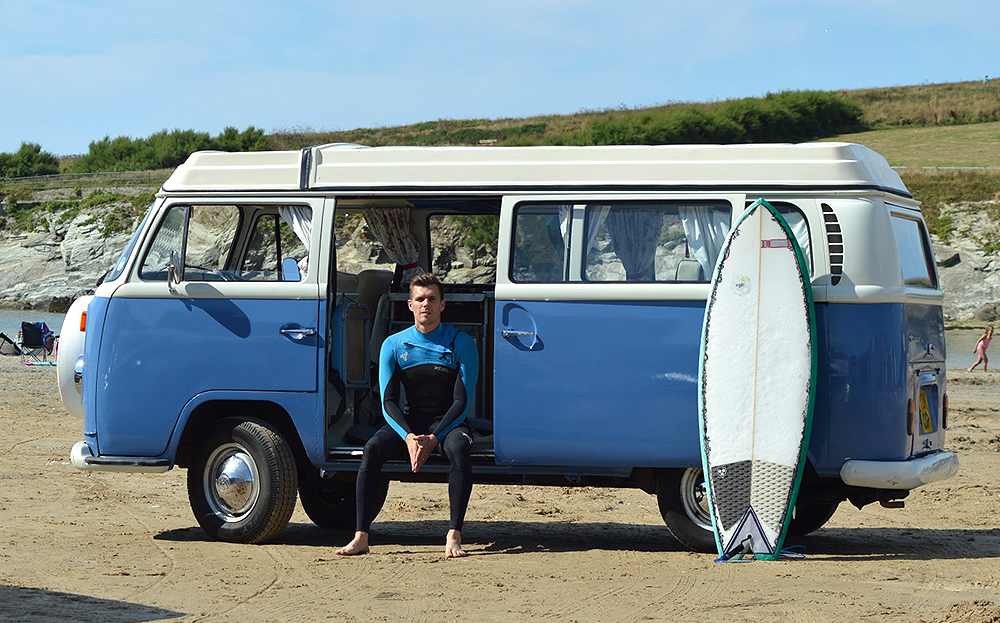 Words: Leon Poultney
NICE GUY Eddie isn't going anywhere fast. There's a notoriously steep hill just outside Newquay in Cornwall and Eddie, no matter how nice it claims to be, is refusing to slip into second gear.
Despite sounding like one of Al Capone's best chums, Nice Guy Eddie is in fact a second-generation, or T2, Volkswagen camper van from 1970 and I've got the pleasure of wrestling with its vague gearbox, heavy steering and unpredictable handling during a weekend of sun and surfing.
The popularity of holidaying in a classic camper van might be on the increase, but don't be fooled into thinking it is easy: you might love the retro looks, but they come with retro levels of comfort and convenience too. It is also a bit of a nightmare to drive.
The long-throw gearstick seems to have a mind of its own when it comes to slotting into gear and the ageing 1.6-litre, four-cylinder air-cooled engine struggles to drag the machine over even the smallest undulations. On the motorway be prepared for life in the slow lane with HGVs and even caravan-towing Vauxhalls overtaking you. The 0-60mph time is a faintly laughable 50 seconds.
But no one ever bought — or hired — a VW camper for its performance. Driving one is all about its charm. For a start, I quickly realise that being at the wheel is akin to being a member of a big club. Every fellow "Vee Dub" driver I pass on my trip gives a friendly wave or Hawaiian "shaka" — the "hang loose" gesture — out of the window in appreciation.
The attention the van receives when parked up is phenomenal. "What's she called," one passer-by asks when I pull up on the beach at Porth Sands.
"Erm, he's called Nice Guy Eddie," I respond, a little confused. I thought the name was something the rental company had come up with to increase trade, but apparently it is customary to christen a classic VW.
The crazy-haired comedian Milton Jones told me in an interview for Driving.co.uk that he named his 1972 VW camper van Mother Teresa because it was "blue, white and old".
This naming convention is common in the camper van community. Take a character trait, perhaps combine it with a colour or a redeeming feature and, hey presto, you have the name of your van. It is for this reason that a warm and fuzzy bond seems to form between the owner and their set of wheels.
And that's the reason someone would commit to a classic such as this rather than splash out on something newer, more technologically advanced and reliable like the VW California.
Yes, Eddie can comfortably sleep four, thanks to a three-quarter-width bed downstairs and a double bed in the upstairs pop-up compartment, and it provides the tools for a very convincing fry-up in the morning, but it's a little bit worn inside and sleeping upstairs when the wind is howling isn't something I'd want to try in a hurry.
But for all the foibles and irritating driving traits, it's difficult not to fall in love with a classic Volkswagen camper. The vehicles — and many of their owners — are just a little bit eccentric and there's never a shortage of tales to swap while parked next to a sandy beach when the sun is shining.
Nice Guy Eddie is a bit like the old family dog in that respect. OK, Eddie's no longer the best-looking animal in the park, or the fastest, but it has been a faithful servant (minus the odd breakdown here and there) and part of numerous memorable family holidays over the years.
It would be cruel to trade in the old boy for something newer.
Verdict ★★★★★
Surf's up!
1970 Volkswagen T2 camper van specifications
Engine: 1.6-litre, 4-cylinder, air-cooled petrol
Power: 48bhp
Transmission: 4-speed manual
Performance: 0-62mph: 50sec
Top speed: 65mph
Fuel: 27mpg
CO2: Unavailable
Road tax band: Free (as a historic vehicle)
Price: £15,000 (current value for good-condition model)
The new pretender: Volkswagen California BlueMotion SE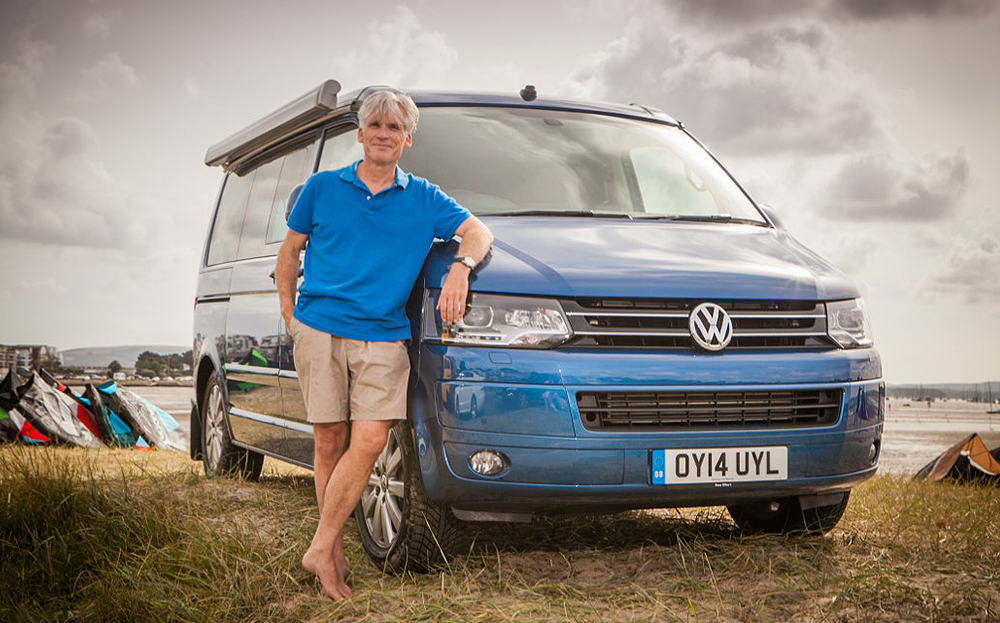 Words: Nick Rufford
I HAVE drawn the short straw in this head-to-head. A VW camper van should surely come with peace signs and flowers painted on the side. Instead, I've got a bland-looking box on wheels and I am surprised to learn it can cost more than £50,000 for a top-spec model.
I set out for the south coast feeling distinctly underwhelmed and rather envious of my colleague, who nabbed a beautiful 1970s microbus. His is a sort of motorised Romany caravan; mine looks more like a builder's van.
But as I soon discover, the California has Tardis-like qualities that may not inspire romance but do provoke feelings of gratitude, especially when you find yourself camping in the middle of ex-hurricane Bertha. The roof raises at the touch of a button to create an extra bed on top — a cosy den for two. I fear the roof extension will break loose in the high winds but it doesn't, and it resists monsoon-strength rain too. As nearby tents are blown away, the van stays snug and secure.
If you don't need that extra bed, you can push the roof up to create more headroom in the main cabin. There's a gas stove and lots of cubbyholes for storage. The rear bench seat folds down to create a decent-sized bed for two adults. You can hook up to campsite electricity and fill the on-board water tank through an inlet on the side. There are also handy cabin lights and a fridge.
The California has been around for a while and is beginning to show its age. At one stage Volkswagen bosses announced plans for a stylish new camper modelled on the shape of the microbus. They built a prototype and put it on show, then — shortsightedly, some say — VW decided to convert the T5, the latest version of its basic Transporter van. The name California was presumably supposed to conjure up images of driving the Pacific Coast Highway with a surfboard on the roof, but it's hard to forget that the T5 is a workhorse that has sold, according to VW's unromantic marketing statistics, 1.7m units worldwide.
Recent updates include BlueMotion technology to improve fuel economy on the 2014 model, as well as better air-conditioning. From next year there is a "shower" option, although it's really just an external hose connected to the existing cold water tank and hand-pumped — good for rinsing sandy feet but not exactly a power shower.
After a weekend in the California you end up admiring its ingenuity — the two folding chairs neatly stowed in the tailgate, for example. It's difficult to explain, then, why VW has made such a half-hearted job of converting this Transporter to right-hand drive. The sliding door is on the driver's side, so passengers step out into the traffic. The dashboard readout for the gear positions is on the wrong side of the shifter, so you have to crane to see whether you've engaged drive or reverse — not ideal.
Worse, there's no loo inside and nowhere to stash a portable one. When I try to sell my wife the idea of a weekend away in what I enthusiastically describe as "Hotel California", she asks whether it has an en-suite. Only if you park next to the campsite lavatory block, I admit.
Verdict ★★★☆☆
More parking brake than Point Break
Volkswagen California BlueMotion SE specifications
Engine: 1968cc, 4-cylinder turbodiesel
Power: 177bhp @ 4000rpm
Transmission: 7-speed automatic
Performance: 0-62mph: 12.8sec / Top speed: 115mph
Sleeps: Four (three in comfort)
Fuel: 34mpg
CO2: 219g/km
Road tax band: K (£635 for first year; £285 thereafter)
Price: £51,035
After a day on the road, rustle up one of Jamie's pukka suppers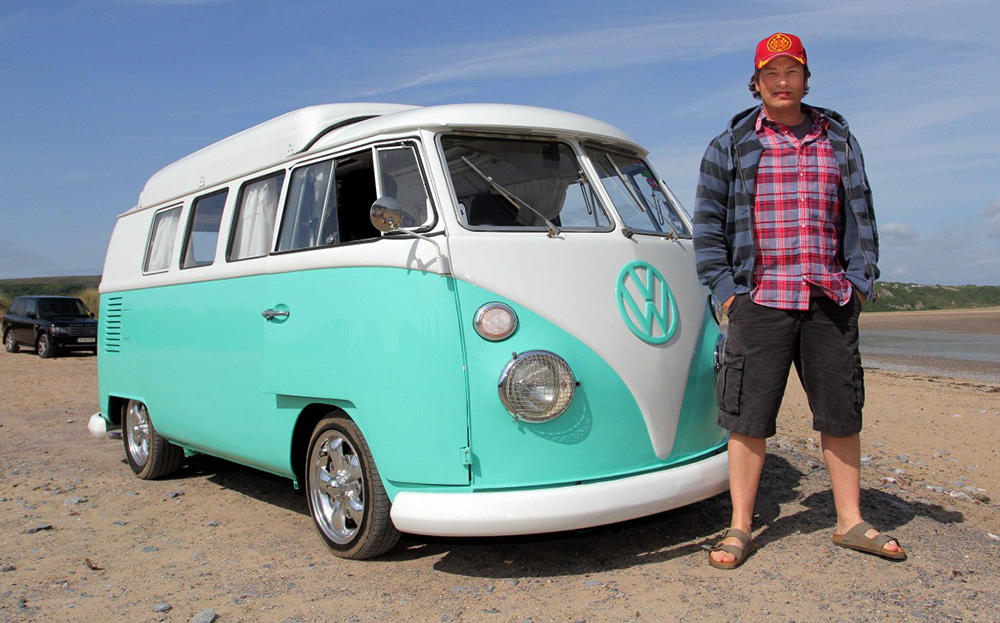 The camper fan Jamie Oliver toured Italy in a 1959 split-screen van for the 2005 television series Jamie's Great Italian Escape. Here are a couple of one-burner recipes from the show. Who says camper-van cookery has to consist of boiling a tin of hot dog sausages?
Seafood risotto
Serves six
In a large pan bring to the boil 1.5 litres of water and two chopped carrots, three squashed tomatoes, a bay leaf and a sprig of parsley. Add 1.5kg of mixed fish and seafood and simmer for 10 minutes. Remove seafood and fish from pan, flake off the flesh from fish and return bones to stock for a further 15 minutes. Sieve and reserve the liquid.
In a fresh pan, melt butter and olive oil and gently cook a large chopped onion, two chopped garlic cloves and four sticks of celery until soft. Add 400g of risotto rice and lightly fry for 15 minutes before adding most of the fish stock, 1 teaspoon of fennel seeds and a pinch of dried chilli. Simmer until the rice has soaked up most of the liquid. Add the flaked fish and seafood, the rest of the stock and a knob of butter, and reduce. Serve with parsley and a drizzle of olive oil.
Sausage carbonara
Serves four
Slit four Italian sausages, discarding the skin and forming the meat into marble-sized balls. Fry in olive oil, adding two slices of pancetta once browned. Cook until golden and keep warm. Boil 320g of dried linguine. While the pasta is cooking, whip four egg yolks, 100ml of single cream, 25g of grated parmesan, the zest of a lemon and chopped parsley. When the pasta is ready, toss everything together — the heat will cook the sauce. Sprinkle with another 25g of parmesan, season and serve.
Recipes from jamieoliver.com
---
Search for and buy a Volkswagen California camper van on driving.co.uk
---