News: The electric charge of the fire brigade
Now there's a spark that can help put out a fire: Britain's first all-electric fire car, designed to respond to major incidents with blue lights and a siren, has gone into service.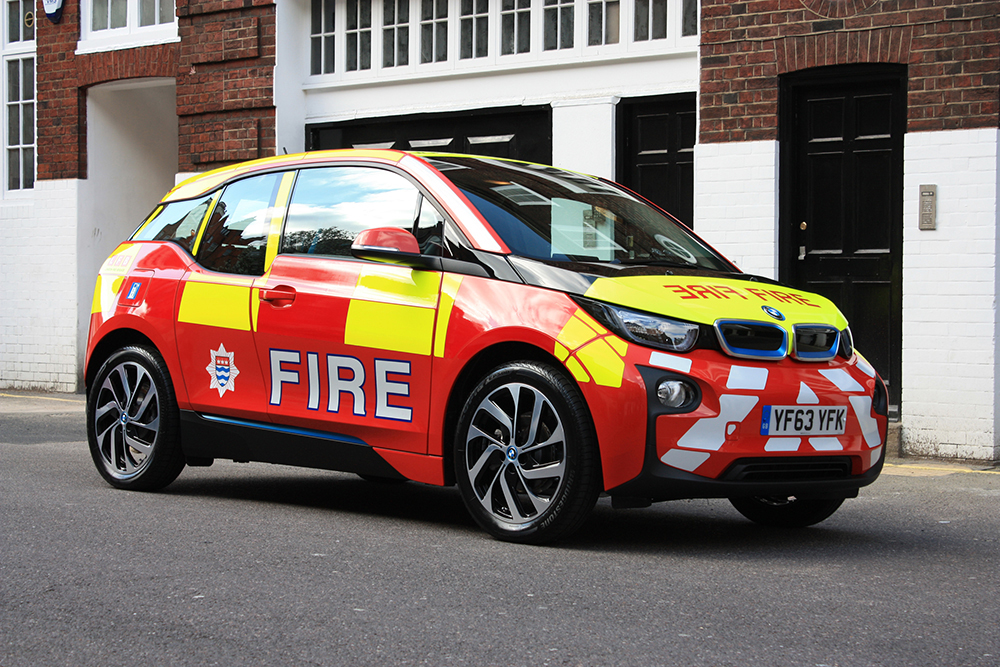 NOW THERE'S a spark that can help put out a fire: Britain's first all-electric fire car, designed to respond to major incidents has gone into service.
The bright red BMW i3 will be manned by members of the London Fire Brigade. It will weave silently through city traffic with little more than a hum from its battery-powered motor. When responding to an emergency however, it can crank up its siren and blue flashing light, creating almost as much commotion as a full-size fire engine.
The BMW, which can be bought privately for £25,680, might look the part but is not currently fitted with any fire-fighting equipment. Over the past month, senior officers have been using it to zoom away from their headquarters, when they are needed to take charge at major incidents.
Officers have been able to make use of its quick acceleration and top speed of 93mph. The car's range of approximately 80 miles on a full charge can be extended with top-ups during the day.
Fire services are turning to electric cars as they begin to focus on the fumes coming out of their vehicles' tailpipes as much as the smoke from the blazes they fight. Some brigades in Britain, including Norfolk and Devon and Somerset, have been trialling hybrid cars. They are powered by electric motors until their batteries run out, at which point a conventional engine can begin recharging the batteries or powering the car directly. Other brigades have some electric cars on their fleet but these are generally used to transfer staff and not to respond to emergencies.
"Although fully electric-powered fire engines may still be some way down the line, we have been looking at electric cars for a number of years and they are getting closer to meeting our operational needs," said Ron Dobson, London Fire Commissioner. "With sustainability now an important consideration in how we operate, it is right that London Fire Brigade continues to consider all practical options to responding to emergencies."
Last year Dobson told The Sunday Times that he planned to begin replacing some fire engines with smaller vehicles, fitted with fire-fighting equipment. They are more manoeuvrable than traditional tenders, enabling them to respond more quickly to calls. He said that they would be able to cope with up to a third of emergencies, from "cat stuck up a tree calls" to small fires in skips and wheelie bins.
The brigade already uses five Mini Countryman cars, of a similar size to the BMW i3, which are fitted with six fire extinguishers, a first aid kit and a defibrillator. It has also tested a BMW X5 4×4, fitted with a compressed air foam system that can rapidly extinguish fires. If battery capacity continues to increase and prices reduce closer to the level of conventional vehicles, then electric models are likely to be used in the future.
The introduction of electric cars could also have other benefits for cities. London Fire Brigade has been awarded £592,000 of government funding to install up to 74 charging points at fire stations. As well as being able to charge future fire vehicles, they could also be made available to the public, a move welcomed by the Liberal Democrat London Assembly Group, which has been campaigning for a better charging point network.
The trial of the electric fire car ends later this week when the service will begin assessing whether it should use some permanently. Whatever the verdict, though, even its supporters admit that few children will ever dream about driving an electric car over a proper fire engine.