News: Safety organisation urges drivers to take care this half-term
Expert advice on using the hard shoulder
---
Published 16 February 2015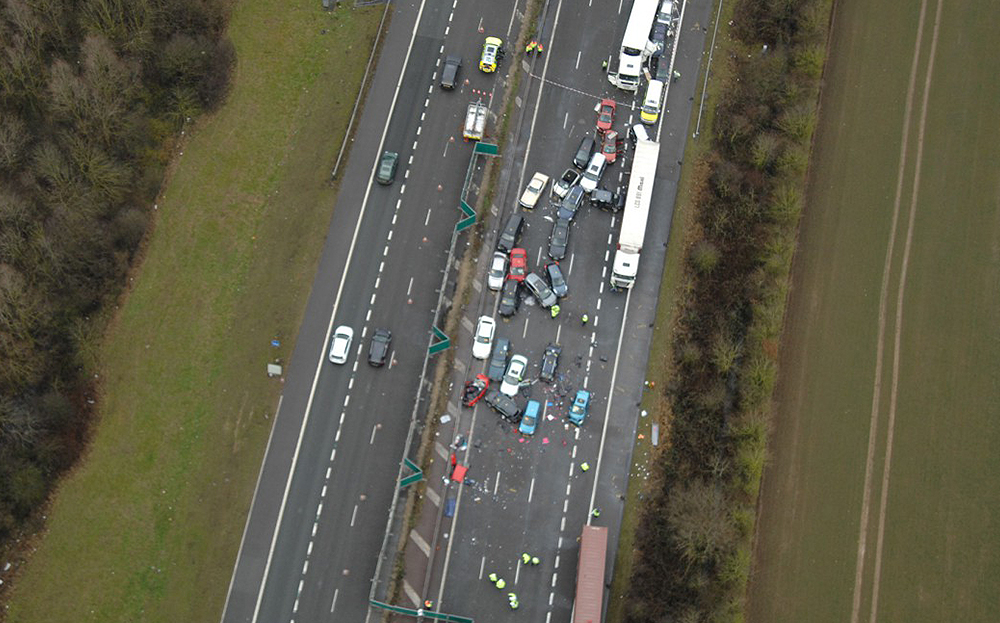 THE INSTITUTE of Advanced Motorists (IAM) is urging drivers to take care on the roads this half-term, after fatal accidents on the M1 and M40 on Saturday during the holiday rush.
Three people were killed on the M1 when a coach crashed into the Audi A3 they were travelling in after it had broken down and parked on the hard shoulder. Another driver was killed in a 40-car pile-up on the M40, pictured above, after fog made driving conditions difficult.
Kevin Delaney, head of road safety for the IAM, told Driving that the hard shoulder should not be viewed as a safe place and motorists should try to reach a service area or motorway exit instead.
"Before working with the IAM, I headed up the east London traffic division for the Metropolitan police, and standing on the hard shoulder of the M11 was one of the most frightening experiences of the job," said Delaney.
"It is not a safe place. You could have 42-ton lorries passing by you at 60mph with just feet to spare."
If a car develops a problem, it is best to leave the motorway, but sometimes that isn't possible, says Delaney.
IAM tips for motorists to stay safe on the hard shoulder
Use the hard shoulder only in the event of a car's breakdown or an emergency
Check your surroundings, indicate and carefully pull onto the hard shoulder
Try to stop next to an emergency telephone
Switch on the car's hazard warning lights and park as far to the left as possible, with the wheels turned to the left away from passing traffic
Do not remain in the vehicle, as it could be hit from behind by fast-moving traffic
Get out of the car on the left-hand side, away from traffic, and ideally wear a high-visibility vest, which should be stored in the car's glovebox
Never attempt a repair – such as changing a wheel – on the hard shoulder
Use the emergency phone or your mobile phone to alert the Highways Agency of your location, or your breakdown provider
Wait on the far side of the crash barrier, or up the embankment, out of danger