News: Road sweeper tries – and fails – to sweep away Golf (video)
We're gonna need a bigger brush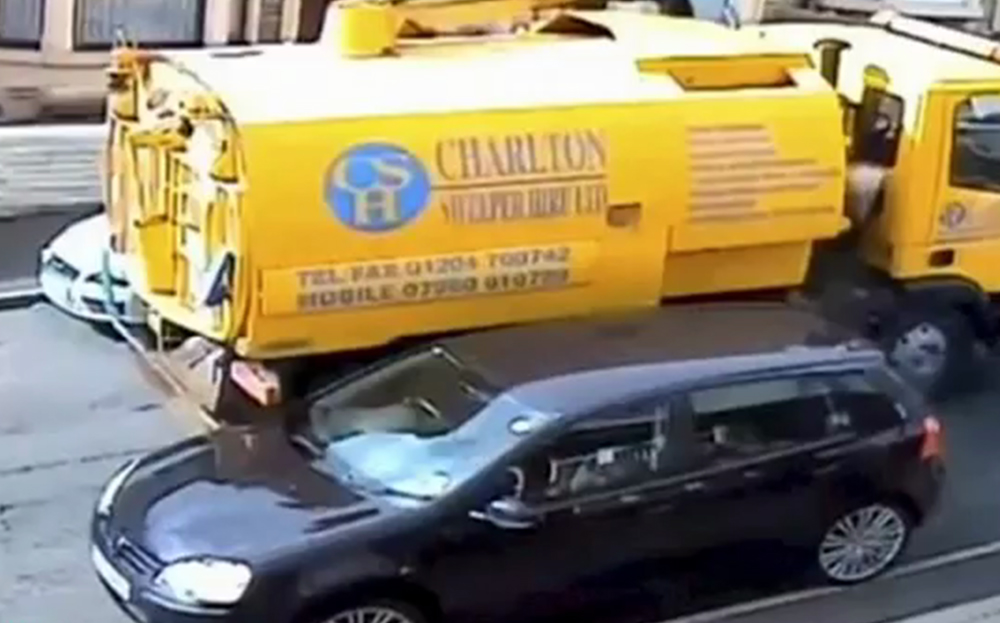 A CCTV camera has captured the moment a large road sweeper truck appeared to sweep away a VW Golf parked on the side of the road.
The bright yellow vehicle, bearing the company name Charlton Sweeper Hire, was being driven along Coniston Road in Blackburn, Lancashire, when it struck the car as it negotiated a tight gap.
At first the Golf's handbrake gamely checked the force of the impact but as the truck ploughed on, it gave up the unequal struggle. The car was dragged back until its nearside rear wheel was on the pavement. At that point, the truck sped off, its driver seemingly unaware of the devastation he had just caused.
The daughter of the woman who owns the Golf was visiting a sick relative when the accident happened. She said she had seen the images and was extremely angry.
"I just kept watching the CCTV over and over again. I just could not believe it."
Her mother's insurance company has said the car may have to be written off because its suspension was so badly damaged.
Police received reports of other vehicles being hit in the same incident.
A member of staff at Charlton Sweeper Hire Ltd confirmed that one of the company's vehicles had been involved in the accident, which was being investigated by the police and the firm's insurance company.
"Our managing director only came back from holiday today, and it wasn't what she wanted to come home to," she said.
---
Search for and buy used cars here
---