News: London Classic Car Show promises "catwalk" for star cars from Bugatti, Ferrari, Lamborghini, McLaren and more…
Other stars include 1904 Lagonda Tricar & Fangio's own Jaguar C-type
---
Published 20 November 2014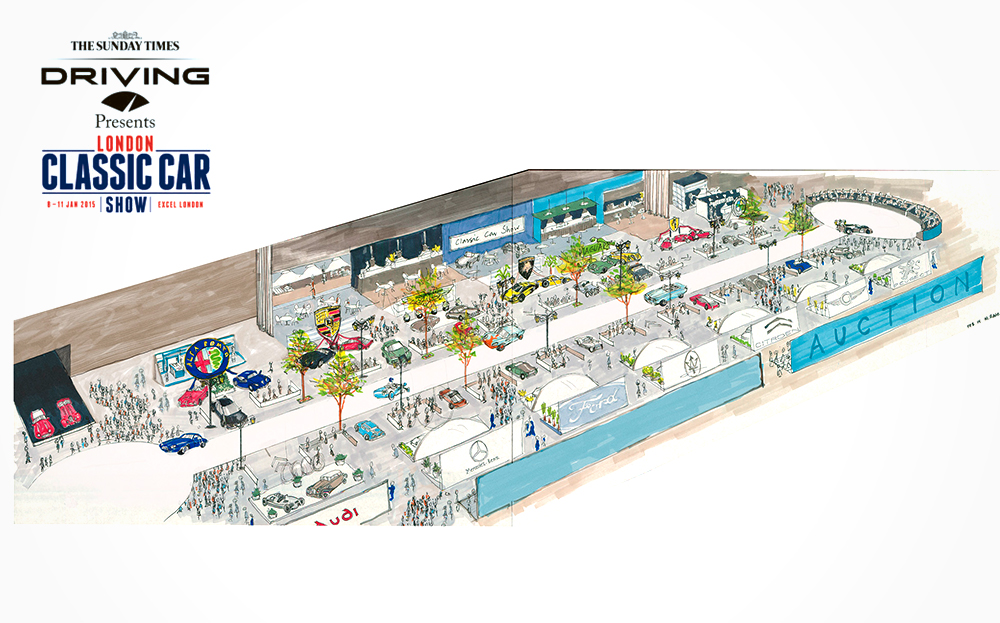 FORGET LONDON fashion week. The only catwalk that will have car enthusiasts fighting for a front row seat  is the Grand Avenue at the inaugural London Classic Car Show – a motorised catwalk on which some of the world's most desirable cars can be seen and heard in action.
Forty vehicles, four from each decade last century, will roll down the runway twice a day at the show, which takes place on January 8-11 at the ExCel centre in London's Docklands and is presented in association with The Sunday Times Driving.
---
Search for and buy your next car on driving.co.uk
---
The organisers are promising public appearances by legendary road and racing cars, including Grand Prix machinery. Confirmed Grand Avenue rarieties and exotics encompass a 1904 Lagonda Tricar, a 1920 Jaguar SS1, a 1924 Bugatti, a McLaren M23 driven by James Hunt and the Maserati 250F driven by Stirling Moss to victory in the 1956 Monaco Grand Prix. As if that little lot weren't enough, other models driving the car catwalk include a Lotus 87B, Lancia Stratos, 1957 Ferrari Testarossa, Lamborghini Miura and gullwinged Mercedes 300SL, as well as a Jaguar C-type originally owned by Juan Manuel Fangio.
And on a different (exhaust) note, there's one of the first-ever Land Rovers (1948) and a pre-production 1970s Range Rover.
Curating this line-up is a team including James May, the Top Gear presenter and classic car enthusiast, who will reveal his winner from "the most significant cars of all time," which is quite the accolade from the discerning Captain Slow.
Another familiar face at the party will be TV chef James Martin, cooking up "good, simple grub" for visitors at the James Martin Classic Café, as well as displaying his own car collection.
The London Classic Car Show will also be celebrating the 60th anniversary of the legendary Citroën DS, and there will be static displays from many leading classic car dealers and specialists. A word of advice: enter with your credit card at your peril.
Tickets are now available from TheLondonClassicCarShow.co.uk priced from £22 for early-bird discounts; on the door entry is £25. Family, group and premium entry packages are available, as well as access to the opening night's Preview Evening.