2015 Driving Rich List revealed by The Sunday Times
Triumph boss now a billionaire but Bernie stays top
IF ONE man in motoring can afford to lose £60m, it's Bernie Ecclestone. The 84-year-old, who is chief executive of the Formula One Group, which manages Formula One and controls the commercial rights to the sport, had to pay that amount last August to settle a bribery case. Don't feel too sorry for him: he's still worth nearly £3bn, according to The Sunday Times Rich List 2015.
The rest of the motoring top 10 looks similar to last year's, though there are a few changes of note, such as John Bloor's £275m increase in wealth since last year, which takes him through the billion mark. Some would say it's thoroughly deserved by the man who rescued Triumph Motorcycles, which was struggling for survival in 1983, and turned it into the powerhouse it is today.
Other highlights are the rise of Geoffrey Warren, owner of Car Giant, who now appears in the top 10 with wealth amounting to £400m, and the appearance at 33 on our list of James Hull, who sold his vast collection of classic Jaguars back to Jaguar Land Rover last year for the princely sum of £100m.
Another new entry, also with a net worth of £100m, is Derek Hood, a former dentist who runs JD Classics, which restores and maintains racing and vintage cars. In 2013-14 its profits soared to £12.2m on £72.4m sales.
Rich List 2015: the driving millionaires
1 Bernie Ecclestone and family, £2.94bn (-£60m)
Last year: 1 (no change) | Source of wealth: Motor racing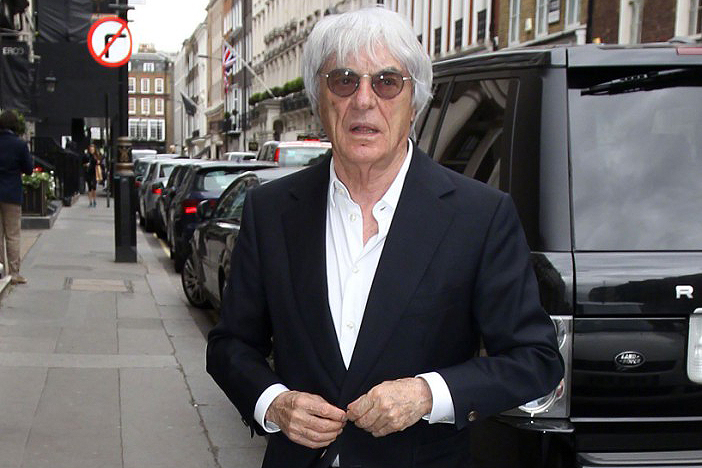 Rich List 2015 says: Ecclestone is never far from the headlines. He settled a bribery case in Germany last August by paying £60m to prosecutors. He had been charged with paying to steer the sale of Formula One to the private equity firm CVC.
He later sent out Christmas cards that bore a cartoon depicting him handing over a sack of money to a highwayman. "This is not a robbery," the man on horseback is saying. "I am collecting for the Bavarian state."
F1 is being stalked by the Liberty Global media group, with a £6.5bn valuation. A bond issue and the sale of his majority stake netted Ecclestone £1.9bn, but even at 84 he retains a vice-like grip on the sport. "If you want to make enemies, then be rich and successful," he says. Ecclestone is both. He has a 5.3% stake in F1, while the Bambino Trust, for his daughters, Tamara and Petra, has 8.2%.
Even after his 2009 divorce from Slavica, he is worth almost £3bn. He gives generously to charity. An annual F1 party raises money for Great Ormond Street, last year's event generating £900,000 for the children's hospital. Ecclestone married Fabiana Fosi, a Brazilian 46 years his junior, in 2012.
2 Georg and Emily von Opel, £1.3bn (+£100m)
Last year: 2 (no change) | Source of wealth: Finance and property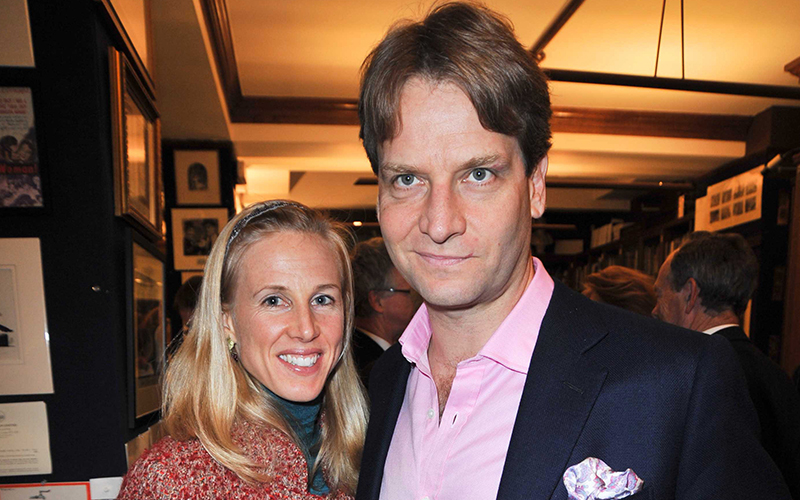 Rich List 2015 says: A great-grandson of Adam Opel, founder of the German car company, von Opel is a director of the London-based company GVO Wind, a holding company for wind turbine investments.
Much of the family wealth is in Hansa AG, a Swiss-based international investment and holding company chaired by von Opel, 49. His wife, Emily, 41, was born in London.
They own a Hampshire estate and their Georg and Emily von Opel Foundation helps underprivileged people around the world. He has given £539,000 to the Conservatives in the past three years.
3 John Bloor, £1.025bn (+£275m)
Last year: 3 (no change) | Source of wealth: Construction, motorcycles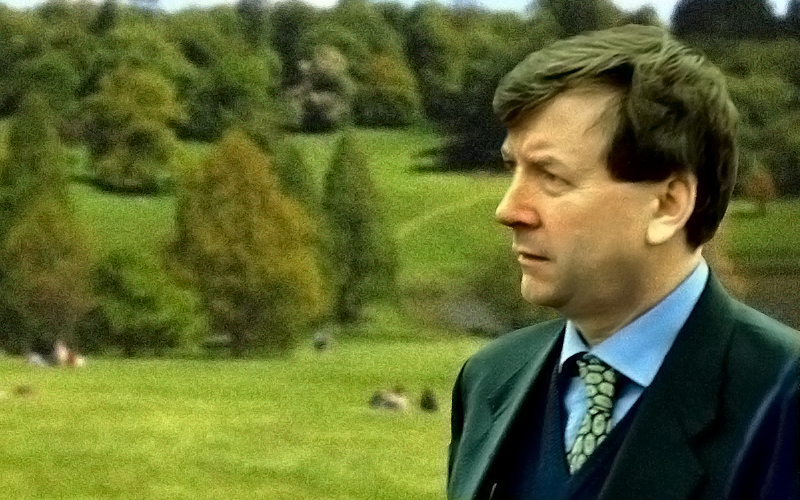 Rich List 2015 says: Bloor, 71, bought Triumph Motorcycles for £150,000 in 1983 and then spent more than £80m on a new factory in Hinckley, Leicestershire, to revive the marque. In 2013 Triumph sold 52,089 motorbikes and Bloor is a hero among fans of the brand.
A miner's son from Derbyshire who trained as a plasterer, he runs and owns a housebuilding operation. Bloor Holdings, parent of Triumph and the housebuilding business, saw profits soar to nearly £65m on £900m sales. Bloor owns it all and other assets.
4 Sir Arnold Clark and family, £675m (no change)
Last year: 4 (no change) | Source of wealth: Car sales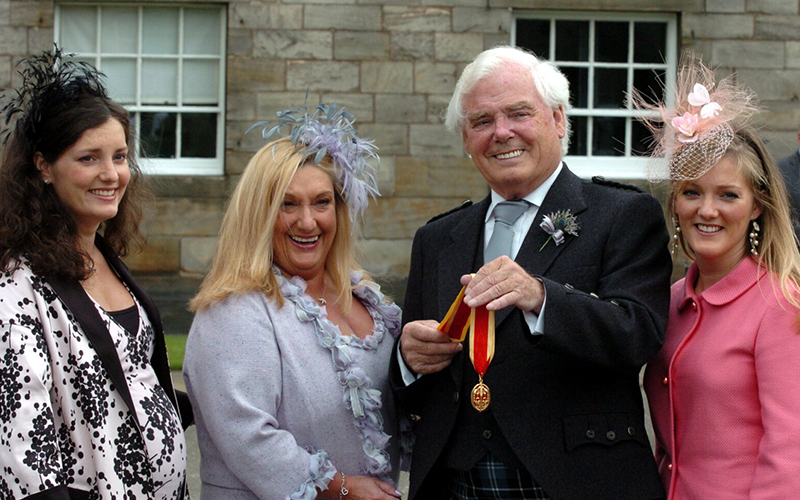 Rich List 2015 says: Profits rose in 2013 at the Glasgow-based Arnold Clark Automobiles to a record £85.1m on sales of £2.91bn. Scotland's biggest car dealer, owned by Clark, 87, and his family, it is worth £650m.
5 Paddy McNally, £510m (no change)
Last year: 5 (no change) | Source of wealth: Advertising, hospitality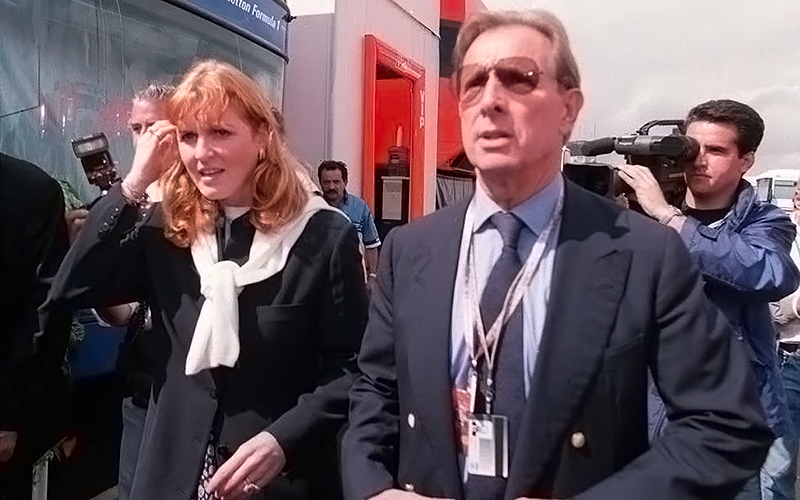 Rich List 2015 says: The Donegal-born Paddy McNally, 77, a former Autosport journalist, has retired from the F1 hospitality business that made his fortune. His Geneva-based Allsport handled trackside advertising at F1 circuits. The Paddock Club, which caters for VIPs, took off and McNally sold it in 2006 for $350m. He owns the former Wiltshire home of the James Bond author, Ian Fleming.
6 Lord Edmiston, £472m (+£20m)
Last year: 7 (+1) | Source of wealth: Property, car sales
Rich List 2015 says: The Conservative peer Lord Edmiston, 68, built the Birmingham-based IM Group into one of Britain's biggest importers of Far Eastern cars. In 2013, IM made £21.2m profit on £400m sales and is worth £472m.
Edmiston has been a consistent donor to the Tories and the Conservative Christian Fellowship, giving more than £1.5m since 2010. He also continues to bankroll his Christian Vision charity, which spreads the Christian message across the world, with a focus on Africa and Asia, often through radio, internet and TV programming.
Personally and through his IM Group, he gave more than £11m of the £24m income to the charity last year, which in turn spent £15.5m. With assets of £230m, it will continue with its mission for many years to come.
7 Sir Ronald Hobson, £464m (-£16m)
Last year: 6 (-1) | Source of wealth: Property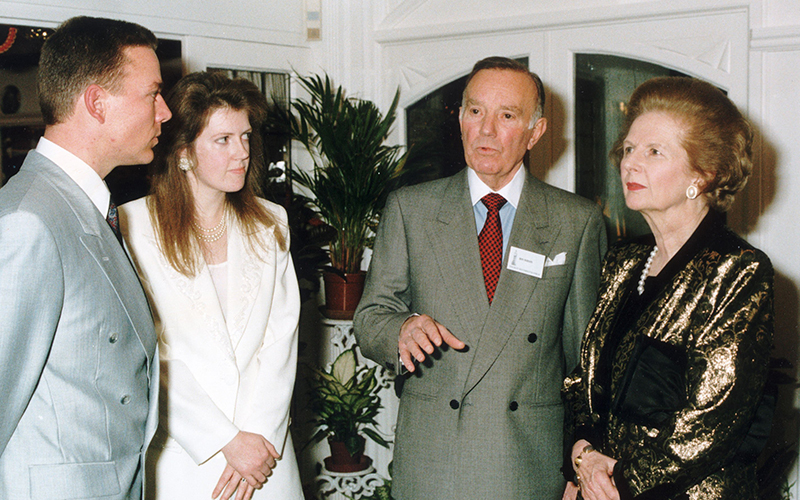 Rich List 2015 says: Hobson joined Sir Donald Gosling (see below) after the Second World War to build car parks on old bombsites throughout Britain. They collected £290m each when they later sold the National Parking Corporation. Hobson, 94, who was knighted in 2006, has £12m of stakes in smaller businesses. His charity supports social welfare and educational causes.
8 Sir Donald Gosling, £427m (-£13m)
Last year: 8 (no change) | Source of wealth: Property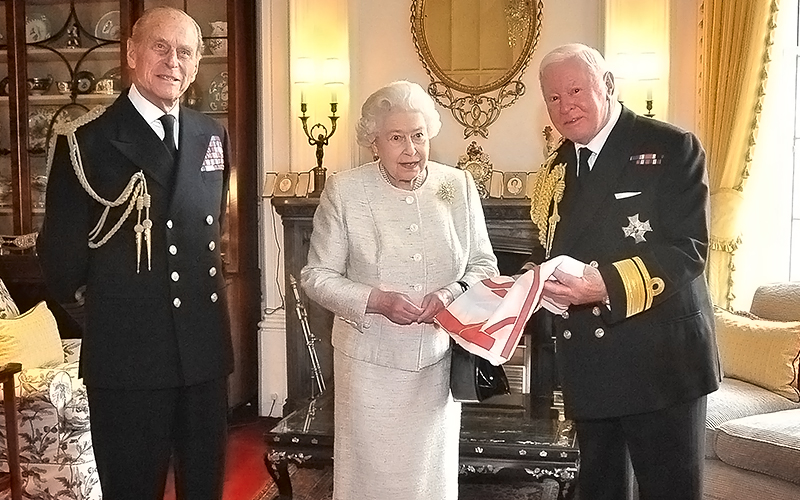 Rich List 2015 says: Gosling, 86, started the National Parking Corporation with Sir Ronald Hobson (see above); they made £290m each when they sold it. The Gosling Foundation gave grants of more than £5m last year, mainly to education and community projects. The foundation received £19.2m of new funds during the year for future spending.
9 Geoffrey Warren, £400m (+£180m)
Last year: 13 (+4) | Source of wealth: Car sales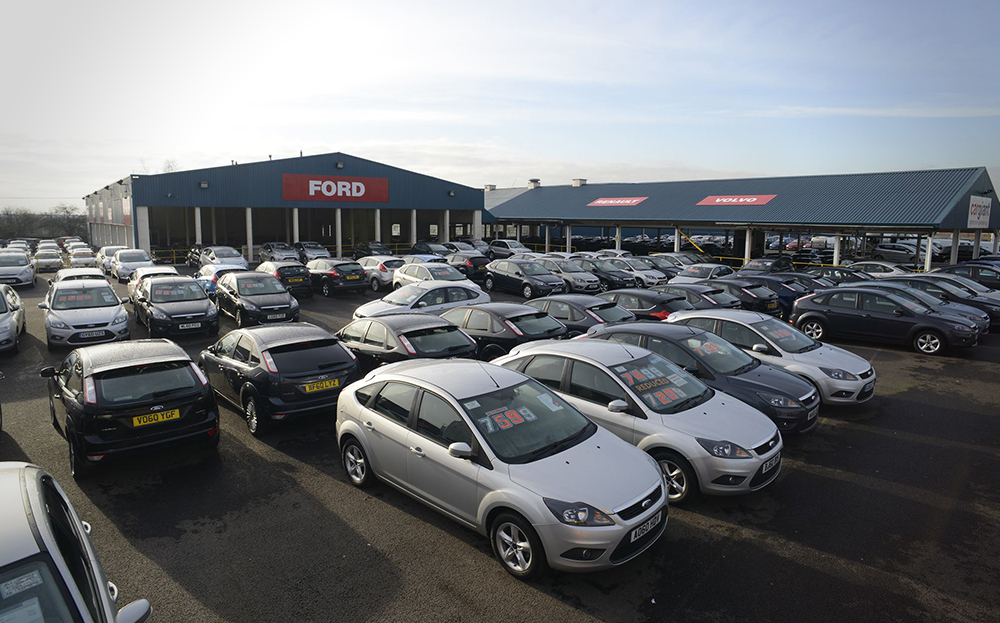 Rich List 2015 says: The Car Giant vehicle supermarket in west London is worth £300m. It is owned by Warren, 60.
10 Jack Tordoff and family, £368m (+£15m)
Last year: 9 (-1) | Source of wealth: Car sales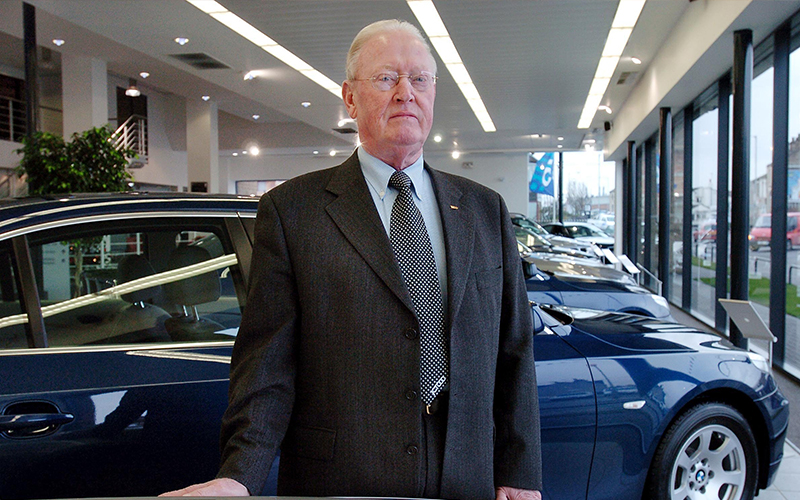 Rich List 2015 says: Tordoff, 79, built the Bradford-based motors group JCT600, which is worth £348m.
The richest of the rest in motoring
For details on the people below, view the list on the Sunday Times website.
| | | | |
| --- | --- | --- | --- |
| Rank | Name | Worth £m | Rise/fall |
| 11(12) | Ron Dennis | £350 | +£90m |
| 12(10) | Sukhpal Singh Ahluwalia | £300 | No change |
| 13(11) | Lord Heseltine and family | £280 | +£2m |
| 14(new) | Tony Quinn | £222 | New |
| 15(14) | Tony Bramall and family | £208 | -£1m |
| 16(15=) | Keith Bradshaw and family | £180 | +£5m |
| 17(15=) | Sir Peter Vardy and family | £175 | No change |
| 18(19=) | John Griffin and family | £170 | +£30m |
| 19(17) | Sir Colin Giltrap | £169 | +£2m |
| 20(18) | Rodger Dudding | £162 | +£2m |
| 21(31=) | Nigel Spokes and family | £160 | +£70m |
| 22(27=) | Mohsin and Zuber Issa | £150 | +£50m |
| 23(19=) | Daryl Foster | £140 | No change |
| 24(30) | Douglas Park and family | £132 | +£37m |
| 25(21) | Sir Tom Farmer | £130 | +£2m |
| 26=(22=) | Terry Lister and family | £120 | No change |
| 26=(24) | Andrew Page and family | £120 | +£5m |
| 26=(22=) | Kevin Wheatcroft | £120 | No change |
| 29(new) | Max Smith-Hilliard | £115 | New |
| 30(25) | Neil Trotter | £110 | £2m |
| 31(new) | David and Betty Carr | £103 | New |
| 32(new) | Graham Dacre | £102 | New |
| 33=(27=) | Ross Brawn | £100 | No change |
| 33=(new) | Eric Heerema | £100 | New |
| 33=(new) | Derek Hood | £100 | New |
| 33=(new) | James Hull | £100 | New |
| 33=(27=) | The Duke of Richmond and Gordon and family | £100 | No change |
| 38(37) | Lewis Hamilton | £88 | +£20m |
| 39(35) | Eddie Jordan | £85 | +£5m |
| 40(39) | Martin Birrane | £84 | +£24m |
| 41(34) | Eddie Irvine | £80 | -£3m |
| 42(36) | David Agnew and family | £75 | No change |
| 43(38) | Jenson Button | £71 | +£8m |
| 44(40) | Ken Cheevers and family | £60 | +£10 |