New cameras to kerb motorway speeders
From now on, speeders, there will be no escape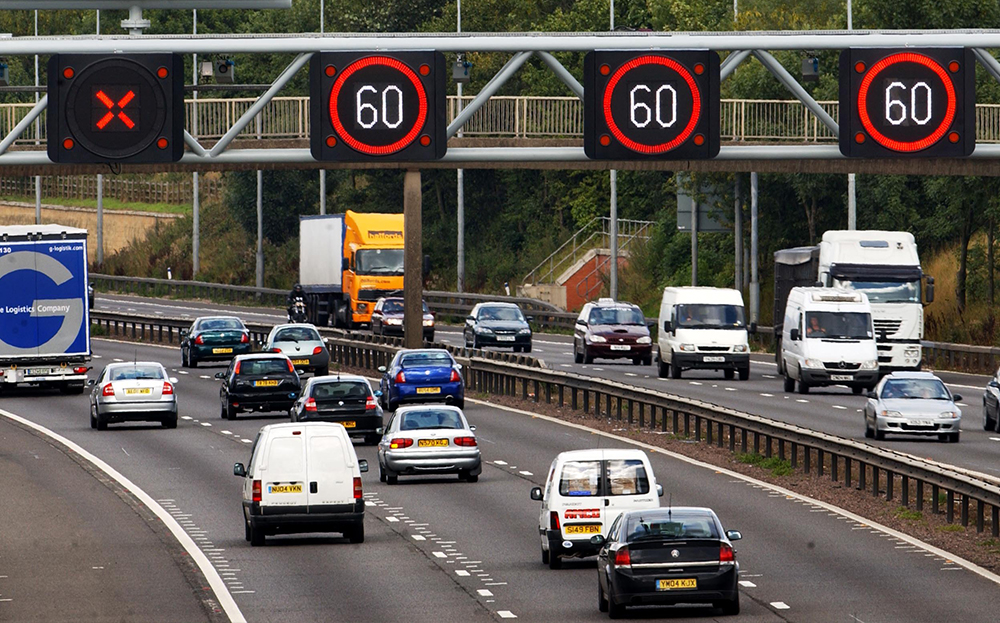 POLICE ARE considering enforcing the national speed limit on motorways with a new camera that requires no telltale white markings on the tarmac and will be grey rather than bright yellow. Built for the Highways Agency, which manages the motorway network in England, the camera is expected to be approved for use by the end of this month.
It could be the biggest change to the way speed limits are enforced on motorways since the introduction of the 70mph limit in 1967. The first devices should be on the M25 by the summer. Kent police, whose officers patrol part of the motorway, said last week that the Hadecs3 (Highways Agency digital enforcement camera system) devices would be used to enforce the national 70mph limit as well as variable limits displayed on overhead gantries. "We will be enforcing the national and variable speed limit in Kent," said the force's spokeswoman Carly Wymark.
When the cameras are operational, any motorist passing them at a speed of over 79mph will run a high risk of being caught. Police usually prosecute drivers only if they exceed the limit by 10% plus a 2mph margin for error.
Within two years the cameras will also be installed on the M1 south of Sheffield, where a 60mph daytime limit has been proposed to cut emissions. South Yorkshire police said the cameras could also be used to enforce the national speed limit. "We will be discussing options with the Highways Agency, and colleagues in neighbouring forces, as to whether these cameras would be used to enforce the national speed limit or just variable speed limits," said Catherine Oakes, a spokeswoman for the force.
Speed cameras are already installed on motorways, but they are usually used only to enforce speed limits at roadworks or when variable limits are applied because of congestion or an accident. There are also a handful of conventional Gatso-type speed cameras used, for example, at the end of motorways to slow down traffic.
Some road safety campaigners have argued for the limit to be more rigorously enforced, pointing out that many drivers routinely travel at speeds of more than 80mph. A recent survey for Autocar magazine found that 94.6% of drivers admitted breaking the limit.
Police have resisted using speed cameras for blanket coverage of motorways, on the grounds of cost, and politicians have shied away too — especially since pledging to end the "war on motorists". The Association of Chief Police Officers (Acpo) says forces are free to enforce the national speed limit as they see fit — including with cameras.
The Hadecs3 has been designed for use on "smart motorways" — previously known as managed motorways — which feature variable speed limits and in some cases have had the hard shoulder converted to an extra lane, known as a "running" lane. By 2016 the cameras will be used on more than 100 miles of these smart motorways, according to the Highways Agency, and they will eventually be installed on more than 400 miles of the 2,300-mile network.
They will add to the ever-expanding number of enforcement cameras that have made British drivers among the most photographed on earth. Traffic cameras capture 26m images of vehicles a day in Britain, according to Acpo, and that does not include images taken by Gatsos, cameras monitoring traffic lights, parking cameras and those that photograph drivers committing misdemeanours in yellow box junctions or bus lanes (see panel).
A single Hadecs3 camera is able to track dozens of cars a minute over four lanes of traffic at speeds of 12-186mph. Existing speed cameras on motorway gantries usually cover only a single lane. The Hadecs3 is also cheaper to maintain than conventional speed cameras because it does not need road markings. Instead of using painted white lines to give a backup calculation of a car's speed, each Hadecs3 box contains two radars that give independent readings.
Pictures of offending vehicles are taken from the rear and will include the limit in force at the time. The cameras can also be used to catch motorists who ignore or miss the electronic red X signs indicating that a lane is closed.
Officials say a new camera system is necessary to enforce lane closures on sections of motorway where running lanes are being introduced. They say the cameras could also help to end motorists' practice of slowing down for the white markings that indicate the presence of a camera and then speeding up again.
The cameras will be linked electronically to the signs displaying the variable speed limit and mounted on poles just ahead of gantries.
The Highways Agency, which is part of the Department for Transport, said:  "The Hadecs3 cameras will be visible and motorists will see the recognisable signs — a black image of a camera on a white background — that tell them they are in an area where speed enforcement cameras can operate. The onus is always on drivers to abide by the speed limit.
"The cameras have the capability to enforce the national speed limit but it is up to the police force operating the system to determine at what level enforcement will be carried out."
Cardiff council's cash bonanza
CARDIFF WILL be the first council outside London to penalise drivers who find themselves trapped in yellow box junctions or who commit misdemeanours such as illegal U-turns. The move could raise millions of pounds in revenue for the council — and leave it open to criticism that motorists are being used as cash cows.
Until now, only councils in London have been allowed to fine drivers for moving traffic offences, which also include faults such as ignoring a no-entry sign or travelling in the wrong direction down a one-way road. In other areas, police are responsible for enforcing the rules. Councils across the country have been lobbying for the same power as authorities in London, arguing that they would apply the law "more consistently" than officers who have other duties.
Last year, the Welsh government accepted the argument and passed a law, which allows councils in Wales to apply to take charge of moving traffic contraventions. The Department for Transport is considering whether all English councils should have the same powers.
Motoring groups fear that drivers could be unfairly penalised. The RAC warned that at many poorly designed junctions, drivers had no choice but to stop in the yellow boxed area — where they would automatically face a fine of up to £70.
Cardiff expects to issue the first fines by the end of the summer, although it denies its primary motive is to raise revenue. "Acquiring these additional powers will complement the current parking enforcement powers and will provide a greater resource to address traffic congestion . . ." Andrew Gregory, Cardiff's director of highways, wrote in a report for councillors. "Overall, it can be seen that the financial projection is positive."