New Aston Martin DB11 revealed on Twitter by customer
New model critical to British car maker's success
---
Published 17 February 2016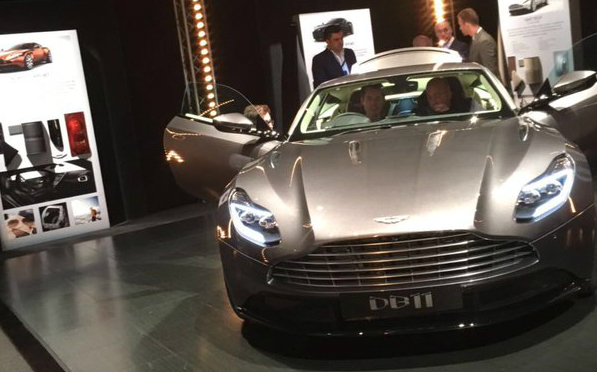 THE TROUBLE with showing still-secret cars to prospective customers is that not all of them want to respect that secrecy – as Aston Martin has found out, after a picture of the new DB11 sports car was posted to Twitter.
---
Browse NEW or USED cars for sale on driving.co.uk
---
In an attempt to drum up sales ahead of the car's launch, the British sports car maker is believed to have invited customers to a private viewing event, before the DB11 makes its public debut next month at the Geneva motor show.
One of those customers, going by the name of @rudybenjamin13 on Twitter, took a photo and shared it with the rest of the world.
On me dit que je risque d'être emmerdé donc tant qu'à faire … #astonmartin #DB11 . Je relaie …. pic.twitter.com/Xle3BkjJF9

— RudyB001 (@Rudybenjamin13) February 17, 2016
The DB11 is powered by a 5.2-litre, twin turbo V12 engine that is anticipated to have over 600bhp. The car replaces the DB9, and is expected to cost around £170,000 in V12 specification. Rumours suggest a more affordable, less powerful V8 version will join the range, and the car is based on an updated version of Aston Martin's aluminium chassis.
Most of the car's gadgets and gizmos will come from Mercedes. This allows the comparatively tiny British company to bring its new models up to date in terms of the creature comforts that buyers expect from luxury cars.
Some wags have suggested the Twitter gaff is a PR stunt, designed to drum up interest in the loss-making company and its new DB11. Aston Martin could not be contacted at the time of writing.
---
Browse NEW or USED cars for sale on driving.co.uk
---