Monte Carlo or Bust rally: a 950-mile rust-bucket romp across Europe
Bangers 'n' masochism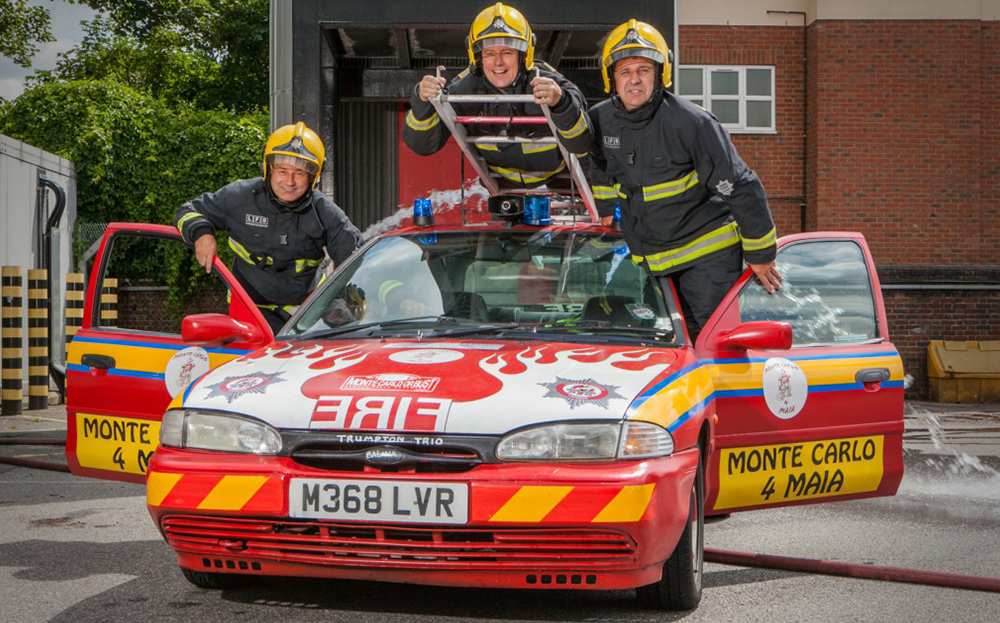 IT'S DAWN over Lake Como on a calm Sunday morning. The first rays of the sun turn the water to azure and a group of nuns strolls along the shore to church.
And right in the middle of the scene are three burly British firefighters piling into a clapped-out Ford Mondeo that has been painted red and kitted out to look like a fire engine.
---
Time to upgrade the old Mondeo? Browse the cars available to buy on driving.co.uk
---
The nuns stop and gaze, wondering whether the car has got lost on its way to an emergency. Then, as if by way of explanation, a Vauxhall Carlton estate, disguised as a brown dog with fluffy fur and flapping tongue, rolls into view, followed by a Mercedes E-class with a tank turret, a Vauxhall Astra Batmobile and a yellow submarine that, underneath the funnel, portholes and rudder, is a Renault Mégane saloon. There is no emergency. The British are here again.
The nuns continue their stroll, shaking their heads. The twice-yearly Monte Carlo or Bust rally is regarded by locals along the route with bewildered amusement. Hotels welcome the trade; the rest of the population looks on, wondering what the point is. The answer — one that perhaps makes sense only to the British — is that teams must haul themselves 950 miles across Europe from Belgium over the Alps to Monaco in a car that costs £250 or less and is, in most cases, ready for the scrapheap.
The Monte Carlo or Bust rally is regarded by locals along the route with bewildered amusement. Hotels welcome the trade; the rest of the population looks on, wondering what the point is.
Competitors must make it to checkpoints and outwit 72 rival teams, not in outright speed but in daily challenges that include tracking down a flag of Luxembourg, making clothes for the team out of a single bin bag or convincing a stranger to pose in your car with a bunch of flowers.
The second of the two 2014 rallies starts this week in northern France. In the first event, in June, Mark Edwards, 43, from Chalk, Kent, and two colleagues from Blue Watch at Erith fire station in southeast London raised £6,000 for a local hospice and a sufferer of leukodystrophy, a rare brain disorder, by crossing France in their 20-year-old Ford Mondeo called Balina.
It was bought for £200, with a further £150 spent mainly on WD-40 and body filler. The firefighters, who called themselves the Trumpton Trio, painted the car red, fitted blue lights and a loudhailer and completed the look with a roof-mounted ladder, topped by a lifesize fireman mannequin.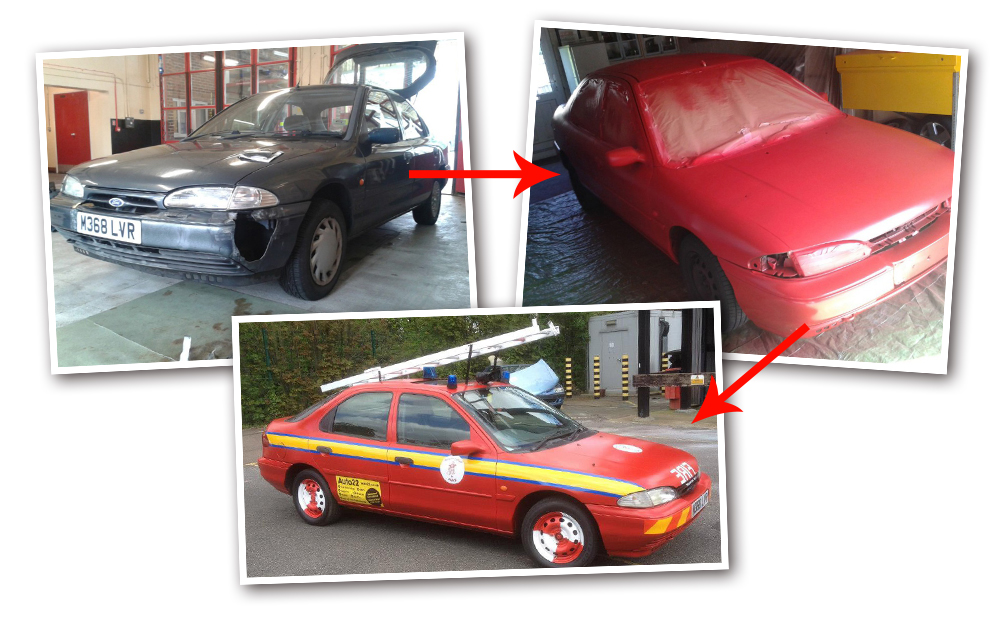 "It looked good but there were quite a few problems," says Edwards. "The wiring loom had broken down so we had to rig up a switch to turn on the fan when the engine needed cooling. There was also a problem with the rear axle — when we got into crosswinds, it felt like the back of the car was going to overtake the front, so we had to slow down to 35mph.
"But it was a great experience. We convinced a stranger to pose in our car with a bunch of flowers to get some bonus points, we got lost because of the faulty eBay sat nav and we got soaked by another team with water pistols in traffic. We couldn't do anything because we didn't have air-conditioning and needed to keep the windows down.
"When we got to Monaco, we did a lap of the grand prix circuit and overtook a Ferrari. We stopped outside the casino next to a supercar and thought that the concierge was going to move us on but he asked for a photo with us.
"We had the blue lights on for the photos and forgot about them when we pulled away: we were stopped by an elegantly dressed policeman, who said that only emergency services could use blue lights. I said, 'It's OK, we're firemen', and he said, 'For you I'll make an exception.' We also put the lights on at the border crossing from Switzerland to Italy and the border guards moved aside. We weren't expecting that."
Edwards and his colleagues, Lee Burnett and Pete Cochrane, were also flagged down by competitors whose cars appeared to be billowing smoke. But it wasn't their firefighting skills that were needed. The drivers were more interested in their supply of Radweld to seal steaming radiators.
"We got stuck for 40 minutes when our car overheated too," says Cochrane, 51, from Welling, southeast London. "We were in traffic and forgot to switch the cooling fan on. We were wearing togas and were walking around Luxembourg asking people for water."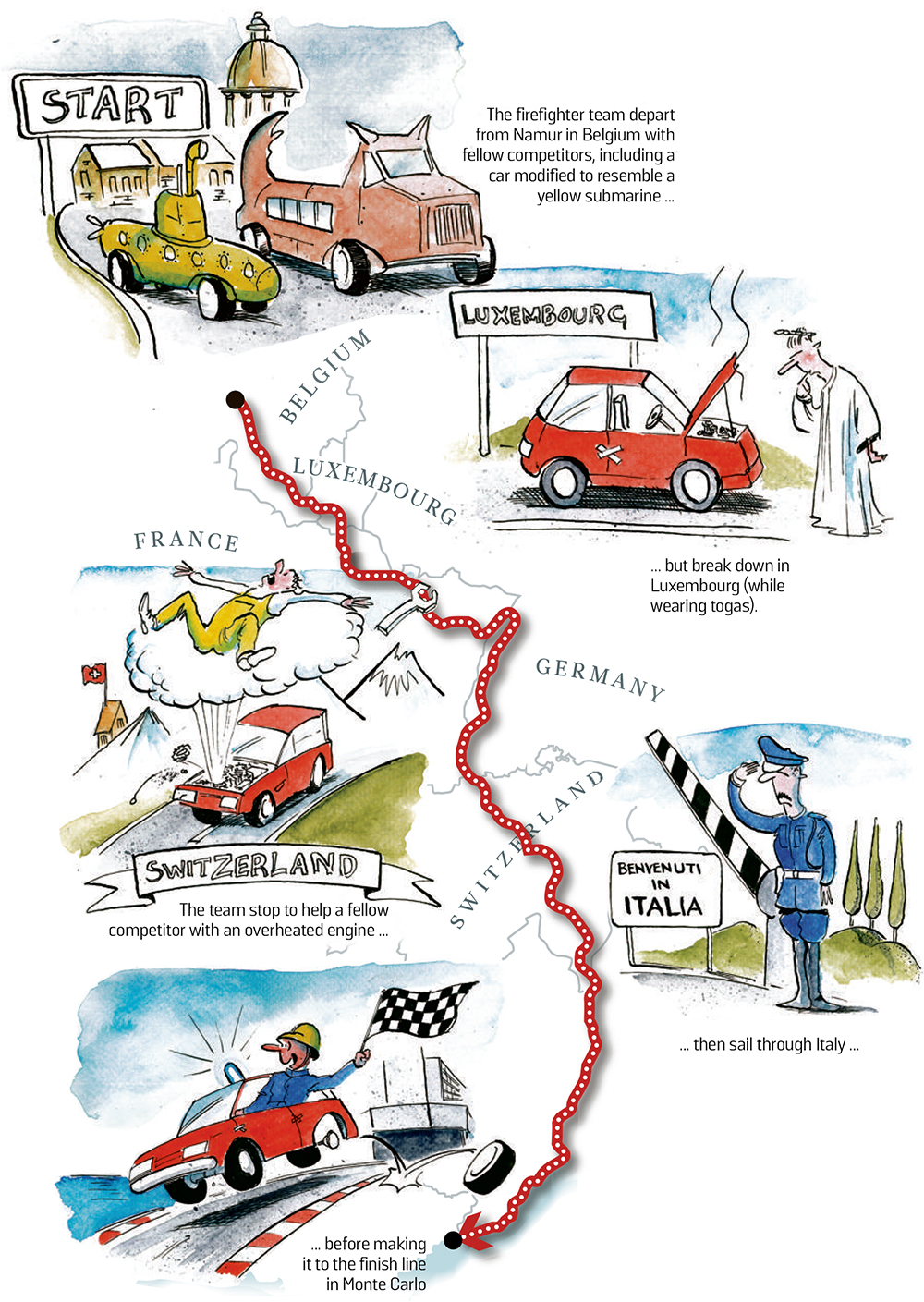 Despite the Trumpton Trio's best efforts, the firefighters finished second behind an all-female team in a yellow Renault Mégane, decorated to look like the yellow submarine. "We love the challenge," says Kathy Deakin, 50, one of the victors. "But it's like being part of a big family. Everyone helps each other out and has fun. The sight of all the cars going through Monte Carlo is surreal — everyone is looking at you."
The Monte Carlo or Bust rallies are an antidote to hedonistic supercar events such as the Gumball Rally and Cannonball Run. By contrast, "Bust" gives rusting wrecks a final hurrah before they are crushed, competitors get a chance to drive some of Europe's best roads and good causes benefit from sponsorship.
"We want as much fun built in as possible," says Simon Johnston, the organiser of Bust events, which raise about £100,000 for charities each year. "We're sending people to places they wouldn't normally go if they were going on the 'A to B' route, which don't show up in your normal Lonely Planet.
"You've got to have a strong sense of adventure and a sense of humour. We had a team of ladies who changed into tinfoil bikinis at the roadside [the challenge was to make swimwear from foil]. As they did this, some Italian police stopped to see if they needed some help and got quite a view: they were red for a few days after that."
While the ladies changed into tinfoil bikinis at the roadside, some Italian police stopped to see if they needed some help. They got quite a view
Johnston is preparing to lead another trip on Friday, when the second Bust event — which is sold out — leaves for Monaco, this time heading through the Champagne region and across the St Bernard Pass in the Alps.
"People are seeking to emulate the Top Gear challenges," says Johnston. "There is a decent mix of men and women, which helps keep everyone well behaved, and we carry out random breath-testing to make sure competitors are in a fit state to drive in the morning.
"We try to make sure there's enough time to socialise afterwards, but it's surprising how many people will quite happily check in and then go to their campsite or their hotel [competitors organise their own accommodation] and don't want to go crazy or explore the town. They are doing it purely for the driving experience."
At the end of the trip competitors are given a list of scrapyards at which to deposit their car to save them the trouble of driving it back. But, unable to part with Balina, the firefighters drove their — by now limping — car back to Britain in convoy with Deakin's yellow submarine. Progress was slow: the Mondeo needed topping up with oil every 30 minutes and the yellow submarine, inevitably, was leaking water.
You can donate to the Trumpton Trio's causes at montecarlo4maia.weebly.com
---
Time to upgrade the old Mondeo? Find one at driving.co.uk
---
Scrapheap challenge
Get a car with a manual gearbox: automatics can seize up and cost more to repair.
Remember the people and luggage you will be taking: people still turn up in Nissan Micras and are surprised at the squash.
Get an MoT even if the car already has one: you want it to be as roadworthy as possible.
Carry as many spares as you can. You may need them.
Tell people the trip is for charity: it may help with negotiations when you are buying or repairing the car.
---