Midas touch: Porsche's new 911 Turbo S Exclusive Series is going for gold
Just 500 to be made
SOME PORSCHE fans believe that everything touched by the engineers at the German sports car company turns to gold. In the case of the latest performance machine, someone's definitely got the Midas touch; the new high-powered, limited edition version of the 911 Turbo looks like it's going for gold.
Called the 911 Turbo S Exclusive Series, its specification is more exciting than its derivative name suggests. This is the most powerful Porsche 911 Turbo yet – and just 500 lucky drivers will get to tuck one up in their garage, ready for a Sunday sunrise blast.
Its 3.8-litre, twin turbo, flat-six cylinder engine has been tuned to produce a stomch-spinning 599bhp at 6,750rpm. That's 27bhp more than the regular 911 Turbo S, and more than two and a half times as much oomph as a Golf GTI.
---
Browse NEW or USED cars for sale
---
However, the engine's torque remains unchanged, at 553Ib ft at 2,250rpm. Also unchanged is the car's acceleration to 62mph, which takes 2.9 seconds, and the top speed, which is 205mph.
Drivers who take the car to a racing track may struggle to notice the fact that Porsche claims the Exclusive Series can accelerate faster from 0-124mph, by just three tenths of a second, compared with the standard Turbo S.
The real difference is the sports car's appearance. When finished in metallic gold paint with contrasting black stripes on the bonnet and roof, it features wheels in a complementing black and gold colour scheme.
The roof, bonnet, parts of the rear spoiler and the side skirts are made from carbon fibre. Inside, there are lashings of carbon fibre trim that feature a golden thread within the weave, while the leather seats and dashboard come with golden stitching.
By using two layers of performated leather for the seats, with golden stripes on the inside layer, Porsche's designers have come up with go-fast stripes that are relatively subtle. A plaque on the glovebox designates the number of the Exclusive Series.
Beneath the surface, standard equipment includes Porsche Active Suspension Management, Dynamic Chassis Control and a Sport Chrono package, which allows for adjustment of the suspension.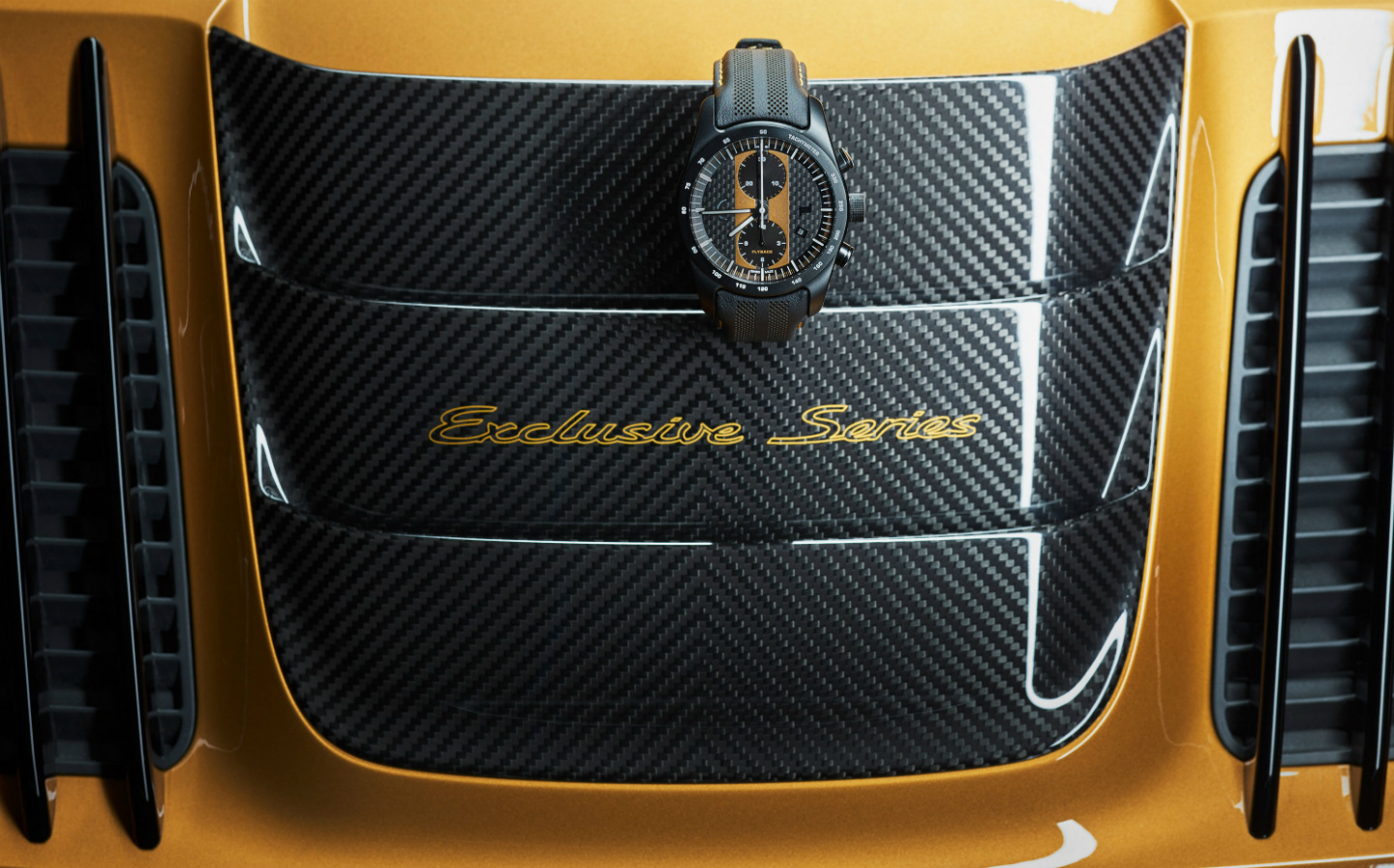 At the time of the car's launch, Porsche was offering its fans the chance to take part in a live stream, which used two robots to give viewers a video tour of the new Exclusive Series inside the Porsche museum, in Stuttgart.
That may be as close as most drivers get to the special edition model. Especially when you consider it costs £186,916.
And if you like the car so much that you'd appreciate the opportunity to wear a chronograph watch that's styled to reflect the 911 Turbo S Exclusive Series, Porsche will sell you one (of 500, naturally) for £8,700.