Me and My Classic Motor: Volkswagen Beetle
Emily", a 1978 Volkswagen Karmann Beetle cabriolet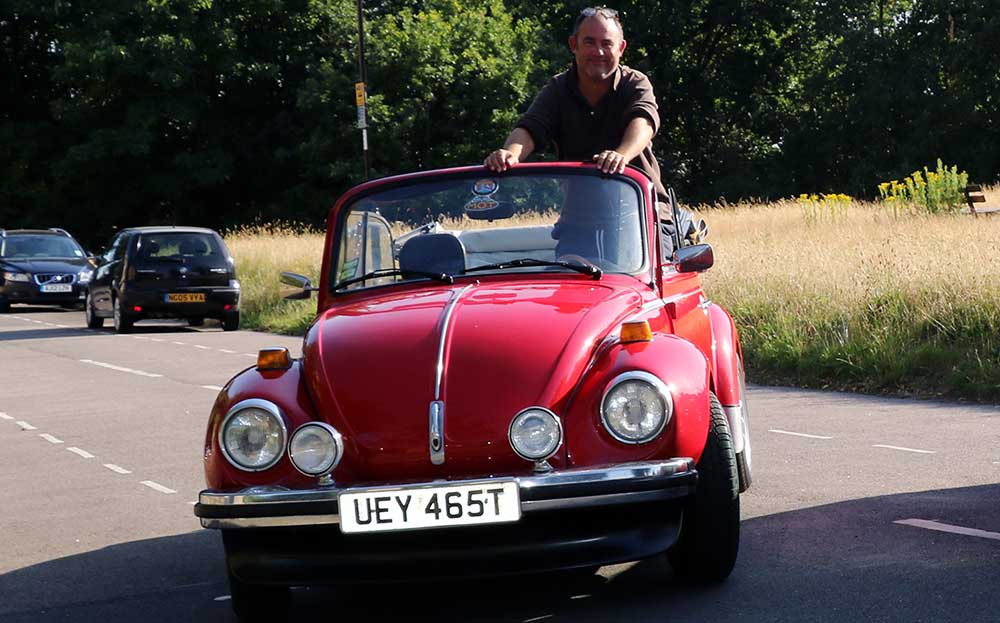 ONE DAY in the summer of 2006 I was perusing the online classified ads when I stumbled upon "Emily", a late-1978 Volkswagen Karmann Beetle cabriolet in Tornado Red with a white vinyl roof. Being slightly apprehensive of buying high-value items online, I decided to ring the seller to find out as much as I could about this car.
Emily was owned by Stan, a retired VW mechanic in his seventies. It had arrived in Britain from Florida, a solid but rather scruffy American import. Stan had been looking forward to a project to "fill his time" when he retired, but closer inspection revealed the full extent of the work needed to get Emily back on the road.
---
Search NEW or USED cars for sale on driving.co.uk
---
The floors were totally shot, so Stan cut the panels out and replaced them. When the body was stripped back, it was clear the car had received a hit from the offside that had bent the B-pillar and door by a fair amount. The damage was carefully ironed out using a hydraulic ram. A large dent was also removed from the bonnet and the running boards were replaced with German originals. Most of the chrome was renewed, apart from the bumpers, which funnily enough were in good condition.
Now it was time for the mechanics. The original fuel injection was junked and replaced with Weber twin carburetors. New pistons and barrels were fitted, along with new valves and a replacement head and big end shells, allowing the engine to run as it should.
More TLC was dispensed on the interior and a respray in original VW Tornado Red made the car look as good as new. When it was ready for its MoT, it passed first time. Stan and his wife had many a pleasant excursion in the car, which even won three show awards and featured on the cover of Total VW magazine.
Sadly, Stan had got to the point in his life where he could no longer care for the car as well as he wanted to, so he put it up for sale. After I got in touch and he had explained the car's history to me, I offered him a "buy it now" price of £5,500, which he accepted. He was keen for the car to go to another enthusiast rather than to someone who just wanted to sell it on for a profit.
I've owned Emily for nine years and have tried to keep her as authentic as possible. I've added new Empi wheels, a Kamei front spoiler and a wooden steering wheel and gearlever. My next job is to replace the foldaway roof. I'm keen she should have an original Sonnenland one in a deep red.
I'm pretty sure Stan would be happy with what I've done with Emily. He may not be able to enjoy her any more but I think of him every time I drive her, and his hard work and craftsmanship live on.
Mark is involved with the OnBlackheath festival (onblackheath.com) in southeast London (September 12-13)
Tell us about your classic motor
If you own a classic motor and have a story to tell, let us know about it viaclassic@sunday-times.co.uk, or write to Driving, The Sunday Times, 1 London Bridge Street, London SE1 9GF. Please include photos of the car as well as your contact details.