LCCS 2015: Who and what to see at the London Classic Car Show, January 8-11
Magnificent men and their flying machine
---
Published 15 December 2014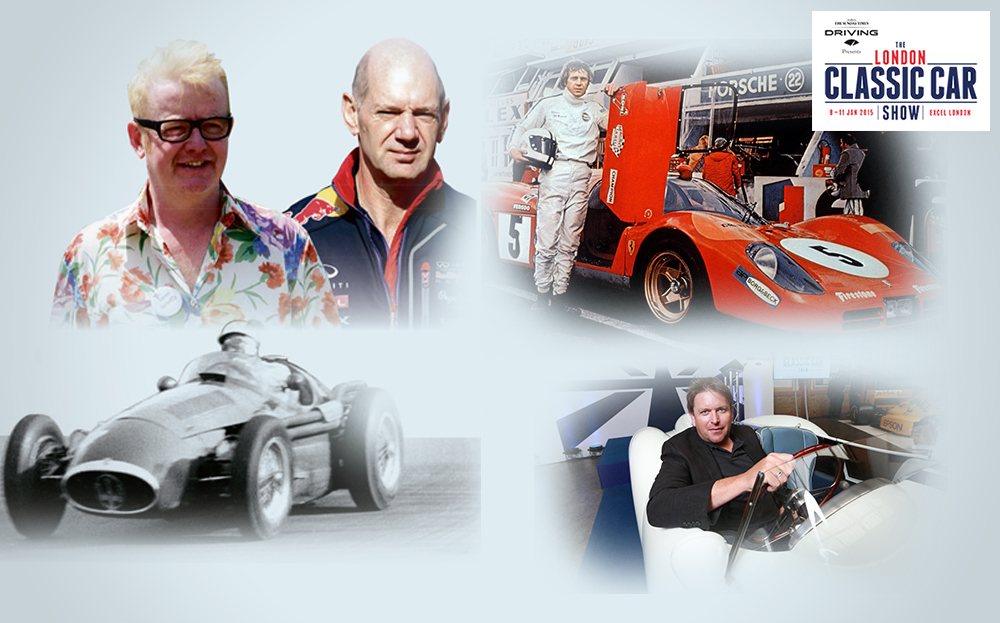 DON'T MISS these highlights at the London Classic Car Show 2015, and scroll down for the opening and closing times.
---
Get £5 off tickets to the London Classic Car Show 2015 (Jan 8-11)
Click here and quote discount code LCCS25
---
Chris Evans and Adrian Newey with the Red Bull RB6 F1 car
Chris Evans, the DJ, owns some of the world's most desirable classic cars, while Adrian Newey, Red Bull F1's chief technical officer, has designed some of the world's greatest racing cars. Evans will find out what makes the motor designer tick in a live Q&A on Thursday, January 8, surrounded by some of Newey's most successful F1 racing cars, at the Adrian Newey tribute area.
Maserati 250F
Want to know what a Maserati straight-six sounds and smells like? The Grand Parade features 40 of the most desirable classics of all time roaring up the signature road (or pottering, in the case of some vintage models).
Steve McQueen and Ferrari 512 Le Mans car
Brits have been making the pilgrimage across the Channel to Le Mans ever since the first 24-hour race in 1923. Now Le Mans comes to London, and one of the star cars is the Ferrari 512 that appeared in the Le Mans movie alongside Steve McQueen.
Michael Schumacher's Benetton B193 (1993)
The Motor Sport Hall of Fame celebrates the achievements of Michael Schumacher as well as the Benetton B192 that put the German driver on the map, powering him to his first victory at the 1992 Belgian Grand Prix.
James Martin and some grub
Grub's up! James Martin loves classic cars nearly as much as he loves cooking, so it's no surprise that the chef has given a motoring theme to the food served at his Classic Cafe. A sausage sandwich deep-fried in Castrol engine oil, anyone?
James May
Captain Slow has chosen his most significant classic cars of all time. if you don't agree, argue your point on Thursday when May will reveal his 13th, winning car at the show.

London Classic Car Show timetable
THURSDAY JANUARY 8
5.30pm Show's preview evening opens
7pm James May reveals his Cars That Changed the World
7:30pm Chris Evans Q&A session with Adrian Newey
8pm Classic car parade on the Grand Avenue
FRIDAY JANUARY 9
10am Show opens
11am & 6pm Classic car parade on the Grand Avenue
7.30pm Show closes
SATURDAY JANUARY 10
10am Show opens
11am & 4.40pm Classic car parade on the Grand Avenue
6pm Show closes
SUNDAY JANUARY 11
10am Show opens
11am & 3.40pm Classic car parade on the Grand Avenue
5pm London Classic Car Show 2015 closes
The show is at ExCeL London and is free for children under five, £15 for children up to 16 and from £20.50 per adult. A family ticket for two adults and three children on Sunday is £52 (all tickets subject to £3 booking fee).
More info: thelondonclassiccarshow.co.uk / 0844 854 2018.
London Classic Car Show 2015 preview