Interview: Jenson Button on his magic bullet for success
The 2009 F1 world champion on Top Gear and staying fast at 35
---
Published 27 November 2015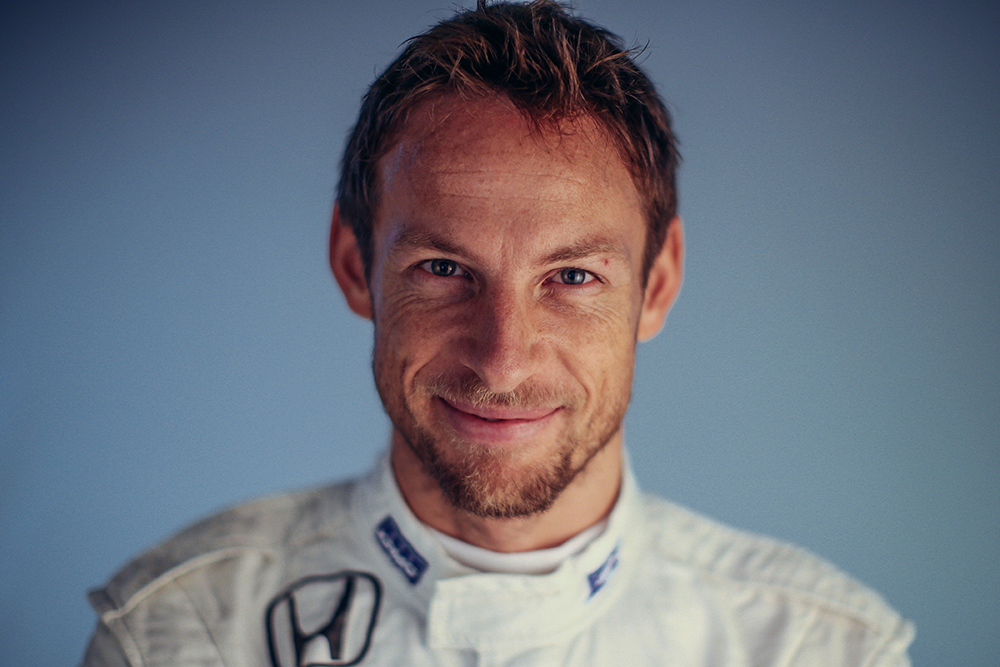 WHEN JENSON Button takes the Formula One grid on a Sunday, it isn't just his car that's running on high-octane fuel.
---
View NEW or USED cars for sale on driving.co.uk
---
Each morning the McLaren driver wakes up to a "bullet coffee": a blend of espresso, butter and coconut oil that's the latest fad in trendy Silicon Valley coffee shops and the pick-me-up favoured by Harry Styles of the pop group One Direction.
It's part of a strict diet designed to keep the Button lean, keen and competitive at an age — 35 — when most drivers would be hanging up their F1 helmet. Some of his rivals are just half his age, such as the 18-year-old Max Verstappen of Toro Rosso.
After getting married last winter, and having spent a season watching the leaders lap him, Button had been hinting at a move into sports cars. Many predicted this would be the Monaco-based Briton's final year in F1.
The rumours grew throughout the summer. McLaren had the choice of two highly rated young hotshots in Kevin Magnussen and Stoffel Vandoorne, and Button was being linked to the new version of Top Gear being put together by Chris Evans. Few would have bet on the 2009 world champion retaining his seat, let alone (reportedly) doubling his salary, but on a sunny morning at McLaren HQ in Woking a cheery Button explains why he's still at the top of his game as he talks about leaving this year's disastrously slow car behind and preparing for his 17th season in the sport.
"I wouldn't have re-signed for next year if there weren't a lot of positives," he says. "I've spent a lot of time at the factory. I've probably spent more time here in the last few weeks than I did even when I arrived at this team. I've been very involved.
"To find ourselves in this position is tough but everyone's stayed strong and focused; there's a real determination, which is one of the main reasons I'm excited for next year."
'I was an absolute boy racer. My first car was a Vauxhall Cavalier. Sports suspension, 17in alloys, speakers in the boot — everything'
As for Top Gear, he says he simply doesn't have time. "I'm still racing in F1, very excited about that, and I don't know about anything else. It takes up my whole year, basically, because you've got to focus 100% on getting the best out of yourself, the best out of your team, and there isn't really a lot of time for anything else."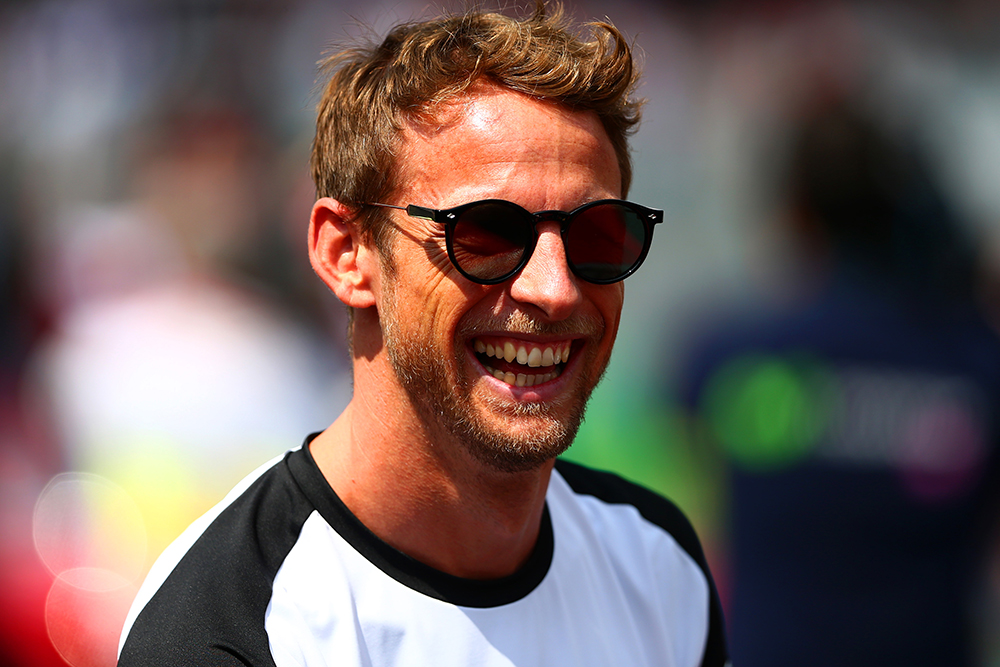 Several days after the interview, it emerges that there is, in fact, time to go to the Top Gear test track and drive a lurid green limited-edition McLaren 675LT, in which he and Evans are spotted giggling as they race around.
It's no surprise that Button took the chance to film for Top Gear: he is the past owner of a Bugatti Veyron and a Honda NSX Type R. He currently has a McLaren 650S and a P1 hypercar in his garage.
"I was an absolute boy racer," he says. "My first car was a Vauxhall Cavalier, 2-litre injection. I remember de-badging it, putting on some 17in alloys, because 17in alloys then were, wow, they were massive back in the day, and sports suspension — lowered. Speakers in the boot — everything. I absolutely loved that car. I had it for a year and a half. I was well into making a car my own more than anything else because I didn't ever think there was anything out there that looked cool enough."
Naturally he's enthusiastic about the Honda Civic Type R he borrowed this summer from his team's engine supplier, but behind his suave, joky exterior you suspect that there's a genuine car geek itching to get out. "I saw the times of the car around the [Nürburgring] Nordschleife, which are just outrageous. It's quicker than a Porsche [911] Turbo," he says. "Did you know that?
"I don't get to enjoy [road] driving much, so it's exciting when I get in something that's fun to drive. A lot of cars you drive now have paddle shift and you don't feel as connected as I used to. Having the manual gearbox is good fun."
You don't often get the sense that you are talking to the real Jenson Button. Hit with accusations of being a playboy in his early years at the Williams and Renault F1 teams, Button seems guarded and acutely aware of how any answers he gives might be portrayed in the media.
"People think that we're playboys," he says. "Racing drivers just are not. I mean, James Hunt was probably the only guy. I was called a playboy when I was 20 years old because I was seen at parties after races, but I wasn't a playboy. You've got to enjoy it because you don't know when the next good times are going to come. After a win, of course you party with the people who made it happen. You could just be in a local restaurant down the road, but you'll have a good time."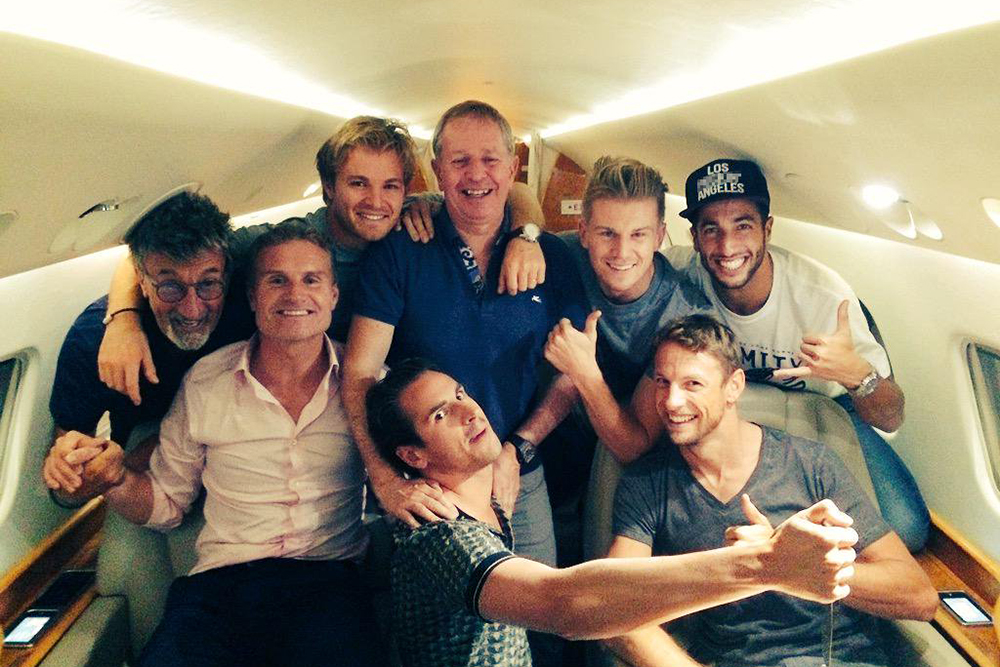 He appears tense when asked about a recent picture (above) tweeted by the Red Bull driver Daniel Ricciardo after the Russian Grand Prix, showing himself and Button alongside their fellow drivers Nico Rosberg and Nico Hulkenberg as well as the TV commentators Eddie Jordan, Martin Brundle and David Coulthard. He says that the drivers simply pooled together to hire a jet so that they could avoid a complicated set of transfers on their way home to the south of France. Like a road trip, then, with everyone chipping in for fuel?
"Well, they don't come on board if they don't have the cash," he says. Further attempts to find out what goes on when you mix F1 stars, a private jet and hours of free time fail miserably.
"It's private; it's private time," he says as we fire questions such as which driver likes to party the most, or who forgets their cash for jet fuel.
'Paula Radcliffe slaughtered me in the London marathon. That shows there's no excuse for women not to be in an F1 car'
Button says he rarely spends his free time with other racing drivers and still has the same group of friends that he made at school in Frome, Somerset. He gives few clues as to how he relaxes, although the mask appears to slip when the Channel 4 soap Hollyoaks is mentioned. Its stars are not well known for their acting prowess and Button demonstrates a suspiciously good working knowledge of the show. "That's not a real show, is it? They're all taking the piss: they can actually act," he jokes.
But when asked whether he kicks back and catches up on the soap after a long race weekend, Button suddenly denies all knowledge of the show: "I don't even know what that is," he protests. Er, right.
Whatever he watches on TV, it's obvious that Button looks forward to getting home to Monaco after the hubbub of an F1 weekend. "Where I live is great," he says. "I can get into the mountains, get away from everything … so much time to think. So much goes through your head at that moment in time, you know? There's no traffic either, so there's no noise. It's a lovely place to be, compared with my job, which is madness and loud."
Despite the glistening metal in his garage, he normally leaves his cars at home and takes his 106bhp road bike, a Honda CBF1000F, riding behind an anonymous helmet, a technique adopted by other celebrities including Prince William. There's only one problem, he admits: it emphasises the fact that he's growing older. "It's not very good for your hairline, wearing a helmet," he says.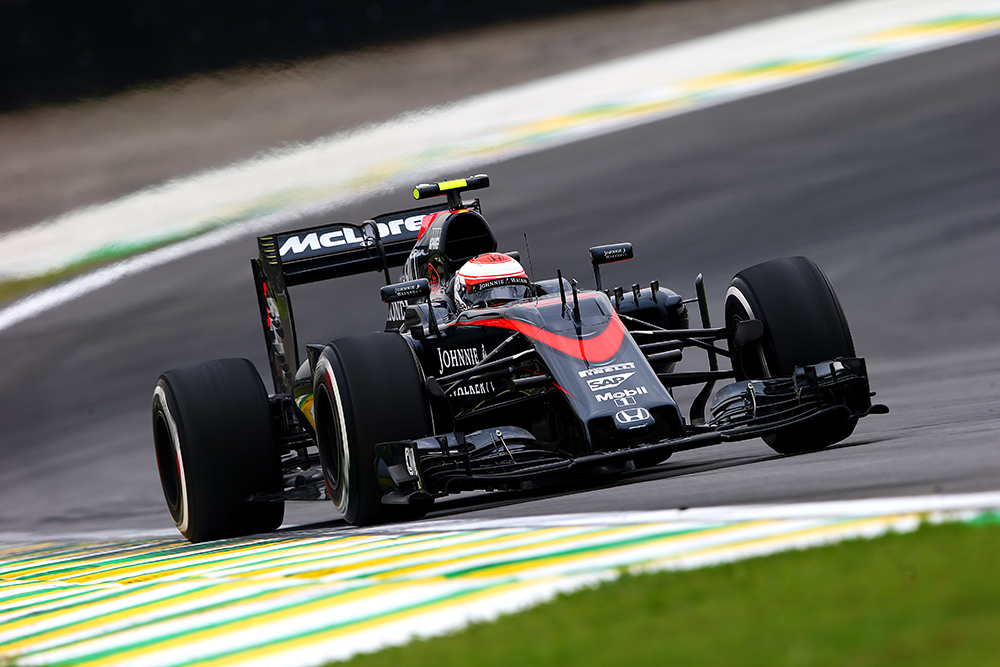 On track Button aims to be less anonymous next year: he hopes development over the winter, particularly of the Honda engine, will be enough to push McLaren back onto the podium.
You can't accuse him of shying away from the challenge. Having outscored Lewis Hamilton when the pair were teammates at McLaren between 2010 and 2012,  Button says that he's now enjoying duelling with his current teammate, the two-time world champion Fernando Alonso.
"It's a massive challenge because he's very talented and very quick and very intelligent, so every weekend is exciting," says Button. "Even if you're racing at the back you're still fighting against him."
So far this season he has scored more points than Alonso: 16 to the Spaniard's 11. It's difficult to compare the drivers, given the abysmal reliability record of the McLaren car, but Button's pace and fine judgment in changeable weather are still highly respected in the paddock.
Not that he's taking it for granted. Button is going to great lengths — right down to his meticulous diet — to keep himself in top form now that he's in his mid-thirties. Although he does point out: "You know that's not very old, right?
"I started [my regime] about three or four years ago, and I went down to 6% body fat in two weeks by not having carbs with breakfast [up to 20% body fat is normal, according to the Royal College of Nursing].
"First thing I do before I eat anything, I have half a litre of water and then a cup of black coffee with coconut oil and a bit of butter.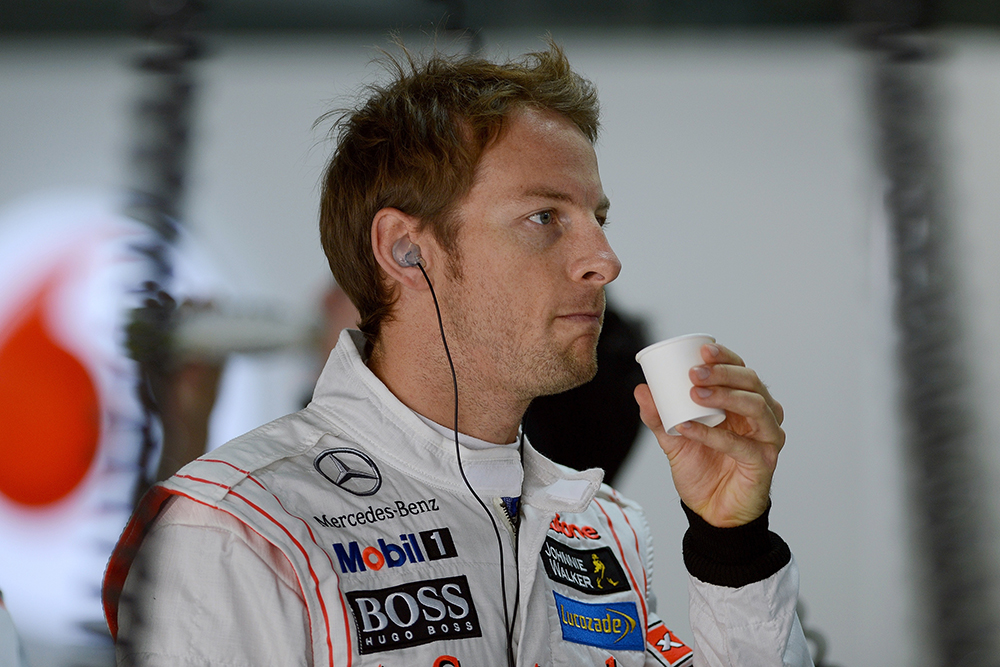 "I'm probably going to the loo straight after that, and then I come back for breakfast: protein and no carbs. Yesterday morning I had a beefburger with an egg on top.
"You go to an event and they think, 'He's a racing driver — he wants to eat pasta.' That's the last thing I want to eat. I eat carbs like sweet potatoes, quinoa or brown rice. I'll never have a dirty carb like pasta."
The diet, Button admits, is "not cool", but he's not beyond setting ambitious goals in training, as well as the triathlons and marathons in which he and his wife compete. This includes comparing himself with the marathon world record holder Paula Radcliffe.
"Paula's last race was the London marathon," he says. "I was taking part. She hadn't trained for it and she still slaughtered me in the race.
"People still ask me, 'Do you think women can drive F1 cars? Are they strong enough to drive F1 cars?' It makes me laugh, because I could never run a marathon as quick as Paula Radcliffe, so there's no excuse for any woman [not to be] in an F1 car, because it's not physical like it used to be. It's not as physical as running a marathon."
Not that he's volunteering to give up his seat for a female driver. He may be an elder statesman of the sport by F1 standards, but Button already has his sights beyond next season and into 2017.
"There has been a lot of criticism, of the racing and how the cars look on track — from the drivers as well as others," he says. "For the sport in general 2017 is exciting. In 2017 the cars get a lot faster. I think we'll probably be six or seven seconds faster than we are now. It's back to the good old days of 2005 and 2006,  when we had a lot of power  and a lot of downforce. I think we've been missing than in the past couple of years."
No doubt the good old days in Button's mind extend to 2009, when he took the championship while driving for the Brawn team. His millions of fans will be hoping that the return of excitement to F1 will coincide with his comeback to the podium.
---
View NEW or USED cars for sale on driving.co.uk
---