Interview: "We are back," says Honda UK boss Philip Crossman
Driving catches up with Honda head honcho at Carfest North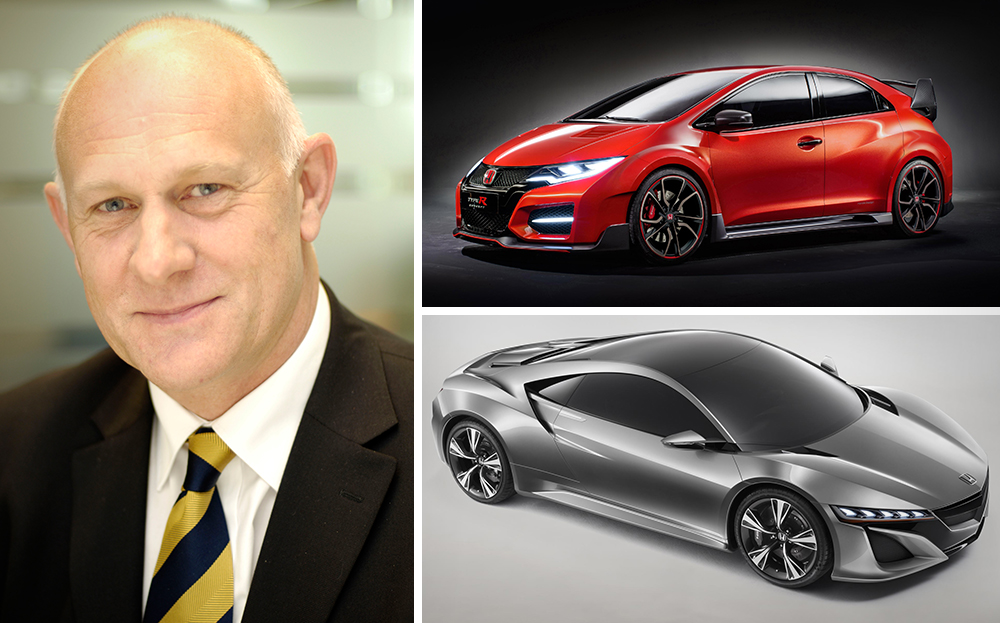 IN TERMS of its cars, Honda has been "dead" in the UK for the past three to four years. Not Driving's words but those of Philip Crossman, the company's managing director.
This frank statement, made during our exclusive interview, is just one of a number of revelations shared by Honda's UK boss. It seems honesty is still one of the company's most appealing traits.
Driving.co.uk caught up with Crossman at Carfest North 2014, part one of radio DJ Chris Evans's double header of family-friendly motoring festivals in aid of Children in Need. The second takes place later this month at Laverstoke Park, Hampshire. For the first time, Honda is a title sponsor of the events.
---
Search for and buy a used Honda on driving.co.uk
---
We began by asking what prospects the upcoming Civic Type-R sport car and NSX supercar (pictured above), due in showrooms next year, have of restoring Honda's reputation for building exciting performance cars.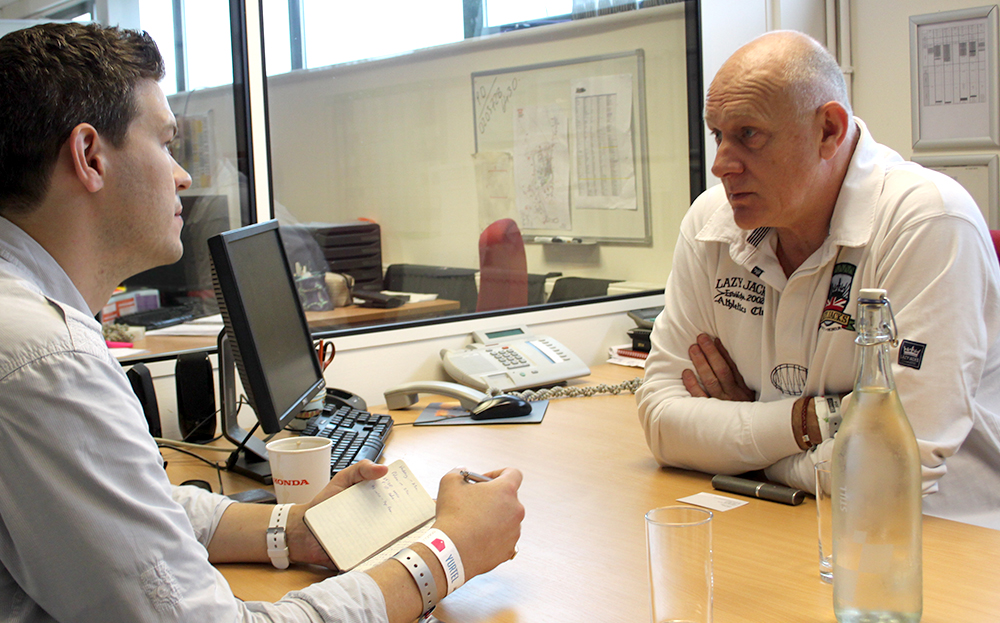 We discussed the not insignificant matter of Honda's return to Formula One next year, too, when it will supply turbocharged hybrid engines to McLaren for the first time since the two companies' almost unstoppable partnership in the late 1980s and early '90s.
We asked whether Honda is still set on hydrogen as the fuel of the future, and we were interested to know what Crossman makes of this summer's hot topic: driverless cars.
Driving: The next 24 months are very important for Honda. What are your hopes for the new Civic Type-R and NSX?
Philip Crossman: Civic Type-R emotionally changes the brand. Particularly for our staff around the world, for our dealers and for our customers it's almost like a little brand in itself. I drove the car two months ago in Tochigi. It is an absolutely awesome vehicle. The engineering that goes into it will be built at Swindon; the same as the 1.4 Civic. It's going to go down the same track. So from that point of view, it's going to be very important for us.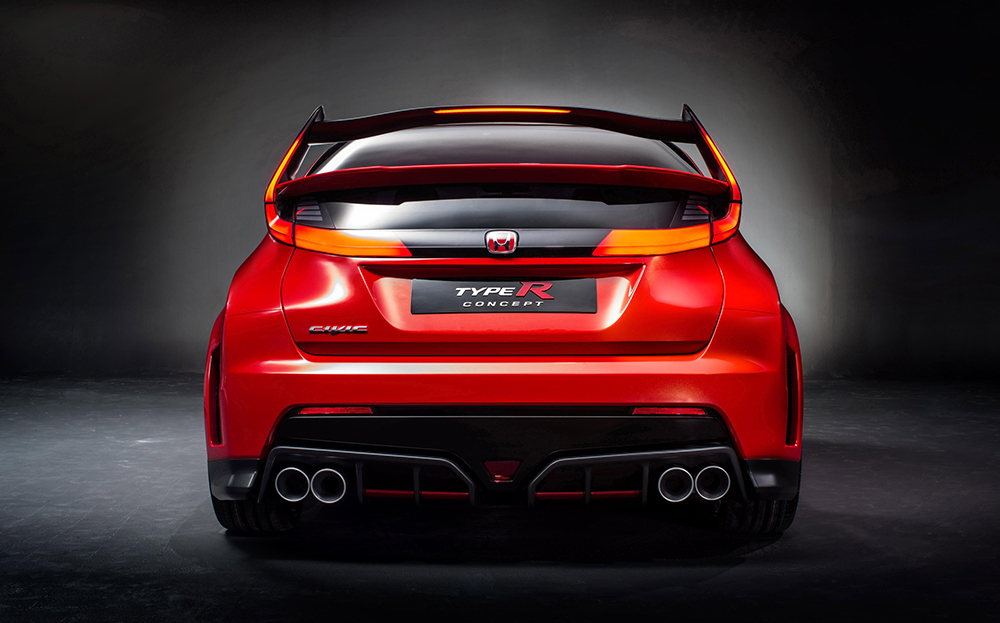 Driving: How many will be available in the UK?
PC: We'll bring it on sale June/July time next year and it will be on sale for probably two and a bit years. I think we'll sell about 3,000 of them – every one we can make – so it's not going to make a huge amount of economic sense to us but as a statement of Honda being back, it's everything we want to say: superb engineering and great dynamics. It will look beautiful, although it may not have the rear wings seen on the prototype.
Probably 50% of the European build will end up in the UK, and I think we've got 800 early orders already. It will have a halo effect on the rest of Honda.
Driving: Likewise the 2015 NSX supercar…
Driving: Again, NSX is not anything to do with making money for us. If we sell 20 a year, that will be it, but the same engineering that goes into this car is the engineering that goes into the Jazz. I think that's what is important for the brand.
It will be a genuine supercar, too. I met with the guy who is running our F1 project at Goodwood – Arai-san [Yasuhisa Arai]. We were chatting about stuff and I asked him, "Have you driven it?"
He said, "Well, of course." And I said, "Oh, alright, what do you think of it?"
He just stared into the distance and said, "Er, probably the best car in the world." And then he wandered off.
These guys are not prone to boasting, and I assume he's talking about it from an engineering point of view being a twin-turbo, three-motor hybrid capable of 60mpg or 120mph, whichever you choose. It's got all the benefits of the old NSX, which you could go shopping in or take to the track.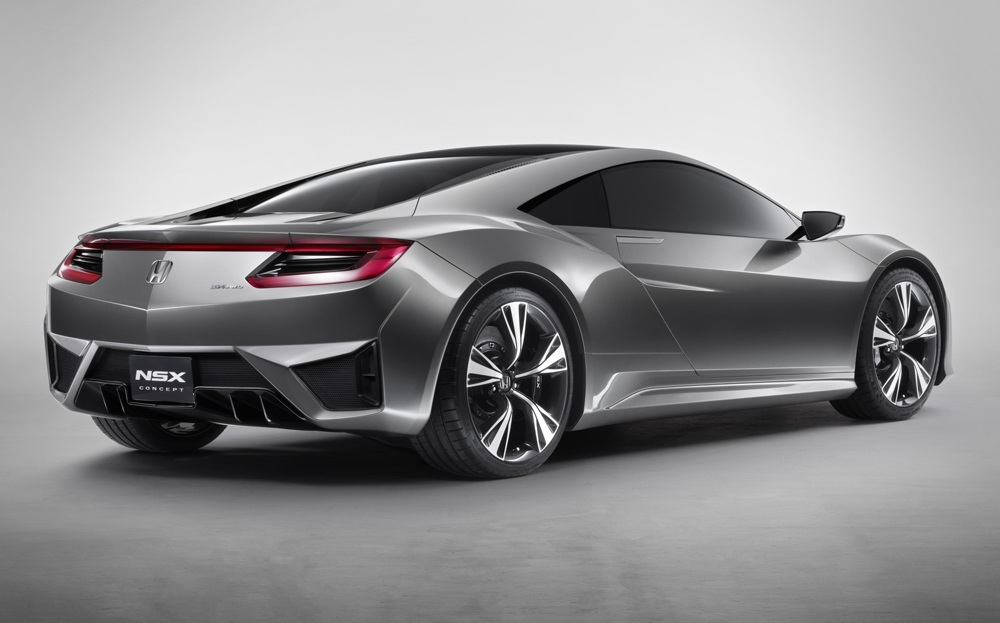 Driving: When will it be available?
PC: It will come to the US next summer. We will probably see the first right-hand-drive cars at the very back end of next year. We've got 80 orders already in the UK. I suspect we've sold out the next two or three years' production.
Driving: Things are looking up, then, but Honda has suffered in terms of public perception. There haven't been many cool cars available to buy in recent years – probably since the company left F1. How tough has it been?
PC: We've never lost it in bikes, I don't think. Power Equipment [lawnmowers, hedge trimmers, etc.] is power equipment and all the stuff there has been very, very strong. It is just cars. Our range has shortened and our cars have not hit the sweet spot with the public the way they did before. The brand has been dead in the UK car-wise for about three or four years. We've gone from having eight cars to effectively three and a half right now, and of course that's tough.
Driving: Why has Honda been on the back foot?
PC: Everybody reacted to the economic crash of 2008 very differently. Our global CEO's view was that we must not damage our markets or our shareholders, and we will make a profit. His way of doing that was to cut research and development.
Many of our competitors decided to lose money, get their governments to fund them and continue with their R&D.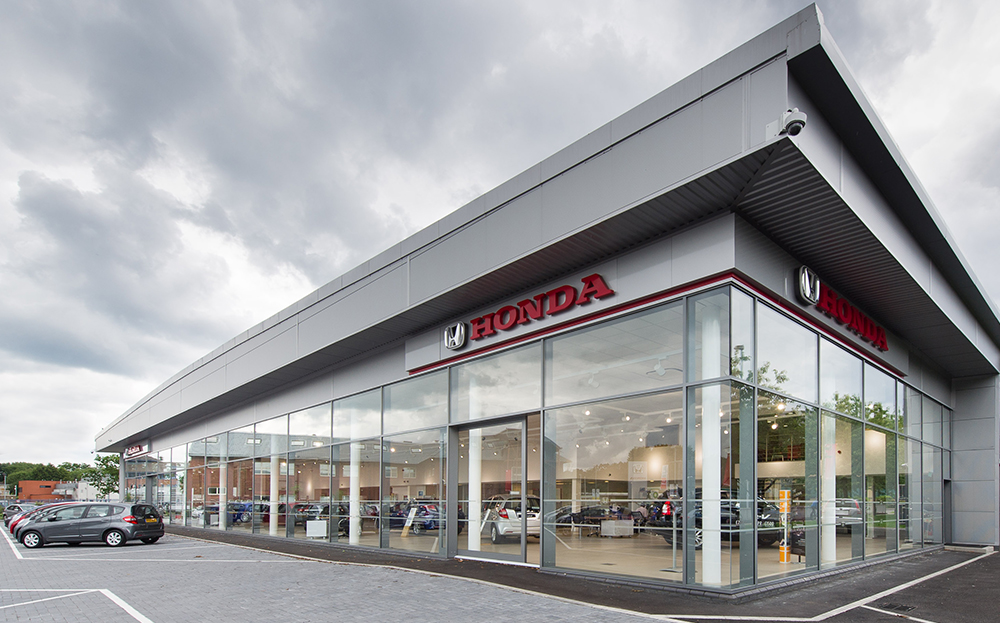 So we've had a product hiatus, I would think, for four years. If you've got an FRV [a people carrier sold between 2004 and 2009], it's difficult to come back to us for a new car of that type. And we haven't had a Type-R, so where are you going to go for your sports car?
Since the upturn, the investment has gone back into R&D very, very quickly. It's $5bn or so, which is one of the biggest R&D investments in the world. Now, finally, it's all coming through next year, so I think we'll be back. Having seen and driven all the product, it will be fantastic. We'll come from not being in the game, to having leading-edge products. We're launching, I think, four cars and two more engines next summer. Four months, which just transforms it.
So I have no worries about Honda being back next year. Keeping everything together this year ‒maintaining our business and keeping our customers interested ¬ ‒ has been a challenge. But pride of association with Honda is huge; people love to be associated with it. Sometimes it's not commercially right but people love being with the brand because it's different. You've seen today we've got kids' bikes, ATVs, lawnmowers and supercars on the track. Very few brands can do that. People just love being with it. It's got a personality and an ethic all of its own.
Driving: Your Swindon factory is a well-managed operation. What cars will be made there in the future?
PC: The Civic Type-R, CR-V and it will continue to be a focus for Civic, which is going to be probably 60% of our sales. In manufacturing Honda tends to take a 5 or 10-year view, so the new Jazz and new SUV won't be built there. When it goes long term, I have no view other than a personal one but I can see it manufacturing Civic maybe even on a global basis.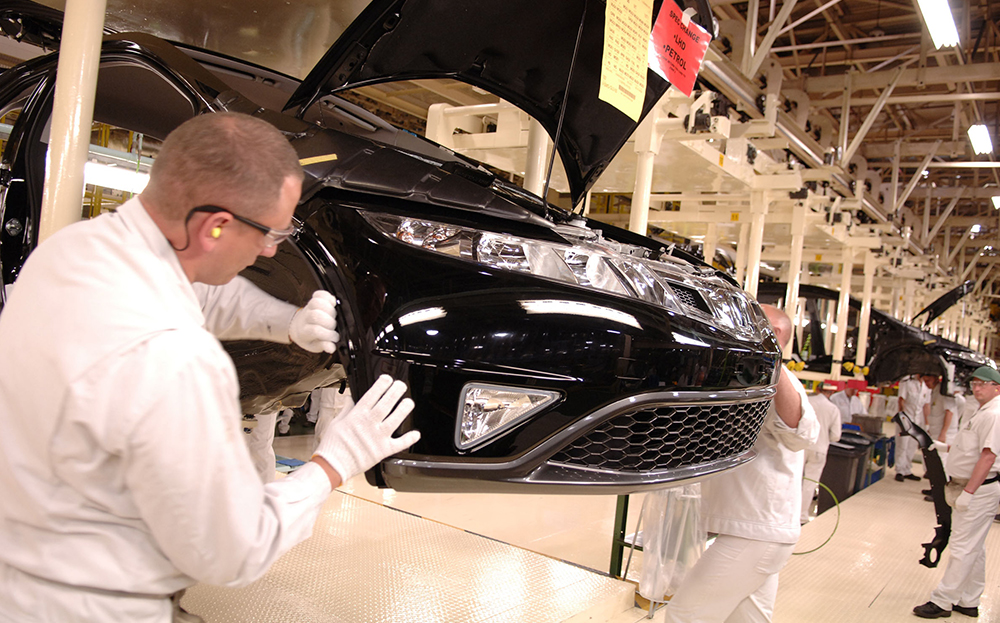 Driving: You're returning to F1 as engine supplier to McLaren next year. Are you re-building ties with the team already?
PC: They're very ethical – they have a relationship with Mercedes – so I suspect their R&D team and our R&D team are talking about next year's car, but in terms of any [marketing] activation between us and McLaren, that will be on hold between now and the end of the F1 season. They have a relationship with Mercedes and we've got to respect that.
Driving: How much of a trickle-down effect is there going to be from F1 to your road cars?
PC: I think there's going to be a lot. The whole engine dynamics [of the market] are changing now. We've got a new range of small petrol turbos coming; we're one of the leading manufacturers of hybrid… The original Honda Insight was one of the first road cars with hybrid technology. That's been bypassed a little in Europe by the advances in small diesels. Long term, whether diesel is the right thing for the world, I don't know.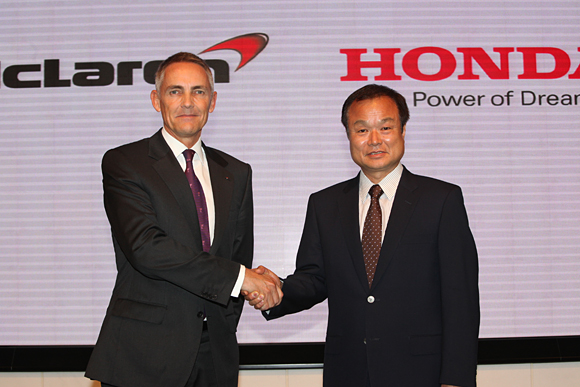 Driving: After persuading us to buy diesel cars due to their low CO2, the government is now trying to penalise them due to the nitrogen oxides and particulates in the exhaust, which are known to cause health problems and even premature death. What's your view on this?
PC: You need to be a little bit careful. Some diesel engines are super clean with very low NOx, and very low particulates. What is galling is when you sit next to an empty bus lane and then a bus will come along churning out this immense amount of nitrous oxide and pollutants. It probably does more damage getting people out of cars and into the old buses. That doesn't fix anything.
Generally, cars are so much cleaner now. The combined output of 100 cars now is probably the same as one 20 years ago. The progress has been phenomenal.
I think our future is in small turbos and to me, we're still dancing around the stepping stones to an inevitable outcome – hydrogen fuel cells.
Driving: Hydrogen is still the way forward for Honda, then?
PC: I totally and utterly believe that. We've got to get to something that is totally sustainable and hydrogen is completely renewable. It's a clean gas, it can be produced from methane or from solar panels.
And we're doing all of this right now. Collectively, as an industry working, we are still working out which way to go, but suddenly hydrogen is popping up with a lot of our competitors and we've just signed a deal with General Motors on it. So the world's biggest engine manufacturer and the world's biggest car maker have signed an agreement to develop hydrogen fuel cells.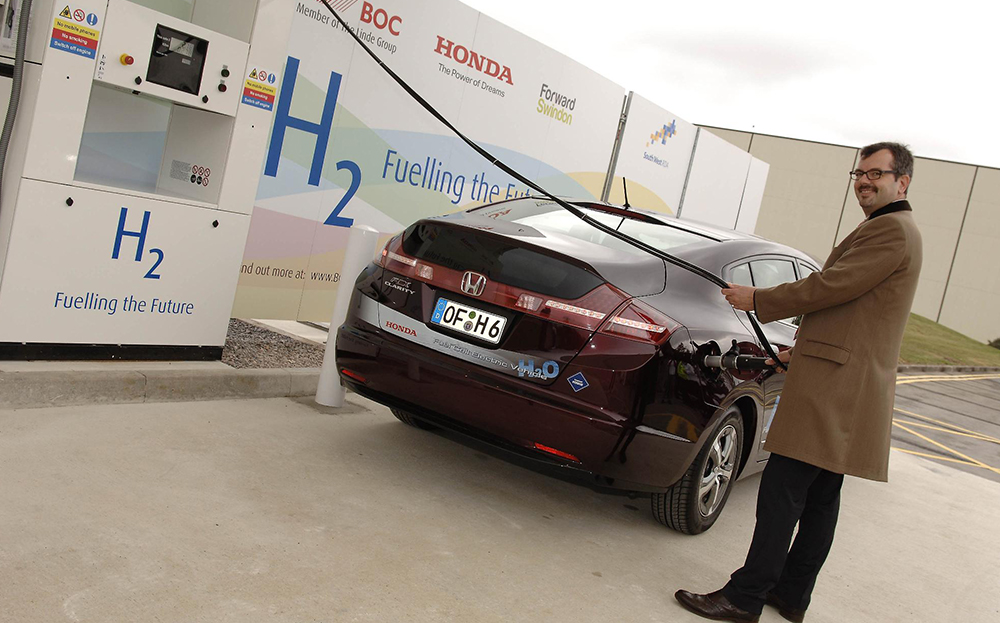 Driving: What about public perceptions? Some people have a love affair with the internal combustion engine.
PC: The thing is, you're trying to change 100 years of culture and you're not going to do that overnight. It will only change when people experience it, so the more people that try it so the balance will tip to a point where people think, "Why on earth have we got a gasoline engine?". It will come.
Driving: Are you in favour of government or industry initiatives to help sell "cleaner" cars?
PC: We're interested in making it easier for people to buy stuff. We wouldn't want the government to give us money to help us develop an electric car. We'd be looking for the government to develop the electric infrastructure, or make it easier for people to buy the car, because it can be very expensive. Really, anything they can do to help people buy and fund electric vehicles, or put in a hydrogen infrastructure, would help us.
Driving: There's a lot of talk about autonomous or "self-driving" cars at the moment. What is Honda's view on it?
PC: The technology of the self-driving car… it's very good for Google to talk about it. I bet BMW, Mercedes and Honda could have produced one years and years ago. The technology is nothing new. In 2004, I took an RAF Tornado pilot down the M4 in an Accord that kept in lane by itself; wouldn't hit the car in front, had decent sat nav.
But if you have around 30 million cars on the road in the UK, how do you put a self-driving car into that? If I wanted to go home tomorrow down the M6 I'd like a car that drives itself, but what about the guy in a lorry who can't drive? You've got to have everyone on the same footing.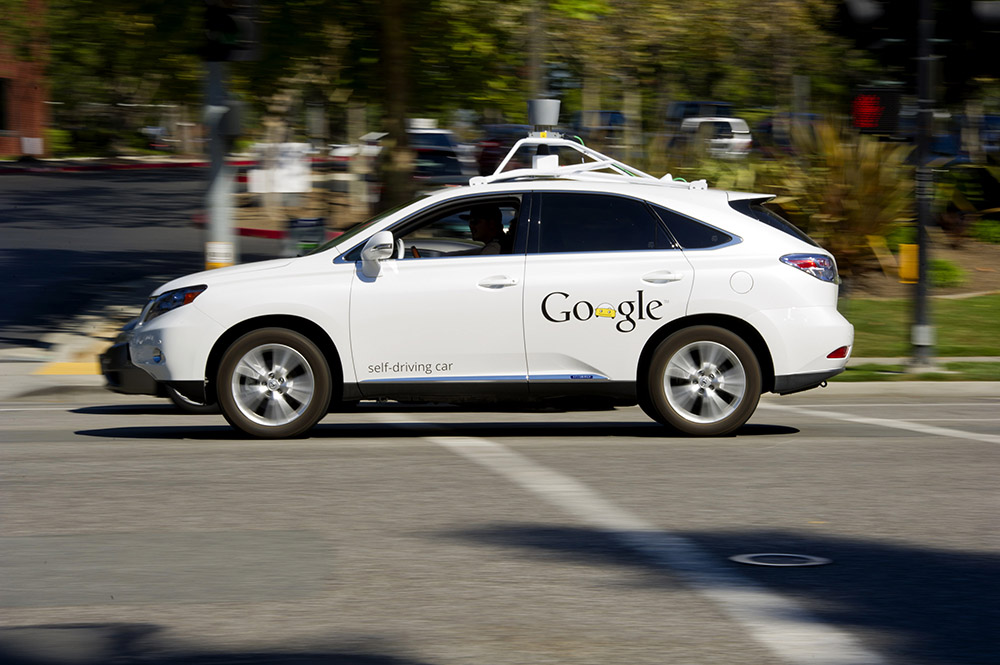 From a manufacturer's point of view, you can make an aeroplane take off and land very easily without a pilot interface, but the psychological thing means we have two or three guys at the front. And if the aviation industry – which is highly specialised – can't bring themselves to do it, I can't see it [happening in cars]. Can you imagine if one of them crashed, especially with modern litigation laws?
From a pure safety point of view, you want it to happen right now because wouldn't it be great if you had something on your car that made people pull out of the middle lane of a motorway into the inside lane when it was clear? And I've parked 10 miles behind an incident just because someone has slammed on their brakes. Of course, people can't drive.
So all of that, I'm an absolute evangelist for. Anything that makes the standards of driving better, and safety better, let's embrace it as best we can. I just find it very hard to say, right now, if people want to have self-driving cars next year, who will be first manufacturer to do it? That will be a very brave move.
Driving: What is Honda's car of the future, then?
PC: Hydrogen power, of course. A fuel cell car that was 90% automatic and which wouldn't crash into the car in front. If you did hit anything, it would keep you safe inside. And absolutely zero emissions, powered by renewable energy.
Why do you need a windscreen; why can't you have a camera with head-up displays projecting turn-by-turn signals and so on. The interface with the car has to be an extension of you – it should be an iPhone on wheels.
Everything that was in F1 10 years ago is on my road car right now. Who'd have thought a car today would have a fly-by-wire throttle? Engine management, stability assist, traction control… it's all there.
The materials we use might be more renewable, the engines will be getting more and more efficient and smaller. The cast-iron V8, sadly, will be a thing of the past.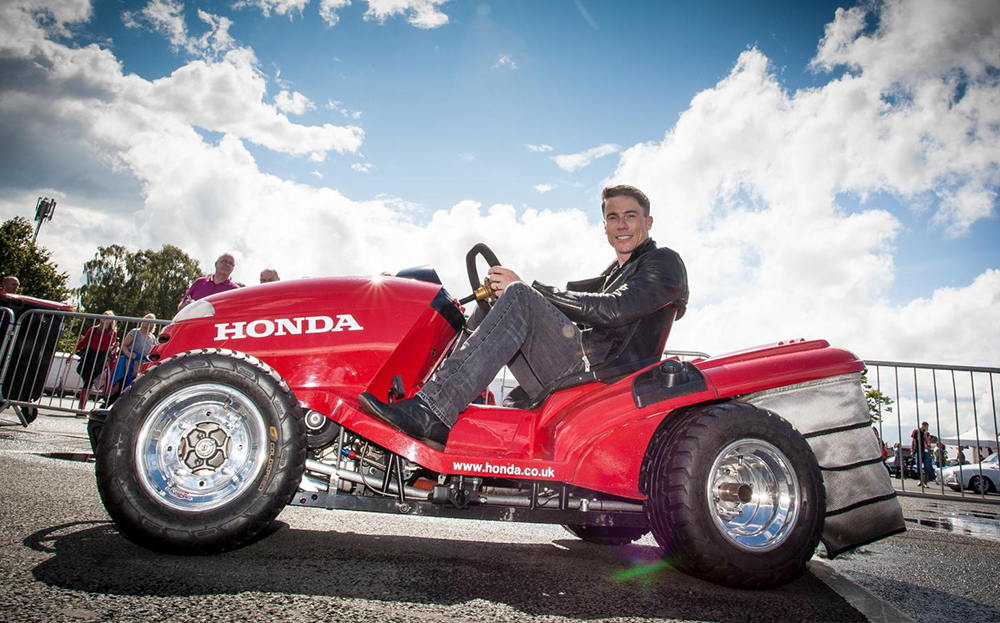 Driving: Why is Honda involved with Carfest?
PC: A number of reasons, really. One, I'm very interested in supporting Children in Need.
Also, we want to be interactive. We want people to experience the product, and that's the great thing about Carfest. We can provide people with experiences no other manufacturer can. So they can race a lawnmower, drive an ATV (All-Terrain Vehicle or quad bike). We've got My First Licence [young motorcycle tuition] here, too. We haven't got a lot on track this time but over the coming months you'll see more McLaren Honda stuff appearing.
---
Search for and buy a used Honda on driving.co.uk
---