Interview: Danny Rogers, the man who invented the Flux Capacitor
Unsung hero of the film world
---
Published 21 October 2015
IT IS one of the most memorable gadgets created for the screen, as iconic as the Tardis or dilithium crystals.
---
Read car REVIEWS or search NEW or USED cars for sale on driving.co.uk
---
The name of the Flux Capacitor is instantly evocative to people 30 years after Christopher Lloyd's madcap character Emmett "Doc" Brown garbled these words at his machinegun pace:
"Yes! Of course! November 5, 1955! That was the day I invented time travel. I remember it vividly. I was standing on the edge of my toilet hanging a clock, the porcelain was wet, I slipped, hit my head on the sink, and when I came to I had a revelation! A vision! A picture in my head! A picture of this! This is what makes time travel possible: the Flux Capacitor!"
The name of the man who really engineered the device is less well known. Danny Rogers is a British film producer who worked as a designer on the Back to the Future films. He humbly admits to being the man who, 30 years ago, came up with the device that made time travel possible.
We chatted to Rogers, 54, at home as his wife rummaged through the garage looking for the original hoverboard prop.
Jonny Smith: How did you start out in the film industry?
Danny Rogers: I was very artistic at school, so when I left in the late Seventies I became a signwriter's apprentice and did pub signs, logos etc. I had a massive interest in film so in 1982 I bought a one-way flight [which cost him £300] out to Los Angeles. I was 21 years old and took a box of brushes, a small bag of clothes and lots of ambition. Got off the plane, walked to a phone box, found the first sign business out of the book — they had phone books then — and called them: LA Signs and Graphics.
Coincidentally it was owned by a British guy and he gave me some freelance work. It was based in west Hollywood, so right near the movie industry. A real hotbed of creativity. Some of my first work was for the LA Olympics in '84.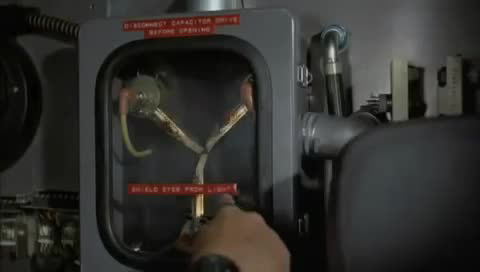 I worked there with a guy called Michael Kilgallon — who literally designed the Jurassic Park logo on the back of the cigarette packet in a lunch meeting — and who ended up being my business partner and kind of my mentor. For years he was one of the highest-regarded Hollywood graphic artists. Michael and I did hundreds of bits together on BTTF 2.
So after the '84 Olympics I progressively did more for film, freelancing for a sign company on the Paramount studios and one in north Hollywood. I worked on Beverly Hills Cop 1,2 and 3, Back to the Future 1,2 and 3, The Golden Child, Coming to America …
I made and fitted all the labels on the DeLorean dash and also some engraved interior panels.
JS: How did the BTTF gig come about?
DR: You'd go to the sign/graphics workshop and collect a brief sheet for each job. This basically described what you needed to sketch for the art director. I think for the BTTF job I was working for a massive company called Earl Hays Press. The brief was to simply 'draw an engine for a time machine' which would be named the Flux Capacitor.
You can come up with loads of options. This one "was meant to have been devised by a lunatic, sketched roughly". I did half a dozen different things. The one I was happiest with featured a triangle, then a square, then a Y that got flipped upside down. At one point it was a V12!
Of course there was no science to it, and the equations were made up! They [the art director's team] photocopied it and took it away. My Flux Capacitor sketch ended up being used, and formed the basis for Andrew Probert's DeLorean prop.
JS: Did you turn your hand to any other BTTF stuff?
DR: I was part of the team that did dozens of bits for all three movies. I designed the final hoverboard. The fluoro pink, yellow and green one. Spent about half a day messing about with a few options on that.
Remember the handwritten notes from Marty to Doc from Lou's Café? I did them. And the 'Enchantment under the Sea' Saturday night dance banner. The Jaws 19 poster. I helped out with The Grays Sports Almanac — I have one with my name on the spine.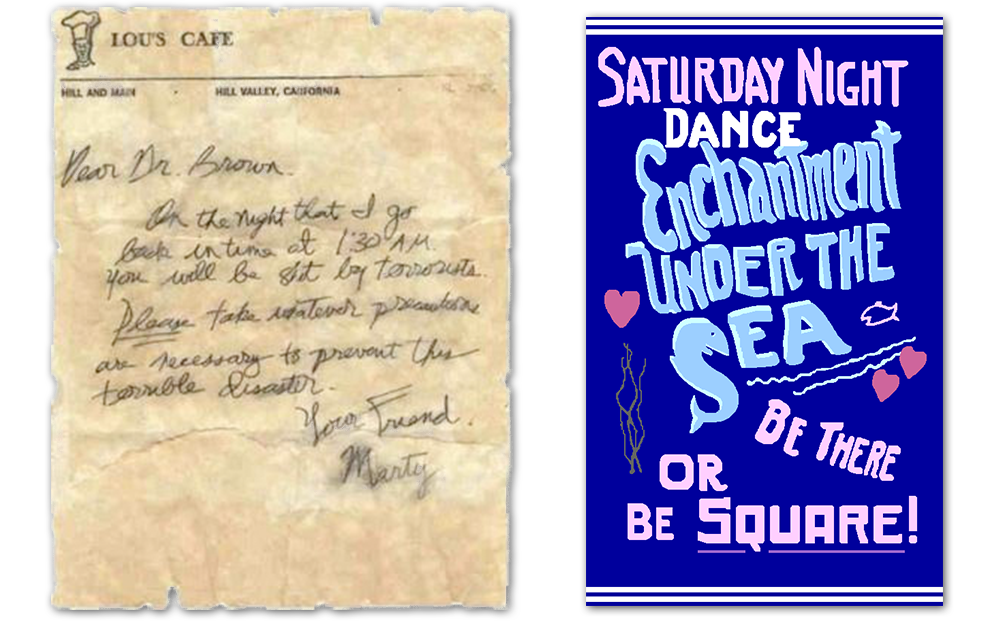 Remember the old newspapers, space magazines and even the saucy adult mag called Oh LaLa? We block-printed and Letrasetted all of those. It was the very beginning of digital sign making; no Photoshop available in the 1980s!
It got to the stage where we'd push our skills and try to stand out, in the hope of getting more work. I just hoped my stuff wouldn't get discarded.
JS: Did you get to go on set and meet the cast?
DR: Yeah, I went on set a few times. I went out of my way to see my work being filmed, which wasn't part of my job remit but it seemed a shame not to, as a boy who grew up in Dagenham! Back then it was one of those jobs where you could spend time on set if you wanted.
I met pretty much everyone in the cast. Met Michael J [Fox] several times. Very nice chap, as was Christopher Lloyd.
Of course, no one knew how big Back to the Future would become. At the time I had no perception that this would become so iconic.
JS: Did you help out with any details on the DeLorean?
DR: As a graphic designer I made and fitted all the labels on the DeLorean dash and also some engraved interior panels.
I remember seeing the boosters in the back because it was only going to have one originally, but everyone said it looked unbalanced.  At first I don't think the time machine was even going to be a car.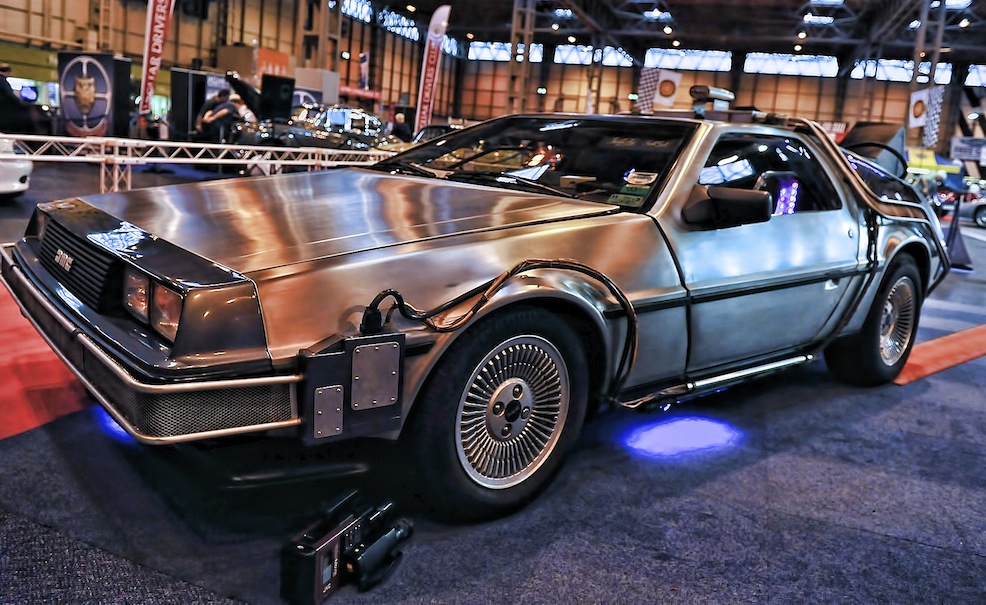 JS: What do you drive: is it a DeLorean? Do you even like DeLoreans?
DR: I'm a car fanatic. Obsessive. When I was 10 I remember wanting so badly to be a car designer. That's all I wanted to be. I went to a secondary school in Dagenham and was told the closest I'd get to a car designer is working at Ford on the production line. "Think of something new, because when you are an adult we probably won't be driving cars," I was told.
I was big into the hot rod scene in the 1970s and early Eighties.
A few years ago I met my hero Donato Coco, ex Ferrari and Lotus designer. I was in awe.
The [DeLorean] DMC-12 never really appealed to me. When I drove one, I was amazed how slow it was. I am a bit of clean freak — a bit OCD — and the stainless finish meant it always got hand print marks, and I couldn't handle it.  I'm a bit like James May, I have to have my air vents pointing the same way.
I've got some friends who have a fully rigged out DeLorean and they are forever being hounded.
I am actually between cars right now so I can't wait to buy something new. I'm a real Jag man at heart; had an E-type and several Mk2s. I owned the E-type when I was 21 but sold it to go to the US. I think I'll get an XK convertible next. I'd like an F-type but I have two daughters.
I have had a couple of Rolls Shadows and Corniches, a Bentley, couple of Ferraris – 348 and a 360. In the states I had a Golf convertible, then Cadillac Sedan DeVille, then a Porsche 930 "slantnose". Hang on, there was a white Ferrari Mondial 3.4 convertible with blue interior – a proper "Cali car" — when white was cool the first time around. Chris Evans would have loved it.
If I was sitting in my office talking to you now, I'd be drawing a car. Probably doodling an E-type. Always a headlamp and bonnet bulge. Always. Wish I hadn't sold my E-Type now. Above the Miura and 250 Lusso it's my favourite all time car.
 The DeLorean never really appealed to me. When I drove one, I was amazed how slow it was
JS: Do you hoard your movie artefacts?
DR: I have quite a lot. My office in Pinewood has a lot, but my wife has banished a lot of it from the house.
[Shouts to the other room] Where's the Hoverboard darling? In the garage?
She's fetching it. I went back to LA to my old office three years ago and found the original hoverboard prop, so brought it home with me.
[Clattering sound, then Rogers' wife brings it in: "It was under your new leaf blower."]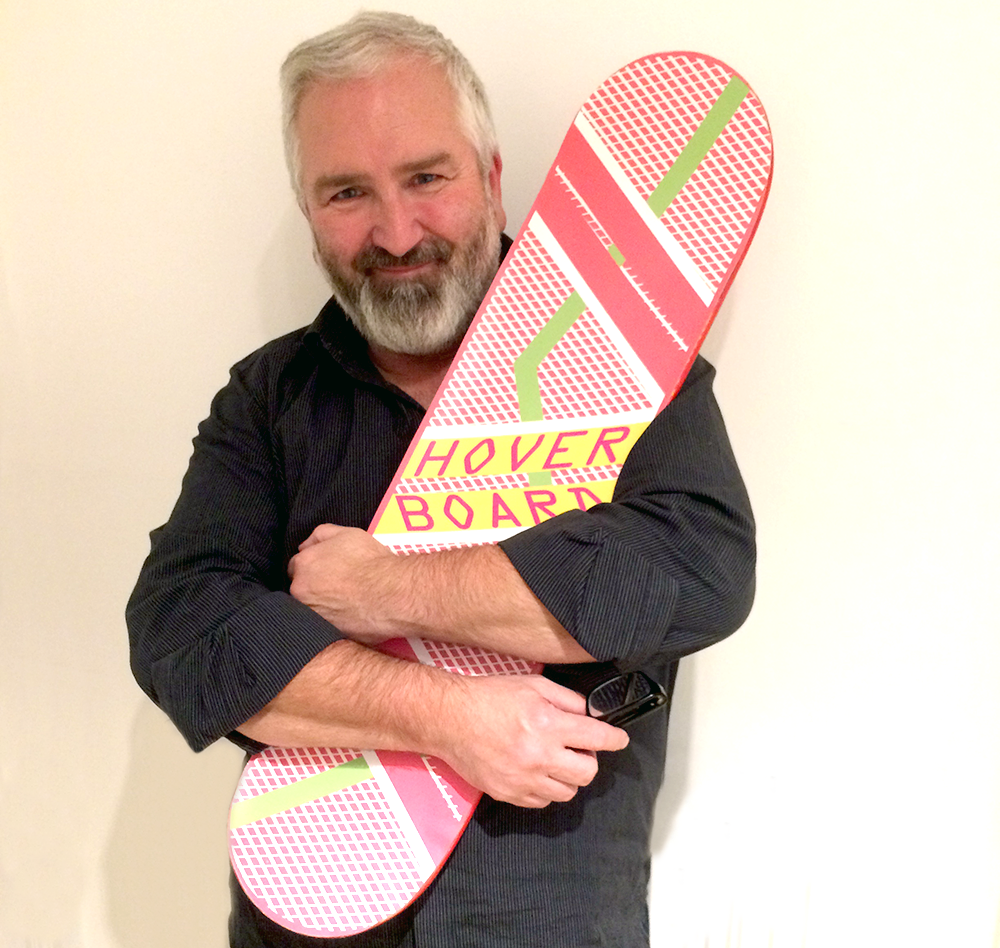 JS: Do you own any other Back to the Future movie props?
DR: Apart from the Flux Capacitor sketch and Hoverboard I've got the scans of all drawings, newspapers, a Grey's Sports Almanac, driver's licenses, futuristic pizza boxes and the multicoloured baseball hat that Michael J wore.
JS: How did you feel seeing the finished film back in '85?
DR: Incredible. One of the wow moments I remember was that at the end where Doc said, "Where we're going we don't need roads." To this day every time I walk on a film set I get excited, and every time I see my name in the credits I point at the screen. Always. Ask my wife.
JS: What do you feel about the film reaching iconic status 30 years later?
DR: It is humbling. I think the film stands the test of time brilliantly. One of the great things about it is that I can sit down with the kids and enjoy it. I showed it to them 10 years ago for the first time, and it was amazing to see their reaction.
JS: Who owns the rights to the Flux Capacitor design?
DR: I design everything on a film under a contract, so however original the logos or whatever, it's all done on a buy out. Don't get me wrong it's well paid, but the designer doesn't own the rights.
I designed the Run DMC logo (no relation to the DMC DeLorean Motor Company) because back in the 1980s, when hip hop was getting big, I worked around the Def Jam records guys. I used to do doodles of logos and pretty much give them away. I saw a rich list recently when Run DMC's DJ Run was quoted as saying something like, "Our logo has earned us a fortune." I had to laugh!
I designed the Run DMC logo. DJ Run was recently quoted as saying something like, "Our logo has earned us a fortune." I had to laugh!
JS: Have you ever attended one of those uber fan comicon type events for Back to Future?
DR: No I haven't. My son is a voice actor and that's his sort of thing.
JS: Do you ever get asked to draw the Flux Capacitor by people?
DR: All the time. I can never remember what the equation is! There are a lot of people who know more about it than me. I love it really though.
JS: Are you celebrating BTTF day today?
DR: Not really. I tend to only really look forward on projects. Today I'm at a lunch meeting to raise funding for another film. I do think of it from time to time and hearing it on the news, or catching that theme music, will always put a smile on my face.
JS: Is the Flux Capacitor drawing one of the pinnacles of your career?
DR: It's weird how much attention a little doodle ended up creating. The Flux Capacitor could have just as easily been a business card, a shop sign or map drawing. I'd like to be renowned as a great script writer or producer, but maybe it will always live in the shadow of the Flux Capacitor.
---
Read car REVIEWS or search NEW or USED cars for sale on driving.co.uk
---