Illegal foreign cars have nowhere to hide in police clampdown
Seize and desist
---
Published 19 January 2015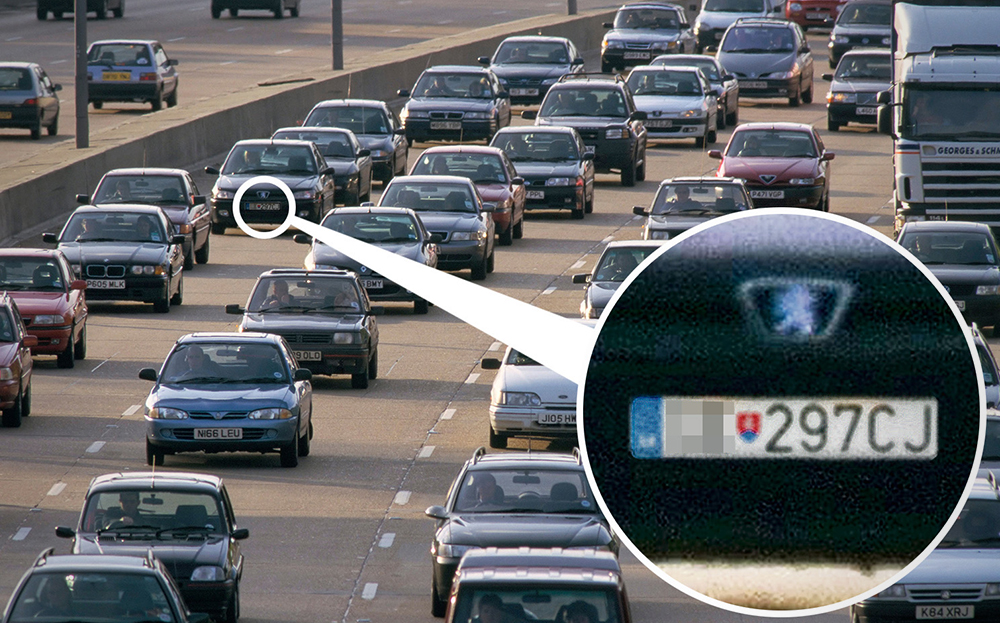 POLICE CONSTABLES James Burt and Jay Hussain have become something approaching legends in their own canteen lunchtime. Given new powers to fight crime on British roads, the pair have seized 75 cars in the past three months, making them one of the most feared road police partnerships in the country. Their record is 10 busts in one 12-hour shift.
It was easy at first, with so many offenders on the road. "Word's got round and people know about us now," says Hussain from the front of the police BMW X5 as we ride through Birmingham.
---
Search for and buy your next car on driving.co.uk
---
Burt and Hussain are at the forefront of the latest fight against illegal drivers, known as Operation Jessica. Foreign cars that have been in Britain for more than six months in a year must be registered with the Driver and Vehicle Licensing Agency (DVLA) and fitted with UK plates. If the owner is judged to be a resident, they must register their car within two weeks of importing it.
Many don't, however. Until now these cars have been flying under the radar — they are in effect invisible to the authorities because without a British numberplate linked to a British address and owner they are virtually untraceable.
It means such drivers are impervious to parking tickets, road tax and speeding fines issued as a result of being caught by speed cameras. Last year the government estimated that 350,000 cars had overstayed and been driven here illegally between 2010 and 2013, costing the Treasury £60m a year in unpaid road tax. Figures from the Institute of Advanced Motorists, published at the end of last year, found that drivers of foreign-registered cars had avoided at least £2.8m worth of speeding fines in Britain over the previous two years.
The Local Government Association, which represents councils, says millions of pounds in parking fines are written off each year because authorities cannot trace the owners of the foreign-registered vehicles involved.
Law-abiding motorists suffer too. Illegal drivers are more likely to flee the scene of a crash, knowing that their foreign plate makes it hard to trace them. Even if they do not flee, police say their insurance is often invalid, which means if they are involved in an accident that is their fault, the innocent party will have to claim for damage from their own insurer. Compensation claims for injuries or loss of earnings will have to be made to the Motor Insurers' Bureau, but this can be a lengthy process.
Until late last year there was little the police could do about these drivers. Pursuing them was so complex that just four were prosecuted for staying too long in Britain during 2013. This is where Operation Jessica comes in. It involves six police forces — Hampshire, Thames Valley, Northamptonshire, Staffordshire, West Mercia and West Midlands, the last three operating a joint team known as the central motorway police group — that have been given the power to seize cars breaking the law. If the operation is a success, other forces will be given similar powers in an effort to force all such drivers to re-register their cars.
The operation uses information from HM Revenue & Customs. Records of vehicles entering and leaving the country at ports and the Channel Tunnel are used to identify those that have been in the country for more than six months. This generates a hotlist, which is sent to the forces taking part in the trial.
Police load the information into their systems, linking it to numberplate-recognition cameras in cars and at the roadside. The cameras can identify foreign plates and if one tallies with a number on the database, it triggers an alert, prompting police to pull it over.
Despite the technology, sometimes there is no substitute for old-fashioned intuition. In the BMW, Burt spots an oncoming Mercedes C-class fitted with Hungarian plates. No alert has sounded but he thinks something about it is not right. The BMW executes a U-turn, the blue lights go on and we are behind the silver saloon, gesturing for it to pull over.
"It's not on the hotlist, but we want to check if the driver's living here," says Burt as the Mercedes pulls in. There is a rosary hanging from the rear-view mirror, but the driver is going to need more than prayers. "How long have you been in the country?" asks Burt. "Two years," says the man. A few more questions and Burt discovers that he has a British bank card and he works in Britain as a driver, which means that he is a resident and puts beyond doubt that the car is being driven illegally.
"We use my country's insurance because it's cheap," the driver tells the officers as he clears the car of valuables, along with its three other occupants, and walks off.
The driver will have to pay £360 to recover the car and will then have 56 days to register it. If he is caught after that period and has still not licensed it, the car can be seized and crushed. Drivers can also be ordered to pay the road tax that they have evaded by not registering their car, which could run to several hundreds of pounds.
Other interceptions are more eventful. "We stopped a car one evening on West Bromwich High Street," says Burt. "It was an east European man dropping his girlfriend off at a club and he was obviously going back home: he was wearing slippers and a Batman dressing gown. We had to seize the car and we left him walking down the high street.
"Then there was a Romanian family who sat in the car and refused to get out. We had the keys and after 15 minutes, in the freezing cold, they realised that our will to stay was greater than theirs and so they got out."
Hussain has some sympathy for the drivers. "Those first ones were the hardest — telling people that the law's just changed and that you're taking their car away from them. When we stop some of them now they just hand their keys over without a fuss [because they know the rules have changed]. We see loads on sale on eBay too because people know they are going to be seized."
Stopping illegally registered cars also uncovers other crimes. A background check on the Hungarian Mercedes reveals evidence that it has been linked to credit card fraud: one person— not necessarily in the car at the time it was seized — had tried to pay for fuel using a cloned card.
Police say Operation Jessica will cut crime, from shoplifting to people trafficking, by reducing the number of cars on the road that are difficult to trace, and therefore useful to criminals who want to remain anonymous.
"There is an established link between foreign national offenders who drive vehicles on foreign plates and those who commit offences across the country, including organised crime," says Superintendent Paul Keasey, head of the central motorway police group. "On occasions, there is also ignorance of the rules. Operation Jessica is about making it a level playing field. If you were a UK citizen and you did not pay your tax then you would expect us to uphold the law."
Some motorists claim to be unaware they are doing anything wrong. As the end of the shift approaches, Hussain and Burt spot a Slovakian Volkswagen Passat being filled up. They pull over the driver, Denisa Rihova, 34. "She's a resident," says Hussain. "She says she's about to go back to Slovakia."
As she walks away, Rihova says the law is confusing: "I used to live here, then went back to my country for three years. Now I've come back, but I'm not sure if I'll stay here, so I don't want to make any permanent plans. I didn't know that I had to change the numberplate on the car but I can't complain. I'm really annoyed they stopped me now — I just got a full tank of fuel."
Hussain and Burt chalk up another bust.
Bill adds up for illegal driving
Cars registered abroad must register with the DVLA and be issued with British numberplates if they are in the the country for longer than six months. Many drivers do not do so, which means they cannot be traced and are in effect immune to fines, taxes and parking charges as well as being uninsured. In October, police gained new powers to crack down on these drivers and impound their cars.
350,000 Foreign-registered cars driven illegally in Britain between 2010 and 2013
£60m Annual cost of lost road tax from illegal foreign-registered vehicles
£3m Outstanding parking fines issued to foreign cars by Westminster council, London, alone
£2.8m Speeding fines not paid by foreign drivers over two years
4 Drivers prosecuted for illegally driving on foreign plates in 2013
300 Cars seized for illegally driving on foreign plates since Operation Jessica began in November last year
£55 Fee to register a foreign car in Britain
Source: DVLA, Institute of Advanced Motorists and Westminster council
---
Search for and buy your next car on driving.co.uk
---