How to beat the holiday traffic blackspots
Don't go crackers – avoid the nightmare before Christmas Eve
---
Published 22 December 2014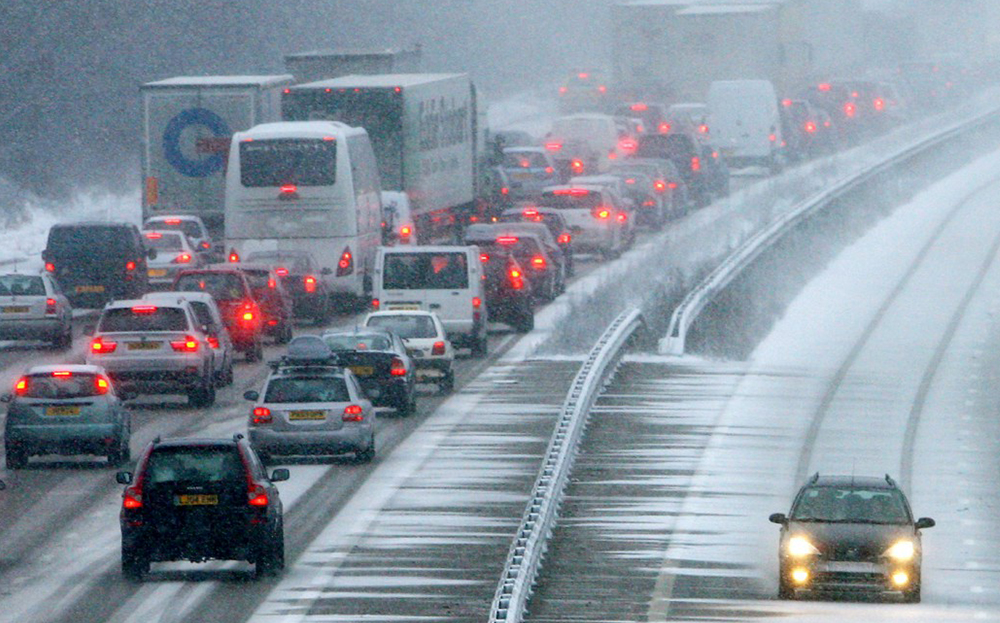 FANS OF a traditional Christmas can rejoice: traffic experts are predicting a familiar start to the festive season, with rain, wind and jams testing the goodwill of everyone on the roads this week.
Long stretches of motorway are predicted to slow to a crawl on Tuesday as hundreds of thousands of families head to the in-laws' in time for Christmas Eve. More than half the population will be travelling this week, according to a survey by Saga motor insurance, covering an average distance of 47 miles. The RAC predicts 12m cars will hit the road between Christmas Eve and Boxing Day.
---
Search for and buy your next car on driving.co.uk
---
Inrix, a traffic information service, predicts that congestion will peak around midday on Tuesday, when vehicles on some motorways will be reduced to 25mph or slower. Anyone using the M25 to travel from north of London to the A3, which joins the orbital road southwest of the city, can expect to crawl at 23mph for more than 40 miles.
Drivers heading north on the M5 towards Birmingham are expected to be slowed to 18mph, and anyone heading west out of London is likely to find themselves in a 15mph jam along the A4.
Roadworks, accidents and miserable weather will also play their part. The Met Office is forecasting patches of rain over much of Britain.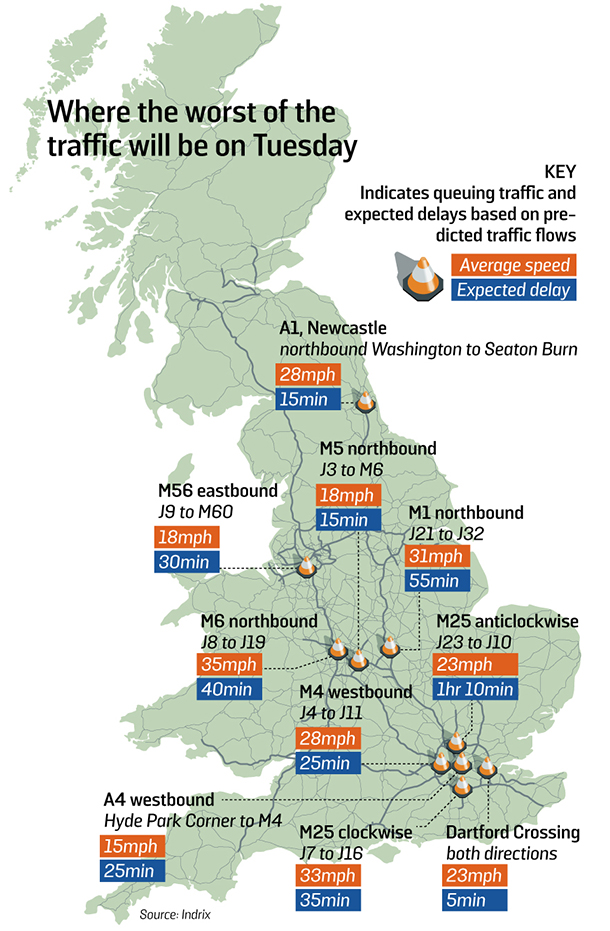 The large number of cars and drivers distracted by children are expected to cause more scrapes on the roads, particularly on routes where traffic is bumper to bumper. Waze, a navigation app that enables users to share traffic information, says December 23 is typically one of the busiest days for not just traffic but also accidents.
Waze and similar apps help drivers to avoid the worst build-ups by suggesting alternative routes. A little planning and a human navigator equipped with a road atlas can prove equally if not more effective.
"If you're travelling before Christmas, then it will be hard to avoid congestion," says Edmund King, president of the AA. "People have to watch places where motorways or major roads are close to shopping centres. Around those places you have the combination of traffic trying to get away and traffic going in. It can be chaos."
However, he adds optimistically: "The Christmas journey can be enjoyable if you aren't too stressed about the traffic or rushing to get somewhere. For the family the journey spent confined in a car might be when they spend most time together. The trip is a chance for some quality time."
If you don't have a reason to join the traffic jams on Tuesday, don't worry. You'll get another chance on Boxing Day, when mammoth tailbacks around shopping centres are expected to be caused by bargain hunters, and again on December 27, when large numbers of visitors are predicted to return home.
---
Search for and buy your next car on driving.co.uk
---