Forget Goodwood, CarFest is the new king of motoring events
More relevant, more fun. . . and for a good cause
---
Published 04 September 2015
IS THE Goodwood Festival of Speed a good day out? If you're a car enthusiast, undoubtedly; the cream of the world's classic cars and racing machinery not only on show in a static display but also being driven up the famous hillclimb course by the world's most famous drivers makes it easily the world's most special car event. The noises, the smells… it's glorious. But it's no longer my favourite motoring event.
Nor is the Goodwood Revival, which surpasses the Festival of Speed for fun, with its 1950s-1960s fancy dress theme and meticulous attention to detail, from the period Tesco supermarket to the historic combine harvester working the fields and WWII air displays, not to mention the heart-stopping wheel-to-wheel action between multi-million pound racing cars out on the circuit. It's without doubt an unmissable event on the motoring calendar. But it isn't the most important.
No, the new king of motoring festivals is radio DJ and TV personality Chris Evans' CarFest, the latest of which drew to a triumphant (if muddy) close on Sunday.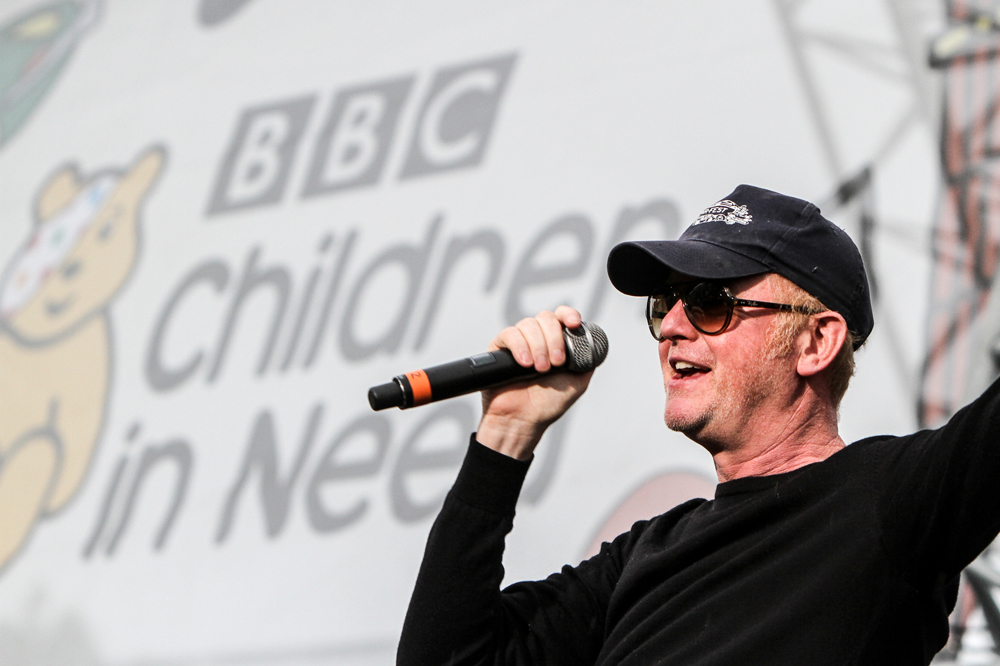 Chris Evans addressing the crowd at CarFest South 2015
Why? Because while us dyed-in-the-wool car nuts can bounce around the Goodwood events, happy as Larry, stroking the Targa Florio-winning Porsche 908/03 at "FoS" or delighting in a panel-bashing battle on track between Anthony Reid and Emanuele Pirro in the St. Mary's Trophy battle at the Revival, this sort of stuff doesn't interest the majority of Brits. Most people couldn't care less who Steve Soper is (sorry, Steve); point out a Le Mans-winning Aston Martin DBR1, and they'll give a "Huh," before wondering which stall might be best for lunch. It's a bit like not being privy to an in-joke; you know it's probably funny, but you're not really sure why because you're not part of the cognoscenti.
Conceived in 2012, CarFest is the antidote to this. Raising money for BBC Children in Need (£3.5m in the first six events, with organisers confident of passing a grand total of £5m after this year's CarFests), the two annual events — currently based at Oulton Park, Cheshire (CarFest North) and  Laverstoke Park Farm, Hampshire (CarFest South), owned by Jody Scheckter, the former 1979 F1 world champion — are aimed at the wives, husbands, sons and daughters of motoring enthusiasts, rather than the enthusiasts themselves. It's the car event for people who don't live and breathe cars.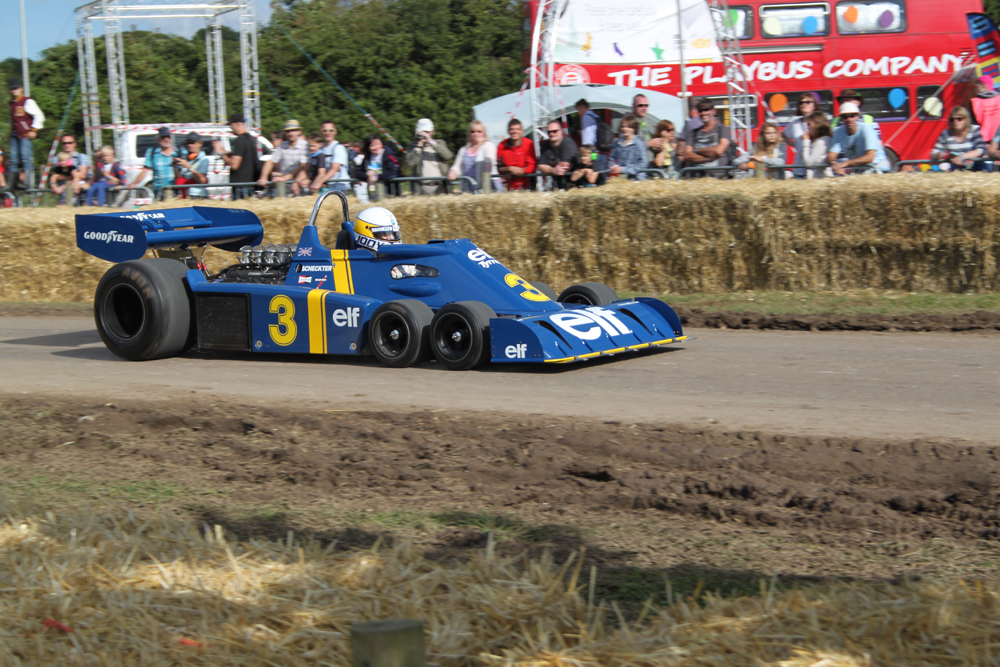 Jody Scheckter driving the Tyrrell P34 six-wheeler (notice the soft play bus in the background)
This is its genius; it features cars, yes — some extremely important ones, even (this year Scheckter gave a tyre-shredding demonstration of the innovative six-wheeled Tyrrell P34 F1 car that he raced in 1976, for example) — but arguably these track demos are just one of many sideshows that combine to create a varied but coherent tapestry of family entertainment.
Mega Land at this year's CarFest South is a prime example. Its name suggests it will write a cheque that the features within can't cash, but it doesn't disappoint. On the way in, children were presented with a yellow hard hat and fluorescent jacket before being able to operate mechanical diggers. Not toy diggers, but proper landscaping machinery. This is a child's dream, a thousand times more exciting than the scale model they have at home. The JCB display team provided further inspiration in the Showground.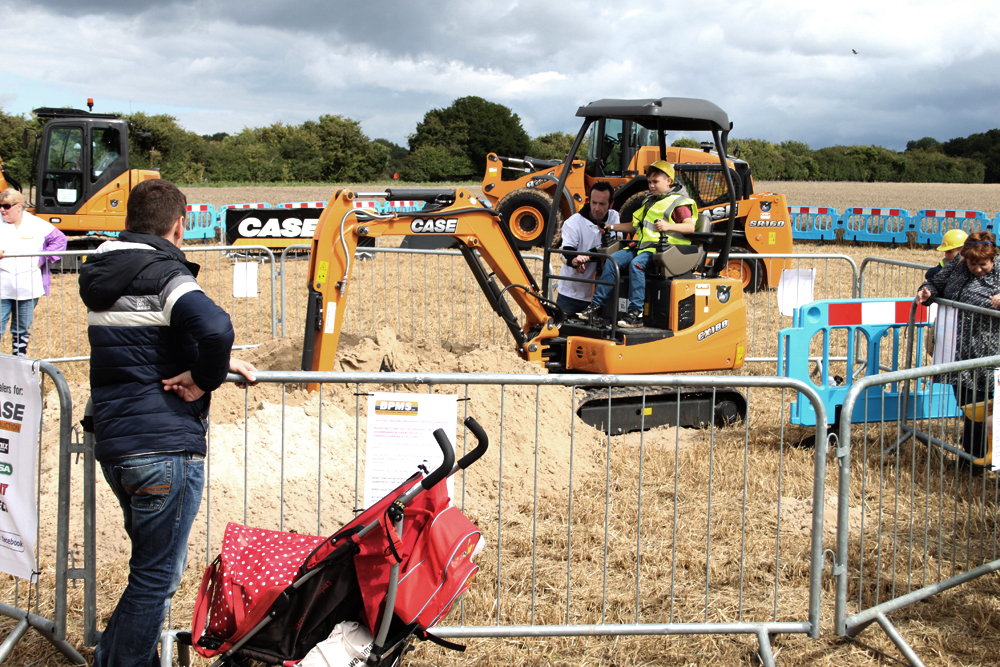 A child operates a digger in the Mega Land area
Next door was the Kids' Zone, aimed at pre-schoolers and featuring a soft play bus and arts & crafts tents. There were other attractions for smaller children, too: a Baby Disco in the Big Top; farm animals in pens; party games from the Sharky & George team; sandcastle-building at the Wickes man-made beach.
Older children were catered for, too. In the top field there was a fairground with traditional helter-skelter and merry-go-round (admittedly, that was the extent of it). Next door could be found a stage for The Flying Seagull Project, a charity that uses comedy, play and games to bring smiles and laughter to disadvantaged or sick children, and one door down was the Bugfest tent, where children could get up close with creepy crawlies, snakes and lizards.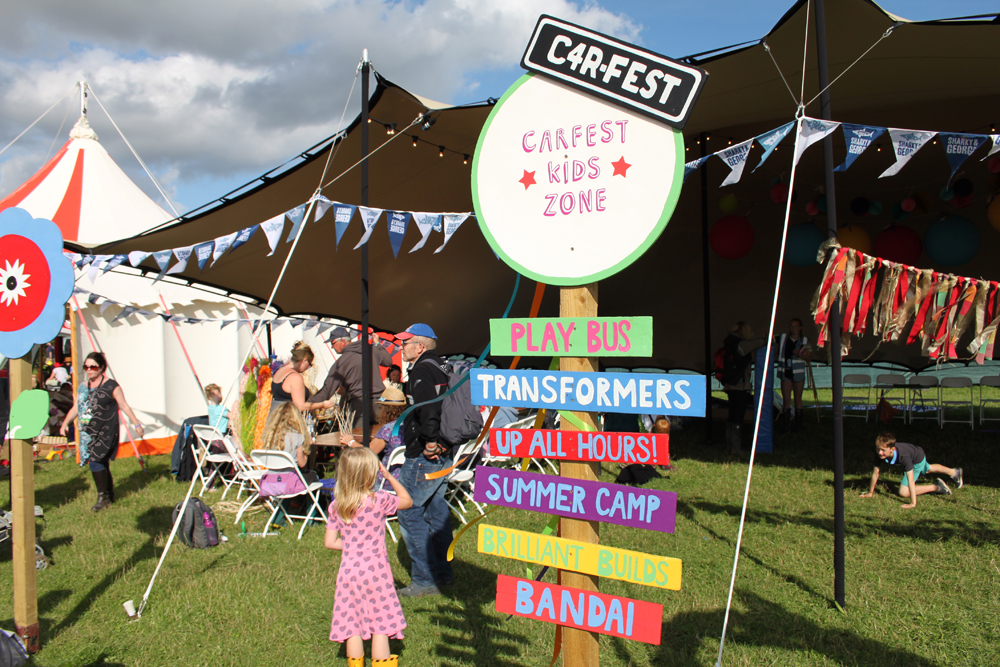 The Kids Zone featured activities for younger children
The GoCompare Driving school offered low-powered quad bike and go kart rides, which is great fun for kids and offers adults the opportunity for impromptu betting opportunities (e.g. "My money's on the lad in the red top.")
Honda, being a motorcycle and quad bike manufacturer, was able to lay on more powerful machines for the bigger kids and it proved popular, with queues soon forming, while the experts showed us how to do it in the stunt display areas (the pros also gave tuition to eager young Evel Knievels). Mercedes offered opportunities to drive full-size cars in its Under 17s Driving Experience.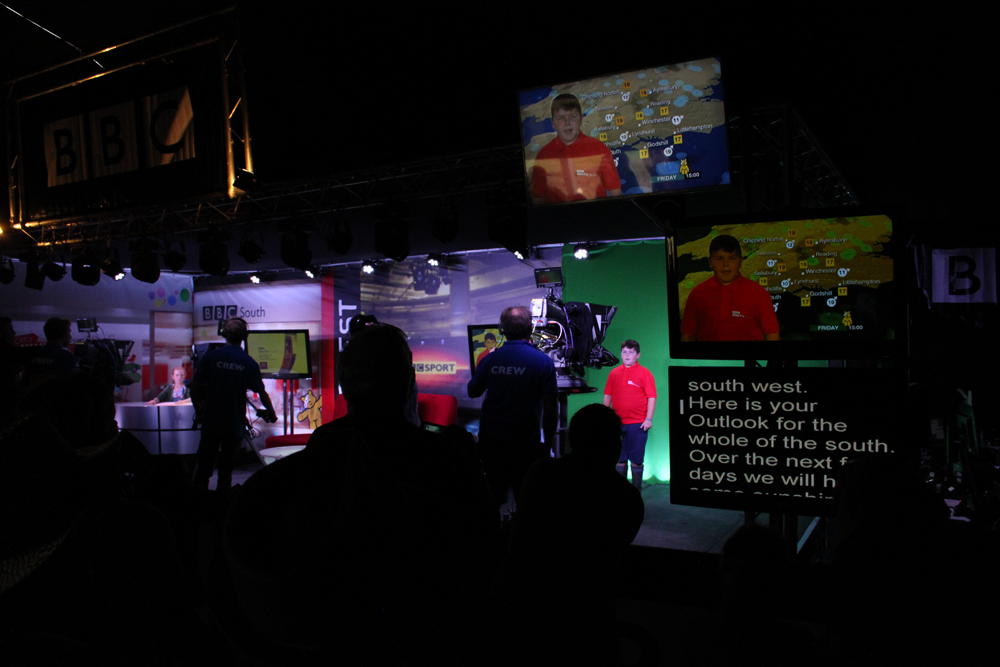 The BBC pop-up studio provided an impressive introduction to TV presenting
The BBC provided a fantastic experience for wannabe TV presenters by bringing along a pop-up news studio, complete with teleprompters and live editing, allowing children to step into the shoes of Breakfast's Bill Turnbull and Carol Kirkwood.
Even the car manufacturer stands feel different at CarFest. At Goodwood, yes, you get to open the car doors and sit in the vehicles. But you do so with a certain reverence. You make a stern face, as if to say, "Yes, I could genuinely afford this Audi RS6. . . but I just want to check the stitching on the leather steering wheel is up to scratch first."
At CarFest, whole families were piling into the cars on the central Honda stand, children were climbing all over the motorbikes and teenagers were leaning on the Civic Type-R taking selfies before trying to set a lap time on the simulator. Everyone had big smiles on their faces. Everyone was having fun.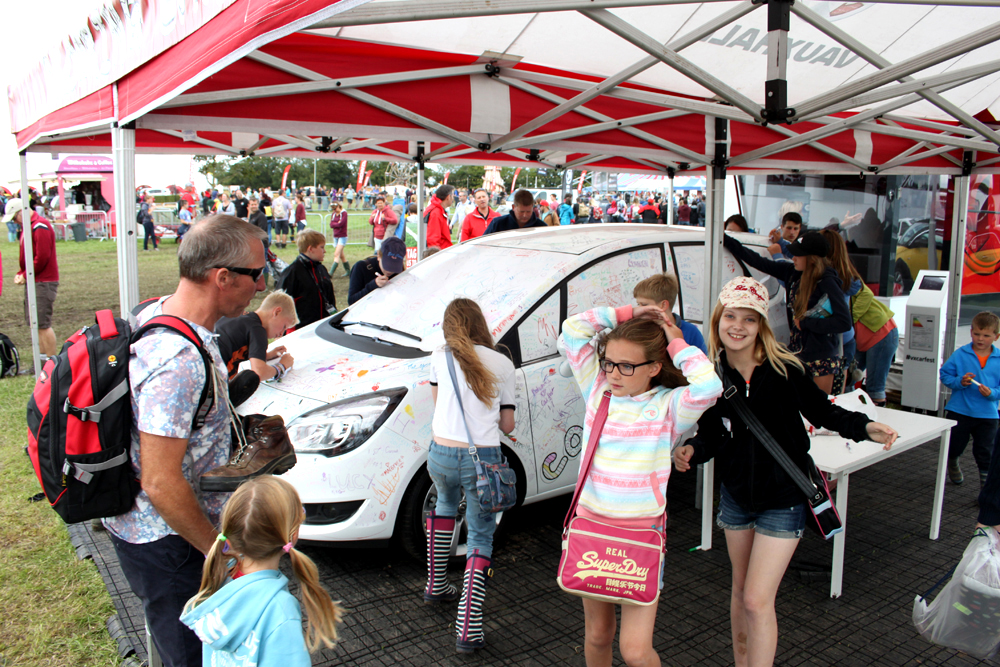 Children were encouraged to daub a Vauxhall Meriva with creative drawings and messages
It was the same story on the MG stand, where there was radio controlled car racing, while on the Vauxhall stand visitors could take part in pedal car races and children were encouraged to colour in a full-size Meriva people carrier.
One of the biggest hits was the Army area, though, where visitors could climb inside armoured military vehicles, such as the Mastiff and Stormer, festooned with missile launchers and machine guns, and learn about how they work from the soldiers that operate them (one chap we spoke to had just returned from Afghanistan). The MASH-style chopper was a particular highlight.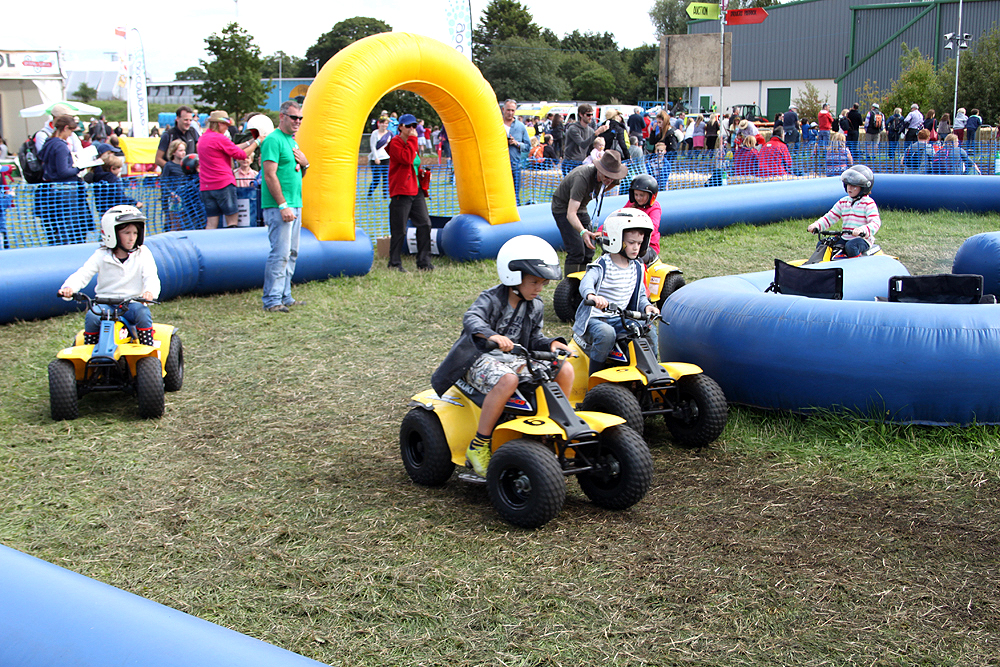 Place your bets: young children ride low-powered quads
Sensibly, air displays were cancelled at CarFest South this year following the tragic accident at the CarFest North event, in which pilot Kevin Whyman lost his life. Instead, a fly-past by the Gnat Display team took place on Saturday in honour of Whyman and the victims of the Shoreham Air Show disaster. A spokesperson told Driving that while air displays are not a core part of CarFest, it is hoped that they will make a return to future festivals, following the recently announced airshow review by the Civil Aviation Authority (CAA).
For the adults? Aside from the classic and sports vehicles on display, of which there were many (but nothing like the number, variety or pedigree of FoS), I found enough to amuse. Many — but not all — of the major car manufacturers were represented and it does give the opportunity to get a feel for their latest wares. Potentially, CarFest could be even more important for car makers, as an opportunity to put their products in front of a huge number of car buyers (and future car buyers) who have perhaps never bought a copy of Autocar or Top Gear magazine.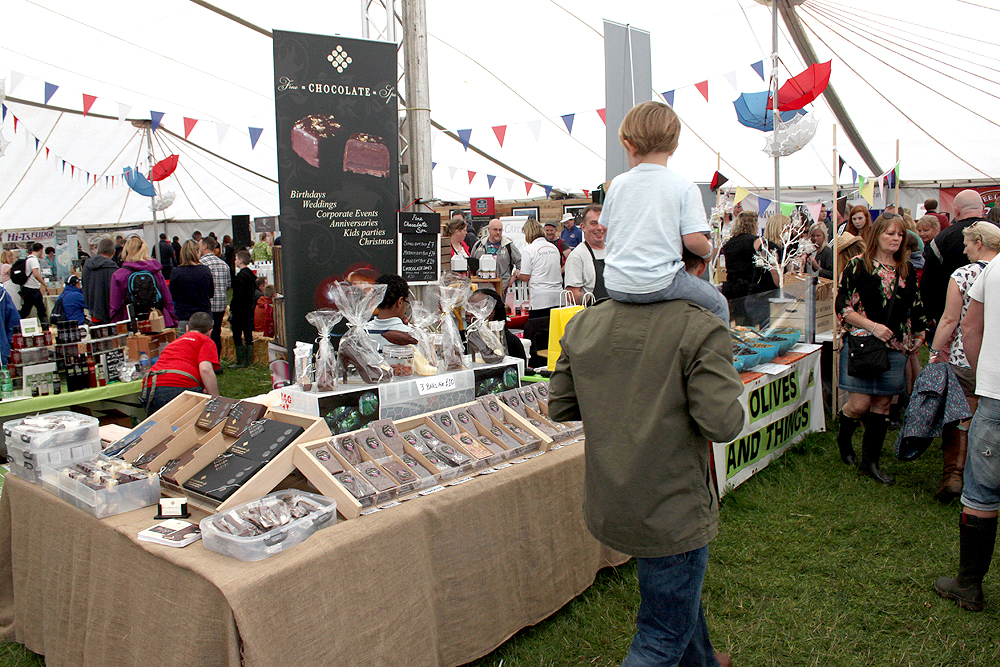 Artisan chocolates and other locally-produced treats could be found in the Britain's Best tent
A centrepiece was the Britain's Best marquee, in which handmade British food and drink could be savoured and bought. Chocolates, fudge, whole foods, gluten-free breads, cakes, beers, wines and more were all on offer and kept tempting us back for more. The Great British Bake Off's Mary Berry and Paul Hollywood applied judging skills to Sunday afternoon's now traditional 'Cakes versus Pies' competition.
Paul and Mary would have been impressed with the standard of the lunch stalls, too; long gone are the days when greasy burger vans were acceptable.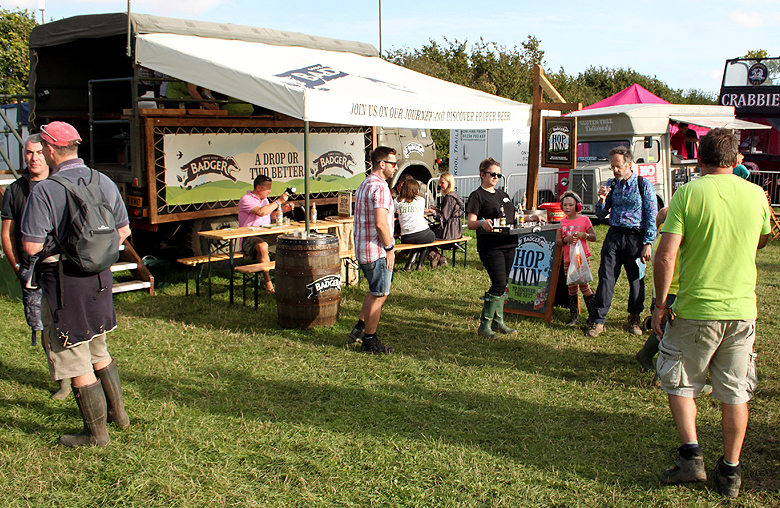 Something for the mums and dads: Badger Ales was offering free beer samples
As the sun went down, one problem did rear its head, however. Queues for the bars were excessive, with customers having to wait a good 20 minutes for a drink. Thank goodness for Badger Ales, then, an event sponsor that was handing out free samples of its ales to festival-goers during the weekend; staff helpfully wandered up and down the weary lines of thirsty punters dispensing tipples.
Then there was the music. This year, Jools Holland, Paloma Faith and Take That headlined on the main stage on Friday, Saturday and Sunday nights respectively. Other acts included Scouting for Girls, Texas, the Boomtown Rats, Sophie Ellis Bexter and Level 42, making it bang on the money for a Radio 2 audience.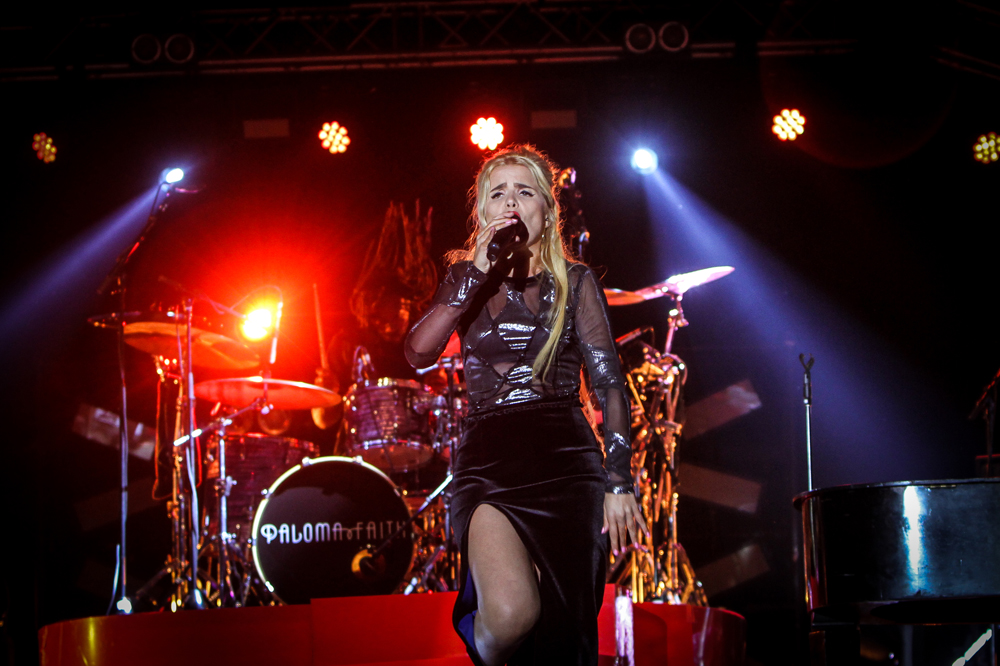 Paloma Faith takes to the stage
All things combined, CarFest attempts to cater for everyone and succeeds on an impressive scale. It's not as slick as Lord March's gigs, nor as impressive in terms of the vehicles on show and so unlikely to impress the true car nuts. But if you've got a young family and are looking for a way to get your car kicks next summer without boring the pants off the members of your clan who are less enthusiastic about motoring, CarFest is the place to be.
And because it caters to such a broad spectrum of the population, doesn't that make it much more relevant than the Goodwood events? Just be sure to book early — CarFest does sell out — and remember to pack some wellies.
WHEN THE KIDS ARE HAPPY, THE PARENTS ARE HAPPY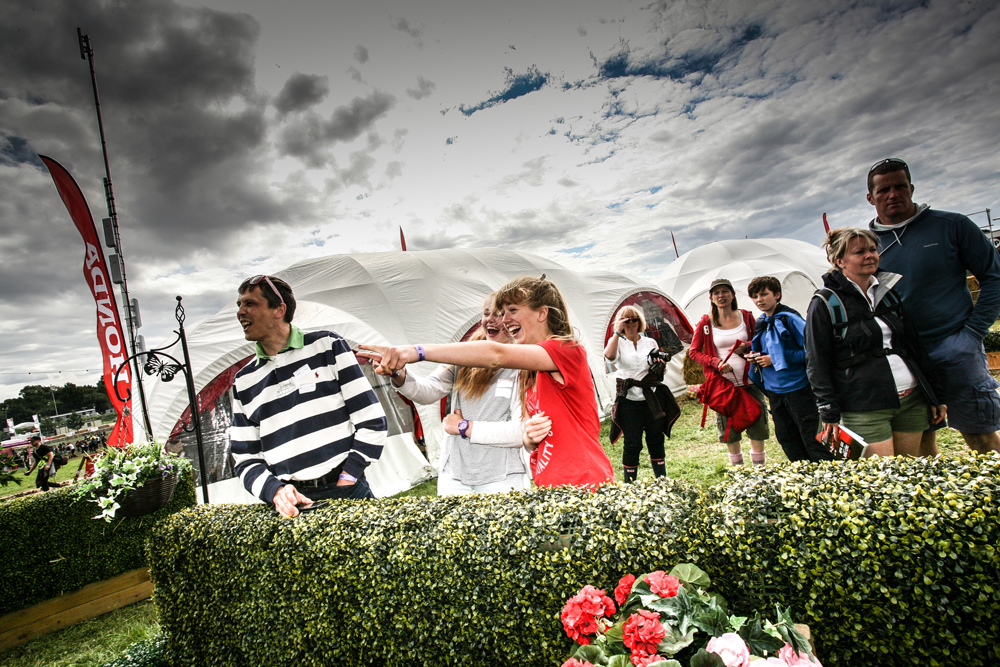 Additional reporting by Nick Rufford
THE WEATHER gods haven't been kind to CarFest and this year was no exception: bank holiday showers soaked Laverstoke Park Farm, in Hampshire, the south of England venue for the festival of cars, music and food; parts of it resembled a muddy Glastonbury.
For one group of visitors that just added to the enjoyment. Children as we know like nothing better than splashing in puddles (with or without Wellingtons) and traipsing through a quagmire just adds to the adventure.
CarFest has grown in size and scope since it was launched in 2012 and now welcomes 25,000 visitors through its doors across its three days, a third of whom are children. And little wonder; it's a child-friendly experience that other events struggle to match. As well as weird and wonderful cars — motorised Outspan oranges, fire-breathing dragsters — there was ample opportunity to get involved in arts and crafts activities, puppet shows and a string of other entertainment for ages 2 to 12. As explained above, if anything the three day extravaganza is more family-focused than car-focused. And as parents know, when children are happy, mums and dads are happy.
Highlights this year included the Honda mini-motorcycles, with children chaperoned by instructors running alongside; a British Army roadshow that included vehicles and aircraft that children could clamber around in, plus a stand where they could get their faces painted in camouflage greasepaint; an animated squad of children's entertainers called the the Flying Seagull Project, a soft play area built into a double-decker bus and Tractor Ted, an area where children could clamber over a giant combine harvester and ricochet around in a tractor-shaped bouncy castle.
Of course, when the whole event is in aid of Children In Need, it's perhaps not surprising that youngsters come first, but as a parent I was grateful that there was so much on offer — not least because it gave me time off from day-care duties to immerse myself in the exhibits of classic cars.