Final line-up of six presenters named for Top Gear series 23
But one still unnamed
---
Published 11 February 2016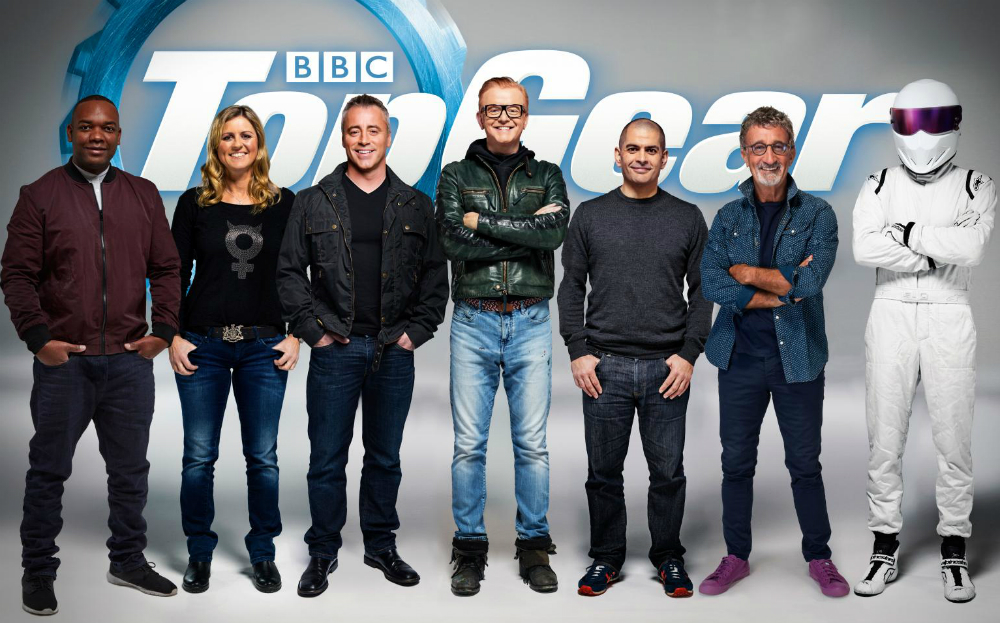 THE BBC has put the finishing touches to the new Top Gear presenter line-up with the confirmation that the motoring journalist Chris Harris, the tech presenter Rory Reid, the former Formula One commentator and team owner Eddie Jordan and the German racing driver Sabine Schmitz have been signed up. Schmitz has already made a little bit of Top Gear history by thrashing a certain former presenter in a timed lap of the Nürburgring.
---
Browse NEW or USED cars for sale on driving.co.uk
---
They join the American actor Matt LeBlanc, whose appointment was announced last week, the Stig and the Radio 2 presenter Chris Evans, who will be hosting the new series of the motoring show when it starts on BBC2 in May.
"We really do have a bit of everything for everyone," Evans said. The six-strong line-up suggests that the show will take a different approach from previous series. Read on to see who's who.
Who are the Top Gear presenters for series 23?
Chris Evans
TV and radio presenter, former radio station owner, Ferrari collector, motoring festival founder … and now Top Gear host. Chris Evans is a self-confessed big mouth and car nut but has shown what a canny operator he is by ensuring the Top Gear line-up is diverse as well as authoritative and talented behind the wheel.
Matt LeBlanc
For ever to be known as Joey from Friends, the American TV and film actor is a talented driver who, as Top Gear's Star in a Reasonably Priced Car, set the fastest lap in a Kia Cee'd. He went on to present the show's stand-alone spin-off, Top Gear: The Races.
Evans on LeBlanc: "A fellow lifelong petrolhead from the other side of the pond"
Sabine Schmitz
The German driver has racing in her bones — she was born barely a pit lane away from the Nürburgring. She is the only female driver to have won the Nürburgring 24 Hours and has raced for BMW and Porsche. She shot to the attention of Top Gear viewers when she beat Jeremy Clarkson's Nürburgring lap time by 47 seconds — driving the same car.
Evans on Schmitz: "Very German and very quick. She's a proven Top Gear favourite and world record-holder several times over"
Eddie Jordan
The former racing driver, Formula One team owner and commentator is not known for mincing his words. The Irishman knows his stuff and is famous for breaking stories, so he should ensure the show doesn't rest on its laurels.
Evans on Jordan: "Bonkers, unpredictable, a loose cannon, and with more connections than Vodafone"
Chris Harris
The show's self-confessed troublemaker is a motoring journalist and racing driver with over 20 years' experience. His YouTube channel, Chris Harris on Cars, has had more than 20m viewers. He's famous for his outspoken views, which have put him in the doghouse with car makers including Ferrari and Lamborghini.
Evans on Harris: "Our online special-forces lone-wolf car reviewer"
Rory Reid
The only presenter to emerge from last year's public auditions got the job on the strength of his 30-second rap-style review of a Rolls-Royce. He's not a screen virgin, having previously presented videos for the CNET website's Car Tech section and appeared on Sky 1's Gadget Geeks series.
Evans on Reid: "He's knowledgable, funny, cool and warm — and a brilliant storyteller"
The Stig
Some say … That's probably all you need to know.
---
Browse NEW or USED cars for sale on driving.co.uk
---