Elfyn Evans: the best reason for Brits to tune in to Wales Rally GB
Time to get excited about WRC again
---
Published 18 September 2014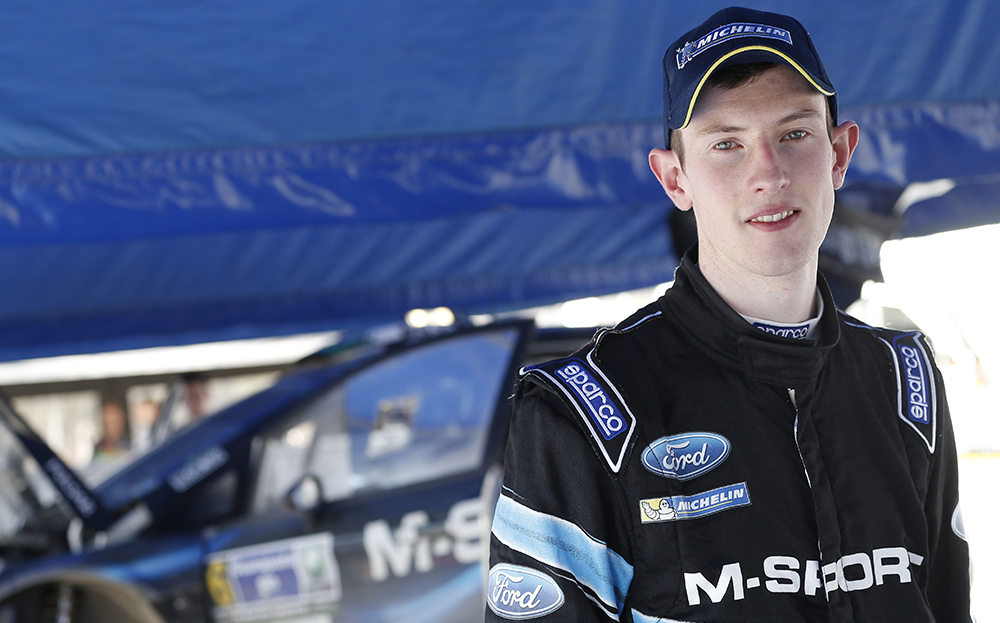 I'M THE man who feels nauseous after a spin on a fairground teacup ride, so I'm a little nervous. Elfyn Evans ‒ a rising star of the World Rally Championship ‒ is going to give me a taste of his day job.
His chair is a thin, moulded racing seat into which he is lashed with chest-constricting tightness by a full harness safety belt. His desk is a D-shaped steering wheel, his monitor a combination of dials and a winsdcreen, and his keyboard and mouse two long sticks to his right that he uses to change gear and to apply the handbrake. His office? A fire-breathing, 300bhp WRC Ford Fiesta (a standard Fiesta ST develops 180bhp) with four-wheel drive and, thank goodness, a roll cage. And now he's going to work.
---
Search for and buy used cars here
---
I've seen from the other demo rides the 25-year-old driver has given this morning that Evans drives his Fiesta quite sedately up to the start line of the 2.2-mile gravel course that winds its way through this Lake District forest, situated about a half hour's drive from where the car was built; M-Sport's headquarters at Cockermouth. And then, with real purpose, he mashes the accelerator pedal.
Now it's my turn to experience how a spin in a WRC car compares to a spin in a teacup.
It's just not natural to drive like this on a loose gravelled surface. Approaching a corner head on, foot to the floor, and, at the last moment, not steering around it but swinging the tail around to line up the car for a swift exit; constantly making split-second steering corrections to counter the track's changing surface, camber and direction; and while all of this is happening, taking a hand off the steering wheel mid-corner to grab at the sequential gear stick and the handbrake.
Later, after my ride, stomach just about settled, I look back along the finish straight just as Evans's Fiesta, complete with white-faced passenger, explodes around the final corner. He's going so fast that the car grows in size as if it's been rendered in a video game, and bears down on us like a runaway train. And then it stops, almost, but not quite, on a sixpence, barely disturbing the gravel, and Evans guides it gently to the finish line.
Evans emerges from the car and removes his helmet. His face is flushed red and his hair is matted with sweat. This, after a relatively short, non-competitive run; there are between 15 to 25 full length stages in a three-day rally, where the difference between winning and losing can be as little as one tenth of a second.
And they say the World Rally Championship is boring…
No, really, they do. Internet forums are full of rants about how it's not like the old days, by which they mean the days of British rally drivers Richard Burns and Colin McRae in the 1990s, and of flame-spitting Subaru Impreza Turbos ploughing the world's scenery. And that was just the kids' in their bedrooms where video games such as the Colin McRae Rally series reigned supreme.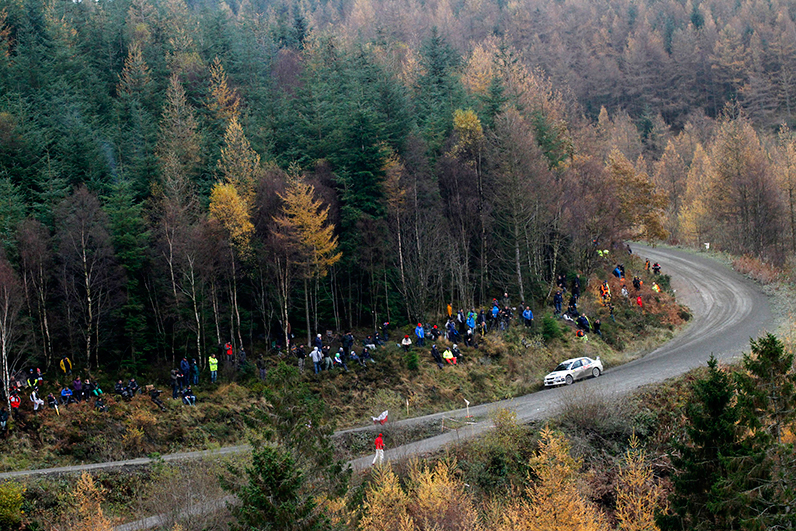 Since then, goes the charge, changes in race rules, promoters (at least four by the last count; contrast that with Bernie's steadfast grip on F1) and broadcast rights, and a creeping Formula One-style commercialism at odds with its soup-swigging fans waiting patiently in cold, damp forests, have conspired, at least in the UK, to turn audiences off.
But now, thanks, in particular, to emerging homegrown driver Elfyn Evans, it might be time for those audiences to switch back on. Incredibly, in this, his rookie year in WRC, this son of Gwyndaf Evans ‒ a former WRC driver and the 2006 British Rally Champion ‒ is riding an incredible eighth in the world standings with 67 points, one position (and just six points) behind the only other Brit driver in the championship, Kris Meeke (35), who first entered WRC in 2011 and is an equally talented and committed driver.
Evans's boss, Malcolm Wilson, founder of M-Sport and another British rallying legend, thinks he's this country's most promising WRC driver for a generation. And Wilson's a man who, judging by his serious countenance, doesn't hand out bouquets lightly.
"He has all the qualities necessary to be a great driver: speed, commitment, dedication and mental toughness. I saw that toughness in Germany [round nine in the 13-round season] this August when he refused to be rattled by his considerably more experienced teammate, Miko Hirvonen, to beat him to fourth place. He just doesn't get excited or flustered."
"He's way better than his dad," Wilson concludes with typical bluntness.
Wilson believes young Elfyn will be world champion in two years' time but for the remainder of this season and next, he's happy just to see steady progress: a high-place finish here, a podium there.
No one is saying it'll be easy, of course. Sebastien Ogier, who drives for Volkswagen and is currently way out in front at the top of the WRC table with 214 points, has experience of the championship dating back to 2011 and before that, to 2007 when he competed for Citroën's Junior WRC team. It's this kind of advantage that makes winners. That and the cars they drive, plus the team behind them. On that score, VW appears to be untouchable having, last week, wrapped up the constructor's title in Australia, with three rallies still to go.
Meanwhile, other teams gunning for gold are rally veterans Citroën and Hyundai. Toyota is developing a rally version of its GT86 and speculation is rife that it will return to WRC next season.
Which is not to say Elfyn's M-Sport team with its Ford Fiestas will be a pushover. The HQ in Cockermouth is seriously impressive and thanks to founder Malcolm Wilson, there's rallying running through its bones. There's a five-year development programme in place to take Elfyn from rookie to star, and Wilson will be pulling out the stops to get his young protégé onto a podium sooner rather than later.
The remaining rallies in this season's championship are France (October 3-5), Spain (October 23-26) and, most exciting of all, the season conclusion in Wales (November 13-16). Over three days and 191 miles, featuring 23 special stages, held mainly in forests, drivers will battle to rub their rivals' faces in the Welsh gravel.
Among them, of course, will be Elfyn Evans. For him, rallying on his home turf will be personal, and he'll be out to put down a marker for future glory.
"It's been a long time since we had a British WRC champion," Evans tells me, "and I want to be that man."
---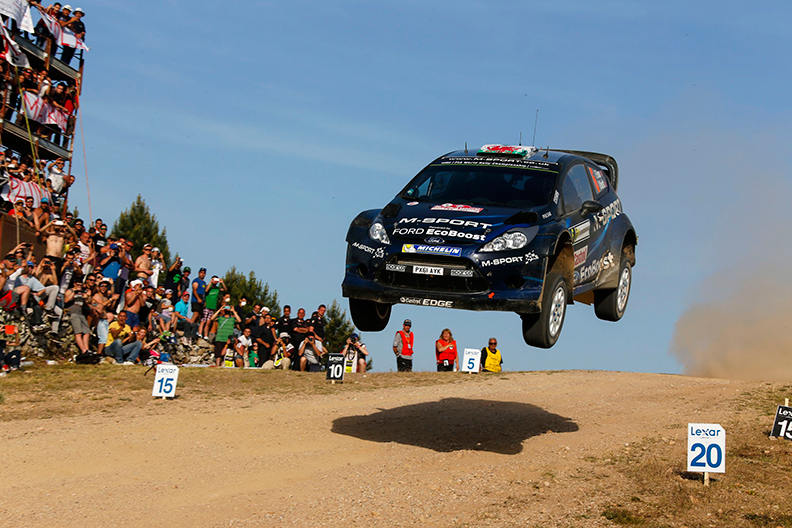 Elfyn Evans Q&A
Britain's big rally hope tells us how he got from his first race to running eighth in the WRC in a few short years
Driving: What was your first competitive rally?
Elfyn Evans: It was a national rally: the Wyedean Rally in Chepstow in 2006. It was a 1-litre Micra. Standard engine and gearbox, two seats, a rollcage and off I went. I wasn't very good but it was very enjoyable and as the year went on I picked up some speed.
Driving: How do you cope with those rivals who have 10 years WRC experience on you?
EE: It was a bit daunting at the beginning of the year because I'd been looking up to these people, and now I am competing with them. Of course you must earn their respect, but as the year's gone on, I think that's happening. At the end of the day, it doesn't matter who they are or what they've done, you've got to finish first. That's the goal. It won't happen overnight but that's where we're heading. You've got to face the challenges and get on with it.
Driving: What qualities does a driver require to succeed in WRC?
EE: You must dedicate your life to the sport; you can't just turn up and go. You need a lot of energy, but you also need to invest a lot of time, for example in studying video footage of each rally stage. You can be sure your rivals are. Fail to do the work and keep fit, and you're on the back foot.
Driving: People are saying you could be the saviour of the WRC, at least in the UK. What do you say to that?
EE: I can see where it comes from because it helps to follow someone in any sporting event. I followed my dad, for example. Kris [Meeke] is doing well, too, which all helps to draw attention to the sport.
---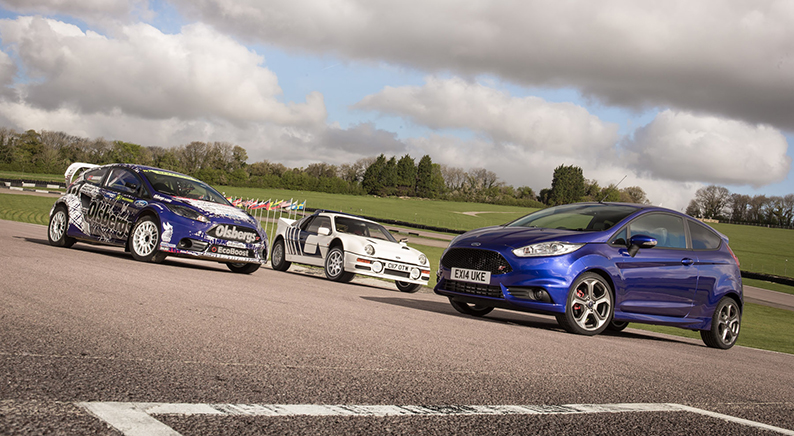 Fiesta RS WRC vs Ford Fiesta ST
The Fiesta ST road car is the closest most of us will get to experiencing a Fiesta RS WRC. On paper the two are remarkably similar: a 1.6-litre EcoBoost engine, though one that, in the Fiesta RS WRC, has been heavily modified, and similar kerb weights (although the RS would be much lighter were it not for its body stiffening, bash plates, rollcage and additional transmission.) They even look the same, sort of, but there the resemblance most definitely ends.
Oh, and one Fiesta RS would buy 27 Fiesta STs.
Ford Fiesta RS WRC
Price: £468,000
Engine: 1600cc EcoBoost, four cylinders, turbocharged, petrol
Power: 300bhp @ 6000rpm
Torque: 332lb ft @ 4000rpm
Transmission: Permanent four-wheel drive, sequential six-speed gearbox
Kerbweight: 1200kg
Performance: 0-62mph in 3.5sec
Ford Fiesta 1.6 ST EcoBoost 182
Price: £17,250
Engine: 1600cc EcoBoost, four cylinders, turbocharged, petrol
Power: 180bhp @ 5700rpm
Torque: 214lb ft @ 1600rpm
Transmission: Front-wheel drive, manual six-speed gearbox
Kerbweight: 1163kg
Performance: 0-62mph 6.9sec
---
Bluffer's guide to WRC
Unlike Formula One, the World Rally Championship runs almost throughout the year, with, typically, one rally every month. There are 13 of them across the world, each featuring between 15 and 25 timed sections called stages. Drivers battle one at a time to complete the stages as quickly as possible. As little as one tenth of a second can separate stage leaders. A co-driver reads out detailed pace notes that tell the driver what is coming up ahead.
This season began with the Monte Carlo rally in January and ends with the Wales Rally GB (November 13-16). With three rallies still to go, VW has already won the constructor's title and it looks like it'll run away with the driver's, too. But that's no reason to switch off. Most teams agree that new promoter Red Bull has raised its game with much improved coverage, while manufacturers are increasing their investment in cars and teams. This season's remaining rallies and the coming season should make essential viewing and spectating, especially with homegrown heroes Elfyn Evans and Kris Meeke in the running.
---
Be there: Wales Rally GB, November 13-16
The Wales Rally GB kicks off with a ceremonial start (free entry) on the evening of Thursday, November 13 at Eirias Park Stadium in Colwyn Bay. On Friday, the action moves to mid-Wales. Saturday's schedule includes a family-friendly RallyFest stage at Chirk Castle, Wrexham where newcomers to the sport can see the cars competing in less challenging conditions on a more compact route.
There's another RallyFest stage at Kinmel Park near Abergele, on Sunday. The same day features more rallying concluding with the Power Stage for which extra points are awarded. Access to some of the stages and to the main service park at Deeside, is free, but tickets for paid entry areas can be purchased from Wales Rally GB.
See it on TV: The Wales Rally GB will be screened live on BT Sport 1 & 2, and ESPN. Meanwhile, ITV4 will show post-event highlights.
For more information and tickets click here