Ecto-2: five cars for the female Ghostbusters
Bustin' ghosts? We're going to need some new wheels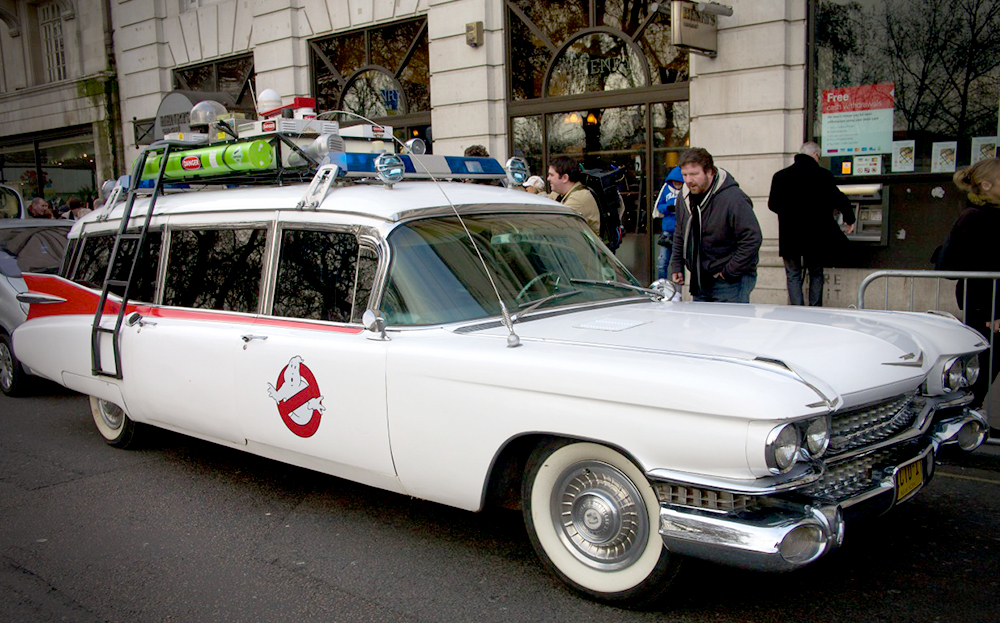 IT NEEDED some suspension work and new "shocks, brakes, brake pads, lining, steering box, transmission, rear-end", along with "new rings, mufflers, a little wiring" work … but Ray Stantz's choice of car for the newly formed Ghostbusters turned out to be a masterstroke. And it cost him "only" $4,800.
---
Search for and buy your next car on driving.co.uk
---
Dubbed the Ectomobile or Ecto-1 (from the licence plate), the customised Miller-Meteor ambulance became more than just a vehicle to carry the characters and proton packs from haunting to haunting in the 1984 classic movie; it is as recognisable a symbol of the film as the no-ghosts logo or the Busters themselves.
Its success is perhaps down to the classic styling, the rooftop accessories or the fact that, just like Ray, Egon, Peter and Winston, Ecto-1 was decidedly washed up before being given a new lease of life as a spook-hunting hero. Whatever, fans of the movie hold it dear to their hearts.
That's why the makers of the new Ghostbusters, due to be released in 2016 women in the main parts, have their work cut out finding a new Ectomobile. What car could possibly roll into the tyre tracks of such an icon? An American classic? Surely. In need of repair? Presumably. With comedy value? Definitely.
Here are five cars we think could fit the bill.
---
1989 Jeep Grand Wagoneer
Jeep is credited with kicking off the SUV craze with the Wagoneer. It was launched in 1962, essentially as an evolution of the legendary Willys CJ Jeep with an estate rear end and fetching wood panelling. Crossing high-end interiors with go-anywhere ability later led to the Range Rover, Toyota Land Cruiser, Mercedes M-class and so on.
But none of this will matter a jot to the new Ghostbusters – they would love it for its commanding road presence, classic American boxiness and the ability to store four proton packs with room to spare for plenty of ghoul traps and night-vision goggles.
Also seen in: Escape from the Planet of the Apes, The Philadelphia Experiment, Dallas and countless horror films
What you would pay for a stinker: $2,000
What Ray would pay: $15,000
---
1965 Chevrolet Sport Van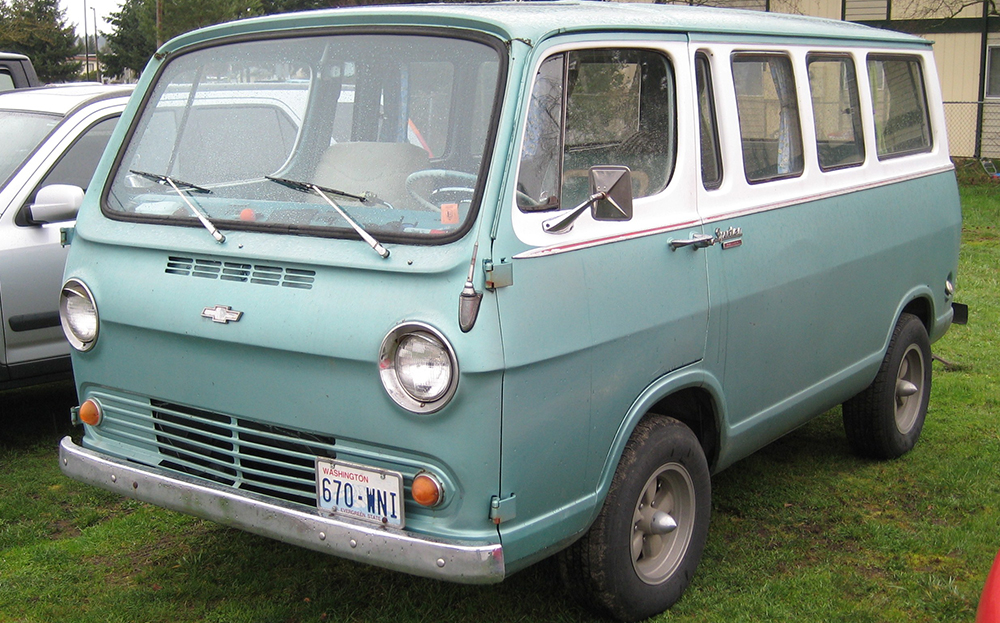 The first Chevy Van from General Motors was introduced in 1964 but the following year the Sport Van was introduced offering seats and windows for passengers in the rear. There's plenty of space in here for the Ghostbusters and their equipment, with room left over to swing a reanimated cat. There aren't many of this era in decent condition, but that wouldn't stop Ray Stantz buying a fixer-upper.
One fact that could help ease the tension at the Ghostbusters HQ when the new Dr Stantz brings her beaten-up, back-firing purchase home: the ChevyVan was probably the basis for the Scooby-Doo Mystery Machine, and Mystery Inc busted a few ghosts in their time.
Also seen in: Scooby-Doo, The Organization, Forrest Gump (fleetingly)
What you would pay for a stinker: $6,000
What Ray would pay: $20,000
---
1989 GMC Suburban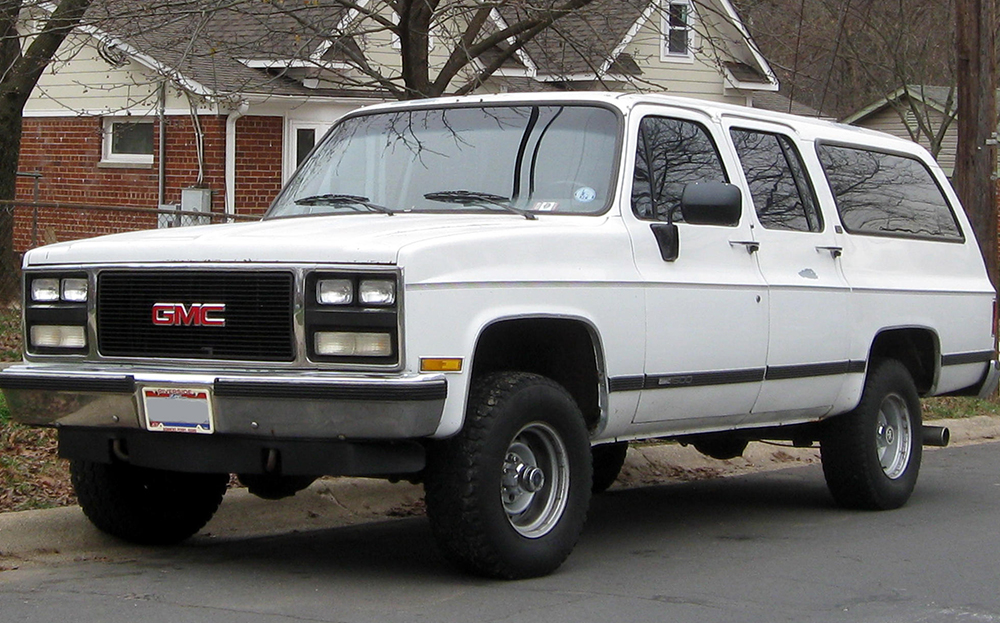 This monstrous Suburban SUV has been the choice of wheels for the FBI for donkeys' years, so the Ghostbusters could expect a superior level of safety and performance if they picked up a former secret-service-mobile – an optional 6.5-litre V8 engine was used by the Feds. Its vast size would be sure to command respect on the road, too.
An eighth-generation model, built from 1973 to 1991, introduced four doors to the series and included a third row of seats. It also had a baggage rack – handy for the Ghostbusters' "unlicensed nuclear accelerators".
Also seen in: My Blue Heaven, The Walking Dead, Dallas and anything involving the FBI
What you would pay for a stinker: $12,000
What Ray would pay: $30,000
---
2004 Hummer H2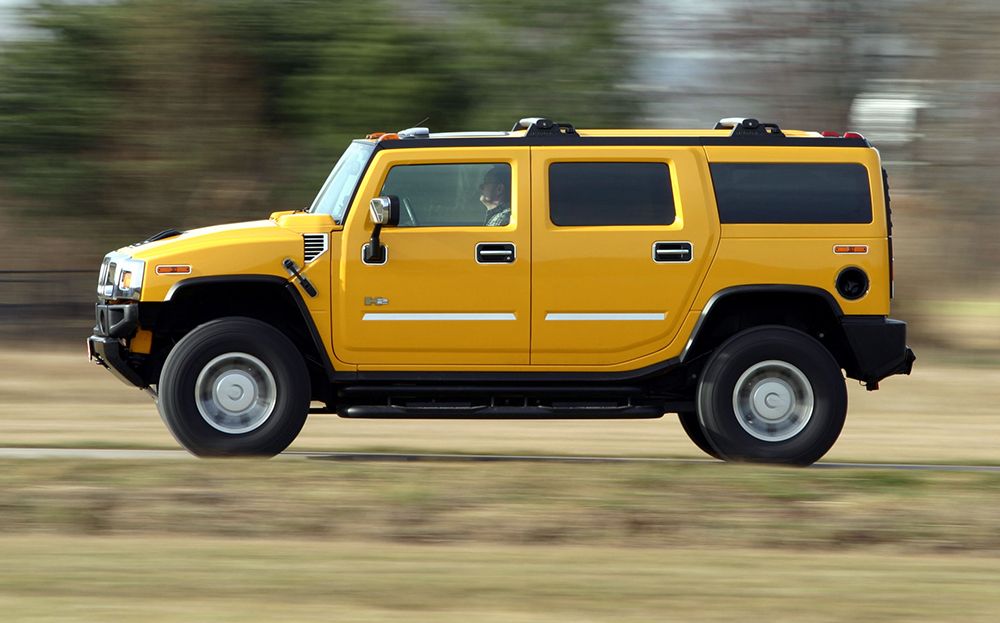 Derived from a vehicle built for the US military, the Hummer is about as American and macho as it gets – hilariously so, in fact, which could be a great fit for the new female Ghostbusters.
Of course, the truck-based H2 is capable on and off road and has space for seven passengers, in case the four Ghostbusters need to make a run for it with Janine, Louis and Slimer in tow.
Also seen in: Team America: World Police, Zombieland, Captain America: The Winter Soldier and countless other action films
What you would pay for a stinker: $5,000
What Ray would pay: $18,000
---
1983 Ford LTD Country Squire

The seventh-generation Ford Country Squire, built 1979-91, was the last of its line, perhaps because Americans were beginning to realise that wood panelling is about as cool as flared trousers and shoulder pads. An appearance as the car driven by Clark Griswold in National Lampoon's Vacation in 1983 can't have done it any favours.
However, its complete lack of cool almost makes it cool, which means it could be perfect for the new Ghostbusters. It's an estate car, too, following the lead of the original Ectomobile.
Also seen in: National Lampoon's Vacation, Twister, Terminator 2: Judgment Day, The Fall Guy
What you would pay for a stinker: $1,000
What Ray would pay: $4,000
---
Search for and buy your next car on driving.co.uk
---