Formula E of the skies gets step closer with first piloted flight of electric racing aeroplane
Silently soaring
---
Published 02 February 2022
THE FIRST flight of a piloted pure-electric racing aircraft has taken place in Norway in what its makers hope is a significant breakthrough for the wider aviation industry.
The aircraft, run by the Nordic Air Racing team, took off on its 10-minute maiden flight from Tønsberg Airport under the supervision of Norway's Civil Aviation Authority.
Behind the controls was Rein Inge Hoff, a pilot with Nordic Air Racing, who completed four circuits of the airfield at an altitude of 2,000ft.
Intended to compete in the world's first all-electric air race series, Air Race E, the aircraft is a specially converted Cassutt IIIM racing plane that has been built to the series' specifications.
As part of the test flight, Hoff used around 90kW (121hp) of power, working up to a speed of 140 knots (161mph), which is around 50-60% of the plane's potential in full race trim. Air Race E aircraft are capable of around 150kW (201bhp) and 250mph.
Further trials to fine-tune the plane's performance will take place over the coming weeks and months.
Air Race E is due to launch in earnest in 2023, and around 17 teams including Nordic Air Racing are currently developing aircraft in order to compete. While the team's plane is due to compete in the Open class, there will be two other classes too — Performance (for lower-powered planes) and one for eVTOL aircraft.
The series is considered the aviation equivalent of Formula E, the electric single-seater racing series that is helping push the limits of performance in terms of electric motor and battery performance.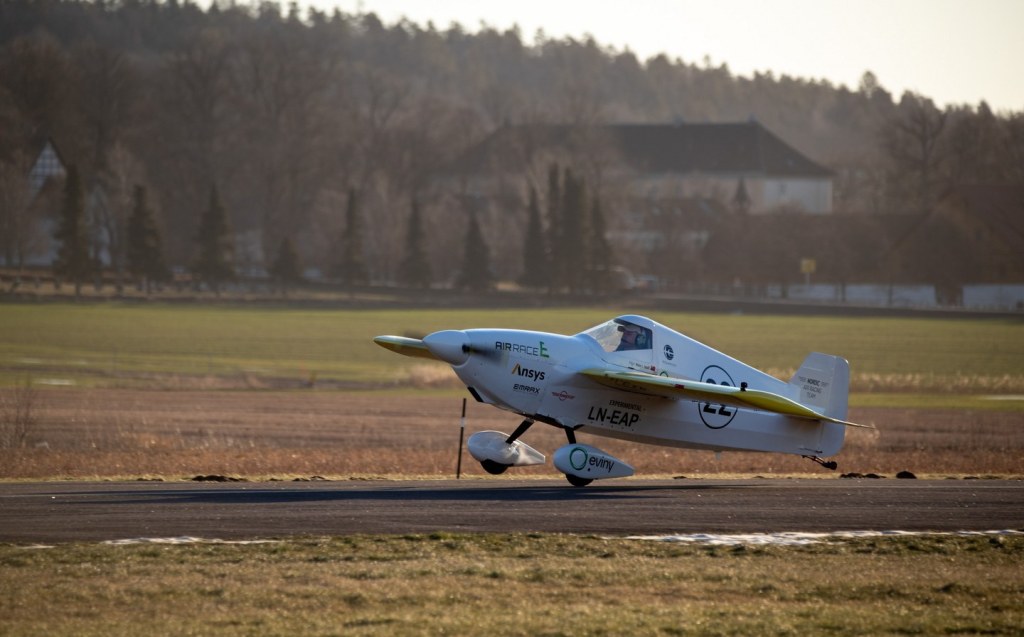 "The first-ever flight of our all-electric racing plane is a milestone achievement, both in the development of Air Race E as an international championship and in the progression of wider aviation technology," said Air Race E CEO Jeff Zaltman, a veteran air race organiser.
Supplying simulation software to the series is the tech firm Ansys, whose senior vice president, Shane Emswiler, echoed Zaltman's remarks.
"Competitions in motorsport have a habit of leading to exciting technological breakthroughs. Nordic Air Racing's first flight is a testament to that, and to Air Race E's incredible work in gathering all of the building blocks necessary for innovation.
"We're honoured to have been a part of this milestone and look forward to being a part of future advancements that allow aviation to reduce its reliance on fossil fuels."
Car makers Lucid and Renault credit their involvement in Formula E as being instrumental in helping them to develop advanced energy efficient electric powertrains for their latest generation of road vehicles. The Lucid Air saloon, for example, is capable of 520 miles between battery charges — almost 25% further than the Tesla Model S Long Range, despite its battery being just 11% bigger.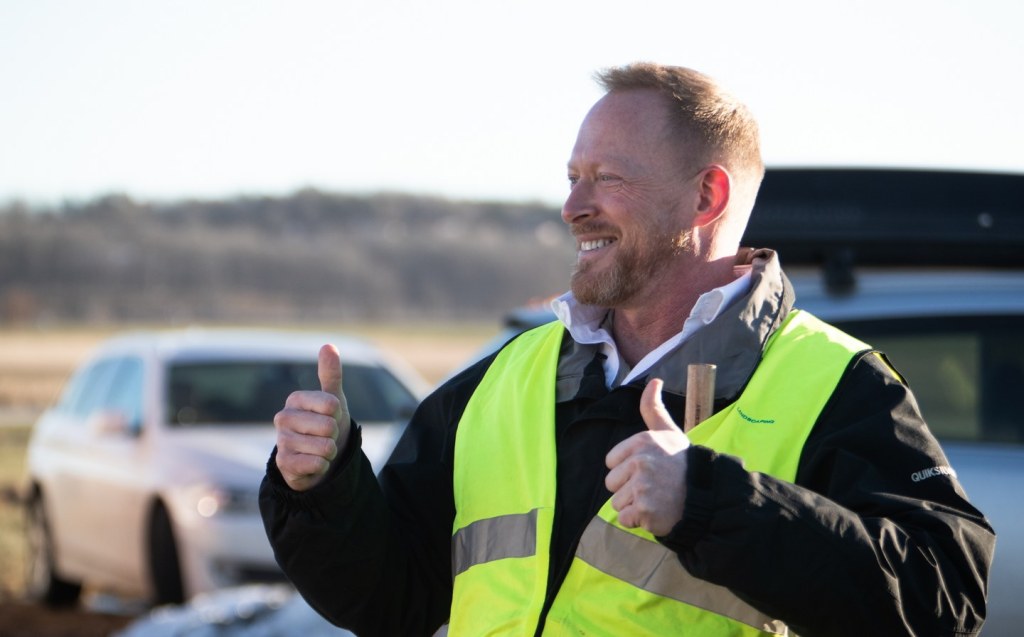 In an interview with Driving.co.uk, Zaltman said: "By the 1920s, air racing was actually one of the most popular sports in the world, attracting the biggest audiences. Of course, it was for the amusement of fans, most of which hadn't even seen an aeroplane, but a lot of technology came out of the early days of air racing.
"It was quite a lot of technology, especially on the aerodynamics and also, how to make aircraft more lightweight, etcetera. The Supermarine Spitfire was one example, which came about due to experience in the Schneider Trophy race, so there's a real proven legacy there of air racing bringing technologies that can be put to use.
"For an aircraft to have a purpose in commercial airfare you've got to be able to carry 100, 200 passengers a meaningful distance, from London to Berlin, etc. But you don't just start by building something like that. That's not the first step. It has to start on this very small scale.
"But you know, we are actually the cutting edge of the progression of this technology, and we are directly on that evolutionary path to those large aircraft."
Sharing his vision for the race series is Airbus, which has partnered with Air Race E, lending its experience and providing the teams with reams of research data.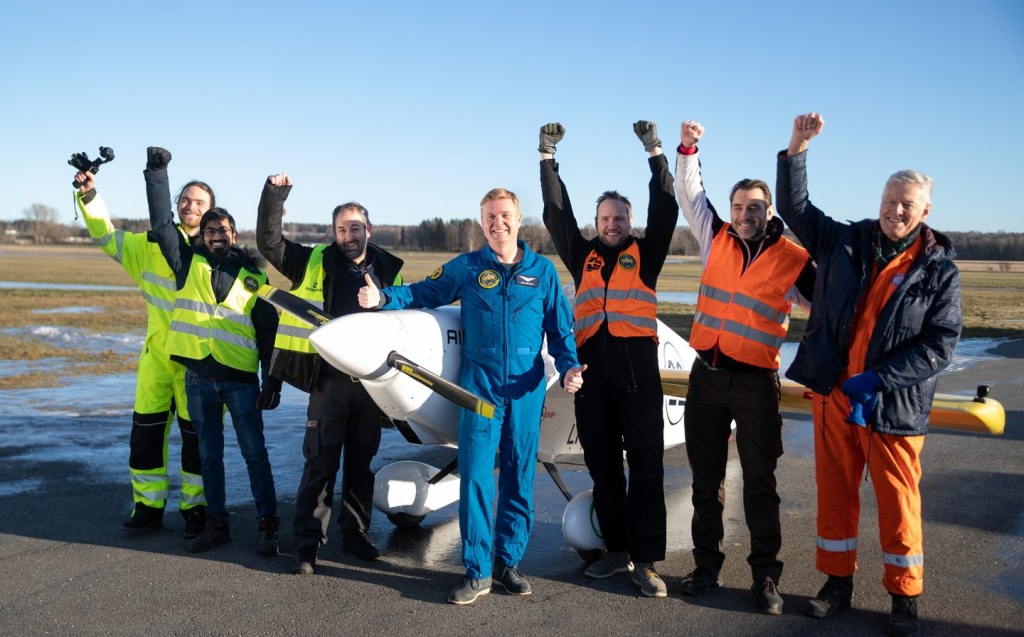 A range of aircraft companies including Airbus and Boeing are currently investing heavily in electric aircraft technology in a push for lower industry-wide emissions. Boeing, for example, has recently invested $450 million in the electric aircraft start-up Wisk; in November 2021, an all-electric aircraft built by Rolls-Royce (the aerospace firm rather than the car-maker) set several new records at speeds of up to 345mph at Boscombe Down in Wiltshire as part of Rolls-Royce's government-backed ACCEL project.
The team behind the Air Race E series is hoping, with some justification, that the information and learning gleaned from their air racing series may help to spur further development in the field.
Tweet to @ST_Driving Follow @ST_Driving
Related articles
Latest articles