How to buy a classic car
Buying a classic car can be daunting; follow this guide for a stress-free purchase
---
Published 10 December 2018
IT IS in the nature of buying a classic car that you should feel butterflies in your stomach as you succumb to a mode of transport with a high-maintenance guarantee. Then there's the fear of making a bad purchase, being duped by a salesman or, in my case, being taken advantage of because I'm a woman with a limited amount of technical automotive knowledge.
But don't let that put you off: doing research pays off and ownership is wonderfully rewarding. Here's what you need to know.
Where to buy

THE DEALERSHIP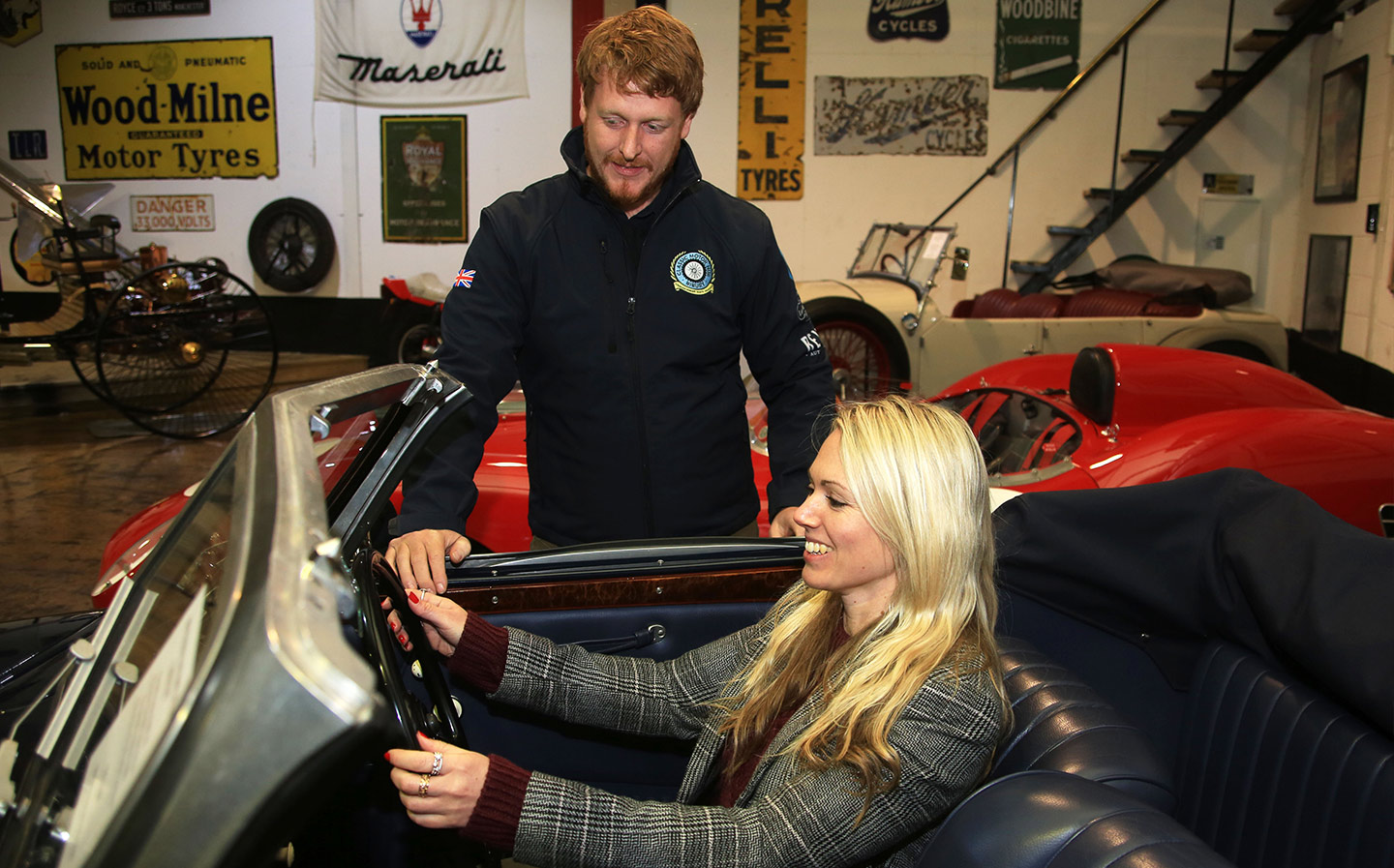 My boots squeak on the polished epoxy floor at the Classic Motor Hub in Bibury, Gloucestershire, as I amble through the showroom passing judgmental glances and raising a quizzical eyebrow at the immaculately turned-out classic cars. Which of these beauties will be coming home with me?
My chaperone is Ben Stinson, who's more of a marketing man than a sales rep, but I still get a feel for the kind of scrutiny I would be under as a buyer. Can he tell I'm winging it, leaving me open to being sold a dud?
As we're merely going through the motions today, I address the issue directly: "How can I avoid becoming a salesman's prey?"
"Look at what other cars are around you," advises Stinson. "If there are lots of fairly modern used cars, with a lone classic sitting in the middle, you should probably be cautious. Does that garage know what to look out for and are they familiar with older running gear, and the problems that can arise? Don't buy it because it stands out in that environment, or because you think it's a bargain."
I look around. There's a 1972 Ferrari Dino 246 GT, previously owned by Jean Todt, the FIA president and former Ferrari F1 team boss; a 1987 Porsche 930 Turbo cabriolet; and a 1929 Aston Martin LM. I conclude we are in good company and ask to try the driver's seat of a tasty-looking Frazer-Nash BMW 327. Stinson obliges.
"The car should really do the work," he says. 'It's not about being schmoozy and offering added options; it's about the emotion of why a particular car might mean something to somebody."
He also warns against buying a classic car that is missing documentation, which is vital to corroborate its value.
"The dealer should 100% have the history file and service booklet because you need to know what's happened to that car in the past. If they don't have it, that would suggest something is awry," he says.
An on-site workshop run by specially trained mechanics is another indicator of a reputable and responsible classic car dealer. If the car breaks down, the seller will  usually be the one to foot the bill, and you'll be able to trust that the repair will be done properly.
"The most important thing is not to buy purely because you think a vehicle will go up in price. Buy a car because you want it. Buy it for fun, and if it goes up in value during the time you have it, it's a bonus," says Stinson.
THE AUCTION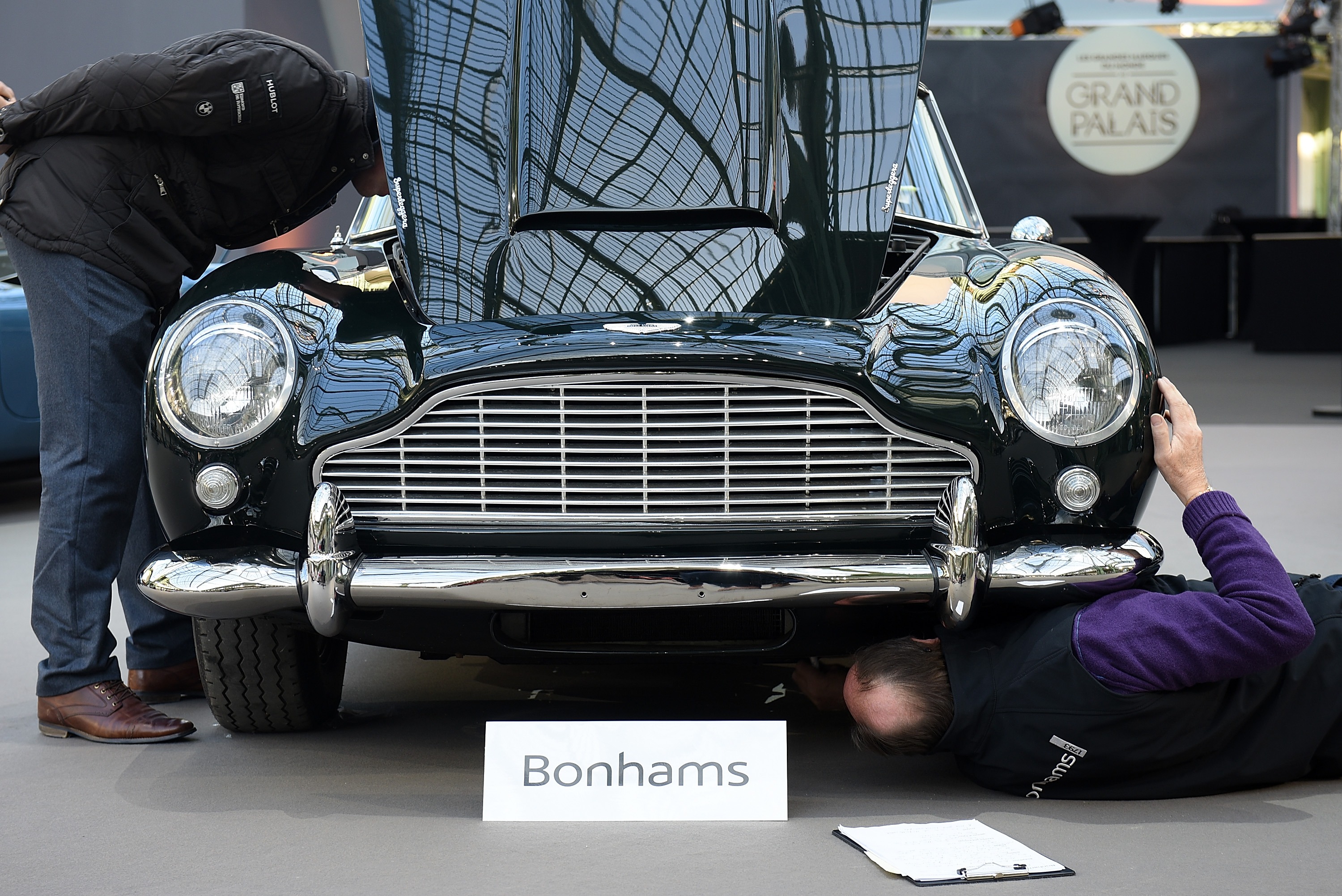 There are two types: traditional and online.
The first can be overwhelming once you're in the thick of it. With a limited amount of time to inspect a car or quiz its owner – if they are even present – decisions have to be made quickly. Take a look at sites such as silverstoneauctions.com or bonhams.com to get an idea of how they work.
It's worth attending a couple of auctions simply to watch: buy a catalogue, which often serves as an entry ticket to weed out time-wasters, and see what's on offer.
Most cars are catalogued with a price estimate, but this is sometimes pitched low in the hope of attracting extra interest, and most will be subject to a "reserve" – a minimum price that must be reached for a sale to go through. And there will be a buyer's premium that goes on top of the final hammer price – details will be in the brochure.
Auctioneers aren't allowed to lie in a vehicle description, but sales are made "as seen", with no comeback. However, if it turns out a vehicle is stolen or not the seller's property, the customer is indemnified.
An auction is competitive by nature so there can be a fair amount of bickering before the winking, nose-scratching and twitching starts. Have a confident bidding signal and take your time. If you're brave enough you could even let the process get to "Going twice" before putting in a final bid.
In online auctions, anonymity can be your friend: you could be wearing your fat pants and eating a tub of ice cream and it would make no difference. But that's not the only advantage.
"People are fed up with the high fees associated with traditional auctions," says Tim Joslyn, founder of the online auctioneer The Market (themarket.co.uk), which says it has had a 300% increase in the number of cars sold in the past year.
"At a traditional auction, both the seller and the buyer have to pay the auctioneer a fee, which can be 5%-15%, but because we are a digital model our costs are different and we pass on those savings. The buyer doesn't pay a fee at all; they only pay what they bid."
With an online auction there's more time to do your homework. A platform such as Trade Classics offer previews of new consignments before they go to auction, and you can sign up to its weekly newsletter to keep up to date (tradeclassics.com).
Basic information should include photos and a full history of the vehicle, but Trade Classics also adds video tours of the exterior and interior and on-the-road interviews with current owners during a test drive. If this isn't available, you may be able to set up a video chat with the seller.
The Market's Joslyn says: "We point out blemishes and faults in our write-ups so you can be confident in the car and your bid", though he adds that, as in a traditional auction, if a car looks too good to be true, it probably is.
Unlike auction on sites such as eBay, where you can be gazumped at the last minute, each time a bid is made on a car through The Market, bidding is frozen for two minutes. It ends when no one else places a bid, at which point the winner pays a 5% deposit.
The website has also launched a remote bidding system so you can set a maximum spend and let it do the work for you.
"Always have a price in mind and think seriously about how far you would go beyond it," advises Joslyn.

THE PRIVATE SELLER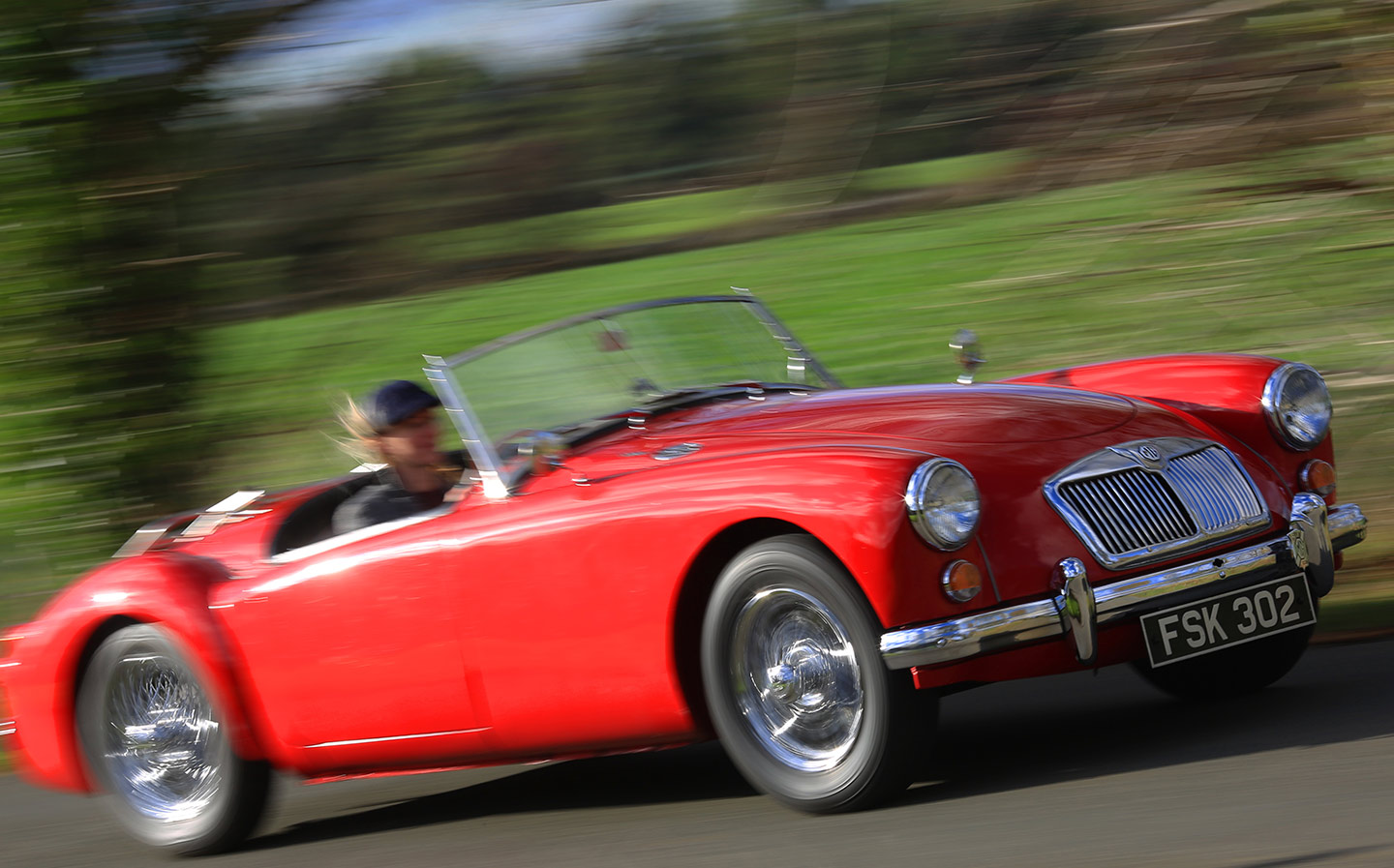 There's no guarantee of anything when it comes to buying from a private seller – you won't receive a warranty and, as in auctions, vehicles are sold "as seen", which means you have to accept the condition in which you buy it. You're also responsible for the paperwork, which includes declaring the purchase to the Driver and Vehicle Licensing Agency (DVLA).
But if you know what you're doing, private sales can be worthwhile, says one experienced buyer.
"I arrived at the private garage, where my partner and I took a torch and walked some distance along a dark, dark tunnel," says Amanda Christian, a serial classic car owner and Footman James client, who works for the Department for Education. "All of a sudden, there it was, a 1975 Triumph Stag.
"Most of my cars have been purchased from private sellers, and I've never lost money, but you should always research the model. Many cars have known faults, and if a certain issue has never been dealt with by a seller then this can be a bargaining chip.
"I ask for their best price, show interest and then if it still seems more than I would like to pay, I say I'll have to think about it, leave contact details and walk away. Often, the seller will come back with a lower price."
Websites such as classiccarsforsale.co.uk, autotrader.co.uk and classic-trader.com are good hunting grounds.
Classic Car Weekly magazine is a brilliant source for market news and will help give you an idea of what to pay for a particular marque and model. It also includes sales listings. And if you know what you want, contact a car club because members may know someone keen to say goodbye to the kind of vehicle you are looking for.
Make sure you can afford it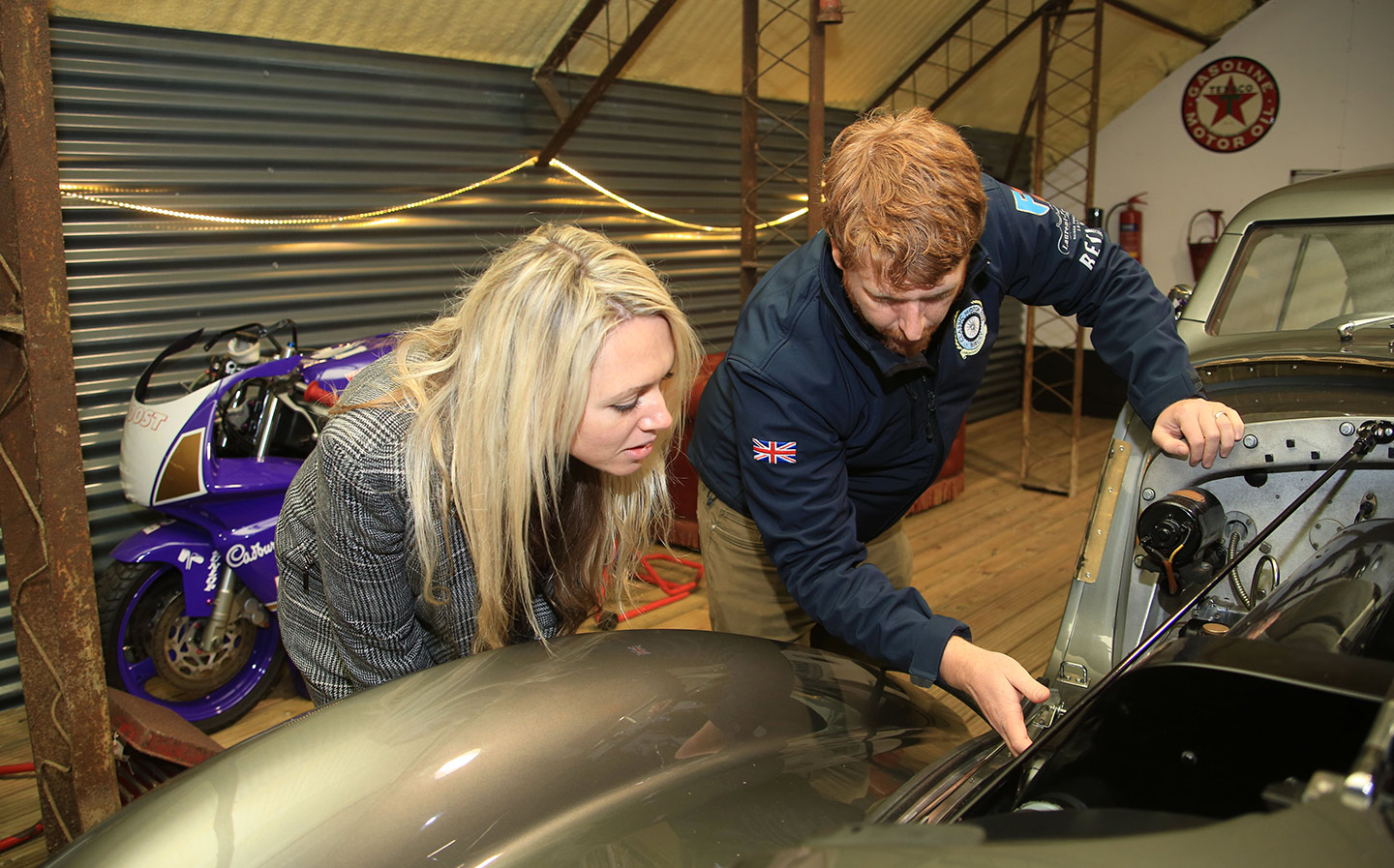 If you have enough money, it might be tempting to buy a classic car on a whim, but it's important to think about the things that could (and, let's face it, will) go wrong, and how you might prevent or rectify any problems.
"Each classic has its own nuances and at times challenges, but that's the charm of it," says David Bond, managing director of Footman James insurance.
Bond tells an amusing tale of how, dressed in period costume and in the pouring rain, he had to use a knock-off hammer to remove a wire wheel and change a flat tyre on his first classic car, a 1967 MGB Roadster, the first time he took it out.
"It's a journey of learning, and not taking things for granted. Making sure the oil gauge, thermostat and petrol gauge are still at the right levels and gearchanges are as smooth as possible are what make it fun. I'm left with a smile on my face every time I drive."
Don't be put off if you're not mechanically minded: there are lots of resources. Forums, Facebook groups, websites and owners' clubs are worth visiting or joining before you buy so you can see what common problems arise, as well as find out what kind of lifestyle could be built around your car.
The cost of insurance is also something to consider. Expect to pay a premium of a few hundred pounds with an annual limit of 3,000-5,000 miles. It also pays to get an "agreed value" policy, under which the insurer will pay out a named sum in the event of a total loss.It's always best to choose a classic vehicle insurance specialist for a classic vehicle policy, such as Footman James.
If you don't have the money to buy upfront, want to make the most of low interest rates or get more car for your money, financing is an option.
"It's the accessibility of having a car before you can really afford it, spreading the cost of ownership and it's a good general use of your wealth," says Robert Johnson, managing director at Classic & Sports Finance.
"There are two types of phone call I get. One of them is someone who knows what car they want and how much they want to borrow. The other isn't sure what they want, and therefore how much they'll need to borrow," he says.
"For the second type of caller I peel away the layers and ask about how they want to use it so I can help them make a sound decision and find the right one for them. I actually end up doing the dealer's job."
Buying this way also gives an extra layer of protection.
"We are laboured with compliance. If you went to get a personal loan from your bank, it's an unsecured loan. What we offer is a secured loan – you've got the full protection of the law as it's a regulated finance agreement.
"If you buy a car from a dealer and something goes wrong and the dealer says it's an old car and pushes you away, we have the legal clout to say, 'Don't worry, under the terms of the finance agreement you're covered, and we can fight the case for you.'"
What next?
The car you've chosen will already have its own story, and your time together is going to be just one of its chapters. It will have travelled to places you have not, and perhaps never will. Classic cars are mysterious beasts, but they are fabulous fun to play with, and as you make that final step, follow this checklist. Good luck.
How to inspect a car
Depending on how serious you are, and how comfortable the seller is for you to get up close and inspect, take gloves, a torch and overalls, or wear scruffy clothes.
WHAT TO LOOK OUT FOR DURING A TEST DRIVE
Insurance and owner permitting
Check that the gearchange is smooth up and down
Stiffness when applying the clutch could indicate a seizing operating arm, which might mean the gearbox needs to be replaced
Check the dashboard for warning lights, if applicable
Check the running temperature and levels are in the correct range
When the brakes are applied, does the car pull to one side?
If the ride is harsh and low, the suspension may need attention
Try all the lights
Try the doors: do they open easily from the inside and outside?
How many keys are there? Test them
Check that all wipers work
VISUAL INSPECTION
Exterior Look for accidental damage, scratches or poor panel gaps
Under the bonnet Check damage and scratches, and dings to the inner wings and chassis, which indicate the car has been involved in an accident
In the boot Lift the carpet up; check for damage to body panels
Convertibles Look at the rear screen of the hood and the accessories, windows and so on, which are prone to splitting and discolouring. Check the condition of the seals and look for corrosion
Tyres Check the make, condition and size. Cheap tyres can affect handling, and uneven wear can indicate tracking problems or something more serious
Brakes If it has disc brakes, look at their condition: wearing around the edge may suggest new pads are needed, while a deep ridge may indicate new discs are required
Check the header tank Undo the cap when the engine is cold and make sure the coolant level is at halfway and is not sludgy brown – this could indicate head gasket failure
Check the oil Remove the dipstick and see if it is clean with no milky deposits – this could also indicate a head gasket failure
Underneath Check for corrosion on subframes, engine mounts and coolant pipes. Also inspect the condition of the exhaust and catalytic converter – this is expensive to replace
Interior Check wear and tear on the driver's seat bolster. Look at the carpets and general interiors and, with permission, lift the carpet up in the footwells to see if the felt underneath is wet from water leaks.
Other things to consider
Check the VIN number on the documents matches the one on the car
If you're a non-mechanic, get an expert to check the car before purchase. The AA (from £128) or RAC (from £99) carry out vehicle inspections.
Can you handle unexpected repairs? Who will do them for you?
How available are spare parts (check breaker's yards or eBay) and are there specialist fitters available?
What is the cost of servicing?
Speak to a car club about the marque you want to purchase
Once you've chosen a car, carry out an HPI (vehicle history) check, using mycarcheck.com. It supplies you with information such as outstanding finance, colour changes, crash damage, whether the car has been written off and so on
Haggling: There's more scope for this with a dealer or in a private sale, but bear in mind that you need money to spare to rectify any problems. Don't make a money-pit purchase.
Visit carpages.co.uk for information on insurance write-off categories
Visit motinfo.direct.gov.uk to see MoT and vehicle tax status, plus failures and advisories
Tweet to @charlottevowden Follow @charlottevowden
Follow Charlotte on Instagram @charlottevowden and tag photos of your classic car adventures on Instagram @sundaytimesdriving #sundaytimesdriving #adventureswithfrisky
Insure your classic car at footmanjames.co.uk