Carparazzi lie in wait for supercars in London this summer
Knightsbridge's multi-million pound traffic jam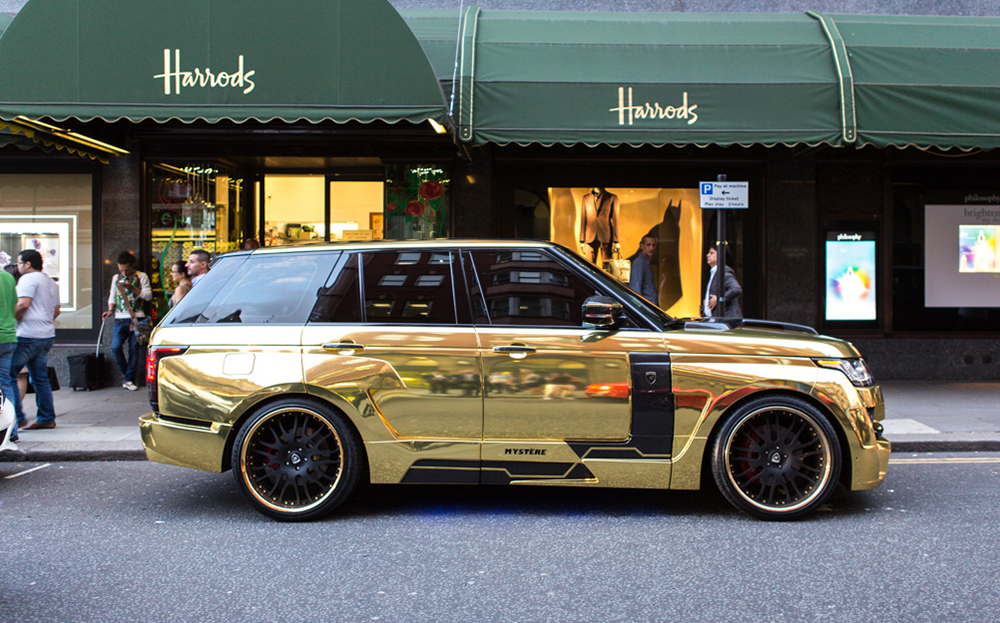 IT'S 10PM in central London and Paul Wallace is trying to track down and film a rare Koenigsegg Agera R supercar, coated in carbon-fibre trim.
You might imagine that the unique, £1.1m, 249mph machine would stand out a mile among the traffic. At any other time of the year you would be right. But it's supercar season: a few summer weeks when dozens of the world's rarest and most exotic machines migrate from the Middle East to Europe.
The streets of Knightsbridge are currently thronging with the noise of growling exhausts. There's a black and gold Bugatti Veyron in convoy with a Range Rover sporting a similar colour scheme. They're joined by a bright green Mercedes CLS, Lamborghini Aventadors seemingly in every colour of the rainbow, and the intimidating six-wheeled Mercedes G63 AMG.
Wallace walks by a standard Ferrari F12 without blinking an eye. Apparently, it's too common. "People want to see cars with new features, new colours and with foreign number plates," he says. "The rarer the better. A standard Ferrari just doesn't stand out."
Wallace, 23, from Watford in Hertfordshire, is one of dozens of supercar fans who gather each night to capture the cars on camera, travelling from as far afield as Leeds, and spending up to eight hours a day in pursuit of them. Dozens of these "carparazzi" prowl the four or five streets that form the centre of London's supercar territory.
But Wallace is one of the stars of the pack. He set up his YouTube channel, Supercars of London, in 2008 to share the shaky, low-resolution videos that he had begun recording. Since then, his viewing figures have soared, much like the quality of his videos and he has earned enough to spend £60,000 on his own supercar: an Audi R8.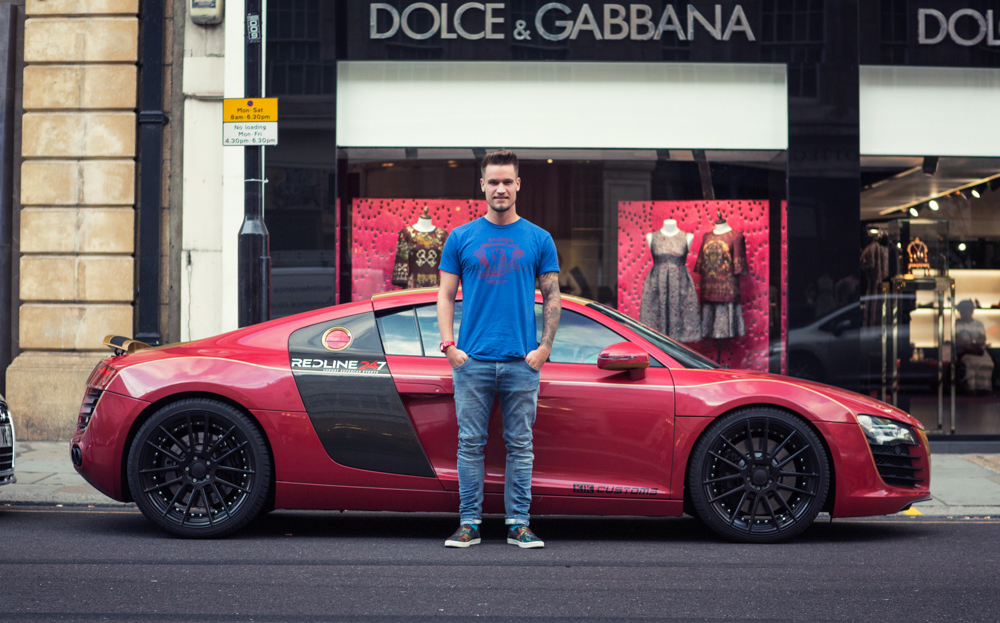 "I was one of the first people who did it, so my Supercars of London channel had exclusivity for some of the videos," says Wallace. "From revenue sharing I get around £1 for every 1,000 views, and I've had 80m of them.
"I used to get the train in from Watford but now I drive in. I typically get here for around 6pm and spend up to eight hours a day here. More [owners] are descending on London and Paris, and other European cities, to see more cars. Because the cameras are here, the car owners are upping their game. Supercar spotting has become a real hobby and it's got really big."
His success means that he is now able to follow the supercars as they travel around Europe. He recently returned from shooting cars in Monaco. With successful Twitter and Facebook accounts, in addition to his YouTube channel, Wallace has created a publishing platform, and other firms are willing to pay for his expertise. So while the supercar owners are sleeping during the day, he gets paid as a social media consultant.
On the streets of London, some of the carparazzi tell how owners will let them ride in their cars and film the interior. Most drivers will, at least, roar away at maximum volume to help provide exciting footage. And they are all too willing to admit that they love showing off. The most important thing is to have a car that's unique.
Please enable Javascript to watch this video
It's one reason why, this year, there's a Datsun 240K Skyline, made in 1977, cruising the area. "I think it's the only one in Britain," says Abdullah All, proudly. The 27-year-old owner, from the United Arab Emirates, has also brought over a Lamborghini Aventador but mostly leaves that at the car park of his hotel. "I prefer this one because no-one else has it," he says.
"I've come here for three months because the summer is cooler than at home but it's expensive: fuel and insurance are a lot more than in UAE."
Most of the supercar owners rarely emerge from their hotels before midday and typically spend their afternoons shopping. When Driving previously wrote about supercar season, we waited three hours to interview one man while he finished shopping in Harrods. He returned there the next day.
The owners' evenings are spent meeting friends in the cafes and restaurants around Knightsbridge, and cruising around in their cars until the early hours ‒ a practise that irritates local residents.
Many owners also bring their own drivers, for when they tire of buzzing around the block themselves. These chauffeurs reveal that part of the appeal is the greater freedom they have in Britain. During one previous supercar season, a chauffeur pointed out a young woman leaving the hotel where their client was staying. She wouldn't be around the week afterwards when his client's wife was due to fly in, he said. Driving did not see that particular car owner or chauffeur this year.
Chauffeurs are also responsible for ensuring that the supercars don't get towed away. Cars with foreign plates are rarely tracked to their owners, so any parking tickets often remain unpaid. If a car is removed, however, the owner must pay to recover the car and settle the bill for any tickets that have previously been issued to that number plate, and the bill may not be cheap.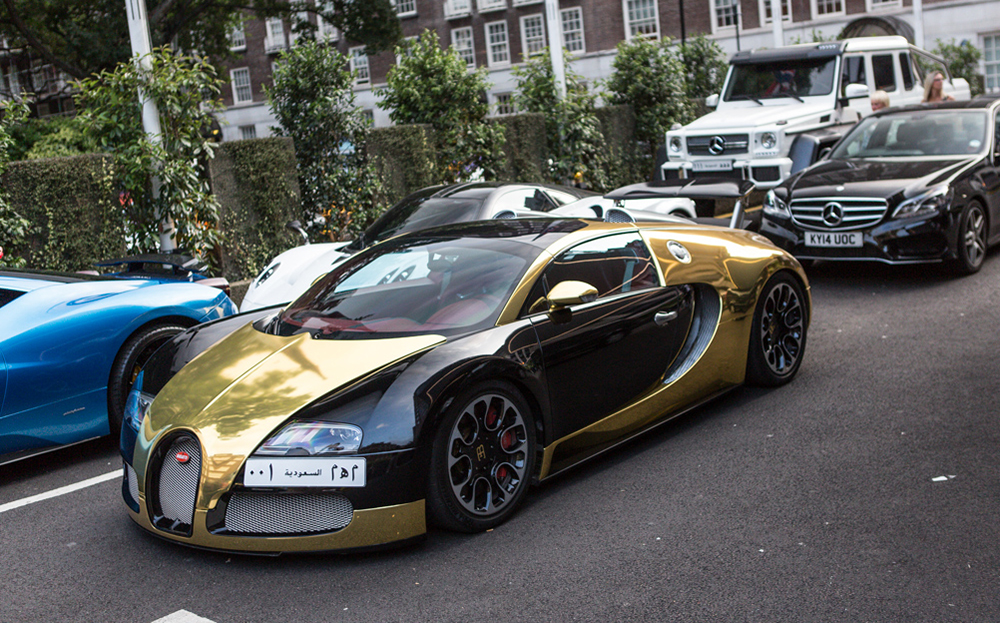 The number of tickets issued by Westminster Council to UAE-registered cars last year was £57,060, up from £31,780 in 2011/12, and pressure from residents means that the wardens are also thought to up their game during the summer.
Wallace continues his search for the Koenigsegg, wandering down Sloane Street, past a Mercedes SLS crawling behind a C1 bus to White City. He gets a phone call from a friend: the Agera R has strayed from the usual supercar territory and is down the road in Mayfair. But there's a glitch: it's not moving and there are several other people there videoing the cars.
"People want to see the cars starting up, moving down the road, not parked," says Wallace. "And I like to get my videos without people too many people around."
He attributes his success to videos that tell a story. One of his most successful clips featured a Lamborghini Murcielago Roadster being driven in the rain by someone who had neglected to bring the car's roof. "The Dumbest Rich Man in the WORLD!" was the title of the video, which has been watched almost 12m times. More recently, he spotted three Lamborghini Aventadors. It was titled: "Awkward Supercar Traffic".
With his success and viral videos, Wallace is now mobbed by fans when he pulls up in London in his Audi, wrapped in a distinctive red and gold coating, like Iron Man's suit (he has ordered a suit for himself and plans to drive in it).
Teenage car fans ask him what cars he's seen and try to glean tips on turning their footage into a career, too. "We all know who he is," says Fahim Miah, 16, who takes pictures of supercars and posts them on Instagram. "I've got about 1,000 followers and I'm here most days. If there aren't any new supercars, I'll look around the car parks in the area."
Speaking to Miah and other photographers can feel like speaking in code: they get to know the owners, and refer to cars by their number plates. Even a particular paint shade is enough to get them running up the street. At one point they spotted a yellow Lamborghini, but it wasn't the matte version that they were looking for.
The owners lap up the attention and the spotters love getting close to the cars, but Wallace's story that's taken him from commuting on the train to owning his own supercar is destined to remain rare, as more and more photographs and videos are published.
"Some people have got a lot of followers on Facebook and they are still getting the train in," he says. "You can have a lot of followers and still make nothing, especially if you're only doing photographs. I'm told that people criticise me, but I just work hard and keep posting the videos."
---
Search for and buy a used car here
---