Car sales drop 16 per cent amid diesel confusion and continued uncertainty over Brexit
The March to decline
SALES of new cars show no sign of bouncing back as the latest figures, released today, reveal a 15.7% drop in demand compared with the same month last year.
Although March 2017 was the biggest month ever for new car registrations, and last month was the fourth best March on record, new car registrations have fallen for the 12th consecutive month, with year-to-date performance down 12.4%.
The Society of Motor Manufacturers and Traders (SMMT) said that economic and political uncertainty and confusion over air quality plans continued to affect confidence, resulting in declines across all sales types.
---
Browse NEW or USED cars for sale
---
As expected, the worst hit were diesels, with registrations plummeting 37.2%. The decline in demand for diesel cars continues to be of concern and the latest tax changes announced by the government do nothing to encourage consumers to exchange their older diesel vehicles for new lower emission models.
Petrol car sales were essentially stable, up 0.5%, while demand for electric and hybrid vehicles continuing to rise, up 5.7%, year-on-year. Nearly 720,000 new high-tech, low-emission cars left forecourts in the first quarter of 2018 as consumers took advantage of competitive offers.
Sales of plug-in hybrids was particularly strong, up 18.2% for the month, but supply-side issues (not enough cars to meet demand) could be dulling overall registrations; production bottlenecks at VW's main factory in Wolfburg have forced it to withdraw the Golf GTE from sale, for example.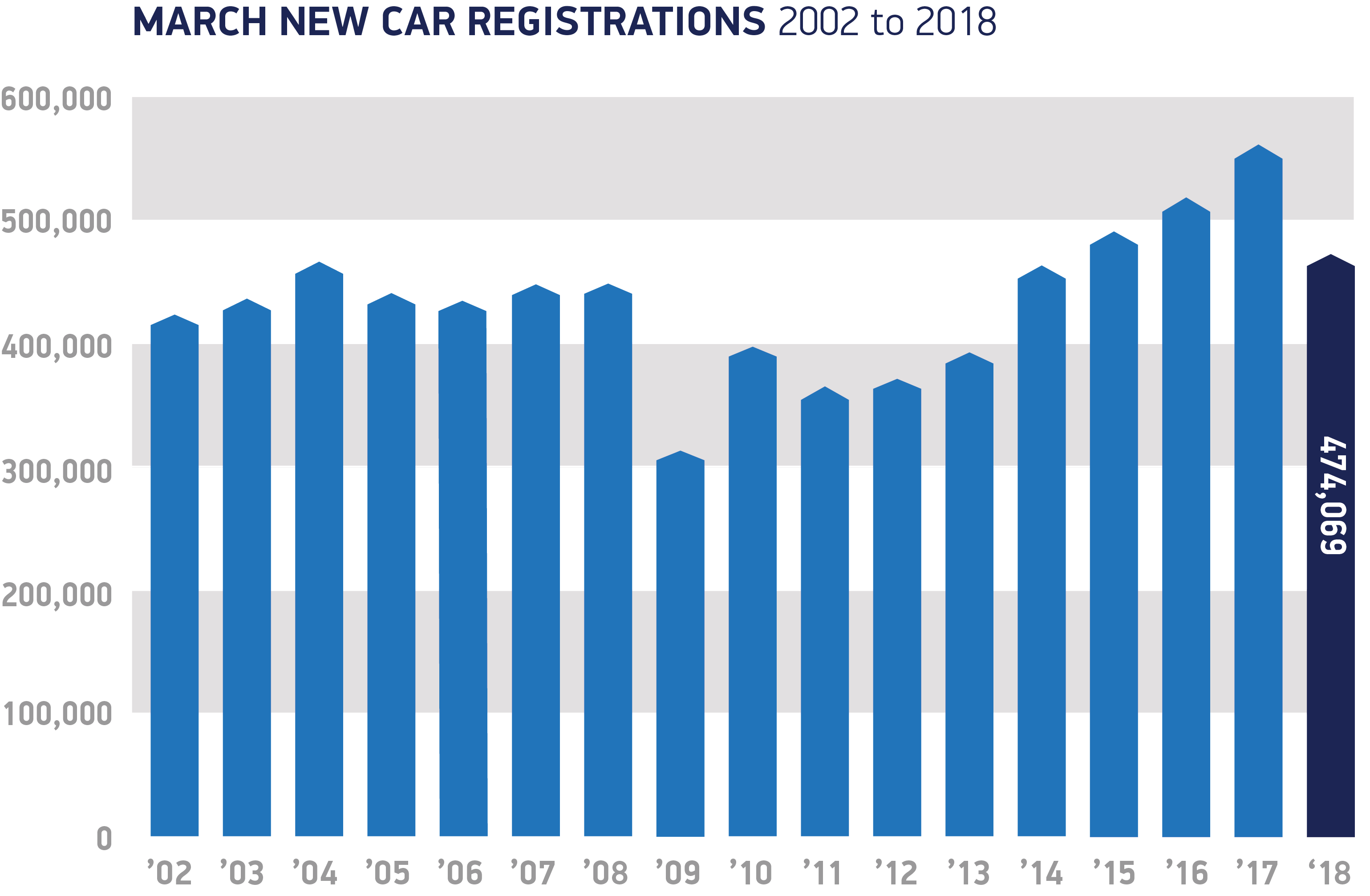 Auto Trader said that the drop in overall sales in the first quarter of the year was caused by a "triple whammy": sales in March 2017 being artificially high due to consumers rushing ahead with purchases before changes to Vehicle Excise Duty (road tax) came into effect; several days of Arctic weather impacting deliveries to dealers and deterring customers from visiting showrooms; and, the "ongoing negative impact of Brexit."
Ian Plummer, Manufacturing and Agency Director at Auto Trader, said: "Not only has it [Brexit] severely dented consumer confidence but falling exchange rates has reduced the scope for manufacturers to entice consumers with strong offers due to the impact of a falling pound on the profitability of cars sold in the UK."
"The ongoing bafflingly negative narrative has talked the sector into retreat"
He added that uncertainty has been created around government policy regarding the use of diesel cars adds to the list of reasons consumers may be delaying their next purchase.
James Hind, CEO of car buying site carwow, also believes confusion over the long-term future of diesel reigns supreme in the minds of would-be car buyers.
He said: "As consumer confidence in diesel continues to plunge, the industry needs the government to inject consumer confidence by offering clarity on the future of diesel, and by comprehensively laying down their plans for the £400m promised for electric infrastructure in last year's Budget.
"That way, the one in six drivers (18 per cent) we know are interested in buying an electric in the next two years, have the confidence – finally – to make the change, knowing that there are enough public charging points to support their choice.
"Manufacturers are investing hard to turn the trend but their efforts continue to be thwarted by continued government-led confusion. It's time for change."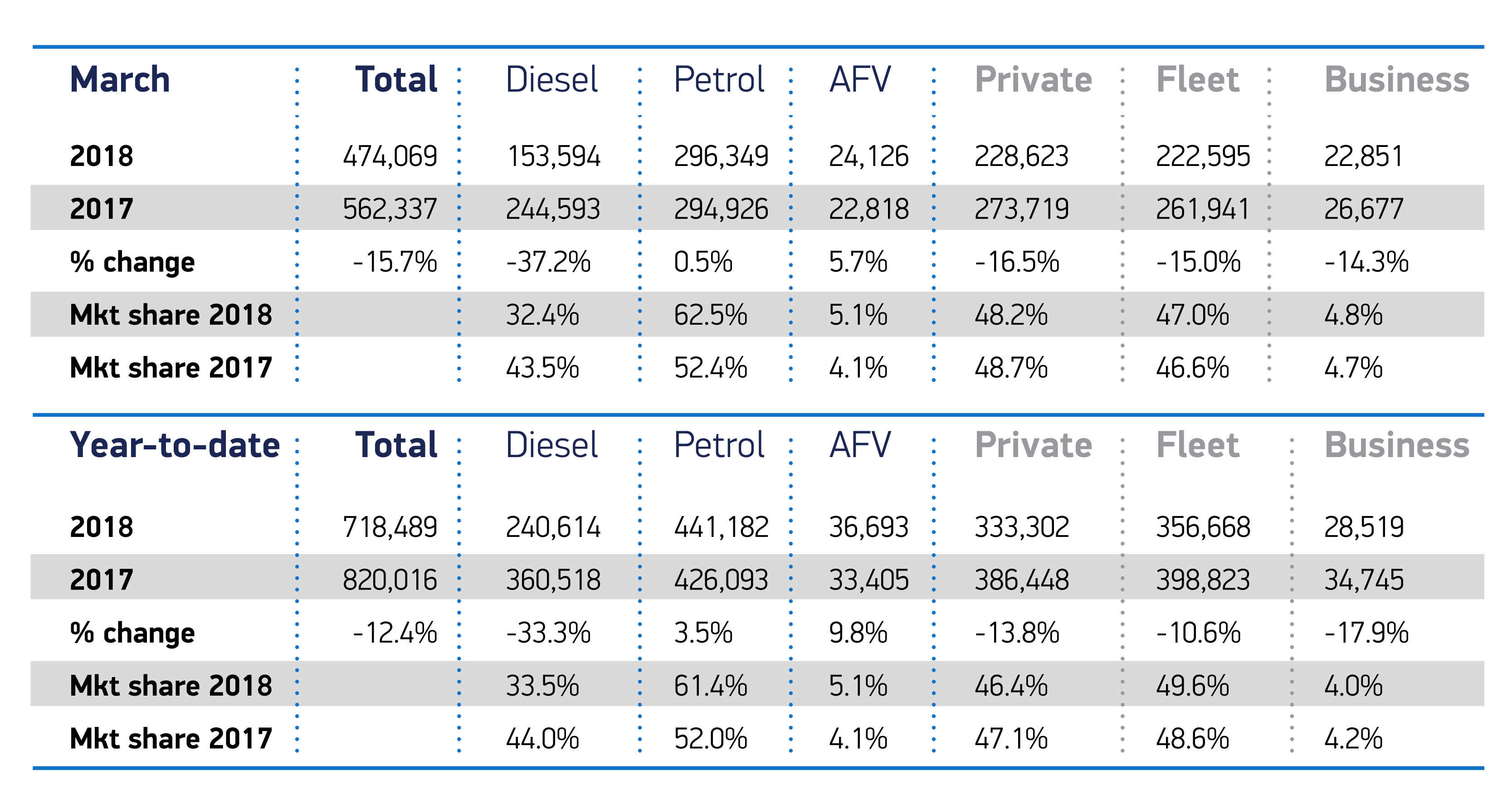 Mike Hawes, SMMT Chief Executive, said: "Consumer and business confidence … has taken a knock in recent months and a thriving new car market is essential to the overall health of our economy. This means creating the right economic conditions for all types of consumers to have the confidence to buy new vehicles."
Highlighting the need for the government to do more to encourage drivers replace older, dirtier vehicles with cleaner ones, he added: "All technologies, regardless of fuel type, have a role to play in helping improve air quality whilst meeting our climate change targets, so government must do more to encourage consumers to buy new vehicles rather than hang onto their older, more polluting vehicles."
Car finance expert Graham Hill said the government's mixed messages around diesel and petrol emissions "have completely paralysed customer activity" in the new car market.
---
Browse NEW or USED cars for sale
---
"While the mammoth 15.7% decline on March last year can be, in part, attributed to consumers rushing to beat the changes to VED that came into force in April 2017, the ongoing bafflingly negative narrative has talked the sector into retreat," he said.
"To say that this is mixed signalling from the government and industry is an understatement."
Carwow's James Hind believes there is some good news for consumers, however, as the market tries to re-engage with car buyers with strong discounts, especially for new diesel models.
"Savvy motorists can make some very attractive savings. In the last quarter, we have seen the traditionally significant price difference between petrol and diesel models slashed by a third, and a plethora of generous deposit contributions," he said.