Car of the Week: 2017 BMW i8 Spyder
Hold on to your hat, it's time to tech it to the limit
---
Published 28 December 2015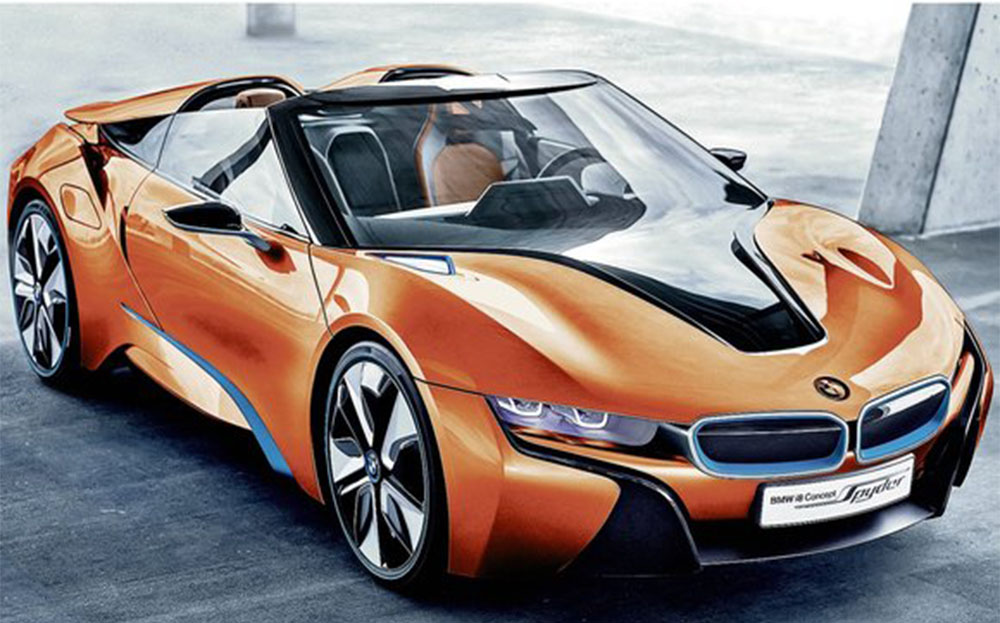 HOW DO you improve on one of the most exciting machines of the decade? It's the question that has faced engineers from BMW, challenged to improve upon the eco-friendly i8 sports car. Yet now it appears they have come up with the answer: take off the roof and cram in more technology than you'll find in an Apple Store.
---
Browse NEW or USED cars for sale on driving.co.uk
---
The German car maker has confirmed it will show a Spyder version of the i8 at the Consumer Electronics Show (CES), which takes place next month in Las Vegas.
Although the new i8 is technically still at the concept stage, Harald Krüger, the head of BMW, has said the drop-top version of the hybrid sports car will go on sale in the future, with company sources suggesting that it may be as soon as 2017. As a result, we expect the show model to be pretty close to the production version.
The standard i8 was the electric-petrol hybrid that proved plug-in cars didn't have to be anonymous- looking or boring to drive. Little wonder, then, that when it went on sale last year there was a waiting list time of more than 12 months.
With its clever hybrid drivetrain, the i8 is very nearly as quick as a Porsche 911 Carrera S — hitting 62mph in 4.4 seconds — but it can also cover 22 miles in electric-only mode. Its official fuel consumption figure is almost 135mpg.
BMW first revealed a concept — pictured here, in updated colours — for a roofless i8 at the Beijing motor show in 2012. Plans stalled, though, and now it seems Krüger, who took up the reins in May, has resurrected the project.
Aside from having a removable roof and a garish orange colour scheme, one of the main differences between the Spyder and its sibling is that it will be packed with gadgets.
Expect gesture-recognition features — such as the ability to adjust music volume by rotating a finger in the air — and touch-sensitive surfaces, with the prospect of small touchpads on the steering wheel replacing buttons for radio stations or the cruise-control system.
Other developments include three-dimensional displays that use colour and depth of field to show drivers different information according to importance, such as speed, fuel and battery power levels.
The i8 Spyder is also said to have a vast 21in digital screen, similar to that in the Tesla Model S, displaying stereo, sat nav and other settings.
The biggest question mark over the new i8 could be its handling. The standard car was lauded for being a brilliant driver's machine, with superb body control and balance. Cutting the roof off any vehicle will always affect stability — we'll have to wait and see if that's the case with the Spyder.
---
Browse NEW or USED cars for sale on driving.co.uk
---